2,500 bags sit unclaimed at YVR in wake of snowstorm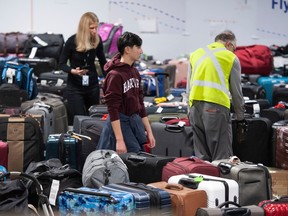 Close to 2,500 bags sit unclaimed behind a newly built enclosure on Vancouver airport's YVR second floor.
Since few immediate measures were put in place to ensure the security of the mounting bag buildup amid last week's snowstorm, some passengers worry their stuff has been stolen.
Toronto's Kim Tanczos landed at YVR the night of Dec. 23 to a sea of suitcases being looked after by a single baggage claim worker. Her Air Canada flight was among many that arrived late.
Tanczos' luggage, which held her 14-year-old daughter's insulin and her husband's sleep apnea machine, was nowhere to be found.
"It was complete chaos. I witnessed a parent crying, saying their children have no clothes," according to the 49-year-old, who says she was told by the baggage attendant the whereabouts of her family's luggage was unknown.
While returning to the airport a few times during her holiday vacation proved successful for Tanczos, who located her suitcases on Monday, she has concerns for other passengers still searching for theirs.
"My biggest worry was that my bags were stolen. The way the area was set up on Boxing Day, you could walk right in and out with them."

YVR spokesperson Alyssa Smith said the airport put up temporary walls on Dec. 22 to offer storage space to airlines, which are in charge of caring for the baggage from each of their flights.
"Airlines had security in place and additional staff, but have since increased those security measures," Smith told Postmedia on Thursday.
Passengers seeking to retrieve their luggage must confirm their identity with airline workers before they are escorted into the overflow enclosure.
"We are suggesting passengers in this situation start a claim with their airline," Smith said in an email. "The airline will provide details on when and where they can pick up their bags at the airport or will make arrangements to send bags to you."

Brooklyn composer Darcy James Argue took things into his own hands this week after submitting a lost baggage claim with Air Canada that received no immediate response.
The 47-year-old, who landed at the airport on a delayed flight on Dec. 22, resorted to opening the "Find My" application on his phone to pinpoint the location of an Apple AirTag in his luggage.
While Air Canada's digital tracking system, WorldTracer, offered no indication as to Argue's luggage location, his personal tracking device confirmed the bags were at YVR.
On Wednesday, airport staff escorted him into the overflow baggage claim areas where he found his luggage, which contained Christmas gifts he had meant to give to his parents in Vancouver.
"If I didn't have the AirTag, I would have no idea that my bag actually arrived here and how to find it," Argue said. "There were hundreds and hundreds of suitcases, sectioned off by days, some from more than a week ago. It still boggles my mind."
Big banks raise prime lending rates to 6.7% after Bank of Canada hike – Global News
Canada's six biggest banks raised their prime lending rates following an eighth consecutive increase to the Bank of Canada's benchmark interest rate.
The central bank's target for the overnight rate now sits at 4.5 per cent following a quarter-point hike on Wednesday.
The central bank's policy rate sets borrowing rates for other lending institutions, which feeds into terms for Canadian consumer loans like mortgages.
After Wednesday's decision, TD Bank, Scotiabank, BMO, RBC, CIBC and National Bank all raised their prime lending rate by 25 basis points to 6.7 per cent.
This marks the highest point for the prime lending rate in Canada since 2001, according to data from RateSpy.com.
Believing inflation is set to "decline significantly," the Bank of Canada signalled Wednesday that it was ready for a pause after 425 basis points of hikes to its policy rate.
5:15
Options for homeowners struggling with mortgage payments
&copy 2023 Global News, a division of Corus Entertainment Inc.
Home Depot investigation: Data shared without consent
OTTAWA –
Retailer Home Depot shared details from electronic receipts with Meta, which operates the Facebook social media platform, without the knowledge or consent of customers, the federal privacy watchdog has found.
In a report released Thursday, privacy commissioner Philippe Dufresne said the data included encoded email addresses and in-store purchase information.
The commissioner's investigation discovered that the information sent to Meta was used to see whether a customer had a Facebook account.
If they did have an account, Meta compared what the customer bought at Home Depot to advertisements sent over the platform to measure and report on the effectiveness of the ads.
Meta was also able to use the customer information for its own business purposes, including user profiling and targeted advertising, unrelated to Home Depot, the commissioner found.
It is unlikely that Home Depot customers would have expected their personal information to be shared with a social media platform simply because they opted for an electronic receipt, Dufresne said in a statement.
He reminded companies that they must obtain valid consent at the point of sale to engage in this type of activity.
"As businesses increasingly look to deliver services electronically, they must carefully consider any consequential uses of personal information, which may require additional consent."
Home Depot told the privacy commissioner it relied on implied consent and that its privacy statement, available through its website and in print upon request at retail outlets, adequately explained the company's use of information. The retailer also cited Facebook's privacy statement.
The commissioner rejected Home Depot's argument, saying the privacy statements were not readily available to customers at the checkout counter, adding shoppers would have no reason to seek them out.
"The explanations provided in its policies were ultimately insufficient to support meaningful consent," Dufresne said.
He recommended that Home Depot stop disclosing the personal information of customers who request an electronic receipt to Meta until it is able to put in place measures to ensure valid consent.
Home Depot fully co-operated with the investigation, agreed to implement the recommendations and stopped sharing customer information with Meta in October, the commissioner said.
This report by The Canadian Press was first published Jan. 26, 2023.
——
Meta funds a limited number of fellowships that support emerging journalists at The Canadian Press.
Rent increased more than 18% last year for new tenants, new numbers show – CBC News
A surge in demand pushed Canada's rental market to its tightest level in two decades last year, with the vacancy rate in purpose-built apartments dipping below two per cent and rent for new tenants going up by 18 per cent.
Those were some of the main takeaways from the Canada Mortgage and Housing Corporation's annual report on the state of Canada's rental market.
The figures cited above were for purpose-built rental apartments, so they don't include what's happening in condos, or in apartments built out of occupied family homes.
For purpose-built rentals, the national vacancy rate fell to 1.9 per cent last year, its lowest level since 2001.
Booming demand for apartments pushed up the price to get one, too, with the average rent hitting $1,258 a month. That was up by 5.6 per cent from the previous year's level, and roughly twice the annual average seen for the past 30 years.
But rent didn't go up at the same pace for every unit.
Apartments where there was a change in tenants saw the rent go up by 18.9 per cent. Those where there was no change in tenancy saw rents go up by only 2.9 per cent, on average. "This reflects the fact that, once a tenant vacates a unit, landlords are generally free to increase asking rents to current market levels," the CMHC said.
That gap was even more stark in two of Canada's biggest cities, Toronto and Vancouver, where average rents for a unit that saw a tenant change went up by 29 and 24 per cent, respectively.
Geordie Dent, the executive director of the Federation of Metro Tenants Association, has spent more than a decade as a watchdog for the rental market in Toronto. He says the situation is as dire as he's ever seen, with a surge in so-called "renovictions," where landlords are eager to take advantage of higher market rents by evicting tenants and raising rents to someone new
"There's an incentive for them to try to illegally evict people and raise the rent," he told CBC News in an interview. He says he hears stories every day of people staying in unsuitable housing situations because of desperation. "They're afraid that if they get kicked out of their current place for a new one, rent's going to be like $1,000 higher."
WATCH | 'Renovictions' becoming common, tenant advocate says:
Geordie Dent, the executive director of the Federation of Metro Tenants' Association, says the situation in Toronto's rental market is the worst he's ever seen.
Things aren't much better across the country in Vancouver, either. The vacancy rate fell to just 0.9 per cent, with the average price for a two-bedroom hitting $2,002 a month. That's up by 5.7 per cent from last year, but it's up by 24 per cent among units that have seen a tenancy change.
Some of those in the lower mainland's rental market fear the system is irreparably broken.
Vinny Cid was working and living in Victoria, but when his job allowed him to work remotely in 2021, he made the decision to move home with his parents.
He, his sibling and his two parents share a rental home in Richmond, B.C. for $2,800 a month which suits their needs, but he says they are only able to get that because his parents have lived in the unit since 2016.
"The rental situation has devolved quickly," he told CBC News in an interview Thursday. "I check rental listings almost daily, and something similar today would cost $4,000 or more."
"It's depressing to see how prices have spiraled out of control very quickly," he said.
While his situation works for him for now, should his employment or needs change, he suspects he would have to leave the province, or even the country. And he says he worries for those who don't have the income and family support he has.
"Everybody is being told to either improvise or get pushed out," he said. "In terms of outlook, it doesn't look good."