$3 million Vancouver real estate tax evasion investigation spurs CRA search warrants – Richmond News
The Canada Revenue Agency announced Wednesday two search warrants were issued in Vancouver related to an ongoing criminal investigation of alleged evasion of taxes on $3 million in unreported income from real estate transactions.
Details from the agency's bulletin were sparse.
"On December 18, 2019, 16 CRA investigators took part in the operation, searching for evidence corresponding to the commission of offences against the Income Tax Act, Excise Tax Act, and the Criminal Code.
"The CRA has placed a significant focus in major centers such as the Lower Mainland in British Columbia, where there are consistently high numbers of real estate transactions. Today's announcement further demonstrates how this focus is helping combat non-compliance and leveling the playing field for those who pay their taxes," stated the CRA.
Recent tax audits of the B.C. real estate sector are now resulting in average assessments of more than $134,000, as the agency sharpens its aim at some of the most egregious instances of tax avoidance and evasion.
In a six-month period, from March to September of this year, the CRA has issued $149.9 million in assessments as a result of 1,113 real estate audits in B.C. alone.
In the first three months of 2019 average assessments were raking in more than $200,000.
The 2019 audits show an uptick in assessments for knowingly making false statements on returns – which can lead to criminal prosecution for tax evasion.
Steven Flynn, a chartered professional accountant who specializes in international taxation with Andersen Tax, told Glacier Media in June the results don't surprise him, "because of the rapid increase in real estate prices and what's been well-publicized activity, what with the flipping of properties and non-compliance and illegal activity that's gone on in B.C."
The real estate audit program effectively targets Greater Vancouver and Greater Toronto properties. Since launching in 2015 the CRA has identified a total of $1.31 billion from its augmented real estate audit program, including $136.5 million from 2,188 penalties.
The CRA bulletin went on to state:
"Combatting non-compliance in the real estate sector requires a multi-pronged approach. This includes taxpayer education, publishing convictions, as well as collaborating with industry and government partners to reduce the social acceptability of, and participation in, the underground economy.
Tax evasion is a crime. Falsification of records, claims and CRA documents, wilfully not reporting income, or inflating expenses can lead to criminal charges, prosecution, jail time, and a criminal record. Under the income tax and excise tax laws, being convicted of tax evasion can include fines ranging from 50% to 200% of the evaded taxes and up to five years in jail. Being convicted of tax fraud under section 380 of the Criminal Code carries a sentence of up to 14 years in jail.
In 2018-2019, there were 22 convictions, with 12 taxpayers sent to jail for a total of 19 years. These individuals were sentenced for wilfully evading payment of $4,179,089 in taxes."
It was not stated whether any of those 22 convictions were a result of the real estate audits.
gwood@glaciermedia.ca
Greater Victoria real estate sales, prices surge amid strong demand, low inventory; 'mobs' of buyers – Times Colonist
"Mobs" of buyers are viewing homes for sale across the region, putting in offers well above asking prices and waiving inspections as the real estate market continues surging during the pandemic and traditional slower winter months.
Home sales of all types hit a record 863 during February, smashing the previous mark of 780 in 1992, and sailing past the 772 sales in 2016.
And prices are climbing.
The average price of a ­single-family home in the capital region breezed past the $1-million mark in June as the inventory of available homes for sale withered.
February's single-family home average price hit $1.16 million — up from $888,000 during the same month a year ago. Last month's average was beefed up by the sale of 30 properties that sold for more than $2 million — with 12 of those selling for asking prices and above, said Dustin Miller of 8X Real Estate in Victoria.
He said an equestrian farm in Central Saanich listed for $6 million went $155,000 over asking and there were three ­condominium sales for more than $2 million each, including the penthouse at Hudson Place One, the tallest building in Victoria.
The Victoria Real Estate Board said the benchmark value — or median price without the high and low end of sales — for a single-family home in the region's core municipalities during February increased year-over-year by 9% to $948,200, a 1.7% increase from the previous month.
The benchmark value for a condominium in the core remained close to last year's value at $525,400.
Real estate board president David Langlois said the market is caught between constrained inventory and high demand.
"The good news is that we have seen some stabilization in listings and condo pricing between January and ­February, but we continue to see huge pressure on single family homes," said Langlois. "New listings are snapped up as soon as they are listed."
That's resulted in pressure on single family homes, where there is significant competition for desirable homes. "And in our marketplace most homes are desirable … and people are ­competing for properties and pushing prices up."
There were 1,318 active listings for sale on the board's Multiple Listing Service at the end of February — 38% fewer than the same period a year ago.
Miller said there are fewer than 400 single-family homes available across the entire system right now. "In a typical year we will see the most amount of inventory go online in April and May, but if the current trend continues, we will see only around half of the number of new listings compared to what was normally seen in the past."
Kevin Sing of DFH Realty listed a modest, three-bedroom no-step rancher in East Saanich on Thursday for $759,000 and has shown it to nearly 50 prospective buyers over four days. He's scheduled appointments from dawn until dusk and has received several offers, some unconditional, and several well over the asking price.
Sing said although the federal government's mortgage stress test has put many younger buyers out of the single-family-home market, empty nesters, older couples who are downsizing or families with students at nearby Camosun College and the University of Victoria are lining up for the East Saanich home.
The demand for real estate seems insatiable, said Sing, and it isn't just Greater Victoria.
"It's worldwide," he said. "I get on regular Zoom calls and everyone is experiencing the same thing, from Manhattan to the Grand Caymans. Unless you're in a war zone, the demand for housing right now is just ridiculous.
"It's hard to explain … it seem we have collectively decided [during COVID] that nesting is what we want to do."
Langlois said the theme for 2021 is going to be inventory — "where does it come from and how much new supply can be approved — so that this situation does not persist."
"We've seen the government attempt to influence the housing market in hopes of dampening the demand for home ownership," he said. "The foreign buyer tax has changed nothing … our market continues to zoom forward with almost no foreign buyers. The government adjusted mortgage qualification rules, those are absorbed by the market and buyers adjust."
Langlois said concerns about housing prices and availability should be addressed by supporting new developments in municipalities. "Be vocal with your local council or neighbourhood association," he said. "These stakeholders hold the power in these negotiations and help to make space in your community. Gentle density and the building of new homes are the only pathway to moderate housing prices in our area."
Miller said buyers and sellers should expect a competitive trend, including "mob-like numbers of people" showing up to see new listings.
He noted "bully offers" being submitted within hours of a property being listed and the waiving of all buyer protection contingencies such as home inspections.
Toronto real estate market surges in February, average price surpasses $1 million – OrilliaMatters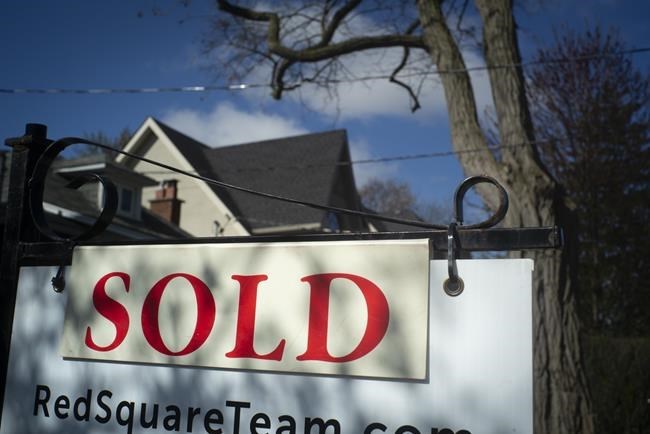 Toronto's housing market soared in February as the average home price surpassed $1 million for the first time, according to the Toronto Regional Real Estate Board.
The board said Wednesday that February home sales reached 10,970, a 52.5 per cent jump from the 7,193 homes sold in the same month last year.
The average selling price for all home types was up 14.9 per cent to $1,045,488, an increase from $910,142 in 2020 that was largely attributed to rising prices in the suburban 905 area code that surrounds Toronto.
The board believes February's numbers indicated that COVID-19 fears aren't keeping buyers and sellers out of the market and that their interest in purchasing or listing homes will fuel record prices to climb even higher.
Just last month, the board predicted by the time 2021 ends the average selling price in the region will be $1.025 million, up from an average $929,692 in 2020. February's numbers surpassed that expectation already.
"It's clear that the historic demand for housing experienced in the second half of last year has carried forward into the first quarter of this year with some similar themes, including the continued popularity of suburban low-rise properties," said TRREB president Lisa Patel, in a release.
She warned that trouble was on Toronto's horizon because of disparities between supply and demand that are already shifting conditions to favour sellers and challenging other markets including Vancouver.
"It's also evident that the supply of listings is not keeping up with demand, which could present an even larger problem once population growth picks up following widespread vaccinations later this year and into 2022," she said.
The number of new listings surged 44.6 per cent but active listings were down one per cent to 8,727.
Purchases were up across most housing types in February too.
Condominiums led the way with sales volume increasing 64.3 per cent, but average prices in the category dropped 3.7 per cent to $642,346.
Townhouse sales climbed 62.5 per cent and prices increased 17.3 per cent to $858,025.
Semi-detached sales increased 53.1 per cent and prices grew 20.3 per cent to $1,050,820.
Detached sales increased 43.8 per cent to 4,943 and prices rose 23.1 per cent to $1,371,791.
This report by The Canadian Press was first published March 3, 2021.
The Canadian Press
Canada's mortgage rates edging higher in first rise since before COVID crisis
By Fergal Smith and Noor Zainab Hussain
(Reuters) – Canadian mortgage rates are beginning to inch higher for the first time since before the COVID-19 crisis, reflecting the spike in long-term bond yields, but with home loans still languishing around historically low levels the modest hike is unlikely to slow the red-hot housing market.
The lowest rate for a Canadian five-year fixed rate mortgage, the most common mortgage in Canada, climbed by 25 basis points last week to 1.64%, according to Ratehub.ca. It was the first increase since January 2020. The move could encourage buyers to lock in historically low borrowing costs before they rise further.
Mortgage rates had been trending lower in Canada since the Bank of Canada slashed its benchmark interest rate last March to a record low of 0.25% to support the economy during the pandemic. So the move-up in mortgage rates is a sea change for home buyers, providing a sense that a bottom could be in place.
There was "a stampede to lock in rates last week and get pre-approvals," said James Laird, co-founder at Ratehub.ca, which compares rates on mortgages, insurance and credit cards. "There could be more increases coming."
TD Bank and National Bank of Canada told Reuters they have raised rates on at least some mortgage products, but Royal Bank of Canada, the country's biggest lender, said it has not raised mortgage rates recently.
Canada's other top six banks had not yet responded to a request for comment.
The low mortgage rates, pent-up demand and fewer listings amid the pandemic have lit a fire under the Canadian housing market. More than 550,000 homes, a record, traded hands in 2020, according to the Canadian Real Estate Association, with its Home Price Index rising at an annual rate of 13.5% in January.
Mortgage rates tend to track moves in the bond market with a lag. Canada's five-year yield has more-than doubled since the start of the year, briefly trading above 1% last Friday, as investors bet that the rollout of COVID-19 vaccines would boost economic activity.
"I would say the rise in interest rates comes a little bit earlier than anticipated, but it also came alongside some better than anticipated news" on the economy, said Royce Mendes, senior economist at CIBC Capital Markets.
Canada's economy grew at an annualized rate of 9.6% in the fourth quarter, Statistics Canada said on Tuesday, well above the BoC's forecast of 4.8%.
The strength of the real estate market has started to cause some discomfort for policymakers. Last week, BoC Governor Tiff Macklem said for the first time that the central bank is starting to see signs of froth.
The increase in rates so far is not seen as a game-changer.
"Mortgage rates remain very low by any measure," Laird said. "I don't think this will change consumer behavior."
(Reporting by Fergal Smith and Noor Zainab Hussian; Editing by Denny Thomas and Steve Orlofsky)