3 underdogs that could surprise in 24-team Stanley Cup Playoffs – theScore
The Stanley Cup Playoffs are impossible to predict in a normal year, so who knows what may transpire with 24 teams in the fold this summer.
Playoff hockey in the midst of a pandemic will be different – no fans, no home-ice advantage, and an extra round – but if you can bank on one thing to remain the same, it would be upsets. All 24 teams entering the expanded playoffs in Toronto and Edmonton will be coming off four months of rest, which could create chaos in the league's bracket experiment.
While we may not know what exactly lies ahead, here we predict three teams that have what it takes to go on a surprise run this postseason.
New York Rangers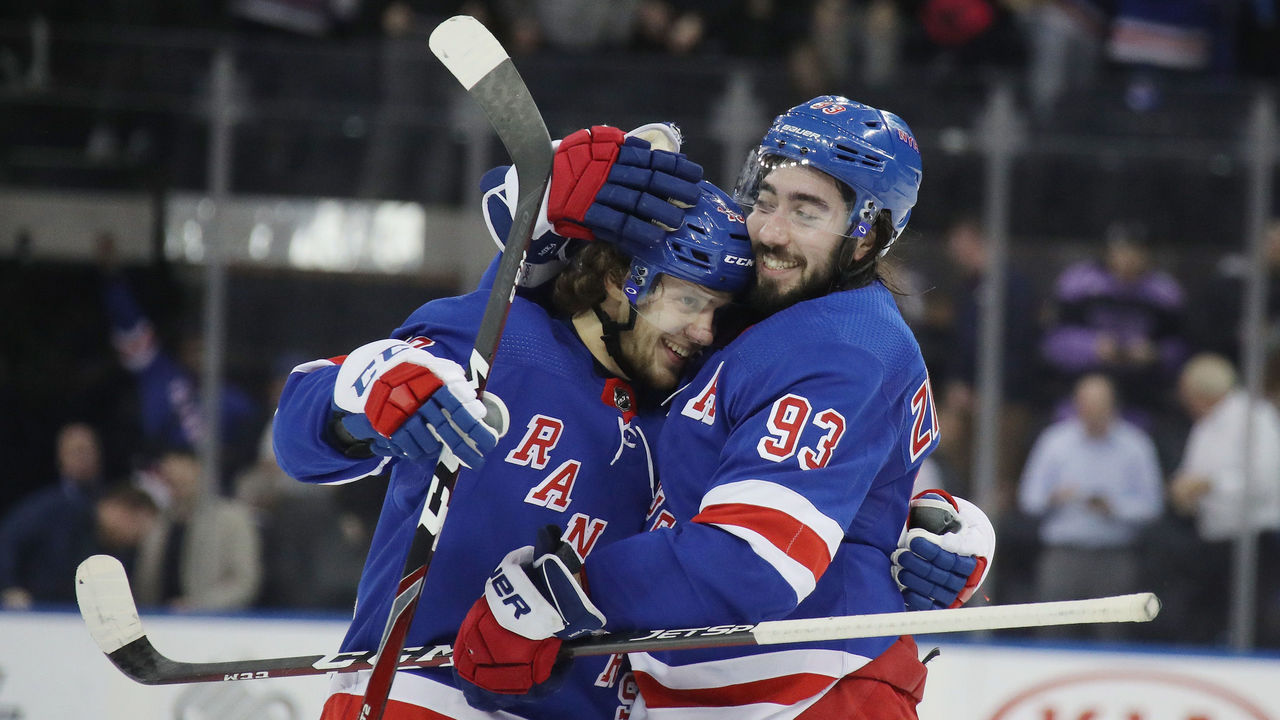 Opponent: Carolina Hurricanes
2019-20 record: 37-28-5 (.564)
Key stat: 4-0 vs. Hurricanes this season
The No. 11 Rangers were surging before the shutdown, and by no means will be an easy out despite coming into the tournament as the second-lowest seed in the Eastern Conference. Led by MVP candidate Artemi Panarin and dynamic pivot Mika Zibanejad, New York boasts one of the league's most dangerous top lines. However, the club's true X-factor lies in goal.
Russian phenom Igor Shesterkin put the Rangers on his back after making his highly anticipated NHL debut, winning 10 of 12 starts while posting a .932 save percentage. It will be weird seeing the Blueshirts competing in the playoffs without Henrik Lundqvist between the pipes, but the club rallied around Shesterkin in the regular season and will likely turn to the 24-year-old again in the qualifying round to quell Carolina's possession-heavy offense.
Carolina is one of the deepest teams in the East but were one of two clubs (along with Tampa Bay) to vote against the 24-team format before it was finalized – potentially due to the fact they were winless against the Rangers in 2019-20. The regular-season series wasn't particularly close, either, with New York outscoring Carolina 17-9 across four contests.
Minnesota Wild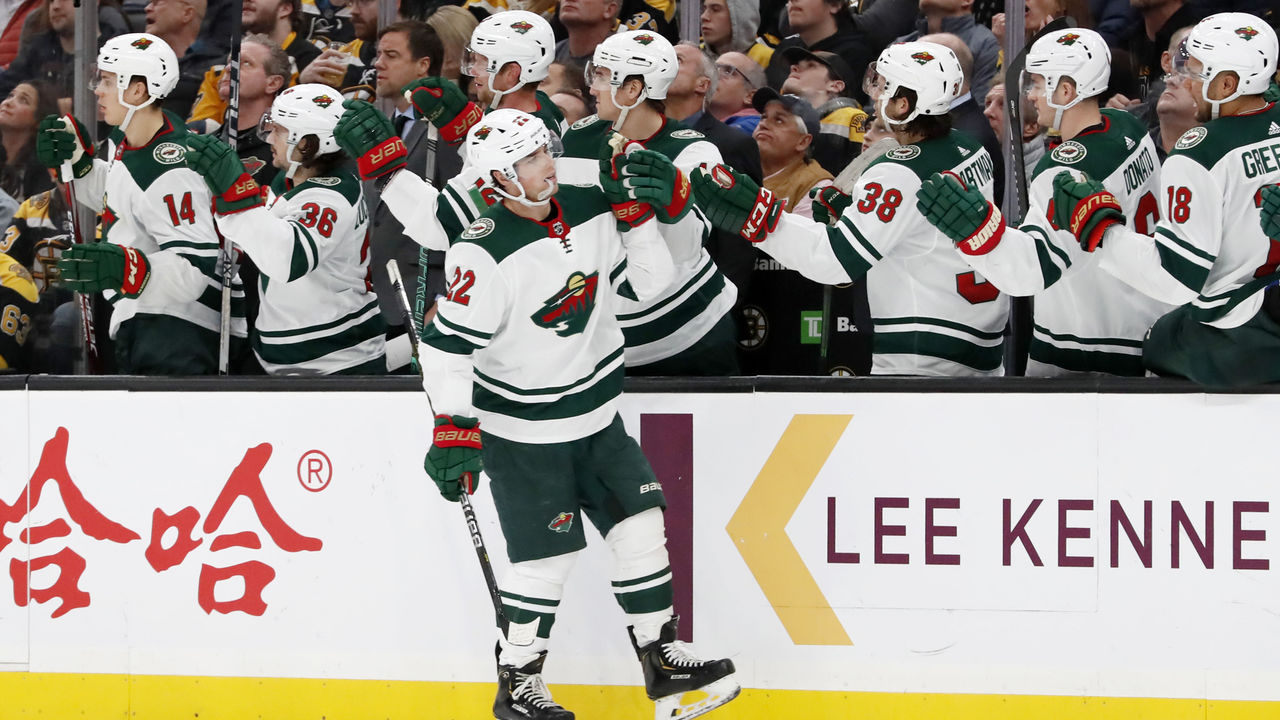 Opponent: Vancouver Canucks
2019-20 record: 35-27-7 (.558)
Key stat: Led league in xGA (107.12)
The No. 10 Wild have struggled to find any playoff success for much of the past decade, but Minnesota has potential to be a dark horse in the expanded postseason. The Wild were mediocre for much of the campaign, but they quietly put together a 16-10-4 record (a near 100-point pace over 82 games) after the calendar flipped to 2020, and were 8-4 under new head coach Dean Evason.
Minnesota was able to find success by shutting down its opponents, boasting the league's stingiest defense by way of expected goals against. On top of a rock-solid blue line, the Wild discovered a spark when they turned to backup Alex Stalock in goal, who usurped Devan Dubnyk and posted a .920 save percentage over his final 18 starts of the season.
Also working in Minnesota's favor is the stark contrast in experience between the two teams. The Canucks are a young, explosive bunch hoping to take a big step as a franchise and make some noise in the playoffs for the first time with their up-and-coming core. As exciting as the opportunity is, most of Vancouver's key players haven't tasted playoff hockey yet, whereas the Wild – a veteran group that can rely on the likes of Ryan Suter, Zach Parise, and Eric Staal – should be able to temper expectations and keep their composure once the stakes get higher.
Montreal Canadiens
Opponent: Pittsburgh Penguins
2019-20 record: 31-31-9 (.500)
Key stat: 2nd in NHL with 54.01 xGF%
The Canadiens-Penguins matchup, on paper, is easily the most lopsided series on our list. That said, watch out for the 12th-seeded Montreal team in a shortened series with minimal margin for error. Montreal is lucky to be in the playoffs after losing more games than they won in the regular season, but the Habs shouldn't be taken lightly this summer.
First, the Canadiens were one of the best possession teams in the league by numerous metrics, ranking second in five-on-five Corsi (54.43) and expected goals (54.01) this past season. Despite the strong underlying numbers, Montreal's lack of finishing talent – which is far inferior to Pittsburgh's – hindered its offensive results.
To stifle the Penguins' offensive advantage, the Canadiens have Carey Price, whose inclusion in the postseason picture reportedly irked numerous teams during the planning stages due to his ability to take over a shortened series. Price is far removed from his MVP form, but is still regarded as the best goalie in the world by many of his peers and perhaps will benefit from a lengthy rest. It's not completely unreasonable to imagine he's able to outplay one of Matt Murray or Tristan Jarry in three of five contests.
Finally, Montreal enters this postseason with nothing to lose. The Penguins' annual expectations are Stanley Cup or bust, so all the pressure to perform is on them. The Canadiens, on the other hand, aren't expected to go anywhere this postseason, and are a sneaky good long shot team.
STYX Releases Quarantine Video For 'Too Much Time On My Hands' In Time For STEELERS/RAVENS Football Game – BLABBERMOUTH.NET
STYX has released a video for its classic hit "Too Much Time On My Hands", filmed from the band's home studios specifically for Pittsburgh #SteelersNation in time for yesterday's (Wednesday, December 2) game against the Baltimore Ravens.
STYX's affiliation with the Pittsburgh Steelers has been strong for years. One of the band's other signature hits, "Renegade", has been an adopted theme song of the team for over a decade, and they've sung the national anthem at many Steelers games in recent years.
STYX recently asked fans for donations to be made to the Pittsburgh Foundation Emergency Action Fund. The Pittsburgh region is facing unprecedented economic, health and human services challenges in the global public health pandemic brought on by the COVID-19 virus. In response, on March 16, local philanthropies partnered to create the Emergency Action Fund, which awarded operating grants on a rolling basis to emergency service providers and nonprofit organizations serving on the front lines of recovery.
STYX has spent the last few months working on its new studio album, The upcoming effort will be the follow-up to "The Mission", which was released in June 2017. That disc marked STYX's first new LP in 14 years. It was recorded at Blackbird Studios in Nashville, co-produced and co-written with Will Evankovich, a longtime collaborator of guitarist/vocalist Tommy Shaw's in the SHAW/BLADES band and who also plays with THE GUESS WHO.
STYX's James "JY" Young told Radio Forrest in September that the band will hold off on releasing the new album until it can go back on tour. "That's the current plan," he said. "Because we like to have everything kind of get launched at once. It's easier to make people aware of it if it's not released in a vacuum. But if you can get a tour going, and tickets are selling, and then the record's out, it's easier to build a critical mass for awareness."
This past August, Young told the Q105.7 radio station that STYX's next LP may not arrive for at least another year. "If Dr. Fauci [Dr. Anthony Fauci, the director of the National Institute of Allergy and Infectious Diseases] is right, [we won't be able to tour until] the end of [2021], so that would put us out in 2022, which would be the 50th-anniversary year of us signing our first recording contract, which is February 22, 1972," he said. "But if it's in '22 that this record comes out, it'll be 2-22-22, so maybe that's what we've gotta wait for."
During the late 1970s and early 1980s, four straight STYX albums sold at least two million copies — "The Grand Illusion" (1977), "Pieces Of Eight" (1978), "Cornerstone" (1979) and "Paradise Theatre" (1981). The band eventually replaced original singer/keyboardist/songwriter Dennis DeYoung in 1999 with Lawrence Gowan.

[embedded content]
Raptors prop odds roll out in advance of season – Sportsnet.ca
With the start of the NBA regular season less than three weeks away the Toronto Raptors are adjusting to life in their temporary home of Tampa Bay. Forced to relocate due to continued cross-border travel restrictions related to the ongoing pandemic, the Raptors will play home games at Amalie Arena until further notice.
However, with a COVID-19 vaccine looking increasingly likely to roll out at some point in 2021, the odds of the Raptors playing at least one home game in Toronto this season sit at a short -250 in NBA props betting at sportsbooks monitored by OddsShark.com.
But faced with the prospect of living out of hotels for the entirety of the NBA season, the Raptors have taken a step back on the NBA odds.
Victorious in 53 games last season, second most in the NBA, the Raptors' win total for the upcoming season sits at just 43.5. Toronto remains a -360 favourite to return to the NBA playoffs for an eighth straight season, but their temporary exile from Scotiabank Arena and recent offseason moves have raised questions. While the team locked up Fred VanVleet with a lucrative four-year contract, the departures of Serge Ibaka and Marc Gasol suggest the team is undergoing a changing of the guard.
Those concerns extend to team president Masai Ujiri, who has been in demand around the league since leading Toronto to a championship and sports -110 odds of resigning his position with the Raptors before next season's NBA playoffs.
Indeed, if the Raptors fall out of postseason contention during their upcoming nomadic campaign, Kyle Lowry's future with the team could also be in question. The heart and soul of the Raptors since his arrival in Toronto eight years ago, Lowry played a crucial role in the team's march to an NBA title in 2019. But with Lowry turning 35 in March, and entering the final year of a contract that will pay him $30 million, he is listed as a +250 wager at online betting sites to not finish the season as a member of the Raptors.
While a slow start could place Lowry's future in question, Drake's position with the Raptors appears to be eternal. The Toronto-born hip hop star has served as the team's global ambassador since 2013, and has become a familiar presence around the franchise both on and off the hardwood.
That is not expected to change, even as the global pandemic rages, with the musician sporting -850 odds to take his familiar seat at courtside for at least one Raptors game in the season ahead.
Inside look at New York Rangers – NHL.com
NHL.com is providing in-depth roster, prospect and fantasy analysis for each of its 31 teams from Nov. 16-Dec. 16. Today, the New York Rangers.
The New York Rangers are confident they're entering training camp with the blueprint for how they need to look and play to be a Stanley Cup Playoff contender.
"We found that balance toward the end of last season, the last two months, from playing with a defensive conscience and also being productive offensively," Quinn said. "That's what we have to be. We found some continuity with lines and [defenseman] pairings, and that was really the first time that had happened in the last two years. I think for the first time going into training camp we have a little bit of a clearer picture of what we're going to look like."
[Rangers 31 IN 31: 3 Questions | Top prospects | Behind the Numbers | Fantasy breakdown]
The disappointment of the Rangers' quick exit from the Stanley Cup Qualifiers last season — they were the first team eliminated, swept by the Carolina Hurricanes in three games — hasn't stolen from their belief that they've grown into a contender to reach the Stanley Cup Playoffs.
It starts with familiarity with who they have returning, a list that doesn't include Henrik Lundqvist. They bought out the final year of the goalie's seven-year contract, making the Rangers' leader in wins (459) an unrestricted free agent to solve the three-goalie issue they dealt with last season and pave the way for Igor Shesterkin to be their new No. 1.
Shesterkin was 10-2-0 with a 2.52 goals-against average and .932 save percentage in 12 starts last season after being recalled from Hartford of the American Hockey League on Jan. 6. New York also re-signed goalie Alexandar Georgiev to a two-year contract Oct. 15.
"I just love his demeanor," Quinn said of Shesterkin. "I just love how confident he is."
Artemi Panarin proved last season, when the left wing had 95 points (32 goals, 63 assists) in 69 games (1.38 points per game), that he's comfortable in the New York spotlight, solving one of the questions the Rangers had going into last season.
Video: Top 10 Artemi Panarin plays from 2019-20
Panarin, entering the second year of his seven-year contract, is expected to start camp playing with center Ryan Strome, who re-signed with a two-year contract Nov. 5.
Quinn is eyeing 19-year-old Kaapo Kakko to be the right wing with Panarin and Strome, replacing Jesper Fast, who signed with the Carolina Hurricanes as a free agent. Kakko, the No. 2 pick in the 2019 NHL Draft, scored 23 points (10 goals, 13 assists) in 66 games last season.
Mika Zibanejad delivered as a No. 1 center last season, scoring 41 goals in 57 games, including an NHL-high 23 in 22 games from Jan. 30 to the end of the regular season. He is again expected to have Chris Kreider and Pavel Buchnevich on his line, giving the Rangers continuity in their top six forwards.
"No final decisions have been made, but certainly you want to start that way and hit the ground running," Quinn said.
Video: WSH@NYR: Zibanejad scores five goals, OT winner
The Rangers expect Alexis Lafreniere, the No. 1 pick in the 2020 NHL Draft, will be an impact player in his rookie season. Lafreniere is penciled in as the left wing on the third line, likely playing with 21-year-old center Filip Chytil.
Lafreniere arrived in the New York area from his home in Saint-Eustache, Quebec, in November and is training and living with a billet family in Connecticut.
"He has the whole package," Rangers assistant general manager Chris Drury said. "His skating, his sense, his shot, his passing, you name it, it's all very elite. His internal drive is exceptional."
The Rangers are comfortable with their returning defensemen, even if there are issues to iron out, namely filling an opening on the left side they created by trading Marc Staal to the Detroit Red Wings.
Quinn said the Rangers could move a right-handed defenseman (Jacob Trouba, Tony DeAngelo or Adam Fox) to the left side.
DeAngelo, who led New York defensemen with 53 points (15 goals, 38 assists) last season, is the most likely candidate, but Quinn said he knows Fox would be comfortable too. It's unlikely they ask Trouba to switch.
K'Andre Miller and/or Tarmo Reunanen, two of New York's top defenseman prospects and each a left-handed shot, could play well enough in training camp to win a job and remove the need to move a righty to the left side.
"That probably is the one position that we're going to have to really let it play out," Quinn said.
The Rangers have far fewer uncertainties than they've had entering the past two seasons, fueling their optimism.
"We feel real good about where we are," New York president John Davidson said. "We've come a long way. There's been some very difficult decisions, but to get to that end, to the championship, this is what you have to do."