5 charts show what the global economy looks like heading into 2021 – CNBC
Two men paint graffiti of frontline workers on a wall during the coronavirus pandemic in Mumbai, India.
Imtiyaz Shaikh | Anadolu Agency | Getty Images
SINGAPORE — The Covid-19 pandemic has sent the global economy into one of its worst recessions ever, and it isn't yet clear when a full recovery will be in place.
Recent progress on coronavirus vaccines has brightened the economic outlook, but some economists said a potentially slow rollout of vaccines across developing economies could hamper the return of activity to pre-pandemic levels.
Even among advanced economies, renewed lockdowns in Europe in a bid to stave off a resurgence in infections could push back economic recovery, according to economists.
"The vaccine discovery is a shot in the arm, but not until 2022," Citi economists said in a report in early December. Still, there will be "clear improvement" in the global economy in 2021, partly because "it's not hard to be better than 2020," they said.
Steep decline in activity
The rapid spread of Covid — which was first detected in China — forced many countries into months of lockdown in 2020 that markedly reduced economic activity.
As a result, gross domestic product — the broadest measure of activity — plunged to record lows across many economies.
The International Monetary Fund forecast the global economy could shrink 4.4% this year, before bouncing back to 5.2% growth in 2021. The IMF said in October the world economy has started to recover, but warned the return to pre-pandemic levels will be "long, uneven, and uncertain."
Travel restrictions remain
One main feature of coronavirus lockdowns around the world is the complete or partial closure of borders, which brought much of international travel to a halt.
As of Nov. 1, more than 150 countries and territories had eased Covid-related travel restrictions, according to the United Nations World Tourism Organization.
But many restrictions remain in place to limit movements across the borders, said UNWTO. That include:
Only opening borders to visitors with specific nationalities or from certain destinations;
Requiring visitors to present a negative Covid test before letting them enter the country;
Requesting visitors to quarantine or self-isolate upon arrival.
Job losses accelerate
A major consequence of the pandemic-induced economic slump is an increase in job losses globally.
The Organisation for Economic Co-operation and Development, an intergovernmental entity, said that in some countries, the early effects of Covid-19 on labor markets were "ten times larger than that observed in the first months of the 2008 global financial crisis."
"Vulnerable workers are bearing the brunt of the crisis. Low-paid workers have been key to ensure the continuation of essential services during lockdowns, often at a substantial risk of exposing themselves to the virus while working," the OECD said in a report.
"They have also suffered greater job or income losses."
Government debt soars
Governments have increased spending to protect jobs and support workers. Globally, government measures to cushion the pandemic's economic blow totaled $12 trillion, the IMF said in October.
Such staggering levels of spending have pushed global public debt to an all-time high — but governments should not withdraw fiscal support too soon, said the fund.
"With many workers still unemployed, small businesses struggling, and 80‑90 million people likely to fall into extreme poverty in 2020 as a result of the pandemic — even after additional social assistance — it is too early for governments to remove the exceptional support," said IMF.
Central banks step in
Central banks, too, have come in to support the economy by cutting interest rates — many to record-low levels — which will help governments to manage their debt.
The U.S. Federal Reserve, whose policy affects economies worldwide, slashed interest rates to near zero and committed to not raising them until inflation exceeds its 2% target.
Central banks in advanced economies — including the Fed and the European Central Bank — have also increased their asset purchases to inject more money into the financial system. That's a move also adopted by an increasing number of central banks in emerging markets as they explore ways to support their respective economies hit hard by the pandemic.
The U.S. economy likely grew 4.1% at the end of 2020, but GDP seen masking weakness in some sectors – MarketWatch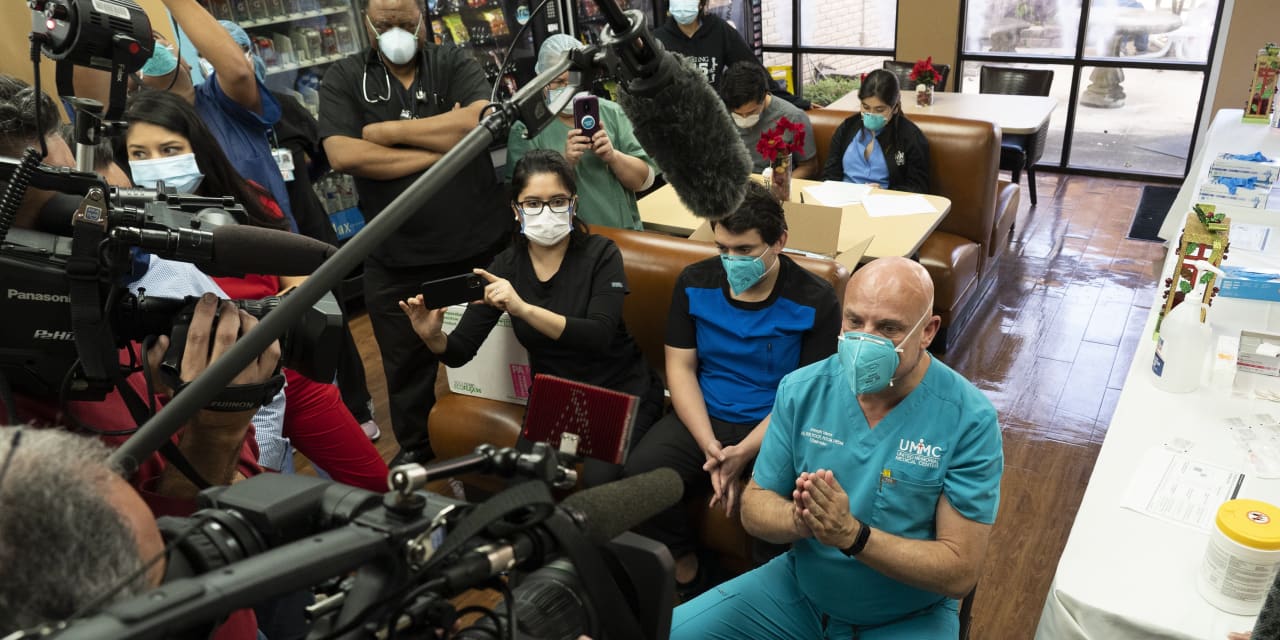 The U.S. economy may have grown about 4% in the final three months of 2020, a great showing even in the best of times.
These are not the best of times.
The economy still has lots of ground to make up, for one thing, after the deepest recession on record. And growth slackened off toward the end of 2020 after the coronavirus pandemic roared back and caseloads reached a record high, pointing to a loss of momentum in the economy early in the near year.
Read: The U.S. lost 140,000 jobs in December. How bad was it?
The U.S. fourth-quarter report on gross domestic product, due on Thursday, will still offer a useful diagnosis of the economy. It will tell us which parts have mostly recovered and which are still ailing.
Wall Street
DJIA,
-0.57%
economists polled by the Dow Jones/The Wall Street Journal predict a 4.1% increase in fourth-quarter GDP on an annualized basis. While that would mark a steep drop from the 33.4% increase in the third quarter, it still shows the economy forging ahead even as the coronavirus pandemic spiked again.
The details are unlikely to look quite as good.
The biggest component of the U.S. economy, consumer spending, almost certainly softened to mediocre 3% growth or less. Most government aid for the economy had faded away by the start of the quarter and businesses facing new government restrictions laid off more workers at the end of the year.
Business investment in structures such as oil rigs or office buildings was also weak.
Other drags on the economy included lower state and local spending and a bigger international trade deficit.
The economy got some sizzle from a surprising boom in the housing market. Low mortgages rates and people seeking more space outside the cities have lifted sales of previously existing homes to a 14-year high.
Businesses also started to rebuild their inventories — goods for future sale, that is — after letting them draw down early in the pandemic. That's a good sign for 2021 since it suggests companies are expecting stronger sales.
Indeed, a pair of surveys of business executives in January suggest companies are banking on a better 2021, mostly because of rollout of coronavirus vaccines.
How soon the vaccinations levels are high enough to really help the economy, however, is still an open question.
Read: Fauci says two more COVID-19 vaccines could be approved within 'weeks'
"We only expect vaccination rates to be high enough to accelerate the economic recovery from mid-2021 onward," said Cailin Birch, global economist at The Economist Intelligence Unit.
The promise of more federal financial aid from the Biden White House is also adding to the optimism, but the stimulus could take awhile to reach households and businesses. It's also unclear how much aid Congress will approve.
What could also help the economy after a rocky start in the new year is rising consumer confidence. Americans historically spend more when they are confident and push the economy to greater heights.
A pair of surveys this coming week, consumer confidence and consumer sentiment, will give another glimpse into whether the hopes inspired by the vaccines are outweighing the angst caused by the record number of coronavirus cases.
Biden Seeks to Juice Economy as Congress Spars Over Stimulus – BNN
(Bloomberg) — President Joe Biden is discovering the limits of his power to boost the world's largest economy on his own, as congressional opposition to his sweeping stimulus plan hardened soon after he was inaugurated.
While publicly urging Congress to swiftly pass his $1.9 trillion proposal — warning of rising unemployment, hunger and homelessness if lawmakers don't act — Biden issued more than a dozen executive actions in his first three days in office, some aimed at propping up the economy and containing the coronavirus to allow its reopening.
While moderate Republicans including Susan Collins of Maine see little need for a big new spending bill after last month's dose, Biden's making the case that the crisis is deepening, not fading, and urgent action is needed. But top Biden aides acknowledge that unilateral action can only accomplish so much.
"If we don't act now, we will be in a much worse place, and we will find ourselves needing to do much more to dig out of a much deeper hole," Biden's top economic adviser, Brian Deese, said of the stimulus plan at a press briefing on Friday.
Record Covid-19 death tolls and renewed lockdowns have battered the economy this winter. A government report for December on Friday is expected to show the worst back-to-back monthly declines in personal spending since the dark days of last spring. And while U.S. stocks hit record highs the past week, some of that optimism has been based on assumptions of new stimulus getting passed.
Biden's executive actions can at least signal his intentions, but he'll need cooperation from Congress to validate financial markets' confidence and make a real difference for the economy and the 11 million unemployed Americans. The legislature's sign-off is required for the scale of spending needed to notably boost growth.
Biden signed two orders on Friday that expand food stamp benefits for low-income families, direct the Treasury Department to ensure Americans eligible for stimulus checks received them and reinstate protections and collective bargaining rights for federal workers. Next week, he's expected to sign additional actions urging federal agencies to buy goods and services from U.S. companies, directing regulatory action to fight climate change and strengthening Medicaid.
"It is perfectly reasonable and necessary to start with a strong statement of intent from the administration, and it sounds like that is how they will use the executive orders — as ammunition in the battles to come," said Thea Lee, president of the Economic Policy Institute, a left-leaning thinktank.
GOP Skepticism
"But when we talk about the $1.9 trillion Covid relief package or the big investments in infrastructure, climate change or the 'care economy,' those are things that will need the finance and power of the U.S. Congress to succeed," she said.
Biden's plan has so far sparked little enthusiasm from congressional Republicans. They have complained his first legislative proposal is too expensive, not targeted enough or is too much of a laundry list of liberal goals, including a minimum wage increase.
Not a single Republican has indicated support for Biden's stimulus plan as presented, with Senators Mitt Romney, Chuck Grassley and Collins questioning the urgency since the government is still enacting a $900 billion stimulus from December.
"It's hard for me to see, when we just passed $900 billion of assistance, why we would have a package that big," Collins said this week about Biden's proposal. "I'm not seeing it right now, but again, I'm happy to listen."
Piecemeal Approach?
Parts of the plan could get traction, however. Republican Senator Todd Young of Indiana called the total package a "non-starter, but it's something that we will scrutinize and hopefully, find some common ground on."
He said he might support a proposal to add funding for coronavirus vaccinations, as an example, and said he and Vice President Kamala Harris had spoken about finding a compromise.
The Biden team has said it would prefer to pass the relief package with Republican votes. Deese is scheduled to speak with a bipartisan group of senators on Sunday at 3 p.m. Biden is making his own calls to lawmakers, though the White House has declined to specify with whom he's speaking.
During her confirmation hearing on Tuesday, Treasury Secretary-designate Janet Yellen defended Biden's proposal against Republicans who raised concerns about the deficit — an issue that practically evaporated in Washington while Donald Trump was president.
Yellen's Case
She said Congress needs to "act big" to revive the economy.
"Right now, short term, I feel that we can afford what it takes to get the economy back on its feet, to get us through the pandemic," Yellen told the Senate Finance Committee, highlighting that interest rates are historically low and that debt-servicing payments as a share of the economy are lower today than before the 2008 financial crisis.
She said doing too little to sustain the economy now could lead to "scarring."
Presidents Barack Obama and Trump both made liberal use of executive orders and other actions to make policy, particularly when the opposing party controlled a chamber of Congress.
"Executive orders are the trend. It began almost 30 years ago, and they are becoming more and more the practice because Congress has been unable and unwilling to address these challenges through statute," said former Democratic Senate Majority Leader Tom Daschle.
Daschle said Biden has no choice but to use the executive-authority tools: "He has an ambitious agenda."
©2021 Bloomberg L.P.
Three ways Alberta can refocus its economy after Keystone's cancellation – The Globe and Mail
.c-your-globe__overlaymargin:0 auto;width:100%;max-width:1260px;height:calc(100% – 109px – 20px);top:109px;left:0;right:0;z-index:1051;position:fixed;pointer-events:none.c-your-globe__overlay::before,.c-your-globe__overlay::afterposition:absolute;border:solid transparent;content:" ";width:0;height:0;bottom:auto.c-your-globe__overlay::beforeborder-bottom-color:#595959;border-width:11px;top:-21px;left:83px.c-your-globe__overlay::afterborder-bottom-color:#FFF;border-width:10px;top:-19px;left:84px.c-your-globe__overlay-innerwidth:100%;height:100%;pointer-events:auto.c-your-globe__overlay-contentposition:relative;max-height:100%;background-color:#FFF;border:1px solid #979797;box-shadow:1px 1px 3px #595959;overflow-x:hidden;overflow-y:scroll;-webkit-overflow-scrolling:touch.c-your-globe__overlay-header,.c-your-globe__overlay-footerdisplay:flex;align-items:flex-start;padding:10px 10px 10px 20px.c-your-globe__overlay-headerjustify-content:flex-start;border-bottom:1px solid #979797.c-your-globe__overlay-header–no-borderborder-bottom:0.c-your-globe__overlay-header .c-your-globe__overlay-labelmargin-top:12px.c-your-globe__overlay-header .c-your-globe__overlay-textmargin-bottom:12px.c-your-globe__overlay-header .c-buttonmargin-left:auto.c-your-globe__overlay-footerjustify-content:flex-end.c-your-globe__overlay-bodypadding:0 20px 10px 20px.c-your-globe__overlay-body .c-spinnermargin:20px auto;border-top-color:#E5E5E5;border-right-color:#E5E5E5;border-bottom-color:#E5E5E5;border-left-color:#595959.c-your-globe__triggercursor:pointer;border:none;appearance:none;display:block.c-your-globe–hidden .c-your-globe__triggerbackground-color:#191919.c-your-globe__trigger,.c-your-globe__trigger:hover,.c-your-globe__trigger:focusbackground-color:#000.c-your-globe__trigger–dot::aftercontent:"";width:10px;height:10px;margin-left:3px;border-radius:100%;background-color:#FFF;transform:translateY(-6px);display:inline-block.c-your-globe__trigger–dot–unread::afterbackground-color:#93c393.c-your-globe .c-scroll-menu__arrowdisplay:flex.c-your-globe .c-scroll-menu__nav::before,.c-your-globe .c-scroll-menu__nav::afterdisplay:none.c-your-globe__trigger-containerposition:relative.c-your-globe__maskheight:100%;background-color:#333;position:absolute;top:0;z-index:11.c-your-globe__mask–leftleft:0.c-your-globe__mask–rightright:0.c-your-globe–hiding~.c-your-globe__overlay,.c-your-globe–hiding .c-your-globe__maskanimation-name:c-your-globe-hide;animation-duration:0.25s;animation-timing-function:linear;animation-iteration-count:1;animation-direction:normal;animation-fill-mode:forwards;animation-play-state:running.c-your-globe–revealing~.c-your-globe__overlay,.c-your-globe–revealing .c-your-globe__maskanimation-name:c-your-globe-reveal;animation-duration:0.25s;animation-timing-function:linear;animation-iteration-count:1;animation-direction:normal;animation-fill-mode:forwards;animation-play-state:running@keyframes c-your-globe-hidefromopacity:1toopacity:0@keyframes c-your-globe-revealfromopacity:0toopacity:1@media (min-width:48rem).c-your-globe__overlayheight:calc(100% – 109px – 30px).c-your-globe__overlay-innerwidth:528px.c-your-globe__overlay-footer,.c-your-globe__maskdisplay:none#c-site-header-account-subscribed-button .c-button__icon-pulse,#c-site-header-account-subscribed-dropdown .c-button–dropdown-following .c-button__icon,#arc-follow-topics-info-icon-msg,.js-unread-stories-indicatordisplay:none.c-your-globe__overlay .c-timestamp–updatedmargin-left:10px.c-your-globe__overlay .c-cardborder:none;border-bottom:1px solid #ddd9d7;padding-right:0;padding-left:0.c-your-globe__overlay .c-card:last-childborder-bottom:0.c-your-globe__overlay .c-card__labelmargin-bottom:0.c-your-globe__overlay .c-card__mediawidth:90px.c-your-globe__overlay .c-card__topicsdisplay:flex;align-items:center;margin-bottom:10px.c-your-globe__overlay .c-card__topics__itemfont-family:"GMsanC-Bold",Helvetica,Arial,Verdana,sans-serif;text-transform:uppercase;color:#333;font-size:12px;letter-spacing:1px;line-height:12px;margin-right:10px.c-your-globe__overlay .c-topic-group__body>.c-topic-group__items>.c-topicmargin-top:0.c-your-globe__overlay-labelfont-family:"GMsanC-Bold",Helvetica,Arial,Verdana,sans-serif;color:#191919;font-size:16px;letter-spacing:1px;line-height:20px;margin:16px 0.c-your-globe__overlay-textfont-family:"GMsanC-Regular",Helvetica,Arial,Verdana,sans-serif;margin:16px 0.c-your-globe__overlay-listcolor:#111;font-family:"GMsanC-Regular",Helvetica,Arial,Verdana,sans-serif;font-size:16px;line-height:20px;letter-spacing:0;padding-left:10px;margin:16px 0 0 5px.c-your-globe__overlay-list limargin-top:5px;padding-left:4px.c-your-globe__overlay-list li:first-childmargin-top:0.c-your-globe__overlay-linkcolor:#111;font-size:16px;letter-spacing:0;line-height:20px.c-your-globe__overlay-link:hover,.c-your-globe__overlay-link:focus,.c-your-globe__overlay-link:activecolor:#333@media (min-width:48rem).section-homepage .c-your-globe__overlayheight:calc(100% – 153px – 30px);top:153px.section-homepage .c-your-globe__overlay::beforeleft:127px.section-homepage .c-your-globe__overlay::afterleft:128px.section-homepage .c-your-globe__maskbackground-color:#4c4c4c.section-homepage .c-site-header–sticky~.c-your-globe__overlayheight:calc(100% – 49px – 20px);top:49px.section-homepage .c-site-header–sticky~.c-your-globe__overlay::beforeleft:187px.section-homepage .c-site-header–sticky~.c-your-globe__overlay::afterleft:188px@media (min-width:48rem).section-homepage .c-site-header–sticky~.c-your-globe__overlayheight:calc(100% – 49px – 30px)
#firstvisit-modalwidth:90%;max-width:450px;border:1px solid #b2b2b2;box-shadow:0 10px 20px 0 rgba(0,0,0,0.46),0 25px 30px 0 rgba(0,0,0,0.37);text-align:center#firstvisit-modal .c-button__iconfill:#0c0c0c#firstvisit-modal .firstvisit-bodypadding:25px#firstvisit-modal .regwall-iframepadding:25px 0 0 0 !important;background:#f9f9f8#firstvisit-modal .firstvisit-imgtext-align:center;margin-bottom:10px#firstvisit-modal .firstvisit-img .firstvisit-img__logowidth:45px;height:45px#firstvisit-modal .firstvisit-headerfont-size:30px;color:#000;line-height:36px;letter-spacing:0.06rem;text-align:center#firstvisit-modal .firstvisit-subHeaderfont-size:16px;color:#D50202;text-align:center;text-transform:uppercase;margin:10px 0;letter-spacing:-0.5px#firstvisit-modal .firstvisit-modal__costfont-size:85px;color:#D50202;height:inherit;text-align:center;letter-spacing:-2px#firstvisit-modal .firstvisit-modal__weeksfont-size:16px;text-align:center;letter-spacing:-0.5px;color:black;margin-top:-5px#firstvisit-modal .firstvisit-contentfont-size:16px;color:black;margin:18px 0 22px 0#firstvisit-modal .firstvisit-ctatext-align:center
.c-sub-top #mb-fixedpencilbottom:auto !important;top:0 !important#article-containerdisplay:flex;margin-left:calc(630px – 113%);position:relative#article-container .c-article-meta__actionswidth:70px;position:sticky;position:-webkit-sticky;margin-right:20px;background:#fff;border:1px solid #dcd9d7;height:max-content;text-align:center;top:25%;align-items:center;max-height:308px;border-radius:.125rem;z-index:20#article-container .pb-f-article-contentz-index:1#article-container .c-article-meta__actions__comments,#article-container .c-article-meta__actions__share,#article-container .c-article-meta__actions__bookmark,#article-container .c-article-meta__actions__audio,#article-container #c-artile-new-menumargin:0 auto;width:100%#article-container .c-article-meta__actions .c-onboarding-message .c-button,#article-container .c-article-meta__actions #arc-bookmark-dropdown:not(.js-dropdown-menu-hover-enabled) .c-buttonpadding-top:inherit;padding-bottom:inherit;padding-left:.625rem;padding-right:.625rem;width:2.125rem;border-radius:0#article-container .c-article-meta__actions .c-onboarding-message svg,#article-container .c-article-meta__actions #arc-bookmark-dropdown:not(.js-dropdown-menu-hover-enabled) svgwidth:.9375rem;height:.9375rem#article-container .c-onboarding-message__inner button.c-buttonwidth:40px !important;height:40px !important#article-container .c-article-meta__actions div .c-button:not(.c-button–icon-only)display:block;padding-top:10px;padding-bottom:10px;width:100% !important;padding-left:3px;padding-right:3px;border-radius:0#article-container .c-article-meta__actions span,#article-container .c-article-meta__actions buttondisplay:block#article-container .c-article-meta__actions svgfill:#333;width:3rem;height:1.2rem;margin-right:0#article-container #arc-bookmark-dropdown-trigger svgstroke:#333;fill:transparent#article-container #arc-audio-dropdown-trigger svg usestroke:#333;fill:#333#article-container .c-article-meta__actions .c-button__textpadding:5px 5px 0 5px;font-size:.65rem#article-container .c-article-meta__actions__bookmark>.c-article-meta__bookmark.c-buttonpadding-left:0 !important;padding-right:0 !important#article-container .c-onboarding-messageleft:120% !important;top:0 !important#article-container .c-onboarding-message:beforeleft:-13px !important;top:25px !important;border-left-color:#dcd9d7;border-bottom-color:transparent#article-container .c-onboarding-message:afterleft:-9px !important;top:27px !important;border-left-color:#f9f9f8;border-bottom-color:transparent#article-container .c-dropdown-menu–dark::afterborder-bottom-color:#f9f9f8#article-container .c-dropdown-menu–dark .c-dropdown-menu__innerbackground:#f4f3f1 !important;border-color:#dcd9d7 !important#article-container .c-article-meta__actions__subscribe_new abackground:#da161f;border:0;color:#fff;padding:0 !important#article-container .c-article-meta__actions__subscribe_new a:hoverbackground:#BE131B#article-container .c-article-meta__actions__text-resizer,#article-container .comments-label,#article-container #c-artile-new-menu .c-article-meta__actions__subscribe_new .c-button__text_mbdisplay:none !important#article-container.experience .comments-labeldisplay:block !important#article-container .subscribe_pricedisplay:inline-block !important;padding:0;font-size:20px#article-container .subscribe_durationfont-size:10px;display:inline-block !important;padding:0#article-container .c-dropdown-menu .c-button–full-width .c-button__textfont-size:.75rem !important@media (min-width:48em)#article-container .c-dropdown-menu–with-textright:-183px !important;top:-8% !important;left:auto !important#article-container .c-dropdown-menu–with-text::beforeleft:-13px !important;top:25px !important;border-right-color:#dcd9d7;border-bottom-color:transparent#article-container .c-dropdown-menu–with-text::afterleft:-9px !important;top:27px !important;border-right-color:#f9f9f8;border-bottom-color:transparent#article-container .c-article-meta__actions__share .c-dropdown-menuright:calc(-343% – 6.875rem) !important;top:-2px !important;left:auto !important#article-container .c-dropdown-menu–align-arrow-center::before,#article-container .c-article-meta__actions__share .c-dropdown-menu::beforetop:calc(50% – .4375rem) !important;left:-0.8rem !important;right:auto !important;border-right-color:#dcd9d7;border-bottom-color:transparent#article-container .c-dropdown-menu–align-arrow-center::after,#article-container .c-article-meta__actions__share .c-dropdown-menu::afterleft:-0.5rem !important;right:auto !important;top:calc(50% – .3125rem);border-right-color:#f4f3f1;border-bottom-color:transparent@media (min-width:342px)#article-container .c-article-meta__actions__subscribe_new apadding-top:8px !important;padding-bottom:8px !important@media (max-width:48em)#article-containermargin-left:0#article-container .c-article-meta__actionsborder-radius:0;border-left:0;border-right:0;position:fixed;padding:0;right:0;left:0;width:100%;top:0;margin-top:0;height:55px !important;max-height:55px !important;z-index:20#article-container .c-article-meta__actions div .c-button:not(.js-meta-dropdown-menu__button)height:53px#article-container .c-dropdown-menu__inner .c-buttonheight:auto !important#article-container .c-onboarding-message,#article-container #arc-bookmark-dropdownleft:-35px !important;top:auto !important#article-container .c-onboarding-message:beforetransform:rotate(0);top:-14px !important;left:20% !important;border-left-color:transparent;border-bottom-color:#dcd9d7#article-container .c-onboarding-message:afterleft:42px !important;top:-10px !important;transform:rotate(0);border-left-color:transparent;border-bottom-color:#f4f3f1#article-container .c-onboarding-messagemargin-top:.3125rem#article-container .c-article-meta__actions__bookmark .c-dropdown-menu–pos-right::after,#article-container .c-article-meta__actions__bookmark .c-dropdown-menu–pos-right::beforeleft:auto;right:6.3125rem#article-container .c-article-meta__actions__comments,#article-container .c-article-meta__actions__share,#article-container .c-article-meta__actions__bookmark,#article-container .c-article-meta__actions__audiowidth:15%#article-container #c-artile-new-menuwidth:40%;margin-right:0#article-container #c-artile-new-menu .c-article-meta__actions__subscribe spandisplay:inline-block;font-size:0.875rem#article-container #c-artile-new-menu .c-article-meta__actions__subscribe_new .c-button__text_mbfont-size:1rem;padding:0;display:block !important#article-container #c-artile-new-menu .c-article-meta__actions__subscribe svgwidth:2rem#subscription-pencil-area .reader-menudisplay:block !important#article-container .c-article-meta__actions__register,#article-container.experience .comments-label,#article-container #c-artile-new-menu .c-article-meta__actions__subscribe_new .c-button__textdisplay:none !important