5,000 works of art for new Parliament building, highlighting 5,000 years of Indian civilisation
Sanatan parampara and vaastu shastra are the guiding principles for the nearly 5,000 pieces of art — paintings, decorative art, wall panels, stone sculptures and metal objects — to be showcased across 65,000 metres of space at the new Parliament building, The Indian Express has learnt.
Besides these, the new building's six entrances exhibit "guardian statues showing auspicious animals", sources added. These "auspicious animals" have been chosen based on their importance in Indian culture, vaastu shastra and traits such as wisdom, victory, power and success. "Each animal chosen to be installed in the building possesses a set of affirmations, spreading well-being and harmony," said the source.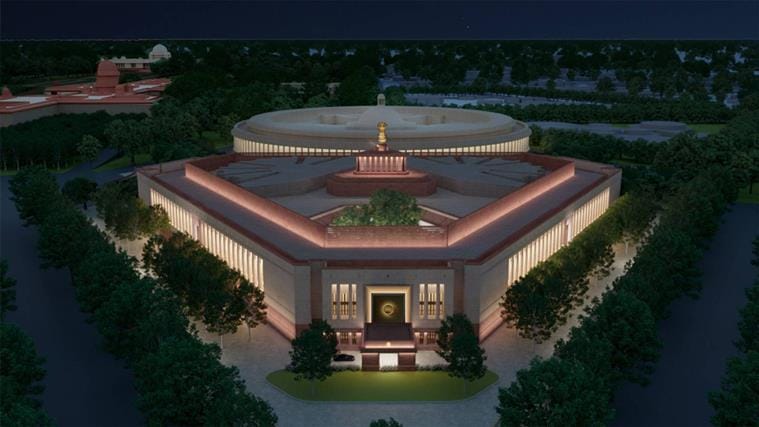 Design of the new Parliament building. The new building has been built adjacent to the existing Parliament House. (Photo credit: centralvista.gov.in)
Guarding the ceremonial entrance to the north is the gaja (elephant), which represents wisdom, wealth, intellect and memory. According to vaastu shastra, the northern direction is associated with Mercury, which is the source of higher intellect. Standing alert and ready at the southern entrance is the ashva (horse), which is symbolic of endurance, strength, power and speed — describing the quality of governance. Soaring at the eastern entrance is the garuda (eagle), which symbolises the aspirations of the people. In vaastu shastra, the east is associated with the rising sun, representing victory.
The north-eastern entrance has hamsa (swan), which represents discernment and wisdom. The remaining entrances showcase the makara (a mythical aquatic creature that is a combination of the body parts of different animals), which represents unity in diversity, and the shardula (a mythical animal that is said to be the most powerful of all living beings), which symbolises the power of the people of the country.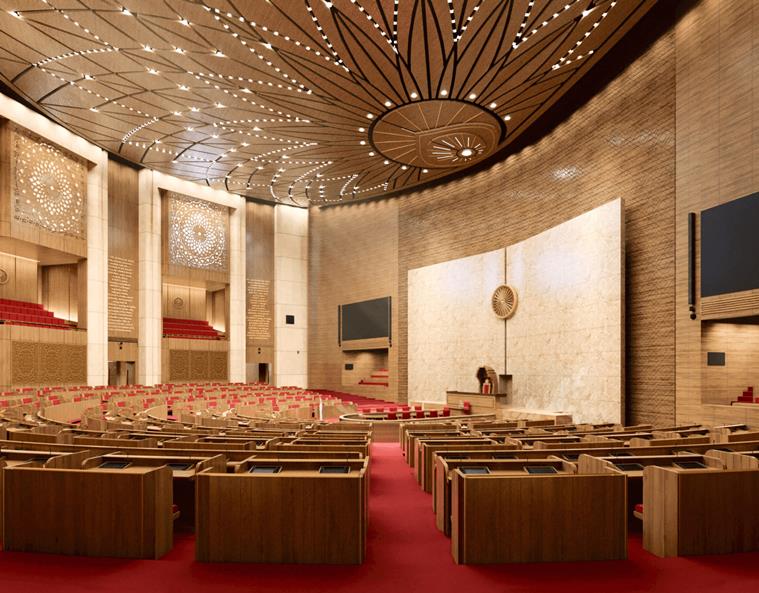 Rajya Sabha Hall in the New Parliament. The interior of the Upper House is Lotus themed. (Photo Credit: centralvista.gov.in)
The new building, which is likely to be inaugurated soon, will also have six granite statues devoted to personalities involved in the freedom struggle and making of the Constitution, four galleries each for the two Houses, three ceremonial foyers, as many India galleries and one Constitution gallery.
Stating that no artwork from a repository has been used, sources said all works of art that will adorn the walls of the new building have been commissioned afresh. They added that over a thousand artisans and artists have been involved in this process. Efforts were made to involve indigenous and grassroots artists from across the country, said a source privy to the proceedings, since the parliament is supposed to belong to the people of the country and represent their aspirations. The artworks will depict Indian ethos and identity, related to both the civilisation and culture, the official added.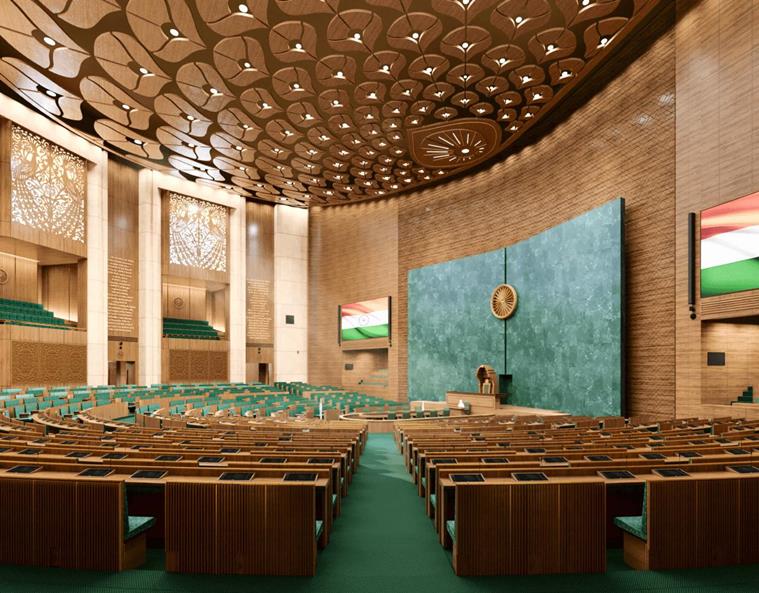 The new Lok Sabha chamber, with 888 setas, has peacock-themed interiors.
(Photo: centralvista.gov.in)
Inside the building, each wall will have a theme reflecting a certain aspect, such as contributions by tribal and women leaders. Stating that the underlying narrative was to highlight "5,000 years of Indian civilisation", an official said there will be adequate focus on Indian knowledge traditions, the Bhakti tradition, Indian scientific traditions as well as monuments.
An official vision document entailing the objectives of artwork at the upcoming building, that was reviewed by The Indian Express, states: "The artworks and its installation represent sanatan parampara that continued over thousands of years. Along with that, the overall theme is designed keeping in mind the study of vaastu shastra and maintaining the character of the building."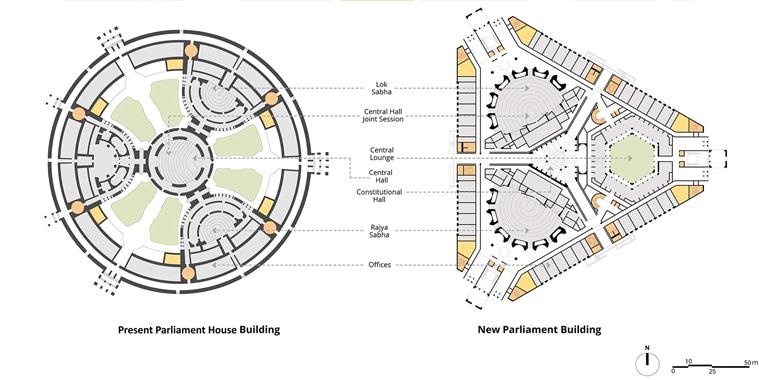 Blueprint of the new Parliament building. (Photo credit: centralvista.gov.in)
While sanatan parampara broadly refers to Hindu culture, which is believed to have been in continuity for centuries, vaastu shastra is the traditional Indian system of architecture based on ancient texts that describe principles of design, layout, measurements, space arrangement and spatial geometry.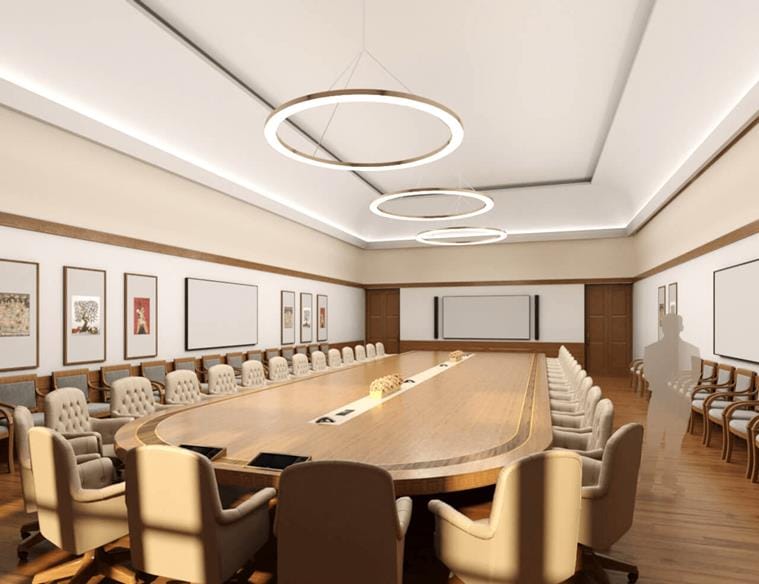 A commitee room in the new Parliament building. As per MoHUA's Central Vista website, the new Parliament will have extensive use of wooden structure. (Photo credit: centralvista.gov.in)
Since the parliament building is not a public gallery or museum, another source added, there is no scope for immersive art or high technology here. However, digital displays will be used at some places. To plan the interiors of the new building, the Culture Ministry has formed various committees comprising academics, historians, artists, archaeologists, and officials from the Culture and Urban Development Ministries.
Prime Minister Narendra Modi had last year unveiled a cast of the National Emblem on the building's roof. The 6.5-metre-high National Emblem is made of bronze and weighs 9,500 kg. Bimal Patel of HCP Design, Ahmedabad, is the architect in charge of the building, which is triangular in shape and incorporates architecture styles from across India. The building will have an open-sky area of 2,000 sq metre for a banyan tree.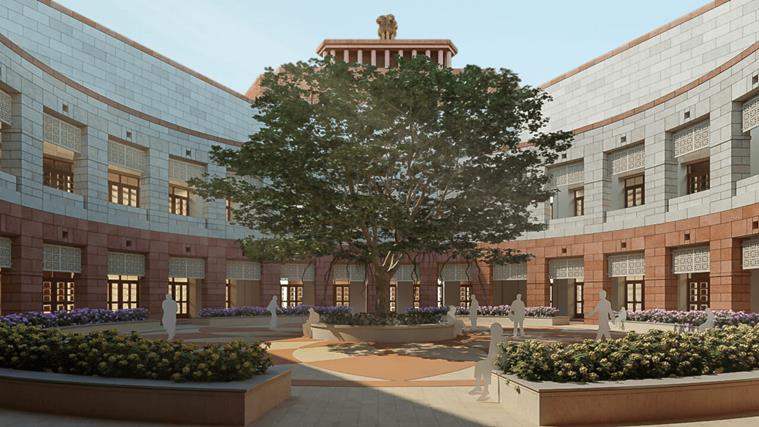 Sansad Bhavan. (Photo credit: centralvista.gov.in)
Being built at an estimated cost of Rs 1,200 crore, the building is part of the Central Vista Project, which also includes a joint Central Secretariat, revamp of the Rajpath, a new Prime Minister's residence, a new Prime Minister's Office, and a new Vice-President's enclave.
Daniel Sundahl creates memorial portraits for fallen EPS officers
A Spruce Grove first responder artist created a series of portraits in memory of the pair of Edmonton Police Service constables killed in the line of duty last week.
For the past year, Daniel Sundahl, a paramedic firefighter, has created an online memorial page complete with individual portraits for current and former first responders or military members worldwide who have died in the line of duty or because of service-related trauma.
Every day, he creates and releases one memorial portrait. Often they are requested by family, friends or co-workers.
On March 16, he created two portraits in honour of EPS officers Brett Ryan and Travis Jordan — a project that hit closer to home.
"Once I heard about what happened, I knew right away," Sundahl told CTV News Edmonton. "I needed to create these portraits."
"It's horrible. It's hard to describe. I was thinking, of course, of the two officers and their families," he added. "But then I was also thinking of the other emergency workers that were there that dealt with it, the hospital staff and everybody that's around an event like this."
Creating memorial portraits was part of his own healing journey, he explained. He doesn't charge for the artwork he creates.
"I started doing a lot of artwork for mental health as part of my own therapy," Sundahl said. "It's very therapeutic for myself."
Each portrait takes around an hour and a half to make, Sundahl says, using his digital pen to apply layers of drawing and painting to a photo.
Often he hears from families about how much having a portrait helps them to remember their lost loved one.
"I just hope it helps," Sundahl said. "This is kind of how I process it myself."
This tool can cUBS set for talks with Michael Klein
With the power of AI, it's now possible to replicate distinctive art styles in minutes — an innovation that is leaving traditional artists in the lurch as their art is taken to train AI models that then steal job opportunities from them.
But what if you could stop AI models from being able to replicate your art style?
Researchers at the University of Chicago have made a tool they say will do just that, a filter that, once applied to an image, means that image can't be read and reproduced by AI tools that scrape art online.
Called "Glaze," a beta version of the free tool launched for download last week.
AI art can be produced instantaneously, but only because AI draws data from thousands of art pieces across the internet that took human artists weeks to months to create.
The creators say Glaze will allow artists to protect their distinct art style from being absorbed into the pool of data that AI art tools draw on.
"Artists really need this tool; the emotional impact and financial impact of this technology on them is really quite real," Ben Zhao, Neubauer Professor of computer science at the University of Chicago, said in a February press release. "We talked to teachers who were seeing students drop out of their class because they thought there was no hope for the industry, and professional artists who are seeing their style ripped off left and right."
The project involved surveying more than 1,100 professional artists, according to the release. The tool was tested on 195 historical artists, as well as four currently working artists, before a focus group evaluated Glaze's accuracy in disrupting AI imitation.
More than 90 per cent of artists surveyed said they were willing to use the tool when posting their art.
Glaze is the second project by the University of Chicago's SAND Lab which brings protection to images posted online. SAND Lab previously created a tool to shield personal photos so that they couldn't be used to train facial recognition software back in 2020. But when they began to apply the same concept to art, a few problems arose immediately.
Photos of human faces can be boiled down to a few distinct features, but art is much more complex, with an artistic style defined by numerous things, including brushstrokes, colour palettes, light and shadow as well as texture and positioning.
In order to confuse the AI tools and ensure they would not be able to read the artistic style and replicate it, researchers needed to isolate which parts of a piece of art were being highlighted as the key style indicators by AI art tools.
"We don't need to change all the information in the picture to protect artists, we only need to change the style features," Shawn Shan, a UChicago computer sciences graduate student who co-authored the study, said in the press release. "So we had to devise a way where you basically separate out the stylistic features from the image from the object, and only try to disrupt the style feature using the cloak."
To do this, researchers used a "fight fire with fire" approach. Glaze works by using AI to identify style features that change when an image is run through a filter to turn it into a new art style—such as cubism or watercolour—and then taking those features and adjusting them just enough to trick other AI tools.
They target the "Achilles' heel for AI models" which is "a phenomenon called adversarial examples– small tweaks in inputs that can produce massive differences in how AI models classify the input," according to the website.
Basically, Glaze changes these key elements on a piece of art ever so slightly, while leaving the original art almost identical to the naked eye, so other AI tools won't be able to recognize, and thus replicate, the original art's individual style.
"We're letting the model teach us which portions of an image pertain the most to style, and then we're using that information to come back to attack the model and mislead it into recognizing a different style from what the art actually uses," Zhao said.
If an AI tool built to replicate the style of art pieces tries to replicate an art piece with Glaze on it, it will read that artists' piece as having a different style, such as Vincent Van Gogh's art style, and will produce an imitation that uses that style instead.
Although many AI art tools have already had the chance to learn from thousands of uncloaked images online, introducing more cloaked images online using Glaze will chip away at their effectiveness in imitation, researchers say.
In order to use it, artists can download Glaze onto their computer and run it on images that they hope to cloak from AI. They can also customize how many modifications Glaze introduces, with low modifications appearing almost invisible but offering less protection from AI, while larger modifications might be more visible but offer much more protection.
"A majority of the artists we talked to had already taken actions against these models," Shan said. "They started to take down their art or to only upload low resolution images, and these measures are bad for their career because that's how they get jobs. With Glaze, the more you perturb the image, the better the protection. And when we asked artists what they were comfortable with, quite a few chose the highest level. They're willing to tolerate large perturbations because of the devastating consequences if their styles are stolen."
The world's first AI art gallery opens in Amsterdam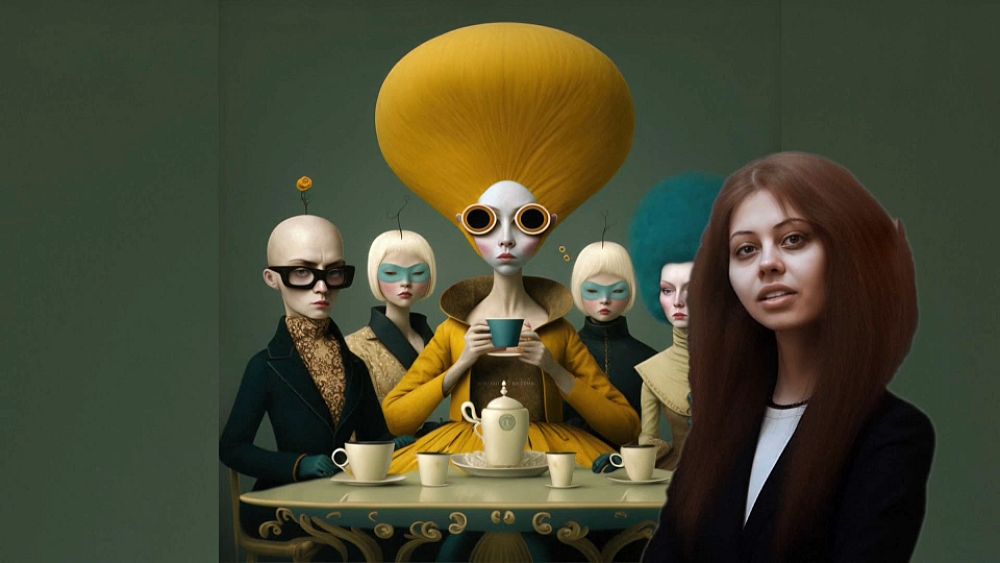 The very first Artificial Intelligence art gallery in the world has opened at the Dead End Gallery in Amsterdam, Netherlands.
It features works created by machines and algorithms, including digital paintings and interactive installations.
"We are the first gallery in the world to physically exhibit AI-generated art, AI-generated artists," says Constant Brinkman from Dead End AI Gallery. "Programmers first commissioned software to create a fictional artist," explains Brinkman how, for example, artificial artist Irisa Nova started creating.
Brinkman says each of these artworks is unique. However, they are not flawless.
"If you look closely you will see in the paintings that most hands have six fingers," says Brinkman, adding that it will be resolved within weeks as the AI creators are getting better.
But are they really art?
Many traditionalist connoisseurs are asking themselves this very question, since there is no soul behind the work. Others have labelled the trend as a fraudulent farce which infringes on copyright.
"I like to look at it, it's decorative. Someone will certainly be willing to pay some money for it, I suspect. But I have different requirements for art," says art appraiser Patricia Jansma.
On the other hand, when asked what their paintings are worth, AI artist Irisa Nova had her answer ready, saying: "The estimated asking price for the curator could vary between €3,000 and €10,000."
Whether it is considered art or not, the AI gallery is certainly fuelling the discussion about how technology can change the art world – specifically since the gallery believes that AI artists and their works will play an important role in the future of the art world.