57 cases of COVID-19, one death reported in Niagara after the weekend – ThoroldNews.com
The total number of confirmed COVID-19 cases in Niagara increased by 57 over the weekend, counting Monday's numbers, but without making a significant impact on the number of active cases across the region, which right now sits at 204.
The daily breakdown:
Saturday: 18
Sunday: 25
Monday: 14
The region said Monday's number is not complete, as the reporting had left some cases out, and cautions that Tuesday's numbers therefore might look higher.
NRPH also reports one new COVID-19-related death on Monday, bringing the region'ss death toll to 84.
One outbreak in a health-care facility was also declared over.
There are 7 active outbreaks in long-term care facilities and 11 other outbreaks.
Ontario update:
Public Health Ontario has confirmed 1,746 new cases of COVID-19 today, which is 38 fewer than yesterday. There were more than 1,700 cases reported on both Saturday and Sunday.
Of today's new cases, most are confined to the Greater Toronto Area. There are 390 new cases confirmed in Peel Region, 622 cases in Toronto and 217 in York Region; that represents 1,229 — or 70 per cent — of the new lab-confirmed cases reported over the past 24 hours.
The agency also reported eight more deaths related to the coronavirus over the past 24 hours. Yesterday, 24 deaths were reported.
More than 1,320 cases have been resolved since yesterday.
Over the past 24 hours, 39,406 tests were completed, which is about 14,600 fewer than the record number of tests processed Friday.
According to today's data, the positivity rate is 4.4 per cent; that means 4.4 people out of every 100 people tested have the coronavirus.
Since the start of the pandemic, public health labs in Ontario have processed more than 6.2 million COVID-19 tests.
Throughout Ontario, there are 618 people currently hospitalized with the coronavirus, but the agency notes that a number of hospitals (approximately 40) did not submit data for Nov. 28.
Ontario to expand big-box-retail blitz – Sault Star
Article content continued
Those who have already received an initial dose will receive their booster, it said.
A spokeswoman for the Minister of Health did not say how many regions received a similar directive or why first doses of the Moderna vaccine were also being paused.
And as the vaccine rollout continues at a slightly slower pace, McNaughton said he was hopeful the weekend enforcement blitz would help reign in numbers of new infections.
The inspectors visited 110 retailers on Saturday alone and found 31 violations of COVID-19 protocols, he said, noting that amounts to a compliance rate of just over 70 per cent.
They issued 11 formal warnings and 11 tickets, he added.
McNaughton said he'd hoped the compliance rate would be much higher.
"Every business, every supervisor and every worker out there has to do more today than at any point during this pandemic to keep people safe and to be vigilant," he said.
The blitz, which continued Sunday, is part of an array of measures the province unveiled in recent days to toughen its approach to COVID-19.
Ontario recently ordered people to only leave their homes for groceries, medical appointments, exercise and work that can't be completed remotely.
Stores selling non-essential goods have been forced to temporarily close and operate solely through e-commerce and curbside pickups.
The most common violations inspectors found big box stores contravening were linked to screening of customers and staff, masking protocols and physical distancing problems, McNaughton said.
The Ministry of Labour, Training and Skills Development says it has conducted more than 34,000 COVID-19 related workplace inspections and halted unsafe work 55 times throughout the pandemic.
It is in the process of hiring an additional 100 health and safety inspectors and doubling the number of phone lines at the provincial Health and Safety Contact Centre, where violations can be reported.
Individuals found violating the Occupational Health and Safety Act can be fined up to $100,000 and imprisoned for as long as a year, while corporations can be fined up to $1.5 million per charge.
COVID-19 in Ottawa: Ontario reports another triple-digit case count – CTV Edmonton
OTTAWA —
Ottawa Public Health is reporting 123 more people in the city have tested positive for COVID-19 and one more resident has died.
However, the health unit is also reporting the number of active cases in Ottawa down slightly from its record high on Saturday.
There are also fewer people in the hospital with COVID-19.
Across the province, 3,422 new cases of COVID-19 were reported, along with 69 new deaths. Ontario health officials added 144 new cases of COVID-19 to the city's total on Sunday.
New case counts from OPH and from the province often differ due to different data collection times.
Ottawa's weekly rate of new cases per 100,000 residents has also declined from 88.9 on Saturday to 85.6 on Sunday. Other weekly metrics, such as the estimated reproduction number and the positivity rate are holding steady.
According to Ottawa Public Health's COVID-19 dashboard, there have been 12,286 total laboratory-confirmed cases of COVID-19 in Ottawa since the pandemic began and 403 residents have died.
OTTAWA'S COVID-19 KEY STATISTICS
A province-wide lockdown went into effect on Dec. 26, 2020. Ottawa Public Health moved Ottawa into its red zone in early January.
A provincial stay-at-home order has been in effect since Jan. 14, 2021.
Ottawa Public Health data:
COVID-19 cases per 100,000 (previous seven days): 85.6 cases
Positivity rate in Ottawa: 4.1 per cent (Jan. 8 – Jan. 14)
Reproduction number: 1.03 (seven day average)
Reproduction values greater than 1 indicate the virus is spreading and each case infects more than one contact. If it is less than 1, it means spread is slowing.
VACCINES
Ontario health officials say 11,007 doses of COVID-19 vaccines were administered in the province on Saturday for a total of 200,097 since vaccinations began.
21,714 people have completed their vaccinations by receiving both required doses.
Ottawa Mayor Jim Watson told CTV News at Six on Saturday that the City had administered 19,980 doses of vaccine. The Ottawa Hospital said the city had received 22,245 total doses of the Pfizer-BioNTech vaccine to date last week.
Health Canada says Ontario has so far received 277,050 doses of COVID-19 vaccines as of Jan. 14, 224,250 of which are the Pfizer-BioNTech vaccine and 52,800 of which are the Moderna vaccine.
ACTIVE CASES OF COVID-19 IN OTTAWA
The number of people in Ottawa with known active cases of COVID-19 has dropped slightly after reaching a record high of 1,286 on Saturday.
OPH says there are 1,274 people now dealing with active cased of COVID-19 in Ottawa.
The number of people whose cases have resolved rose by 134 on Sunday to a citywide total of 10,609 since the start of the pandemic.
The number of active cases is the number of total laboratory-confirmed cases of COVID-19 minus the numbers of resolved cases and deaths. A case is considered resolved 14 days after known symptom onset or positive test result.
HOSPITALIZATIONS IN OTTAWA
The number of people in Ottawa hospitals with COVID-19 symptoms and in intensive care units fell by two on Sunday.
There are now 38 people in hospital with COVID-19, eight of whom are in the ICU.
Of the people in hospital, one is between the ages of 10 and 19 (this person is in the ICU), one is in their 30s (this person is in the ICU), one is in their 40s, three are in their 50s, eight are in their 60s (three are in the ICU), eight are in their 70s (three are in the ICU), nine are in their 80s and seven are 90 or older.
TESTING
Ontario health officials say 60,183 COVID-19 tests were performed provincewide on Saturday and 30,103 tests remain under investigation.
The Ottawa COVID-19 Testing Taskforce does not provide local testing updates on weekends. In its most recent report on Friday, the taskforce said 1,491 swabs were taken at assessment centres in Ottawa on Jan. 14 and 7,262 tests were performed.
The next update from the Ottawa COVID-19 Testing Taskforce will be released on Jan. 18.
CASES OF COVID-19 IN OTTAWA BY AGE CATEGORY
Here is a breakdown of all known COVID-19 cases in Ottawa by age category:
0-9 years old: 14 new cases (874 total cases)
10-19 years-old: 10 new cases (1,547 total cases)
20-29 years-old: 29 new cases (2,601 total cases)
30-39 years-old: 23 new cases (1,683 total cases)
40-49 years-old: 18 new cases (1,610 total cases)
50-59 years-old: 18 new cases (1,462 total cases)
60-69-years-old: 5 new cases (891 total cases)
70-79 years-old: 2 new cases (561 total cases)
80-89 years-old: 3 new cases (630 total cases)
90+ years old: 0 new cases (423 total cases)
Unknown: 1 new case (4 cases total)
COVID-19 CASES AROUND THE REGION
Eastern Ontario Health Unit: 45 new cases
Hastings Prince Edward Public Health: 5 new cases
Kingston, Frontenac, Lennox & Addington Public Health: 2 new cases
Leeds, Grenville & Lanark District Health Unit: 6 new cases
Renfrew County and District Health Unit: 1 case removed
Outaouais region: 22 new cases
INSTITUTIONAL OUTBREAKS
Ottawa Public Health is reporting COVID-19 outbreaks at 36 institutions in Ottawa, including long-term care homes, retirement homes, daycares, hospitals and schools.
Three more outbreaks were declared at local group homes. Outbreaks at Portobello Retirement Residence and Manoir Marochel have ended.
There are seven active community outbreaks.
Three are linked to health workplaces, one is in a multi-unit dwelling, one is linked to an office workplace, one is linked to a distribution centre, and one is linked to a services workplace.
The schools and childcare spaces currently experiencing outbreaks are:
Andrew Fleck Children's Services – Licensed home daycare
Greenboro Children's Centre
Montessori by Brightpath
Ruddy Family Y Child Care
Services à l'enfance Grandir Ensemble – La Maisonée – 28627
The long-term care homes, retirement homes, hospitals, and other spaces currently experiencing outbreaks are:
Alta Vista Manor
Besserer Place
Centre D'Accueil Champlain
Chartwell Duke of Devonshire Retirement Home
Colonel By Retirement Home
Extendicare Laurier Manor
Extendicare Medex
Extendicare New Orchard Lodge
Extendicare West End Villa
Forest Hill
Garry J. Armstrong long-term care home
Grace Manor Long-term Care Home
Granite Ridge long-term care home
Group Home – 28608
Group Home – 28740
Group Home – 28848
Group Home – 29045 (NEW)
Group Home – 29049 (NEW)
Group Home – 29052 (NEW)
Hillel Lodge
Madonna Care Community
Oakpark Retirement Community
Redwoods Retirement Residence
Shelter – 28365
Sisters of Charity Couvent Mont Saint-Joseph
Sisters of Charity Maison Mère
St. Patrick's Home
Supported Independent Living – 28110
Valley Stream Retirement Residence
Villa Marconi
Villagia in the Glebe Retirement Residence
A single laboratory-confirmed case of COVID-19 in a resident or staff member of a long-term care home, retirement home or shelter triggers an outbreak response, according to Ottawa Public Health. In childcare settings, a single confirmed, symptomatic case in a staff member, home daycare provider, or child triggers an outbreak.
Under provincial guidelines, a COVID-19 outbreak in a school is defined as two or more lab-confirmed COVID-19 cases in students and/or staff in a school with an epidemiological link, within a 14-day period, where at least one case could have reasonably acquired their infection in the school (including transportation and before or after school care).
Quebec reports 50 more COVID-19 deaths, partial tally of 1,744 cases – Vancouver Is Awesome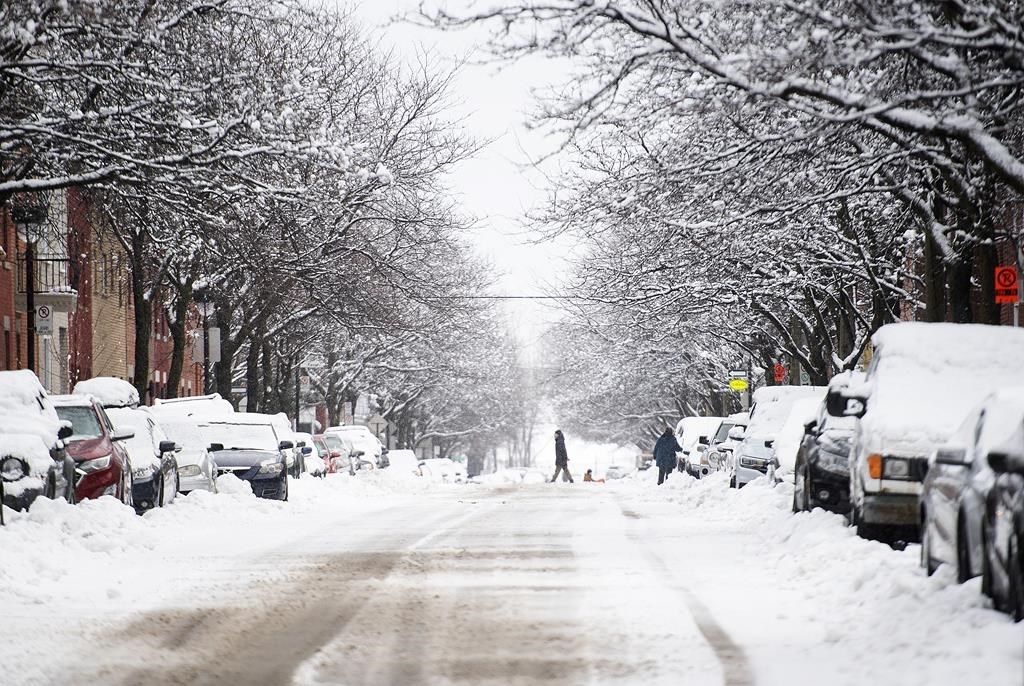 Boxes of doses of Moderna's COVID-19 vaccine arrived by plane in nine Cree communities in Quebec's James Bay region over the weekend and were immediately put to work to protect the community, the head of the regional health board said Sunday.
Bertie Wapachee, the chairperson of the Cree Board of Health and Social Services of James Bay, said vaccination was already underway in many of the communities, with the rest of the vaccine centres opening on Monday.
"In some ways, it represents a light at the end of the tunnel for us," he said in a phone interview.
"It's an added tool to defeating the virus as we move forward."
Wapachee said he didn't know the exact number of vaccines received, but said the communities would be able to offer a first dose to any adult community members who want them.
He said the remote Cree communities are especially vulnerable to COVID-19 outbreaks due to overcrowded housing conditions that make isolating difficult, as well as a limited number of local health-care workers.
He said he was "confident" most of the community members would want the shot.
The region has contended with at least one outbreak involving about 40 cases.
While there are logistical challenges in delivering the vaccine to isolated communities, Wapachee said the area is well-served by regional airline Air Creebec, a strong team on the ground and a population that has done a good job respecting the health measures overall.
Meanwhile, Quebec reported 50 new deaths due to COVID-19 on Sunday as well as a preliminary total of 1,744 new cases.
The province said a delay in transmitting data from Quebec's labs means the number of cases is incomplete and will be adjusted in a future update.
Hospitalizations declined for the third straight day, down 14 to 1,460.
There were also 12 fewer people in intensive care, for a total of 215.
While the number of new cases recorded in Quebec has declined slightly over the past week, Health Minister Christian Dube said on Twitter that it's too soon to describe the movement as a trend.
He urged Quebecers to keep following health measures because the battle is "not yet won."
The province administered just over 8,800 doses of vaccine on Saturday, he added.
Quebec has reported a total of 242,714 cases and 9,055 deaths since the pandemic began.
This report by The Canadian Press was first published Jan. 17, 2021
Morgan Lowrie, The Canadian Press