7 billion years: Scientists say oldest solid material found – The Jakarta Post – Jakarta Post
Researchers said Monday that new techniques have allowed them to identify the oldest solid material ever found on earth.
The stardust, formed five to seven billion years ago, came from a meteorite that fell to Earth 50 years ago in Australia, they said in a paper published in the journal PNAS.
It came down in 1969 in Murchison, Victoria state, and scientists from Chicago's Field Museum have possessed a piece of it for five decades.
Philipp Heck, curator of meteorites at the museum, examined pre-solar grains, which are bits of stardust that become trapped in meteorites, making them time capsules of the period before the sun was born.
"They're solid samples of stars, real stardust," Heck said in a statement.
When the first stars died after two billion years of life they left behind the stardust, which formed into the block which fell to earth as the meteorite in Australia.
Although researchers first identified the grains in 1987 their age could not be determined.
But Heck and other colleagues recently used a new method to date these grains, which are microscopic in size. They are from silicon carbide, the first mineral formed when a star cools.
To separate the ancient grains from the relatively younger ones, scientists crushed fragments of the meteorite into a powder. Then they dissolved it in acid, which left only the pre-solar particles.
"It's like burning down the haystack to find the needle," says Heck.
Read also: India farmers shocked as meteorite crashes into rice field
When dust is in space it is exposed to cosmic rays which slowly change its composition. This allows researchers to date it.
A decade ago, only 20 grains from the meteorite were dated by a different method. Now, researchers have been able to determine the age of 40 grains, most of which are between 4.6 billion and 4.9 billion years old.
These ages correspond to the moment when the first stars began to break up, and since that type of star lived for two to 2.5 billion years, the stardust can be as old as seven billion years.
"These are the oldest solid materials ever found, and they tell us about how stars formed in our galaxy," Heck said.
The new dating by this team confirms an astronomical theory which predicted a baby boom of stars before the formation of our sun, instead of a constant rhythm of star formation.
"We basically came to the conclusion that there must have been a time in our galaxy when more stars formed than normal, and at the end of their lives they become dust producing," Heck told AFP.
The task now is to apply the same method on other meteorites.
But according to Heck, there are fewer than five known to be in collections and big enough to give up such secrets.
Your premium period will expire in 0 day(s)
close x
Subscribe to get unlimited access
Get 50% off now
NASA satellite images reveal dramatic melting in Antarctica, Report – Tdnews
NASA satellite pictures reveal the scale of "widespread melting" observed earlier this month. On February 6, weather station thermometers peaked at 18.3C (65F) degrees – about the same temperature as Los Angles, US, that day.
"I haven't seen melt ponds develop this quickly in Antarctica. You see these kinds of melt events in Alaska and Greenland, but not usually in Antarctica," said Mauri Pelto, a glaciologist at Nichols College, in a statement. Widespread surface melting was also observed by Pelto on the nearby Boydell Glacier.
Images taken by the Operational Land Imager (OLI) on Landsat 8 on February 4 and again nine days later show Eagle Island's 1.5 square kilometers (nearly 1 square mile) of snowpack saturated with meltwater (blue circles below). Climate models suggest that the area saw a peak melt of 30 millimeters (1.2 inches) on February 6. In total, Eagle Island lost 106 millimeters (4.2 inches) of ice during the warm spell.
Rapid melting is caused by sustained high temperatures significantly above freezing, an anomaly that has become more common in recent years, according to NASA. A heat map taken using the Goddard Earth Observing System (GEOS) model also clocked record temperatures above 10°C (50°F) at 2 meters (about 6.5 feet) above the ground. High temperatures seen earlier this month are caused by a combination of meteorological events, including higher bouts of pressure centered over Cape Horn that allowed warmer temperatures to build while dry, warm foehn winds likely brought with them warmer air to the continent.
This month's heatwave marks the third melt event of the Antarctic 2019-20 summer, following warm spells in November 2019 and January of this year.
"If you think about this one event in February, it isn't that significant," said Pelto. "It's more significant that these events are coming more frequently."
46000-year-old Ice Age bird has been found in Siberian permafrost – The Weather Network
Researchers are remarking at the newly discovered remains of an Ice Age bird that has been identified as a horned lark and is estimated to be 46,000-years-old.
A recently published study says that the bird was buried and frozen within the permafrost in near the village of Belaya Gora that is located in northeastern Siberia. The bird still had many of its feathers and the researchers state that it is "exceptionally well-preserved."
Experts from the Swedish Museum of Natural History tested the bird's feathers and say that there is a chance it could be an ancestor to two subspecies of lark that are alive today.
"This finding implies that the climatic changes that took place at the end of the last Ice Age led to the formation of new subspecies," said Dr. Love Dalén during an interview with CNN.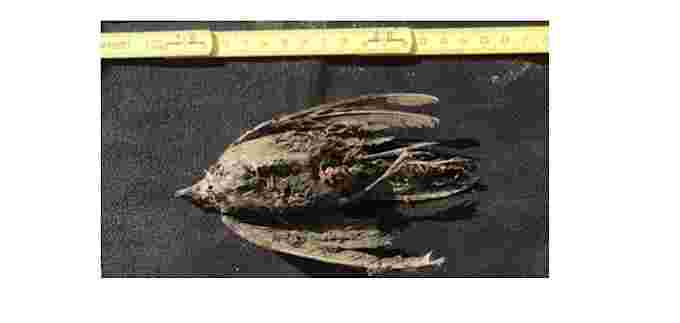 The bird carcass that was found in Siberian permafrost. Credit: Love Dalén
The study says that it is a significant finding for this body of research because it is a rare opportunity to learn more about past ecosystems and what the climatic conditions at that period of time were like. The researchers state that learning about this species habitat and their response to the changing climate will enable a better understanding of how species, populations, and communities could respond to present-day climate change.
Interestingly, the bird was found at the same site as an 18,000-year-old frozen puppy called "Dogor," which researchers are still trying to determine if the specimen is a wolf or dog. The dog was found in nearly perfect condition within the permafrost and some scientists think that this could be the oldest dog ever found.
New NASA Photos From Antarctica Reveal Shocking Levels of Ice Melt – ScienceAlert
Antarctica is supposed to be an extremely cold place. The annual mean temperature of the snow-laden continent's central area is -57 degrees Celsius (−70.6°F); even the coast averages around -10°C (14°F).
But on February 6, the weather station at Esperanza Base on the Antarctic Peninsula – the northernmost tip of the content – logged the hottest temperature ever recorded on the mainland, at 18.3°C (64.9°F).
It beat out the former record of 17.5°C, from 24 March 2015.
This latest heatwave lasted for about a week, and images of Eagle Island, taken by the Operational Land Imager on Landsat 8, have now captured a pretty depressing picture of its impact.
The tiny Eagle Island is located just off the coast of Graham Land in the Antarctic Peninsula. The record-high temperatures have resulted in a large amount of Eagle Island's ice cap melting into the sea, while areas towards the middle of the island saw melt ponds form astonishingly quickly.
"I haven't seen melt ponds develop this quickly in Antarctica," says Mauri Pelto, a glaciologist at Nichols College.
"You see these kinds of melt events in Alaska and Greenland, but not usually in Antarctica."
Pelto also notes that the source of this melt event – persistent high temperatures significantly above freezing – is not typical of Antarctic weather patterns. Nevertheless, these have become more common recently.
In total, snow pack on Eagle Island had over 10 centimetres (4 inches) of melt in the span of just a few days – between February 6 and February 11.
Air temperatures on February 9. (GEOS-5/NASA)
This isn't even the first heatwave this season, but represents the third major melt event of the 2019-2020 Southern Hemisphere summer, with both November and January also suffering from exceptionally warm weather.
"If you think about this one event in February, it isn't that significant," said Pelto.
"It's more significant that these events are coming more frequently."