A REUBEN WITH A VIEW: The hobby that became an industry – The Chronicle Journal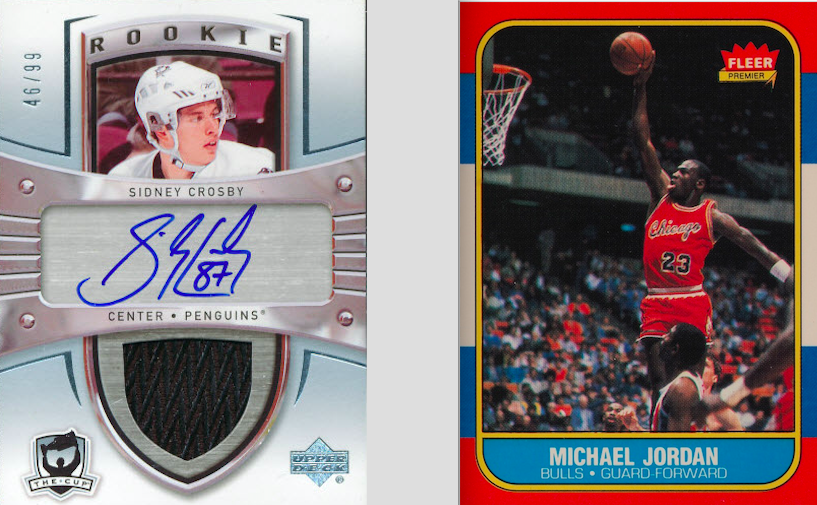 Sports card collecting can make you feel like a real life general manager at times.
Thanks to everyone's not-so favourite pandemic, I've found myself back into the volatile world of sports cards — specifically hockey.
Earlier this month, I finally acquired the "it" rookie card of the NHL season so far. I sent my Ja Morant NBA rookie card and an undisclosed amount of cash to someone in southern Ontario for the Alexis Lafreniere 2020-21 Upper Deck Young Guns card. No future considerations.
I need to make something clear: I am not a buy-and-sell kind of collector. Sure, I check on the values of my cards and I am aware of the markets when shopping, but I do not purchase or trade for cards with the intent of flipping them and making a profit. I'm a sports fan first and foremost with an interest in building a personal collection. I like cool, quirky cards.
The art and design of hockey cards have come a long way. Gone are the simple O-Pee-Chee sets which featured a player photo, a coloured border, some stats and a stick of gum.
Today, there are special inserts, limited numbered/parallels, patches, game-worn jersey pieces, on-card autographs, sticker autographs, autograph patches, autographed jersey pieces, graded, ungraded, re-issues, rookie redemption codes, acetates and even virtual cards via a phone or tablet app.
And a partridge in a pear tree.
I try to keep things simple so I don't spend beyond my limited budget. I stick to any and all cards featuring members of the Edmonton Oilers, past and present, within reasonable value, cards of players from our region such as the Staals, Patrick Sharp and Mackenzie Blackwood and certain rookie cards of current stars. It's a lot easier to justify purchasing a low-end Victory brand Sidney Crosby rookie as opposed to his Upper Deck one which is valued at anywhere between $2,000 to $20,000 depending on its condition and scarcity.
The COVID-19 pandemic appears to have provided a boost to the industry. Numbers have shot up across the board both on the primary and secondary market. The 1979 Wayne Gretzky rookie card in pristine condition — which is better than mint apparently — sold for a hockey record $1.29 million this past December. Twelve boxes of unopened packs of 1986-87 Fleer basketball cards and the chance to "pull" multiples of Michael Jordan's rookie card moved for $370,000 at a recent Goldin auction — double the price of what it was a year ago. During the actual 1986-87 NBA season, one pack set you back 50 cents.
However, a Jordan rookie card can command a five-or six-figure return.
Even new releases carry a hefty price tag. Rookie cards of current stars from all major sports — Patrick Mahomes, Luka Doncic, Mike Trout, Fernando Tatis, Jr. —are skyrocketing in value.
A box of this year's "The Cup" Upper Deck brand hockey cards can be yours for just $900 to $1,000. One box contains six speciality cards.
Yes, six.
The potential value of a signed or special edition card (also known as a "hit") can easily earn that money back and turn a profit — figuratively speaking. You still have to hustle out there and sell, sell, sell.
Glen Harmer, a fellow collector in Thunder Bay, says the hoopla of the new card genre is not for him.
"That's why I quit buying," he said. "Invest in older cards. They hold their value."
It's a commerce game now and some innocence was likely lost decades ago. Our family friend, Wayne Rich, who grew up in the 1960s and 70s, recalls a time when there wasn't an online auction or Facebook group to obtain new cards. Even at mere cents per pack, kids could only afford so much.
In order to get the cards he wanted, Wayne would pull off trades with friends or compete in a game where he and others would line their cards against a wall and then throw cards at them. First one to knock an opposing player's card and won the pot. Imagine that happening today? Those bent corners would take a beating in the grading process.
In Thunder Bay, we've lost the personal connection of sports card dealing — even before the pandemic.
Overtime Sports and Collectibles closed last February after the untimely passing of owner John McCuaig. Sportscards Plus and Collectibles on Victoria Avenue also shut its doors in recent years. Part of the fun was gathering around and talking shop . . . at the shop.
Stay tuned for Saturday's sports section where I trace back why I returned to this crazy hobby after nearly 30 years and why some kid from St-Eustache, Que., became a target of that obsession.
Reuben Villagracia is the sports editor at The Chronicle-Journal. Contact him at rvillagracia@chroniclejournal.com.
Canada's Telesat takes on Musk and Bezos in space race to provide fast broadband
By Steve Scherer
OTTAWA (Reuters) – Canada's Telesat is racing to launch a low-earth-orbit (LEO) satellite constellation to provide high-speed global broadband from space, pitting the satellite communications firm founded in 1969 against two trailblazing billionaires, Elon Musk and Jeff Bezos.
Musk, the Tesla Inc CEO who was only a year old when Telesat launched its first satellite, is putting the so-called Starlink LEO into orbit with his company SpaceX, and Amazon.com Inc, which Bezos founded, is planning a LEO called Project Kuiper. Bezos also owns Blue Origin, which builds rockets.
Despite the competition, Dan Goldberg, Telesat's chief executive officer, voices confidence when he calls Telesat's LEO constellation "the Holy Grail" for his shareholders – "a sustainable competitive advantage in global broadband delivery."
Telesat's LEO has a much lighter price tag than SpaceX and Amazon's, and the company has been in satellite services decades longer. In addition, instead of focusing on the consumer market like SpaceX and Amazon, Telesat seeks deep-pocketed business clients.
Goldberg said he was literally losing sleep six years ago when he realized the company's business model was in peril as Netflix and video streaming took off and fiber optics guaranteed lightning-fast internet connectivity.
Telesat's 15 geostationary (GEO) satellites provide services mainly to TV broadcasters, internet service providers and government networks, all of whom were growing increasingly worried about the latency, or time delay, of bouncing signals off orbiters more than 35,000 km (22,200 miles) above earth.
Then in 2015 on a flight home from a Paris industry conference where latency was a constant theme, Goldberg wrote down his initial ideas for a LEO constellation on an Air Canada napkin.
Those ideas eventually led to Telesat's LEO constellation, dubbed Lightspeed, which will orbit about 35 times closer to earth than GEO satellites, and will provide internet connectivity at a speed akin to fiber optics.
Telesat's first launch is planned in early 2023, while there are already some 1,200 of Musk's Starlink satellites in orbit.
"Starlink is going to be in service much sooner … and that gives SpaceX the opportunity to win customers," said Caleb Henry, a senior analyst at Quilty Analytics.
Starlink's "first mover" advantage is at most 24 months and "no one's going to lock this whole market up in that amount of time," Goldberg said.
Telesat in 2019 signed a launch deal with Bezos' aerospace company Blue Origin. Discussions are ongoing with three others, said David Wendling, Telesat's chief technical officer.
They are Japan's Mitsubishi Heavy Industries Ltd, Europe's ArianeGroup , and Musk's SpaceX, which launches the Starlink satellites. Wendling said a decision would be taken in a matter of months.
Telesat aims to launch its first batch of 298 satellites being built by Thales Alenia Space in early 2023, with partial service in higher latitudes later that same year, and full global service in 2024.
'SWEET SPOT'
The Lightspeed constellation is estimated to cost half as much as the $10 billion SpaceX and Amazon projects.
"We think we're in the sweet spot," Goldberg said. "When we look at some of these other constellations, we don't get it."
Analyst Henry said Telesat's focus on business clients is the right one.
"You have two heavyweight players, SpaceX and Amazon, that are already pledging to spend $10 billion on satellite constellations optimized for the consumer market," he said. "If Telesat can spend half that amount creating a high-performance system for businesses, then yeah, they stand to be very competitive."
Telesat's industry experience may also provide an edge.
"We've worked with many of these customers for decades … That's going to give us a real advantage," Goldberg said.
Telesat "is a satellite operator, has been a satellite operator, and has both the advantage of expertise and experience in that business," said Carissa Christensen, chief executive officer of the research firm BryceTech, adding, however, that she sees only two to three LEO constellations surviving.
Telesat is nailing down financing – one-third equity and two-thirds debt – and will become publicly traded on the Nasdaq sometime this summer, and it could also list on the Toronto exchange after that. Currently, Canada's Public Sector Pension Investment Board and Loral Space & Communications Inc are the company's main shareholders.
France and Canada's export credit agencies, BPI and EDC respectively, are expected to be the main lenders, Goldberg said. Quebec's provincial government is lending C$400 million ($317 million), and Canada's federal government has promised C$600 million to be a preferred customer. The company also posted C$246 million in net income in 2020.
Executing the LEO plan is what keeps Goldberg up at night now, he said.
"When we decided to go down this path, the two richest people in the universe weren't focused on their own LEO constellations."
($1 = 1.2622 Canadian dollars)
(Reporting by Steve Scherer in Ottawa; Editing by Matthew Lewis)
$600K donation to boost online mental health programming in Nova Scotia
Nova Scotia Health's mental health and addictions program hopes to offer more online support to people across the province after receiving a significant donation this week.
The QEII Foundation announced that RBC is contributing $600,000 toward the province's e-mental health programming.
"It's particularly important for the current time under all the strains of COVID," said Dr. Andrew Harris, a psychiatrist and the senior medical director for the program.
The plan for online programming has been in the works for years, he said, but the pandemic expedited the push. Last June, the department launched a number of applications that can be used to help those with anxiety, depression and addictions.
Since then, as many as 3,000 Nova Scotians have used the site to access mental health services.
"There's a persistent difficulty in accessing services," Harris said of traditional models in Nova Scotia. He said those who don't need intensive therapy may find the support they need through the online programs.
He uses the example of someone who can't take time off work to speak to a clinician.
"It's better for them to be able to access a service after hours or on the weekend. So our e-mental health services are tailored a little bit to meet that need."
Calls to crisis line increase
Harris said the province's mental health crisis line continues to see a 30 per cent increase in calls for help, so he's trying to raise awareness that services can be accessed immediately online.
"I think everyone is aware that for a lot of people it's much easier to talk about a physical illness than a mental illness. So there's an allowance there for privacy, for some anonymity but still making available things that can help the person who is struggling in the community."
The online portal has a list of programs that people can use, covering things like reducing stress, solving problems and becoming mindful. It mirrors a site in Newfoundland and Labrador that Harris said is used to help people in remote areas.
Harris said the donation from RBC will be used to continue to evaluate more services, and pay for the licensing of the products that are mostly developed by other organizations.
He encourages anyone who is struggling to test out the site, and use it as an entry point into the mental health system.
"It's important for people to acknowledge when they're struggling. It happens to all of us through our lives in different times."
Anyone in Nova Scotia looking to access the tools can visit: https://mha.nshealth.ca.
Source:- CBC.ca
Samsung's cheapest 5G Galaxy phones yet are launching this month
If you buy through our links, we may earn money from affiliate partners. Learn more.
Samsung is launching five new phones in its Galaxy A series this month.
Three of them will support 5G connectivity, and the most expensive phone is just $500.
The cheapest phone of the five still has three cameras but lacks 5G and other features.
Samsung may be best known for its high-end Galaxy S phones that rival the iPhone. But the tech giant is proving that it can appeal to cost-conscious customers with the launch of five new smartphones in the United States, the priciest of which only costs $500.
Samsung's new lineup of budget phones, which debuted in other markets before coming to the US, are all launching this month. Some of them will be released as soon as this week, while the least expensive model will debut on April 29. The launch comes as competitors like Apple and Google have also been focusing on cheaper smartphones to boost sales.
Three of these new Samsung devices also support 5G, another sign that shoppers no longer have to pay a premium to get access to next-generation wireless networks. All five of the new phones also have the traditional headphone jack for wired listening and run on an octa-core processor.
Here's a look at the new Samsung Galaxy A series phones that will be launching soon.
Samsung Galaxy A52 5G
Release date: April 9
Price: $499.99
The Galaxy A52 5G is the most expensive smartphone of the bunch. It comes with a 6.5-inch FHD+ screen and a quad-camera system that includes some of the same features as Samsung's more expensive Galaxy S phones. These include Single Take, which creates several different photos or video clips with different effects with a single press of the shutter button.
Its screen can also boost its refresh rate up to 120Hz for smoother scrolling and performance, a feature that has become common on pricier flagship phones but is rare on cheaper models. It's also the only phone in this A-series lineup to include Samsung's notch-free screen design.
Samsung Galaxy A42 5G
Release date: April 8
Price: $399.99
The less expensive Galaxy A42 5G has a slightly larger screen than the A52 5G, but scales back on certain features when it comes to the camera and screen refresh rate.
Still, it has a triple-lens camera with high-resolution sensors, and like its pricier sibling it also supports Single Take.
Samsung Galaxy A32 5G
Release date: April 9
Price: $279.99
The Galaxy A32 5G is Samsung's cheapest 5G smartphone to date. It has a large 6.5-inch screen, but it's made from an LCD panel instead of Super AMOLED. That means it will likely lack some of the contrast and boldness of Samsung's other devices. But Samsung hasn't skimped on the camera considering this model has a quad-lens main camera, which is rare if not unheard of at that price.
Samsung Galaxy A12
Release date: April 9
Price: $179.99
Samsung's Galaxy A12 doesn't come with 5G support, but it still gives you a lot for the price. For less than $200, you're getting a quad-lens camera and a large 6.5-inch LCD screen. But remember this phone only has 32GB of storage, so it's best suited for those who don't store a lot of photos and videos on their device.
Samsung Galaxy A02s
Release date: April 29
Price: $109.99
The Galaxy A02s is Samsung's cheapest phone, offering a 6.5-inch LCD screen and three main cameras. It doesn't have 5G support or as much computing power or camera prowess as Samsung's other A-series phones, but that's to be expected for a device at this price. This phone is truly for those who just need the basics and little else.
Source:- Business Insider