A roundup of COVID-19 developments for Tuesday Jan. 12, 2021 – Winnipeg Free Press
There was a time, much earlier in the pandemic, when we were quick to show our appreciation for those on the front lines of the health care system.
There were the blue light campaigns that illuminated our appreciation for all that doctors and nurses were doing. There were messages of thanks chalked on the streets, taped on windows or expressed with food and coffee delivered to hospitals.
But at this point in the pandemic, maybe we need to step up our game. If we really care about those who have been putting themselves at risk to care for those with COVID-19, maybe we need to find a way to get the vaccinations moving a little faster so that everyone is a little safer. Maybe we need to ensure health care workers aren't forced to roll up their arms on their own time at the super-site immunization clinics. If we can't or won't deliver the vaccines where they work, maybe we need to compensate them for the after-hours effort to get the protection they deserve. Or maybe we need to look in the rear-view mirror to the lessons learned during the H1N1 pandemic of 2009 that delivered the vaccine to 451,000 Manitobans — 37 per cent of the population.
At that time, Manitoba's mass immunization plan had been developed and tested through staged exercises so that 200,000 vaccinations could be delivered on a weekly basis. Here's an important point of reference: as of Friday, the two COVID vaccines will have been in the province for a month. As of the last report from the province, only 10,353 doses have been administered.
A 2010 provincial review of Manitoba's H1N1 response concluded its "plans worked well for the H1N1 flu and the experience will help improve plans for future emergency situations."
Granted, H1N1 was a different pandemic than COVID-19 and the vaccines deployed in 2009 don't have the same challenges as the two we are now counting upon to save lives.
However, if there ever is a provincial review of Manitoba's response to COVID-19, I'm willing to bet the conclusion isn't going to be near as favourable as the one that studied the deadly H1N1 crisis.
In the meantime, it might be best if the super-site immunization clinics stocked the waiting areas with back copies of Reader's Digest. Leaving a few copies of the provincial review of Manitoba's H1N1 response for nurses and doctors to thumb through might hurt more than the jab.
— Paul Samyn, Winnipeg Free Press editor
---
THE LATEST NUMBERS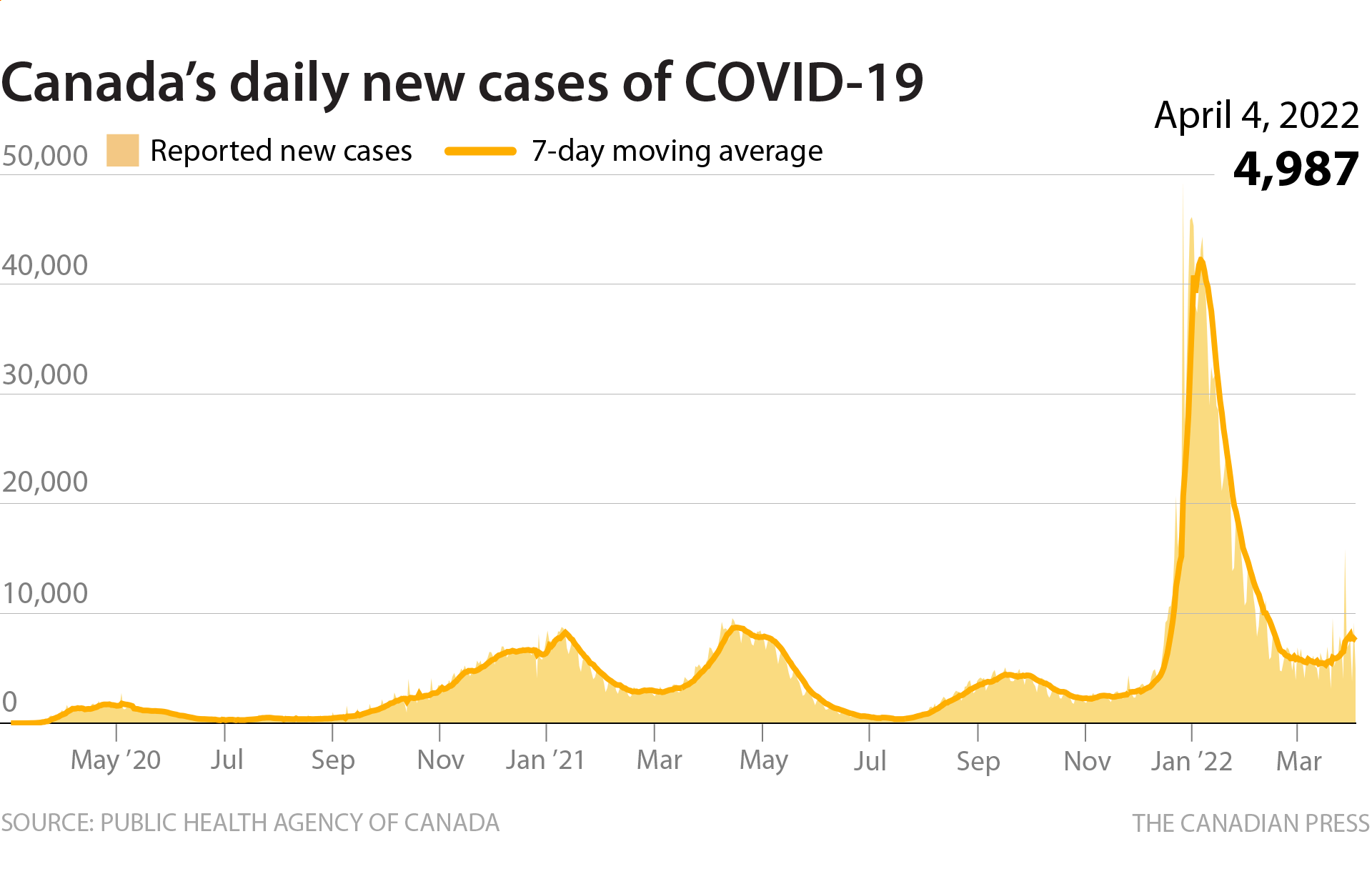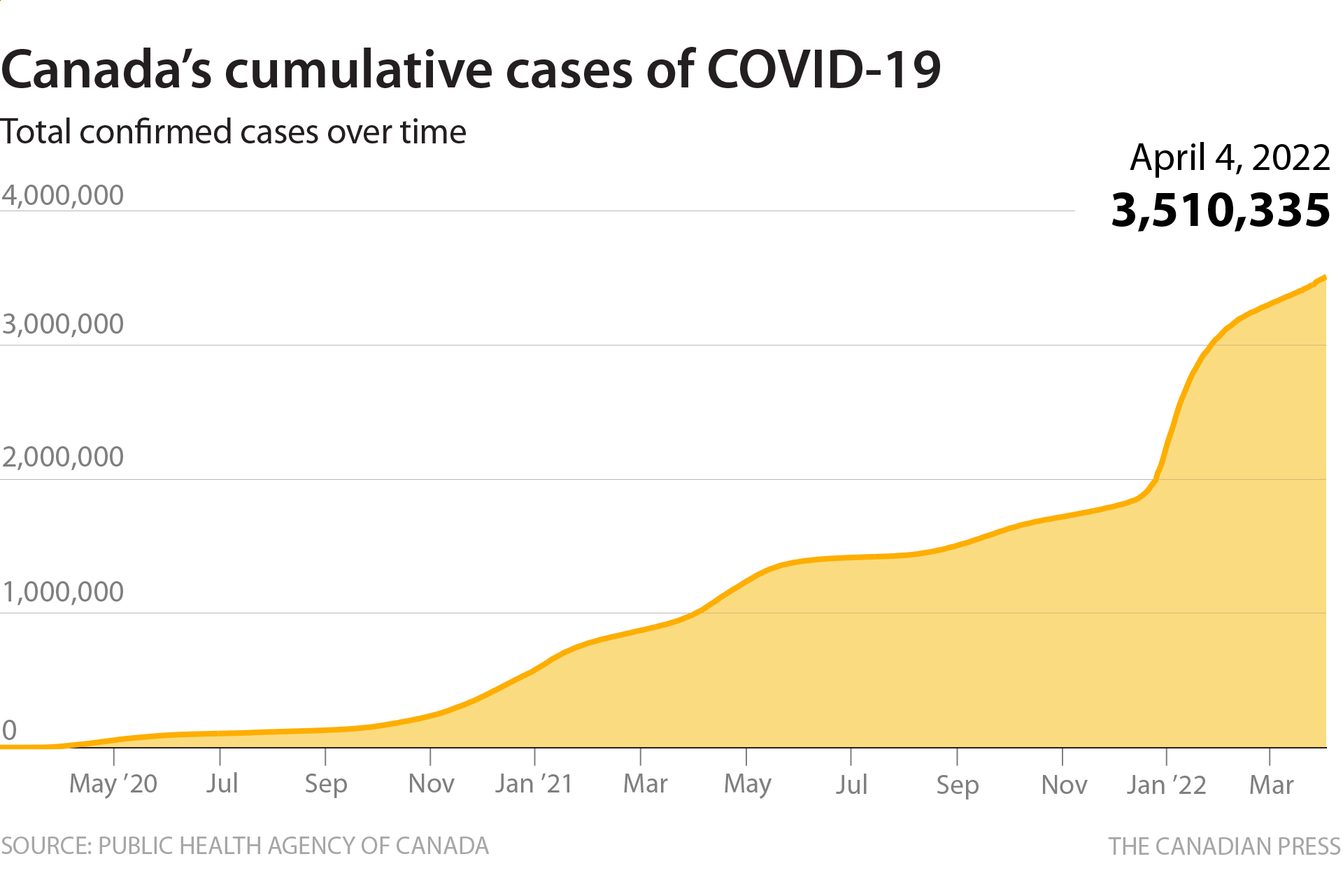 Note: Manitoba and Canada figures may not match due to differences in data sources.
THE LATEST IN MANITOBA
• Provincial health officials announced 92 new cases of COVID-19 and eight more deaths in Manitoba Tuesday. There are 3,100 active cases in the province, with 302 people in hospital, 35 of them in intensive care. Of the new cases, 44 are in the Winnipeg health region; eight in Southern Health; nine in Interlake-Eastern; 22 in Prairie Mountain; and nine in the Northern Health region. The five-day test positivity rate is 10.1 in Manitoba, and 8.4 in Winnipeg.
• The provincial government has handed out 48 more tickets and issued 249 warnings for violations of COVID-19 public health restrictions. The province says 33 of the tickets were for $1,296 and were given to individuals, including 22 who violated gathering restrictions by hosting too many people from outside their households. Eight of the tickets were given to people who didn't wear a mask indoors in a public place, while six businesses were dinged with $5,000 fines.
• The province is expanding the Manitoba Bridge Grant to help small businesses survive extended critical-level pandemic restrictions. The code-red measures, which have been in place since November, were extended Saturday until Jan. 22. The financial support program's Dec. 31, 2020 application deadline has been pushed to Jan. 31, and eligibility is being expanded to include more small businesses. Hotels, resorts, lodges and outfitters, travel agencies, janitorial services companies and owner/operators of licensed passenger-transportation businesses that have seen demand for their services impacted by the public-health orders will be eligible to apply for the grants. Beginning today, new applicants who were ordered to close their premises will be entitled to a one-time payment of $10,000, whereas eligible home-based business applicants will receive a maximum payment of $10,000.
• For the latest information on current public health orders, restrictions, essential items and other guidance, visit the provincial government's website.
THE LATEST ELSEWHERE
• Canada's largest province declared a new state of emergency Tuesday and is invoking a stay-at-home order as COVID-19 threatens to overwhelm Ontario hospitals. New modelling in Ontario released Tuesday projected soaring cases and deaths if more isn't done to slow the spread of the virus. Hospitals in many regions are already overwhelmed with half the province's intensive-care units at capacity or with just one or two open beds at any given time. More than 1,700 people are being treated in Ontario hospitals for COVID-19, including 385 in intensive care and 262 on ventilators. Ontario reported 2,903 new cases of COVID-19 Tuesday, which was the first time in more than a week daily cases fell below 3,000, but another 41 people died since Monday and 138 more were admitted to hospital because of COVID-19.
• Prime Minister Justin Trudeau announced Canada has secured another 20 million doses of the Pfizer-BioNTech vaccine for the virus that causes COVID-19. Along with doses of Moderna's vaccine, this means Canada has enough confirmed shipments to vaccinate every Canadian who wants it by the fall. The shipping schedule currently has three million Canadians on track to be vaccinated by the end of March, another 10 million by the end of June and a further 22 million by the end of September.
• Nunavut officials are urging residents to get immunized against COVID-19 as the vaccine starts to roll out across the territory. Chief public health officer, Dr. Michael Patterson, says about 400 people have so far received their first doses of the Moderna vaccine. Premier Joe Savikataaq encouraged residents not to hesitate being inoculated and reassured them that the Moderna product is safe and effective. Patterson said about 60 per cent of Nunavut's adult population needs to get vaccinated for the territory to have herd immunity.
• Two Canadian nurses who spoke at an anti-lockdown rally in Washington, D.C., on the day of the deadly storming of the Capitol are under investigation by their regulatory body. One of them, who is already suspended from her work in neonatal intensive care, is also facing an investigation by her hospital in London, Ont. In a statement, the College of Nurse of Ontario acknowledged the investigation against Sarah Choujounian and Kristen Nagle. The London Health Science Centre said it had suspended Nagle without pay in November for attending an anti-mask rally in the southwestern Ontario city. Nagle and Choujounian were both speakers at the Jan. 6 rally organized by a group called Global Frontline Nurses, which maintains "fraud is rampant" regarding the COVID-19 crisis inside and outside hospitals.
• Facing a slower-than-hoped coronavirus vaccine rollout, the U.S. federal government abruptly shifted gears Tuesday to speed the delivery of shots to more people. The move came as cases and deaths surged to alarming new highs. Health and Human Services Secretary Alex Azar announced a series of major changes to increase supply of vaccines, extend eligibility to more seniors and provide more locations for people to get shots. Azar said going forward the federal government will base each state's allocation of vaccines partly on how successful states have been in administering those already provided. Additionally, Washington is urging states to immediately start vaccinating other groups lower down the priority scale, including people age 65 and older and younger people with certain health problems.
QUOTE, UNQUOTE
"We've kind of referred to her as the iron lady. She seems to pull through these things."
— Joy Moore, whose 108-year-old mother, Wilhelmina Klimpke, survived COVID-19
LOCAL NEWS
NATIONAL NEWS
INTERNATIONAL NEWS
COVID-19 BASICS
Province claims residents seeing light at end of the COVID-19 tunnel – Nanaimo News NOW
The optimistic statement from the province comes as the vaccine rollout suffered a blow.
Pfizer ran into production trouble while upgrading their facility, which the province admitted will create a short-term delay in the delivery of some vaccines.
Earlier on Friday, health minister Adrian Dix said the shortage will have a significant effect in February and March when only half of the 50,000 doses expected will be delivered.
Dix said this may mean public health officials will revisit leaving 35 days between the first and second dose of the vaccine, instead of the 21 to 28 days recommended by the World Health Organization. The gap was extended in an effort to provide more of the first dose to more people.
There was good news in Dr. Henry's statement, which confirmed 509 new COVID-19 cases with 4,604 considered active. This is a decrease of roughly two hundred in two days.
Hospitalizations dipped to 349 with the number of people in critical care at its lowest point since November.
Island Health saw 13 new cases, with 175 considered active. This is a drop of more than 20 cases in two days. Ten people are in hospital for their symptoms including two receiving critical care.
The central Vancouver Island area remains the most affected in the health authority, with roughly two thirds of all active cases.
info@nanaimonewsnow.com
On Twitter: @nanaimonewsnow
Join the conversation. Submit your letter to NanaimoNewsNOW and be included on The Water Cooler, our letters to the editor feature.
COVID-19: B.C. health officials report 509 new cases, nine additional deaths – Vancouver Sun
Article content continued
Henry and Dix confirmed a new outbreak at Hilltop House, a residential care facility in Squamish.
Total outbreaks in B.C.'s health-care system remain unchanged, however, as the outbreak at Villa Cathay, a downtown Vancouver nursing home, has been declared over.
The outbreak at Wingtat Game Bird Packers, a Surrey poultry plant where at least 30 workers tested positive for the coronavirus in December, has been declared over as well.
"People throughout British Columbia are finally seeing light at the end of the tunnel," Henry and Dix said. "As of today, thousands of people working and living in long-term care homes, health-care workers and those in remote or at-risk Indigenous communities have received their first dose of the COVID-19 vaccine.
As well, health officials confirmed a short-term delay in the delivery of some Pfizer vaccines, due to upgrades at the pharmaceutical company's production facility.
"We are working closely with the federal government to determine how this might impact our immunization rollout in the immediate term, and we will have more to share in the coming days," they said.
---
Get the latest COVID-19 news delivered to your inbox weeknights at 7 p.m. by subscribing to our newsletter here.
---
CLICK HERE to report a typo.
Is there more to this story? We'd like to hear from you about this or any other stories you think we should know about. Email vantips@postmedia.com.
COVID-19 vaccine rollout: Why a mask and social distancing are still needed, even if you get the shot – The Conversation CA
It was a long struggle to adopt a new normal of wearing face masks, maintaining physical distance, handwashing and on-and-off lockdowns. Then, with the approval of two vaccines, came the expectation that the world will soon be cured of COVID-19, and that we all will resume our old normal life. But — not so fast. We must hold on to our new normal for a bit longer.
Pfizer/BioNTech and Moderna each announced in November 2020 that their mRNA-based vaccines have close to a 95 per cent efficacy rate (the efficiency with which the vaccines prevent a severe illness from COVID-19). These first vaccines were developed in record time, and also mark the first time mRNA (messenger ribonucleic acid) is being used for vaccination purposes.
However, a number of factors, such as those related to the nature of these two vaccines, our compliance with the non-pharmaceutical preventive measures (face masks, physical distancing, handwashing, isolation and quarantine) and the enormous task of vaccinating a large portion of the population, challenge our expectations of a quick end to this pandemic.
Rollout challenges
For vaccination to work and achieve herd immunity — the point at which it becomes impossible for the virus to find susceptible hosts to sustain its transmission — more than 70 per cent of the population has to be vaccinated. Dr. Anthony Fauci recently put the vaccination rate to a necessary level of 85 per cent and above!
Both vaccines face several challenges that hamper a quick vaccine rollout here in Canada and around the world, including:
The capacity of each pharmaceutical company to produce the number of vaccine doses needed to reach 70 per cent of the population; and
The logistics of distributing the vaccines and administering the vaccine shots far and wide.
In addition, both Pfizer/BioNTech and Moderna vaccines require a two-dose regimen to reach the reported efficacy rate, adding to the total number of doses needed to reach herd immunity. Hence, the demand for these vaccines is bound to stress the resources and the industrial capacities of both companies.
Indeed, Pfizer early on reported challenges in meeting the production of the ordered vaccine doses, and Moderna has no record of drug production in the past, although it is working with other companies around the world to meet the production demand.
Furthermore, both vaccines require freezing temperatures for storage and distribution, making their speedy and wide distribution a challenge. These conditions are more critical in the case of the Pfizer/BioNTech vaccine; its requirement of the ultra-freezing temperature to maintain its stability makes the distribution to remote areas almost impossible. The special delivery conditions for the mRNA vaccines make the administration of the shots a nightmare in terms of the need for a large number of specialized vaccination stations and personnel.
These challenges have contributed to the low daily rate of 10 vaccination shots per 100,000 population per day in Canada in December. We need about 88,000 shots per day for the rest of 2021 to vaccinate as much as 85 per cent of the Canadian population (with a single shot). The current distribution and vaccination rates in Canada are bound to leave many high-risk population groups vulnerable to COVID-19. Hence, abiding to the current preventive measures remains paramount.
Transmission, immunity and the unvaccinated
As we celebrate the arrival of these two novel vaccines, other factors that are worth mentioning may hamper the return to our old normal life.
First, at this time, we do not have evidence that the mRNA vaccines limit the transmission of the virus.
Second, we do not know how long one remains immune to COVID-19 after being vaccinated.
Third, the population aged 16 and younger is left out of the current vaccination program due to a lack of data on safety and impact. Yet those aged 19 and younger now account for around 16 per cent of COVID-19 cases in Canada.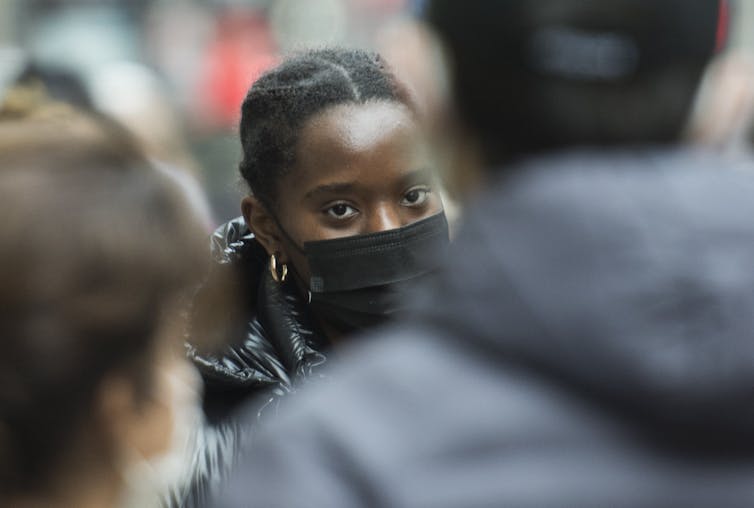 On the other hand, there is a real risk that with the current vaccine rollout there will be an increase in transmission contacts due to the perception of vaccine-acquired immunity and the notion that vaccination will prevent transmission. Continued compliance with the non-pharmaceutical preventive measures is essential, especially when many are experiencing COVID-19 fatigue and most people have gotten used to the idea that other diseases can be stopped with a single pill or shot.
Indeed, the continuous spread of COVID-19 in Canada shows that many do not comply with the preventive measures and lockdown guidelines. The percentage of people who test positive for COVID-19, called the positivity rate, is now at 4.3 per cent.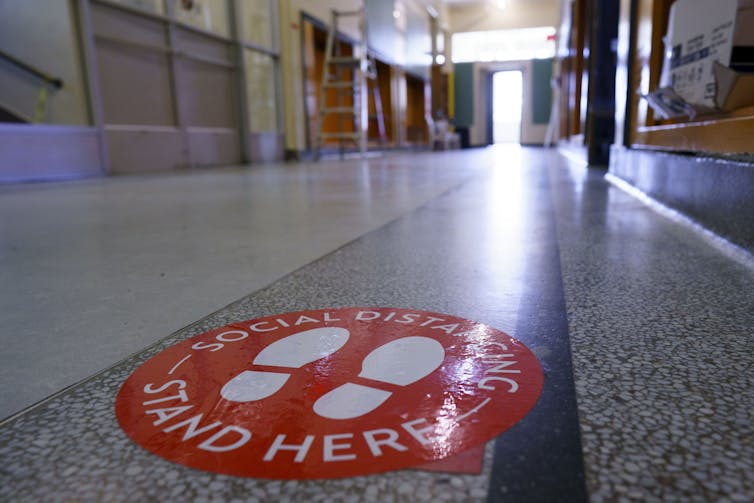 A recent mathematical model evaluated the impact of vaccine efficacy and coverage in preventing future COVID-19 outbreaks. It predicts a possible increased risk of outbreaks during the vaccination of the population. This preliminary study, called a preprint, has yet to be "peer reviewed," formally vetted by other scientists.
The predicted risk was based on the assumption that a person who believed they were immune might increase their potential transmission contacts through increased social and economic activities, as well as through lack of compliance with pharmaceutical preventive measures such as masks and social distancing.
The study showed that the risk of outbreaks depends on the efficacy rate and coverage of the vaccines, and the compliance with the non-pharmaceutical prevention measures. It predicts an increase in the size of the outbreak when vaccination coverage is high, the vaccine efficacy is low and the compliance with masks, social distancing and other non-pharmaceutical prevention measures is low.
Canada and many other countries are contemplating a single dose vaccination regimen to reach as many people as quickly as they can with the doses that they have in hand. However, the single dose mRNA vaccine efficacy rate is much lower than two doses: about 50 per cent to 70 per cent.
Under these high coverage/low vaccine efficacy conditions, continued public education about the potential risks of not complying with non-pharmaceutical preventive measures, in the midst of a pandemic and a challenging en masse vaccine rollout, is crucial to keep the COVID-19 spread under control.
Is there an end?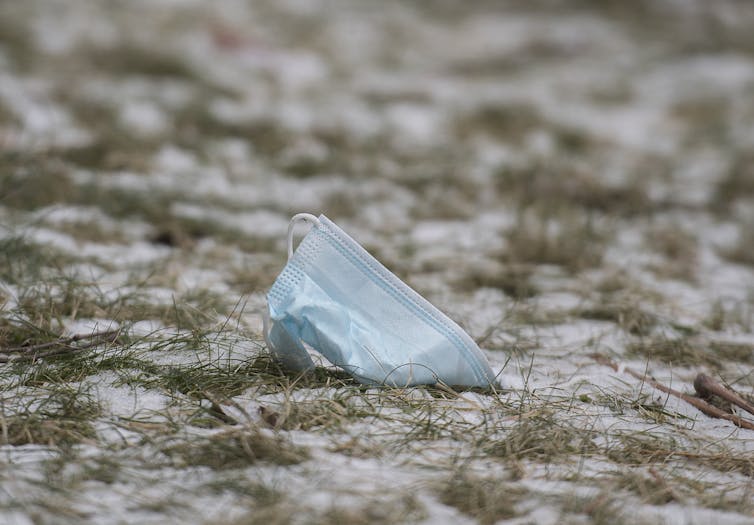 The approval of the two mRNA vaccines and the start of vaccination of high-risk population groups in Canada certainly has made the light at the end of the tunnel seem brighter. However, until most of the population gets vaccinated with vaccines of high efficacy, compliance with the non-pharmaceutical prevention measures remains critical to curb the spread of COVID-19 and save lives. We must be patient with the vaccine's effect on herd immunity and persist with preventive practices even when the current lockdowns end and our economy reopens.