A statistical look at the Toronto Maple Leafs vs. Columbus Blue Jackets play-in series – TSN
The National Hockey League's Return to Play format is official, and assuming all goes to plan, we are about six weeks away from watching hockey once again.
The new format – in the event you live under a rock – will feature 24 teams in total, and will open up with a 16-team qualifying round. The opening best-of-five series offers new life to eight teams that were below the original playoff cutline, and should create waves of excitement for eager sports fans.
With such a significant layoff, there will be ample questions about preparedness for every team. But the good news is with 70 or so regular-season games logged, we do have a rather strong understanding of each team's strengths and weaknesses.
To shake off the rust here, I will preview each qualifying round series over the next few weeks. Today we will start in the Eastern Conference, with the eight seed Toronto Maple Leafs taking on the nine seed Columbus Blue Jackets.
Regular Season Performance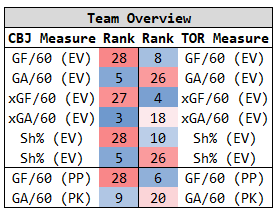 One of the things that I think makes a Toronto-Columbus matchup so intriguing is that the teams are polar opposites.
The Maple Leafs are a high-flying offensive team with loads of superstar talent up front, and carried one of the league's more prolific offences through the regular season. Toronto's 3.4 goals per game was actually third in the league, trailing only Tampa Bay (3.5) and Washington (3.4). Despite the wondrous offensive production, Toronto is still just an eighth seed – in large part because only five teams gave up more goals per game (3.2). Elite offensive team, shaky defensive team
The Blue Jackets live on the other end of the spectrum. Their 2.6 goals against per game was fourth best in the league – a surprisingly strong performance considering the exodus of talent from Columbus last summer. In many ways, it's a classic John Tortorella team: incredibly disciplined in the defensive zone, with five-man units that show very capable in pushing opposing forwards well into the perimeter.
It's also a classic Tortorella team because scoring was a problem all season long. 5-on-5 scoring and power-play production – which has been an area of concern for a few years now in Columbus – are ineffective, in large part because the team cannot create offence from the low slot: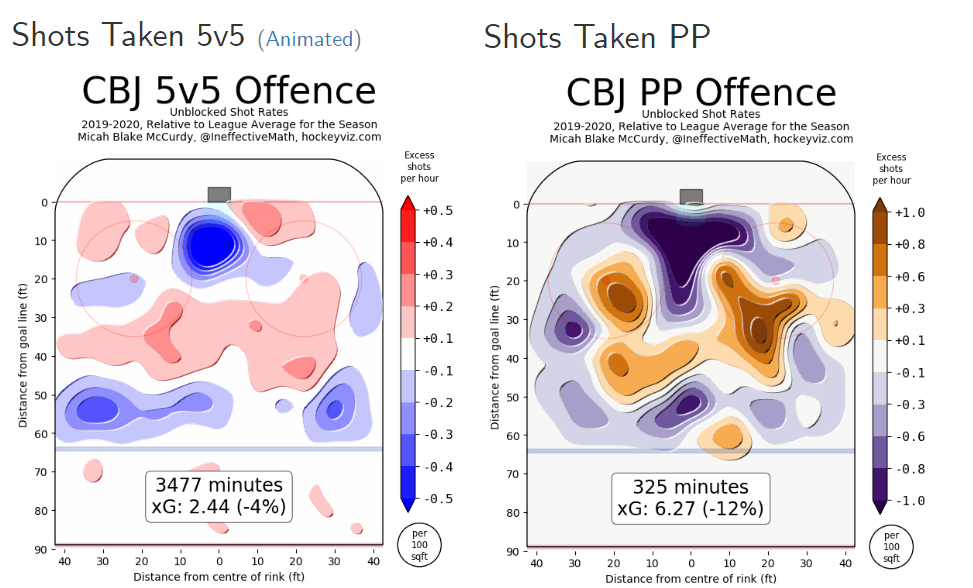 Skater Overview (Goals Above Replacement)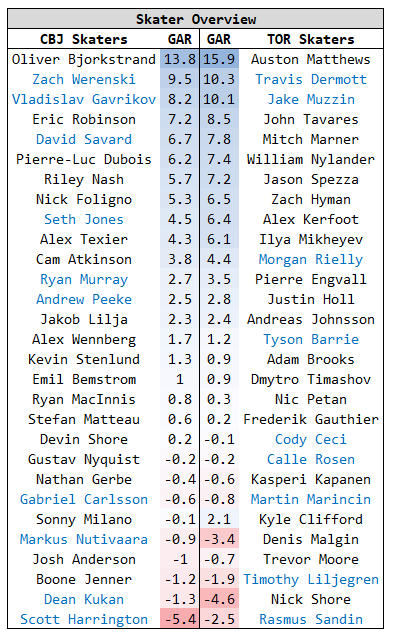 There is no doubt that Toronto's Auston Matthews is the best skater heading into this series. Matthews' fourth professional season was absolutely electric, with 47 goals and 33 assists in 70 games played. The season stoppage ultimately barred him from chasing down the Rocket Richard Trophy, finishing just one marker back of Boston's David Pastrnak and Washington's Alexander Ovechkin.
What differentiates Matthews from a number of other prolific scorers in Toronto is that the Maple Leafs showed a semblance of defensive competency with him on the ice. Toronto was a full goal better than its opponents for every 60 minutes of even-strength play with Matthews on the ice – a number that compares to the likes of Mark Stone and Evgeni Malkin.
Consider some of the other Leafs attackers, and you have a very different story. Mitchell Marner (+0.0 goals per 60 minutes), Kasperi Kapanen (-0.2 goals per 60 minutes), and John Tavares (-0.4 goals per-60 minutes) are just a handful of examples of productive offensive players who traded off those goals because of leaky defensive play behind them.
Matthews isn't the only player in the series to drive such an impressive on-ice goal differential, though. Oliver Bjorkstrand – the 25-year-old Columbus forward in the midst of his own breakout season – also finished a goal better than his opponents per 60 minutes, coming into his own with linemates Gustav Nyquist and Pierre-Luc Dubois.
But the story of Columbus ultimately centers on their blueline. The team's top pairing of Zach Werenski and Seth Jones has become one of the most formidable defensive duos in the league, and Toronto's top-six forwards are going to see an ample amount of both in this series.
The Jones/Werenski pairing is strong on both sides of the ice, and over the years it has led to some incredible goal rates. By season:
– 2016-17: +9 goals
– 2017-18: +16 goals
– 2018-19: -10 goals
– 2019-20: +14 goals
For Toronto to prevail in this series, neutralizing Columbus' best units – anchored by the Jones/Werenski pairing – will be critical.
Goaltender Overview (Goals Saved Above Average)

The questions about how porous the Maple Leafs defence has been this season has been quite tough to answer, if only because the goaltending has been comparatively abysmal. For every scoring chance where the blueline left a Toronto goalie out to dry, you had another lifeless shot from the point that somehow found its way in the back of the net.
Frederik Andersen did improve as the season progressed, and the acquisition of Jack Campbell from Los Angeles did prove to be a major upgrade over Michael Hutchinson. Andersen will be the guy in this series, but it's probably fair to say he doesn't have the longest leash of goalies in the qualifying round.
In Columbus, Tortorella had tough decisions to make in the post-Sergei Bobrovsky world. His tandem of Elvis Merzlikins (33 games) and Joonas Korpisalo (37 games) proved more than capable, and were one of the biggest reasons the Blue Jackets stayed in the hunt this season.
But in a short series, the value of a rotational goaltender system is diminished – Tortorella ultimately has to pick one. The games played edge would seemingly give it to Korpisalo, but on performance, Merzlikins was a definitively better goalie. I would be surprised if the Latvian isn't given the Game 1 start.
Prediction
If anyone is still counting out Columbus after last season's unbelievable sweep of the Tampa Bay Lightning, they are foolish. This is a strong, defensively disciplined team that's going to scratch and claw for every inch of the ice.
But this Toronto lineup just has too much firepower in the forward ranks, and there are serious concerns about where the scoring will come from on the Columbus side.
The pick is Toronto in five.
Data via Natural Stat Trick, HockeyViz, Evolving Hockey, NHL.com
Liverpool wins first at Anfield as champion – TSN
LIVERPOOL, England — Liverpool kept alive its bid to finish the Premier League season with a perfect home record after labouring to a 2-0 win against relegation-threatened Aston Villa on Sunday in its first match at Anfield since winning the title.
A 17th straight home victory this season — and surely the most underwhelming — was secured by goals from Sadio Mane in the 71st minute and substitute Curtis Jones in the 89th.
Three days after Liverpool lost 4-0 at Manchester City in its first match as champion, Jürgen Klopp's team again lacked the intensity, snap and precision that brought it the title in such devastating fashion this season.
Indeed, Liverpool had managed just two shots on target against Villa before Mane met a low cross into the area from midfielder Naby Keita with a first-time shot that struck the underside of the crossbar and bounced down over the line.
Jones tucked away a shot after a nod-down at the far post by Mohamed Salah to double the lead with the last chance of a dull game.
It was enough to earn the Reds one of the five wins they need to beat the record season points total in the Premier League of 100, set by Manchester City in 2017-18.
Wins over Burnley and Chelsea at Anfield over the next two weeks will see Liverpool complete the season with 19 victories out of 19, for a 100% home record that has never been achieved in the Premier League.
The match was more important for Villa, given its perilous position in the relegation zone. The visitors gave Liverpool a guard of honour before the match — like Man City did on Thursday — but didn't pay the champions much respect on the field at an empty Anfield that was bedecked in club banners.
Indeed, with Liverpool often looking lethargic, Villa carried a threat on the counterattack, although Dean Smith's team wasn't helped by a foot injury that seemed to hamper captain and playmaker Jack Grealish most of the game.
Villa stayed in third-to-last place, one point adrift of safety with five games left.
___
More AP soccer: https://apnews.com/Soccer and https://twitter.com/AP_Sports
DeChambeau after confronting cameraman: Players need 'times of privacy' – theScore
Bryson DeChambeau displayed his frustration with a cameraman on Saturday after botching a bunker shot on the seventh hole during the third round of the Rocket Mortgage Classic.
DeChambeau threw his club into the sand, then took issue with the cameraman following him closely to the green as he proceeded to mark his ball. He holed out for bogey before confronting the camerman.
"He was literally watching me the whole entire way up after getting out of the bunker, walking up next to the green," DeChambeau said, according to Golf Channel's Will Gray. "And I just was like, 'Sir, what is the need to watch me that long?'
"I mean, I understand it's his job to video me, but at the same point, I think we need to start protecting our players out here compared to showing a potential vulnerability and hurting someone's image. I just don't think that's necessarily the right thing to do."
The 26-year-old understands that attention comes with the territory, but he asked that golfers be given some space during moments of frustration.
"As much as we're out here performing, I think it's necessary that we have our times of privacy as well when things aren't going our way," DeChambeau said,
"… I feel like when you're videoing someone and you catch Tiger (Woods) at a bad time, you show him accidentally doing something, or someone else, they're just frustrated because they really care about the game. It could really hurt them if they catch you at a potentially vulnerable time."
DeChambeau shot a 5-under 67 in the third round and is at 16-under for the event. He sits three shots back of leader Matthew Wolff, who shot a 64 on Saturday.
The five-time PGA Tour winner continued to show his improved power with an average driving distance of 348.5 on Saturday, and a 374-yard drive on No. 13 highlighted his day.
Bottas captures season opening Austrian Grand Prix – TSN
SPIELBERG, Austria — Valtteri Bottas won a chaotic season-opening Austrian Grand Prix on Sunday while Formula One champion Lewis Hamilton finished fourth after getting a late time penalty.
Bottas took a knee as he received the winners' trophy and the podium trio held up a black T-shirt with "End Racism" written on it.
The race was interrupted three times by a safety car and nine of 20 drivers abandoned, including both Red Bulls of Max Verstappen and Alexander Albon — who tried to overtake Hamilton on the outside with 10 laps left, touched wheels and flew off track.
"I dodged a few bullets today," Bottas said after the eighth F1 win of his career.
Hamilton was given a five-second time penalty for causing the collision – dropping from second to fourth – having earlier been hit with a three-place grid penalty after an incident in Saturday's qualifying was reviewed by stewards.
Although Bottas started from pole position and Hamilton from fifth, it looked like a straight fight between the two Mercedes drivers as has been the case so often in recent years.
But late drama in Spielberg ensured otherwise and Hamilton's time penalty meant Charles Leclerc took second place for Ferrari and Lando Norris third for McLaren.
"It felt like a victory today. Second place is something I never would have expected," said Leclerc, who started from seventh. "I will rate this as one of my best races, I didn't do many mistakes."
Norris sent McLaren's garage into raptures — and threw social distancing out of the window amid the euphoria as CEO Zak Brown hugged everyone in sight — with third place.
His jubilation was understandable.
It was the 20-year-old British driver's first career podium and his superb final lap was the fastest of an exciting opening race. Norris became the youngest British driver to secure a podium finish and the third youngest ever in F1. Only Verstappen and Lance Stroll were younger.
All drivers wore "End Racism" T-shirts before the race, but six drivers did not take the knee: Verstappen, Leclerc, Kimi Raikkonen, Daniil Kvyat, Antonio Giovinazzi and Carlos Sainz Jr.
Hamilton, the only Black driver in F1, wore a T-shirt with Black Lives Matter on the front and End Racism on the back.
Verstappen was chasing a hat trick of wins at the Red Bull Ring, but his race ended early with a power failure. Sebastian Vettel's miserable form from last season carried over as he finished 10th.
Hamilton's three-place grid penalty was for failing to slow under a yellow flag late in Saturday's qualifying and it pushed Verstappen up to second place on the grid. Norris jumped to third and Albon to fourth.
Bottas made a strong start from pole position while Verstappen just held off Norris.
Hamilton took four laps to overtake Norris and move into fourth, and another five to overtake Albon in third. But he was gifted a position as Verstappen ground to a halt moments later.
Daniel Ricciardo (Renault), Kevin Magnussen and Romain Grosjean (Haas), Stroll (Racing Point), George Russell (Williams), Raikkonen (Alfa Romeo) and Kvyat (AlphaTauri).
Approaching the midway point of the race, Magnussen went off track after trying to overtake Esteban Ocon's Renault. The safety car was deployed for two laps, allowing Hamilton to claw back a few seconds on Bottas.
When the race re-started on Lap 30, Bottas got away cleanly.
But moments later Vettel tried to pass Sainz Jr. on the outside but misjudged his attack, spinning his car after nudging into the side of the McLaren and losing several positions.
Hamilton lurked right behind Bottas for the next 20 laps but could not find an angle to attack and both drivers were then warned over team radio to stay off the kerbs to protect their gearboxes.
The safety car came out a second time on Lap 52 and again soon after the right tire flew off the front of Raikkonen's car and narrowly missed hitting Vettel's Ferrari just behind.
Then after that restart, Albon made a daring and seemingly clean move on the outside of Hamilton, who appeared to impede him just as he was passing.
___
More AP auto racing: https://apnews.com/apf-AutoRacing and https://twitter.com/AP_Sports