A Taliban ban on women in the workforce can cost economy $1bn – Aljazeera.com
A full recovery of the Afghan economy will not happen without female participation, according to a new UNDP report.
By Eltaf NajafizadaBloomberg
The Taliban's move to restrict women from working could immediately cost the Afghan economy up to $1 billion, or 5% of GDP, the United Nations Development Programme said in a new report as the militant group seeks global help to avert a deepening crisis.
The UN report painted a grim picture of Afghanistan's economy which is under strain with soaring inflation and an ongoing cash crunch. Women account for 20% of the country's workforce and preventing them from working could shave half a billion dollars alone from household consumption, it said.
Over the weekend the Taliban's acting Prime Minister Mullah Mohammad Hassan sought global help in preventing a further crisis and gave assurances that the women's rights would be protected based on Sharia law, under which they can study and work. While Hassan isn't the first official from the new Afghan government to seek help, his administration hasn't given clear directions on how they will support women.
The UN report found that the militant group had told all female government employees to stay at home and banned most girls from going to school after they swept into power in August. Only a small number of women in essential services like nursing have been asked to resume work.
"I want to say very clearly that there isn't a real full recovery of the Afghan economy without female participation," Abdallah al Dardari, the head of UNDP, said in an interview. "Our initial results show that the contribution of educated women to the Afghan productivity is higher than that of men with the same level of education."
Restricting women from social life, including employment, adds more uncertainty to Afghanistan as it grapples with a sudden freeze in international aid which contributes as much as 40% of its GDP and 80% of the budget spending, the report said. The country's GDP will contract 20% within a year and the decline may accelerate to 30% in the following years, it added.
Over $9 billion in Afghanistan reserves overseas remain frozen by the U.S. and its Western allies on concerns over the Taliban's continued links with terrorism, human rights abuses and failure to build an inclusive government. The Taliban have constantly asked for these funds to be released — a request echoed by acting prime minister Hassan.
Afghanistan would need $6 billion to $8 billion in international grants annually to fund basic services, support growth and sustain peacemaking efforts, Al Dardari said. The country would require an estimated $2 billion to just lift the incomes those in extreme poverty to avoid a humanitarian catastrophe, he added.
The Taliban's plea for the world to release the assets and resume aid could help "in the very short term," although the bigger issue is to strengthen Afghanistan's weak institutions said Adnan Mazarei a senior fellow at the Washington-based Peterson Institute for International Economics."The de facto authorities are shooting themselves in the foot in many ways, including with the restrictions on women and others."
Here's some key facts and figures on women in Afghanistan:
The economic impact of educating a girl in Afghanistan is more than double that for educating a boy, according to the UN report.
The country was ranked 166 out of 167 countries on the UN's gender development index in 2019.
More a quarter of the 400,000 civil servants in Afghanistan are women. They have been banned from working until there are sharia-related procedures in place to ensure their safety.
Millions of women voted in the last elections and 89 of the 352 members of parliament were female.
Taliban unveiled a 53-member cabinet in September, which did not include any woman. In the previous government, there were 13 women ministers and deputy ministers.
Dollar finds buyers as Fed flags hikes
The dollar was perched near a five-week high on Thursday, bolstered after Federal Reserve chair Jerome Powell primed investors for U.S. interest rate hikes beginning in March.
Overnight the Fed left policy unchanged but Powell foreshadowed a sustained battle to tame inflation.
He told reporters there was "quite a bit of room to raise interest rates without threatening the labour market" and said the Fed was of a mind to begin lifting rates in March.
The dollar leapt 0.7% against the yen in the wake of the Fed's decision and Powell's remarks, its steepest daily jump in more than two months as the prospect of imminent hikes spooked stock markets and drove bond yields higher.
The yen inched a fraction lower to 114.74 per dollar early in the Asia session.
The euro was also sold and fell about 0.5% overnight to a five-week low of $1.1235, holding at that level in Asia.
Sterling and the Australian dollars also dropped with the mood and the New Zealand dollar fell to its lowest since Nov. 2020.
"While communication from Fed members in the lead-up to this meeting meant that the pivot should not have been a surprise, risk appetite shrivelled as Powell's press conference progressed and the extent of the Fed's commitment to act in the face of significant inflation pressure became clear," said ANZ analysts.
The Australian dollar fell close to its 2022 low in the overnight session before recovering a little to $0.7119. The kiwi posted a fifth consecutive daily loss to touch $0.6639. Both Antipodeans steadied in early trade. [AUD/]
Sterling is hovering at $1.3469 as investors await a Bank of England meeting next week and have an eye on the political turmoil enveloping Prime Minister Boris Johnson, who is under pressure after attending parties during lockdowns.
On Thursday, data showed New Zealand inflation a little hotter than forecast and running at a three-decade high.
Chinese industrial profits data is due later in the day, as well as U.S. economic growth and jobless claims figures.
After a battering last week, cryptocurrencies held their ground in the wake of the Fed's meeting and bitcoin last bought $35,869.
========================================================
Currency bid prices at 0006 GMT
Description RIC Last U.S. Close Pct Change YTD Pct High Bid Low Bid
Previous Change
Session
Euro/Dollar
$1.1242 $1.1243 +0.00% -1.11% +1.1242 +1.1236
Dollar/Yen
114.7450 114.6800 +0.01% -0.28% +114.7700 +114.6900
Euro/Yen
129.00 128.91 +0.07% -1.02% +129.0100 +128.8600
Dollar/Swiss
0.9239 0.9243 -0.03% +1.30% +0.9243 +0.9240
Sterling/Dollar
1.3465 1.3465 +0.00% -0.44% +1.3467 +1.3465
Dollar/Canadian
1.2663 1.2663 +0.02% +0.17% +1.2670 +1.2659
Aussie/Dollar
0.7116 0.7115 +0.01% -2.10% +0.7121 +0.7113
NZ
Dollar/Dollar 0.6657 0.6654 +0.04% -2.75% +0.6660 +0.6646
All spots
Tokyo spots
Europe spots
Volatilities
Tokyo Forex market info from BOJ
(Reporting by Tom Westbrook. Editing by Lincoln Feast.)
Canadian dollar weakens as BoC foregoes rate hike
The Canadian dollar fell against its broadly stronger U.S. counterpart on Wednesday as the Bank of Canada surprised some investors by leaving interest rates on hold, offsetting support for the currency from higher oil prices.
The Bank of Canada will soon start hiking interest rates from record lows to combat inflation, Governor Tiff Macklem said, after the central bank left its policy rate at a record low of 0.25%.
Money markets had seen about a 70% chance that the central bank would hike on Wednesday for the first time since October 2018. They now expect lift-off in March.
"The disappointment from the Bank of Canada will quickly fade while the tailwind from oil is significantly growing," said Adam Button, chief currency analyst at ForexLive.
"The open question is how much of the recent rise is fundamental and how much is political."
Rising political tensions between Russia and Ukraine have added to concerns about further disruption in an already-tight market for oil, one of Canada's major exports. U.S. crude oil futures settled 2% higher at $87.35 a barrel.
The Canadian dollar was trading 0.4% lower at 1.2680 to the greenback, or 78.86 U.S. cents, after trading in a range of 1.2560 to 1.2688.
The U.S. dollar rallied against a basket of major currencies and Wall Street gave back its earlier gains as the Federal Reserve signaled that it is likely to raise U.S. interest rates in March and later launch a significant reduction in its asset holdings.
Canadian government bond yields rose across the curve although by much less than U.S. rates. The 10-year was up 2.2 basis points at 1.826%.
Last Wednesday, it touched its highest level in nearly three years at 1.905%.
(Reporting by Fergal Smith; Editing by Bernadette Baum and Sandra Maler)
Poll suggests some Canadians are feeling brighter about the economy, own finances – Coast Reporter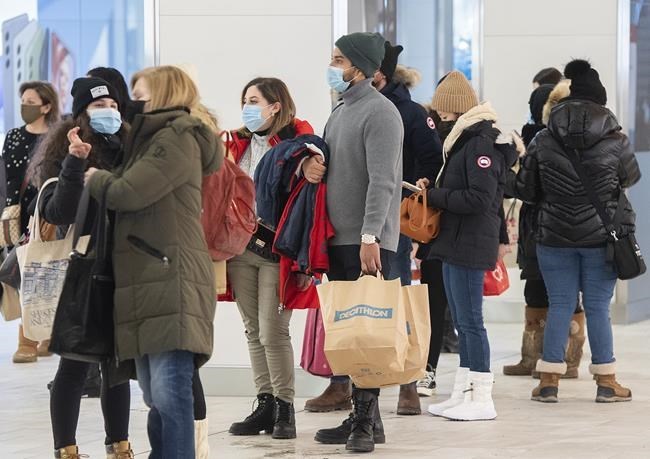 OTTAWA — A new poll suggests some Canadians are feeling more upbeat about the state of the domestic economy and their own pocketbooks, though not quite as positive as they were before the COVID-19 pandemic.
The annual Leger survey of economic confidence found that nearly two in every five respondents rated the economy as being good or very good, which was up from the same survey last February.
Still, just over half of respondents weren't as chipper on the state of the economy, with 54 per cent rating it as poor or very poor.
That figure was a drop from the 61 per cent of respondents in last year's survey, but still above the 36 per cent recorded in February 2020 just before the first wave of the pandemic.
About two-thirds of respondents also showed confidence in their personal finances, a figure that has remained steady through surveys in each of the previous two years.
The poll of 2,399 Canadians who took part in an online panel between Jan. 7 and 12 cannot be given a margin of error because internet panels are not considered to be truly random samples.
Christian Bourque, Leger's executive vice-president, said the results suggest respondents are more optimistic about the economy than markets and economists who have downshifted expectations for the year. The poll indicates that optimism also extends to their personal finances despite high inflation rates.
"People feel a little bit more upbeat than one would have thought and it's certainly an increase from what we saw over the past year in terms of overall optimism," Bourque said.
Downgrading expectations comes on the back of signals from central banks on both sides of the border that their rock-bottom interest rates will go up this year to combat high inflation. There are also supply-chain problems and the spread of the Omicron variant that have created economic headwinds to kick-start 2022.
On Wednesday, the Bank of Canada released its updated outlook for the economy.
The central bank estimated the economy grew by 4.6 per cent in 2021, down half a percentage point from its previous forecast in October, and now projects growth in real gross domestic product in 2022 at four per cent, down from 4.3 per cent.
The Bank of Canada said part of the downgrade this year is due to the impact of Omicron, hints from governments that spending is easing earlier than expected, and supply chain issues that will have "larger and more broad-based negative implications on economic activity" this year.
Canadians generally are fairly upbeat about the national economy, mixed with some level of prudence for what may come, which Bourque noted played out in regional results.
The biggest boost in optimism for the economy between last year and now came from respondents in Alberta. But the oil-producing province also had the largest percentage of respondents, at 61 per cent, who had the least confidence in the economy.
"For Premier Kenney, it's another 'what do I do about this now?'" Bourque said. "Let alone management of the pandemic, now he has to face up to a population that feels that things are not going Alberta's way."
Among the top financial worries cited by respondents were the value of their investments, the safety of their savings, and being able to pay their bills.
Those were the same top issues in the poll done last February, although the results suggest fewer respondents were worried about those issues overall.
This report by The Canadian Press was first published Jan. 26, 2022.
Jordan Press, The Canadian Press