'A very fundamental question': Is this the world's oldest example of art? – CTV News
TORONTO —
Famous cave art in France, Indonesia and Spain has long been thought to be the oldest of its kind, but a new study sheds light on Tibetan parietal art that is four times older and may have been created by children.
An international team of researchers came together to determine if the hand and footprints discovered on the Tibetan Plateau were indeed art.
To decide if the sequence of hand and footprints were art, the researchers had to first figure out how these prints got there. The series of five handprints and five footprints, the researchers reported, came from two different people, according to a press release.
Given the slope and that it would have been slippery, the research team ruled out that people would have walked or run across the plateau, which in turn ruled out that these sets of prints may have been a result of people falling.
"It would have been a slippery, sloped surface. You wouldn't really run across it. Somebody didn't fall like that. So why create this arrangement of prints?" Thomas Urban, research scientist in the College of Arts and Sciences and with the Cornell Tree Ring Laboratory, said in a press release.
Urban assisted the research team led by David Zhang of Guangzhou University and co-authored the study.
The team of researchers used uranium-series dating to date the artwork. They believe that the footprints were created by a seven-year-old, while the handprints were by a 12-year-old. They also suspect that these kids were ancient relatives of Neanderthals known as Denisovans.
But what really determines if these handprints and footprints are art?
"These young kids saw this medium and intentionally altered it. We can only speculate beyond that," Urban said. "This could be a kind of performance, a live show, like, somebody says, 'hey, look at me, I've made my handprints over these footprints.'"
For this reason, Urban calls for a broader definition of what is considered art in this context, even if it does rub some the wrong way.
"I think we can make a solid case that this is not utilitarian behaviour. There's something playful, creative, possibly symbolic about this," said Urban. "This gets at a very fundamental question of what it actually means to be human."
Del Mar unveils five new pieces of public art – Del Mar Times
The city of Del Mar's temporary outdoor sculpture program has opened with five new works in downtown Del Mar, along a one-mile art stroll.
The Del Mar Foundation is providing approximately $15,000 in funding for the program over the first two years and the pieces will remain on display for up to 23 months.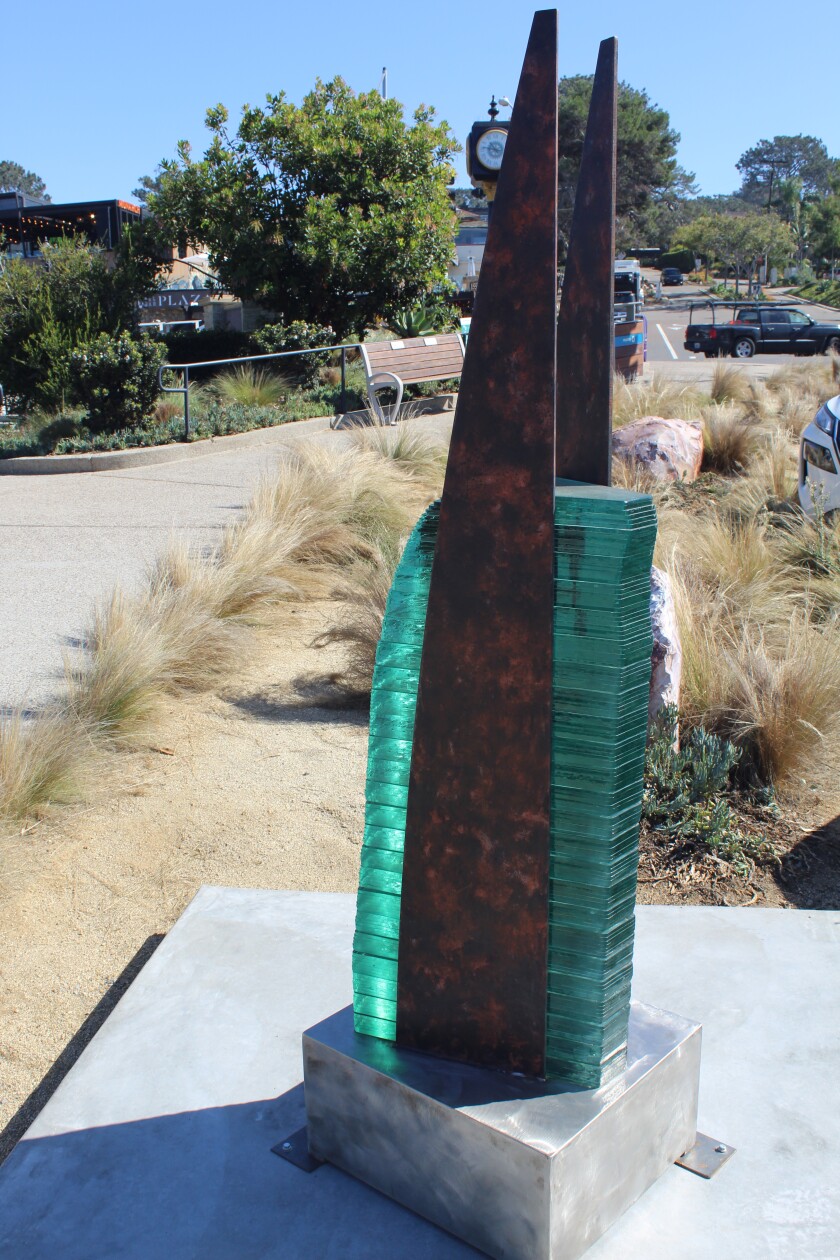 Take the Del Mar art walk:
Hanging Out by Maidy Morhous at 15th Street and Stratford Court
Birds Eye View by Petrello and Graham at the southeast corner of 14th Street and Camino del Mar
Terpsichore by David Beck Brown at the southeast corner of 12th Street and Camino del Mar
Moonshadow by Jeffery Laudenslager and Deanne Sabeck at the northeast corner of 9th Street and Camino del Mar
Pasaje a lo Infinito by Hugo Heredia at 5th Street and Camino del Mar
Before There Were Pockets: A Métis Youth Art Series – Métis Nation of Ontario – Metis Nation of Ontario
Before There Were Pockets
A Métis Youth Art Series
Part 1 – TOBACCO BAG
Thursday, November 18, 6-9 PM ET
Thursday, December 16, 6-9 PM ET
Part 2 – SASH BAG
Thursday, January 13, 6-9 PM ET
Thursday, February 10, 6-9 PM ET
Thursday, March 10, 6-9 PM ET
The Métis Nation of Ontario is excited to be hosting Before There Were Pockets- Métis Youth Arts Series this year across the province virtually through the Zoom platform.
This will be a once a month gathering of youth to learn a variety of traditional arts through the construction of a sash bag and tobacco bag. It is an informal opportunity for youth to connect with each other and work one-on-one with knowledge holders and staff. It will also be an opportunity to bring in special guests to speak about their artwork and journey. These workshops will allow participants to explore different skills and gain a deeper understanding of their Métis heritage. In order to receive the supplies for their session, all forms must be completed and participants are expected to attend all sessions. Access to technology and reliable internet is required to participate in the camp.
Space is limited, so please register and complete the application as soon as possible. Participants can access the Metis Nation of Ontario Application Portal at metisnation.smapply.io/.
Before there were pockets Poster ENG
Before there were pockets Poster FR
Vancouver Island art councils work together on regional impact study – Parksville Qualicum Beach News – Parksville Qualicum Beach News
The Arts Council of Ladysmith is leading the way on a project that aims to get arts recognized as a significant industry on Vancouver Island and the Gulf Islands. With funding from the Canada Council for the Arts, it partnered with other councils in the region to conduct an impact study to show the value art brings to communities.
"Itis larger than many industries, like the lumber industry and the fishing industry in our community and it's probably not recognized because many of them are individuals," said Kathy Holmes, president of the Arts Council of Ladysmith and District. "People don't think of them as a business and really, artists are their own business."
The arts council partnered with the Digital Innovation Group (DIG), a collective of island arts councils, to bring together nearly 1500 artists and art supporters in the spring to assess the economic, social, cultural and health impacts of arts in the region.
"No other art council has even attempted to do this. It's been a huge project, we are exhausted and what's coming out now is really important," Holmes said.
DIG will present the study's findings at this year's Vancouver Island Economic Alliance Summit this month. The study found one in 20 people in the region is an artist and over 90 per cent of respondents felt arts are foundational to economic, community and individual wellness, according to DIG's summary of findings.
"We were looking for meaningful data to quantify the contribution of the arts sector to our region and are thrilled to learn that there are over 35,000 artists and that our sector generates almost one billion dollars in direct economic outputs," said Ora Steyn, vice president of the Ladysmith Arts Council.
The Ladysmith Waterfront Gallery has been operating out of the old school on Parkhill Terrace for the last two years and Holmes said it has had a large impact on the volume of visitors.
"The Membership is still being very faithful. We worked very hard at keeping them but the public is not coming in droves so we are trying to build that capacity again but it took us a long time to get to 13,000 people a year," Holmes said.
The gallery will be hosting Yael Wand, a Salt Spring Island musician on Friday (Oct. 22.) Tickets are on sale now on the art council's website.
---
@_hay_tyler
editor@ladysmithchronicle.com
Like us on Facebook and follow us on Twitter.