Adani Group: Asia's richest man hits back at 'con' allegations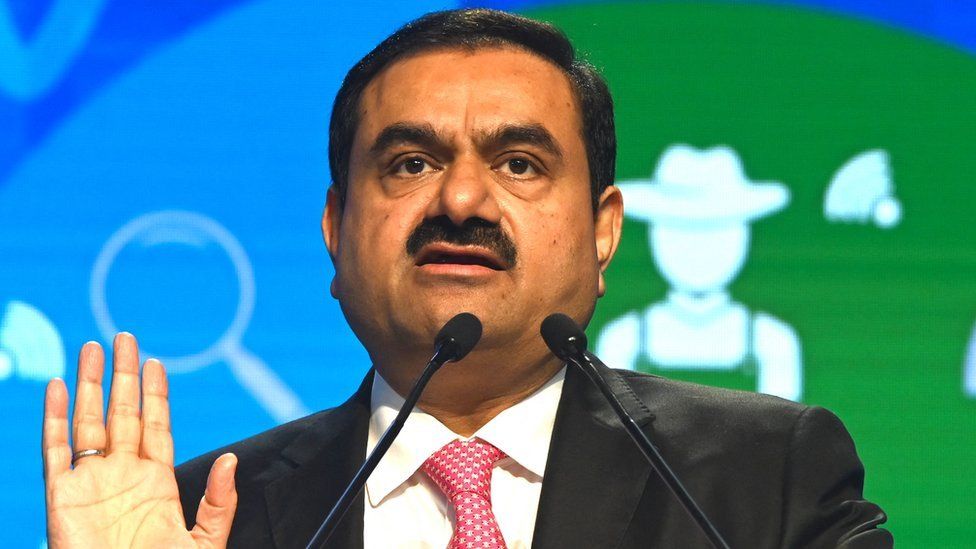 A company owned by Asia's richest man has hit back at a report which accused the firm of "brazen" stock manipulation and accounting fraud.
The Adani Group, founded by Gautam Adani, called the report by a US investment firm "malicious" and "selective misinformation".
The group lost almost $11bn (£8.7bn) of its market value after the research was made public on Wednesday.
Adani Group is one of India's biggest companies, and has operations in a wide range of industries including commodities trading, airports, utilities and renewable energy. It is led by Indian billionaire Mr Adani who is the world's fourth richest man, according to Forbes magazine.
Hindenburg, meanwhile, specialises in "short-selling", or betting against a company's share price in the expectation that it will fall.
In its report, Hindenburg accused Mr Adani of "pulling the largest con in corporate history". This came days ahead of a planned sale of Adani Group shares to the public.
The report questioned the Adani Group's ownership of companies in offshore tax havens such as Mauritius and the Caribbean. It also claimed Adani companies had "substantial debt" which put the entire group on a "precarious financial footing".
But on Thursday, Adani Group said it was evaluating "remedial and punitive action" against Hindenburg Research in the US and India.
Adani said it had always been "in compliance with all laws".
"The volatility in Indian stock markets created by the report is of great concern and has led to unwanted anguish for Indian citizens," said the group head of Adani's legal team, Jatin Jalundhwala.
"Clearly, the report and its unsubstantiated contents were designed to have a deleterious effect on the share values of Adani Group companies as Hindenburg Research, by their own admission, is positioned to benefit from a slide in Adani shares."
The group's flagship firm, Adani Enterprises, is scheduled to begin selling its shares to the public on Friday.
Opposition politicians who have long alleged that Mr Adani has benefitted because of his proximity to Indian Prime Minister Narendra Modi have been quick to react to the report.
"Considering that detailed research is out in the public domain, it is important that the government of India takes note of the charges made," tweeted Priyanka Chaturvedi, member of parliament and a Shiv Sena party leader.
Another popular South Indian politician, Mr KT Ramarao, called on India's investigative agencies and market regulator to open a probe into the Adani Group's operations.
But regulators are unlikely to initiate any action independently, say experts.
"The Security and Exchange Board of India [which regulates listed companies in India] will act only if there is a specific complaint sent to it. And in this case there isn't," said Shriram Subramaniam, founder and managing director of InGovern Research, a consultancy that advises investors on governance issues.
"There are many allegations in the report that have been the subject of regulatory scrutiny in the past."
The BBC contacted the market regulator but received no response.
While it appears that the decks are clear for Adani Group to proceed with its $2.4bn public share sale on Friday, the allegations in the report could put some investors off, said Ambareesh Baliga, a financial markets analyst.
But the report could have broader consequences that go beyond the Adani Group.
Andy Mukherjee, a columnist at the news service Bloomberg, said there were "many questions about the integrity of the broader Indian market, which is caught between the pressures of financial globalisation and political nationalism".
He added: "Is the Security and Exchange Board of India waiting for a public outcry to go in and clean up the market?"
'People are going to be shocked': NSLC hikes prices ahead of federal tax increase
Regular shoppers at Nova Scotia liquor stores faced significant price hikes Monday on beer, wine and spirits.
Retiree John McCracken was picking up his usual bottle of wine when he spoke to CTV News outside the NSLC store on Joseph Howe Drive in Halifax.
"I bought last week, the same bottle was $2 less," said McCracken. "We're talking like $15, $16 bottle of wine. So not high-end wine."
"If you go into that liquor store right now, people are going to be shocked."
Workers were replacing pricing signs in all stores on Monday, but officials insist the overall increase only amounts to about 3 per cent.
"It has to do with overall costs to our supplier community. So that could be anything from freight, transportation, commodities costs, things like glass or aluminum, or other commodities like barley — all of those things are seeing an increase in price, and that's what factoring in to the overall price increase," said Allison Himmelman, a spokesperson for the Nova Scotia Liquor Corporation (NSLC).
She says the increase is below the cost of inflation.
Last month, the corporation reported a healthy earnings increase of 6.6 per cent.
On April 1, federal excise taxes are set to increase another 6.3 per cent — the biggest increase in 40 years. 
"The excise tax is actually just one factor that goes into our overall prices here at the NSLC," said Himmelman.
"And it's actually a very small factor because not all suppliers choose to pass on that excise tax to their retail product prices."
Still, some local bars and restaurants say the hikes will have to be passed on to customers, which will hurt business.
"There's no doubt, yeah, we can't absorb it," said Dimo Georgakakos, owner of the iconic Gus' Pub & Grill in Halifax's north end.
"We've been absorbing so many things, and in the bar business we're a stoic bunch, and we just sort of put our heads down and keep doing it. And now, they just sort of do that and we've got to pass it on and it's going to make customers come here less," said Georgakakos, son of the bar's founder.
He and others are still recovering from lost business in the pandemic, and worry many customers have gotten used to staying home.
"In general, things are not going to get back to the way they were," said Georgakakos. "It's going to be different."
NSLC notes that increased revenue from price adjustments is also shared with producers, including Nova Scotia wineries, brewers and distillers.
Saudi National Bank appoints chairman after Credit Suisse loss
Decision made nearly two weeks after former chairman Ammar Al Khudairy said the kingdom's biggest bank by assets would not buy more shares in Credit Suisse on regulatory grounds.
Saudi National Bank, the largest shareholder in Credit Suisse before the bank's rescue this month, named a new chairman after the lender suffered significant losses on its investment.
CEO Saeed Mohammed Al Ghamdi will take over as the new chairman from Ammar Al Khudairy, who resigned for personal reasons, the bank said on Monday. Deputy CEO Talal Ahmed Al Khereiji takes over as acting chief executive, a bourse statement said.
All changes are effective on Monday and come nearly two weeks after Al Khudairy said the kingdom's biggest bank by assets would not buy more shares in the Swiss financial institution on regulatory grounds.
The remarks were seen as a trigger to a further sell-off in Credit Suisse's shares and intensified a crisis of confidence in the lender that had already seen clients pull out more than $110bn in the last three months of 2022.
Combined with global jitters in the banking sector and an already weakened share price, Al Khudairy's comments contributed to Credit Suisse losing a fifth of its value, which eventually forced it into a takeover by its domestic rival UBS for $3.2bn.
Saudi National Bank, which acquired almost 9.9 percent of Credit Suisse for 5.5 billion riyals ($1.46bn) in November, has itself lost more than $26bn in market value since October 27 after committing to the investment.
By last week, it was sitting on a loss of more than $1bn but said on March 20 that the drop in its investment's value had no impact on its growth plans and would not affect profitability.
Al Khudairy also said this month that the bank was not looking at any international acquisitions now and instead was focused on its Saudi business.
What every Canadian investor needs to know today
Equities
Canada's main stock index opened up on Monday with energy and financial stocks adding upward pressure. On Wall Street, key indexes also started higher after a deal to acquire a big chunk of Silicon Valley Bank helped ease concerns about the health of the sector.
At 9:30 a.m. ET, the Toronto Stock Exchange's S&P/TSX composite index was up 58.63 points, or 0.3 per cent, at 19,560.12.
In the U.S., the Dow Jones Industrial Average rose 39.19 points, or 0.12 per cent, at the open to 32,276.72. The S&P 500 opened higher by 11.94 points, or 0.30 per cent, at 3,982.93, while the Nasdaq Composite gained 44.58 points, or 0.38 per cent, to 11,868.54 at the opening bell.
Overnight, First Citizens said it would buy Silicon Valley Bank's deposits and loans along with certain other assets from the U.S. Federal Deposit Insurance Corporation.
The FDIC said in separate statement it has received equity appreciation rights in First Citizens stock with a potential value of up to U.S. $500-million as part of the deal, Reuters reported. First Citizens said the transaction was structured to preserve its solid financial position and the combined company will have a diverse loan portfolio and deposit base.
SVB's collapse, the biggest since the 2008 financial crisis, earlier this month sent shockwaves through the global banking sector, triggering huge market volatility and an heightened focus on the health of institutions around the world.
In Canada, Finance Minister Chrystia Freeland delivers the federal government's next budget on Tuesday afternoon. Investors will be looking for inflation relief among efforts to address the rising cost of living for Canadians.
"Climate policy, and more specifically, Canada's response to the massive U.S. Inflation Reduction Act, will headline the budget," Alvin Tan, Asia FX strategist with RBC, said.
"Some targeted relief to help more vulnerable groups cope with higher living costs is also expected, but plans to return the budget to balance remain at best aspirational."
Later in the week, investors will get a look at the health of the Canadian economy at the start of the year when Statistics Canada releases its report on January GDP on Friday. Early estimates suggest GDP grew 0.3 per cent for the month.
Canadian companies reporting results include Dollarama on Wednesday and BlackBerry on Thursday.
The latest deadline to close Rogers Communications' $20-billion deal to buy Shaw Communications expires at the end of the week. The companies are awaiting federal approval for the acquisition.
Overseas, the pan-European STOXX 600 was up 1.21 per cent by midday. Britain's FTSE 100 advanced 0.95 per cent. Germany's DAX and France's CAC 40 were up 1.29 per cent and 1.06 per cent, respectively.
In Asia, Japan's Nikkei finished 0.33-per-cent higher. Hong Kong's Hang Seng fell 1.75 per cent.
Commodities
Crude prices advanced as developments in the banking sector helped ease jitters in broader markets.
The day range on Brent was US$74.80 to US$75.96 in the early premarket period. The range on West Texas Intermediate was US$69.13 to US$70.24.
Brent added about 2.8 per cent last week while WTI rose more than 3 per cent.
Sentiment drew some support from new that First Citizens would buy a big chunk of failed Silicon Valley Bank, helping ease concerns about the state of the global banking sector.
Prices also saw some upward pressure from rising geopolitical tensions in Europe amid Russian President Vladimir Putin's plans to place tactical nuclear weapons in Belarus.
Reuters reports that the move is one of Russia's most pronounced nuclear signals yet and a warning to NATO over its military support for Ukraine, which has called for a meeting of the U.N. Security Council in response. NATO slammed Putin for his "dangerous and irresponsible" nuclear rhetoric.
In other commodities, gold prices fell for a second session as the U.S. dollar held relatively steady.
Spot gold was down 0.5 per cent at US$1,967.86 per ounce by early Monday morning. U.S. gold futures slipped 0.8 per cent to US$1,968.90.
Currencies
The Canadian dollar was up modestly while its U.S. counterpart held recent gains against a group of world currencies.
The day range on the loonie was 72.75 US cents to 72.90 US cents early Monday morning.
There were no major Canadian economic releases due Monday.
On world markets, the dollar index, which measures the currency against six rivals, rose 0.06 per cent at 103.05, after advancing 0.5 per cent on Friday as investors sought safer holdings amid concerns about the health of the world's banking sector.
The euro was up 0.08 per cent to US$1.0771, after falling 0.6 per cent on Friday, according to figures from Reuters.
Britain's pound was at US$1.2260, up 0.25 per cent, after falling 0.5 per cent on Friday. The Australian dollar rose 0.14 per cent to US$0.6652. The New Zealand dollar was up 0.02 per cent at US$0.6202.
More company news
The Globe's James Bradshaw reports Onex Corp. is offering to shorten a sunset clause that would keep founder Gerry Schwartz in control of the company to three years in a bid to win support from shareholders over the founder's plan to step down as CEO. Mr. Schwartz, 80, is chairman and chief executive officer and also controls the $50-billion private equity and asset management company through multiple voting shares. He plans to step aside this spring, with president Bobby Le Blanc taking over as CEO.
Australia's Origin Energy Ltd on Monday agreed a A$15.35 billion (US$10.21-billion) takeover offer from a consortium led by Canada's Brookfield, nearing the conclusion of one of the biggest private equity-backed buyouts in the country announced last year. Once the deal is finalized, Origin will be broken up into two businesses – Energy Markets business to be acquired by Brookfield; while MidOcean Energy, the other consortium partner, would take control of Origin's integrated gas business. –Reuters
Toronto-based Li-Cycle Holdings Corp said on Monday it will build a French facility to break down batteries from forklift manufacturer The Kion Group, marking the latest expansion by the rapidly growing recycling company. The French facility, which is expected to open in 2024 and complement similar sites under development in Germany and Norway, will break down lithium-ion batteries that power Kion's forklifts and other heavy machinery, giving Li-Cycle a fresh source of batteries to recycle beyond the consumer automobile market. –Reuters
Economic news
Germany business climate
With Reuters and The Canadian Press