Afghanistan: Taliban Severely Restrict Media – Human Rights Watch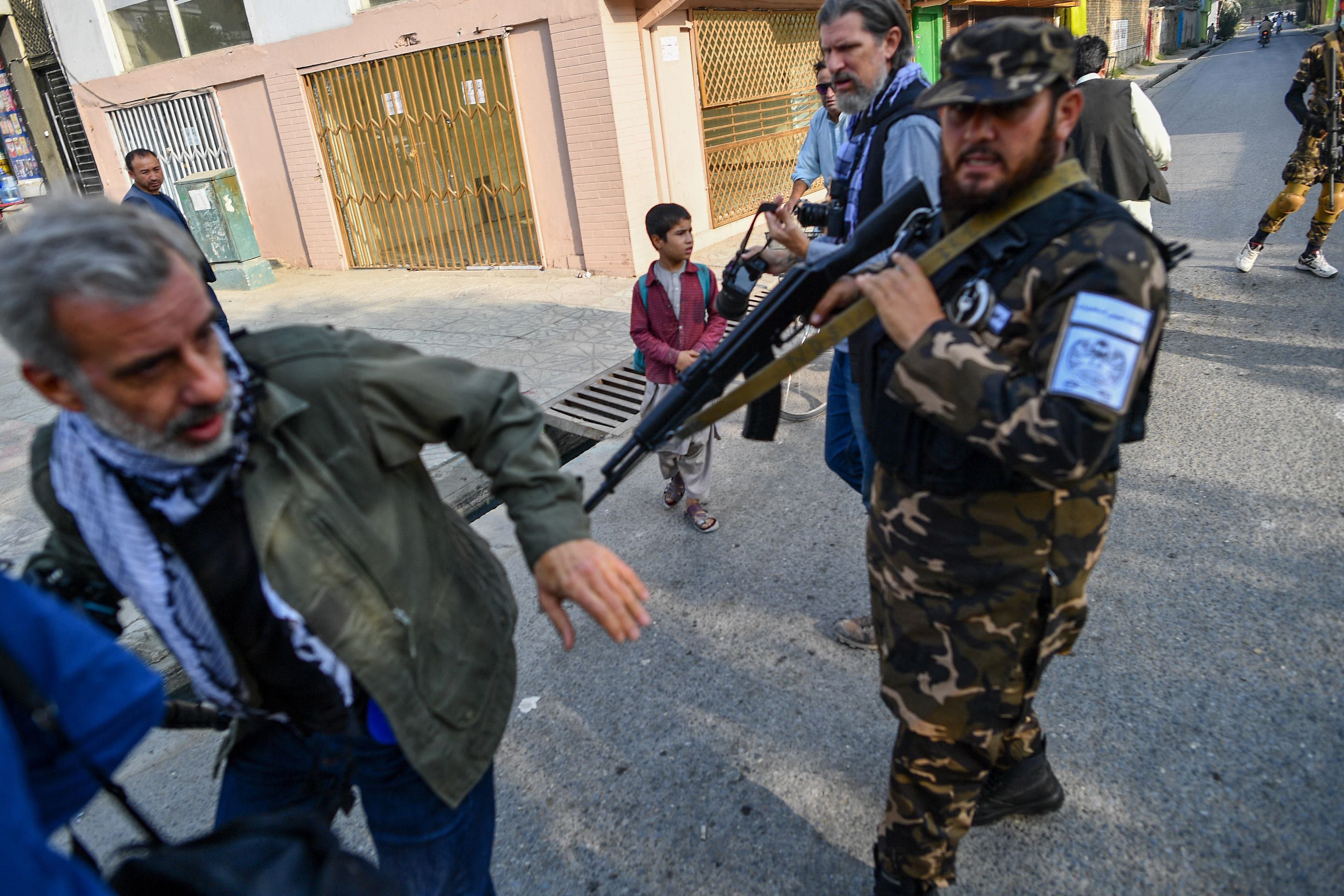 (New York) – Taliban authorities in Afghanistan have imposed wide-ranging restrictions on media and free speech that are already stifling criticism and dissent, Human Rights Watch said today.
During a late September meeting with journalists in Kabul, the Taliban Ministry of Information and Culture distributed media regulations whose provisions are so broad and vague as to prohibit virtually any critical reporting about the Taliban.
"Despite the Taliban's promises to allow media that 'respected Islamic values' to function, the new rules are suffocating media freedom in the country," said Patricia Gossman, associate Asia director at Human Rights Watch. "The Taliban regulations are so sweeping that journalists are self-censoring and fear ending up in prison."
A copy of the regulations seen by Human Rights Watch says that media are prohibited from printing or broadcasting reports that "are contrary to Islam," "insult national figures," or "distort news content." Journalists are required to "ensure that their reporting is balanced" and not report on "matters that have not been confirmed by officials" or issues that "could have a negative impact on the public's attitude." Media outlets are required to "prepare detailed reports" with the new governmental regulatory body before publication.
Taliban security forces have also arbitrarily detained journalists and beaten several. The head of a journalists' advocacy group told Human Rights Watch that the Taliban have taken at least 32 journalists into custody since they took power in Kabul on August 15. Most were released after warnings about their reporting, but some were beaten. One who was badly beaten was released with the warning not to tell anyone what happened to him. As of October 1, at least one remained in custody without access to his family.
In the city of Herat on September 6, the Taliban detained Murtaza Samadi, 21, a freelance photojournalist, while he was covering a protest. Family members said that after hearing of his arrest, they asked officials at the governor's office and police station where he had been taken. They were told that the case had been referred to the intelligence department and that Samadi was accused of organizing the protest and having "connections with foreigners." He remained in custody without access to his family until he was released on September 30.
Beyond the arrests, the Taliban's intelligence office has summoned journalists and warned them that their reporting constituted "propaganda" and needed to stop.
An editor of a media outlet led by women said that, after the Taliban takeover, they had continued to publish online but stopped after the new regulations were announced. "We have lost the space for free media with the Taliban taking over the country," she said. "We do not have free media in Afghanistan anymore."
A journalist in Kabul said that the regulations were "very worrying," as they would "restrict most of the media's activities. Those who are still operating no longer publish anything critical. They mostly interview Taliban officials. Previously, they were active in criticizing the government … but with these regulations, censorship is the immediate result."
A Kabul-based editor said that the prohibition on "insulting national figures" could be interpreted very broadly and curtail any reporting on corruption or other abuses.
Many Afghan journalists have fled the country or have gone into hiding, and scores of media outlets, especially outside major cities, have closed altogether. Taliban commanders and fighters have long engaged in a pattern of threats, intimidation, and violence against members of the media, and have been responsible for targeted killings of journalists.
International human rights law protects the right to freedom of expression, including freedom to seek, receive, and impart information and ideas of all kinds. Any measures to restrict freedom of speech or media freedom must be lawful, necessary, and proportionate. Criticism of public figures that is deemed insulting is an insufficient basis to justify imposing penalties.
"The Taliban are making it very clear they don't want to face public scrutiny," Gossman said. "Foreign governments should send the message that the Taliban's treatment of the media will remain a core concern of future relations."
Steph Curry's 45-point performance against the Clippers caused a social media explosion – ESPN
Playing against Stephen Curry just isn't fair sometimes.
And the Los Angeles Clippers were the latest to suffer the Steph experience.
The Golden State Warriors' point guard made up for his self-assessed "trash" performance in Tuesday's season opener against the Los Angeles Lakers. He dropped 45 points, grabbed 10 rebounds and made 8-of-13 shots from 3-point land in a close 115-114 victory over the Clippers in the Warriors' home opener. Curry started the game perfectly — netting his first 10 shots of the contest. He never slowed down and carried the Warriors to an exciting victory.
So @StephenCurry30 had a night…

💎 Named to #NBA75 before tip
🔥 25 1Q points on 9-9 shooting
🔥 45 in the game
🔥 Go-ahead triple to lift @warriors pic.twitter.com/98JFwH9lsA

— NBA (@NBA) October 22, 2021
As the two-time MVP was lighting up the Clippers, social media exploded, offering thoughts on what everyone just witnessed from Curry. It's safe to say the point guard left many in awe with his sensational scoring night.
@StephenCurry30 You're SICK Man!!!!! 🤣🤣🤣🤣🤣🤣🤣

— LeBron James (@KingJames) October 22, 2021
Watching Steph Curry is art

— Paige Bueckers (@paigebueckers1) October 22, 2021
I did watch the end of the Warriors game. I love the Warriors. @StephenCurry30 is a revelation…

— Rochelle Riley (@rochelleriley) October 22, 2021
I honestly believe that the privilege of watching Steph Curry play 🏀 is one of God's gifts to man

What a basketball sensation

— Naveen Ganglani (@naveenganglani) October 22, 2021
Gee Louise @StephenCurry30… give ur opponents some chance 🏀🏀🏀… and thats the #Warriors playing without Klay still…

— Dr. Julian Hosp (@julianhosp) October 22, 2021
Steph Curry is locking in on being a top 10 player of all time and you Final MVP twitter thugs ain't changing my mind

— SWAGGY C (@SwaggyCTV) October 22, 2021
Steph Curry is his own sport.

— Jared Wade (@Jared_Wade) October 22, 2021
It remains unclear how one should go about defending Steph Curry

— Ken Tremendous (@KenTremendous) October 22, 2021
Even though Curry had a masterful performance, maybe the most important takeaway from Thursday's game is that the Warriors are 2-0 on a young NBA season.
2-0 @StephenCurry30

— Famouslos32 (@famouslos32) October 22, 2021
Trump, barred from Twitter and Facebook, says he's launching his own social media site – CBC.ca
Nine months after being expelled from social media for his role in inciting the Jan. 6 U.S. Capitol insurrection, former president Donald Trump said Wednesday he's launching a new media company with its own social media platform.
Trump says his goal in launching the Trump Media & Technology Group (TMTG) and its "Truth Social" app is to create a rival to the big tech companies that have shut him out and denied him the megaphone that was paramount to his national rise.
"We live in a world where the Taliban has a huge presence on Twitter, yet your favourite American President has been silenced," he said in a statement. "This is unacceptable."
Conservative voices actually do well on traditional social media. On Wednesday, half of Facebook's 10 top performing link posts were from conservative media, commentators or politicians, according to a daily list compiled by a New York Times technology columnist and an internet studies professor using Facebook's own data.
TMTG talking big
Trump has spoken about launching his own social media site ever since he was barred from Twitter and Facebook. An earlier effort to launch a blog on his existing website was abandoned after the page drew dismal views.
TMTG has not set its sights low. In addition to the Truth Social app, which is expected to soft-launch next month with a nationwide rollout early next year, the company says it is planning a video-on-demand service dubbed TMTG+ that will feature entertainment programming, news and podcasts.
One slide in a TMTG presentation on its website includes a graphic of TMTG's potential competitors, which range from Facebook and Twitter to Netflix and Disney+ to CNN. The same slide suggests that over the long term TMTG will also become a power in cloud computing and payments and suggests it will go head-to-head with Amazon, Microsoft, Google and Stripe.
TMTG also takes some jabs at Trump's previous favourite social network. Slides accompanying the Truth Social preorders listing in Apple's app store depict a social network that strongly resembles Twitter, right down to short messages and user handles preceded by "@" signs.
The same graphics also feature a user named Jack's Beard, who in one image fumes when an employee pushes back on an order to delete a user and its posts, calling it "kinda an overreach."
The Jack's Beard account uses the handle @jack, which is the real Twitter handle of Jack Dorsey, Twitter's CEO; Dorsey's long scraggly beard has also drawn attention during his congressional appearances over Zoom.
Terms of service
The terms of service for Truth Social, meanwhile, bar users from annoying any of the site's employees and from statements that "disparage, tarnish, or otherwise harm, in our opinion, us and/or the Site." It was not immediately clear who the "us" in that statement refers to.
In a release, the new venture announced it had been created through a merger with Digital World Acquisition Corp. (DWA), and said it seeks to become a publicly listed company.
DWA, based in Miami, is a special-purpose acquisition company, or SPAC. Such publicly traded companies are designed to list the shares of a private company more quickly than a traditional initial public offering.
In practice, that means the SPAC acquires a private firm and then changes its name and other details to those of the acquired firm.
Deal has initial value of $875M US
SPACs pay for their acquisitions with cash provided by investors who bought into the SPAC's initial public offering. DWA's Sept. 8 IPO raised $287.5 million US, according to a filing with the Securities and Exchange Commission.
DWA said it has raised roughly $293 million in cash, which it will use to grow TMTG's ventures. Among the company's biggest shareholders are several institutional investors, including Lighthouse Investment Partners, D. E. Shaw & Co., and Radcliffe Capital Management, according to an SEC filing. DWA said more details about the deal will be disclosed in upcoming filings.
The deal has an initial enterprise value, a measure that takes into account a company's total debts and assets, of $875 million, according to the release. It still requires the approval of shareholders of both DWA and TMTG, as well as regulators.
Shares of Digital World Acquisition soared 94 per cent to $19.32 in morning trading.
Sask. government says social media posts about ICU patient transfers should be 'disregarded' – CTV News
REGINA –
The Saskatchewan government released a statement Thursday morning saying social media posts about ICU patient transfers should be "disregarded" following immense confusion among doctors and officials over planned ICU patient transfers to Ontario.
The statement comes following social media posts by doctors in Saskatchewan and Ontario that said upcoming ICU patient transfers from Saskatchewan to Ontario had been cancelled.
Dr. Hassan Masri, an ICU physician from Saskatoon, tweeted the Saskatchewan government has called off all further patient transfers to Ontario ICUs, which the Provincial Emergency Operations Centre denies.
Masri told CTV News Wednesday evening there were plans in place for "a lot more" Saskatchewan patients to be sent out east for care this week.
Dr. Michael Warner from Toronto said he expected to receive a Saskatchewan COVID-19 patient at his hospital on Thursday, but the transfer was cancelled by the Saskatchewan government.
Ontario Health executive vice president Dr. Chris Simpson told CP24 on Tuesday there are plans in place to transfer an additional six patients throughout Thursday and Friday – which would bring the total number of patient transfers from Saskatchewan to 12.
Saskatchewan Public Safety Agency (SPSA) president Marlo Pritchard responded to that statement on Wednesday morning saying that is not the case.
CTV News reached out to the premier's office Wednesday evening to ask for clarity about the claims made by the doctors.
The statement from the government on Thursday morning not did clarify why Ontario officials believed six more patients were coming or why doctors were under the impression those additional transfers had been cancelled.
A spokesperson for the Saskatchewan government said the province will announce all confirmed ICU patient transfers through official channels.
On Thursday afternoon the province said three more patients will be transferred to Ontario in the coming days.
With files from CTVRegina.ca's Michaela Solomon