Africa makes a scene: Best contemporary art fairs of 2020 – Al Jazeera English
African art has been having a very long moment. Over the past 10 years, contemporary artists from the continent – from the Ghanaian sculptor El Anatsui to Kenyan artist Wangechi Mutu to South African photographer Zanele Muholi – have continued to build their names on the international stage.
African artists have been presenting in major museums and galleries across Europe and the United States, while increasing numbers of African countries have shown at the prestigious Venice Biennale, including Ghana's critically-acclaimed debut this year.
More:
Both Sotheby's and Bonhams auction houses meanwhile have set up their own African contemporary and modern art departments, signalling that the market is paying attention, too.
"Going into the new decade, I feel we are starting from a stronger foothold," said Marwan Zakhem, the founder of Gallery 1957, in Ghana's capital, Accra. "The international art scene has woken up to the wealth of creativity offered across Africa and the diaspora," Zakhem told Al Jazeera.
"A lot of groundwork has been made in terms of affirming African art as a key component of the ever-flourishing arts scene, so it's an exciting time to be a part of it".
What is most notable, however, is the growth seen within the continent. Addressing a crippling lack of infrastructure that has previously forced talent to look elsewhere for opportunity and support, major cities are bolstering their local scenes while establishing themselves as international art destinations.
Art fairs have popped up to seduce collectors, new residences have given creatives spaces to develop their craft and museums such as Cape Town's Zeitz MOCAA and the Museum of African Contemporary Art Al Maaden (MACAAL) in Marrakech have opened to showcase the best on offer.
"There's still more to be done though," Zakhem said. "I hope the decade ahead sees more continent-wide investment in the visual arts – more museums, more projects, more educational support – and more events bringing international visitors here."
As the year – and the decade – draws to a close, here are four African art events to watch out for in 2020 and beyond.
Marrakech enters new decade as first African Capital of Culture
Thanks to the opening of MACAAL, 2018's inaugural Moroccan edition of the 1:54 Contemporary African Art Fair and the commercial success of artists such as Hassan Hajjaj – the subject of a recent retrospective at Paris's Maison Europeenne de la Photographie – Marrakech has become a major draw for critics and collectors.
As 2020's African Capital of Culture – the first city to hold the designation – it will no doubt be increasing its efforts to engage art lovers and buyers alike.
"Over the last five years, Marrakech has struck an excellent balance in preserving and building on its rich cultural histories, while establishing itself as a space for artistic experimentation. Alongside this, there is a growing number of commercial spaces and both independent and government funding, giving artists more opportunities to support their practices in the long term," said 1:54 founder Touria El Glaoui.
"I grew up in Morocco and my father [Hassan El Glaoui] was a painter who always encouraged us to engage with art histories, so seeing the scene grow and blossom has been amazing to witness."
In February, 1:54 will return to the city's luxurious La Mamounia hotel for the third year, hosting some 20 European and African galleries. At the same time, MACAAL, the Muse Yves Saint Laurent Marrakech and other local spaces will be staging their own exhibitions, creating an unofficial art week of sorts.
How the rest of the year shapes up will surely set the template for how future cities make use of the Capital of Culture designation.
Art X Lagos celebrates five years
The birthplace of art stars including Ben Enwonwu – whose Tutu, dubbed the African Mona Lisa, sold for a record $1.6m in 2018 – Victor Ehikhamenor and Njideka Akunyili Crosby, Nigeria is an obvious choise to be the home of West Africa's first international art fair: Art X Lagos.
Launched in 2016 by entrepreneur Tokini Peterside, Art X Lagos serves as an exhibition space, marketplace and classroom for those looking to immerse themselves in the world of contemporary African art.
It is also notable for prioritising younger artists over established pioneers through both its exhibitions and the Access Bank ART X Prize, which awards one emerging artist with funding, mentoring and an international residency.
"I see how wonderful and massive [Art X Lagos] is becoming and I think it's placing Lagos as a real arts hub, which I really love, and a serious one," said Adora Mba, the founder of the Afropolitan Collector, an art advisory platform.
"I'm really looking forward to seeing how big it can go."
Dak'Art Biennale returns
Of all Africa's major art events, few rouse as much enthusiasm and respect as Senegal's Dakar Biennale, commonly known as Dak'Art.
"It always brings together the best of the African art community to show brilliant work, engage in important dialogues and, of course, celebrate," said Gallery 1957's Zakhem.
"It always outdoes itself," agreed Mba, for whom Dak'Art is the ultimate place to discover new talent and up-and-comers. "I don't even know how they keep producing such amazing art and artists and bringing people in."
Supported by the country's Ministry of Culture and Communication, the 14th edition will centre on the theme of I'Ndaffa/Forger/Out of Fire – a trilingual take on the word "forge" in Serer, French and English.
"This general theme refers to the founding act of African creation, which nourishes the diversity of contemporary African creativity, while projecting new ways of telling and understanding Africa," Artistic Director El Hadji Malick Ndiaye, a curator at Dakar's Theodore Monod Museum of African Art, said in a statement.
"It represents the dynamics and action of creating, recreating and kneading. It thus refers to the forge that transforms, the deposit from which the raw material comes, and to the fire that creates."
This year's event will be held from May 28 to June 28.
South Africa's wine region invites the art world in
Africa may not lead the world in terms of the number of major art events held annually, but there is no shortage of arts professionals looking to add to the tally.
To that end, the Stellenbosch Triennale, conceived by the Stellenbosch Outdoor Sculpture Trust, will make its debut in South Africa in February.
Breaking with convention, the event is more about engaging the community than appealing to art world insiders.
On their website, organisers say they plan to turn the city into a "curated public laboratory for creative expressions and engagements" where all are invited to interrogate our relationship with nature, the limits of technology and the definition of citizenship.
Works will be displayed at sites across the historic city, and there will also be opportunities to continue the conversation in workshops and online.
So you want my arts job: Art Installer – ArtsHub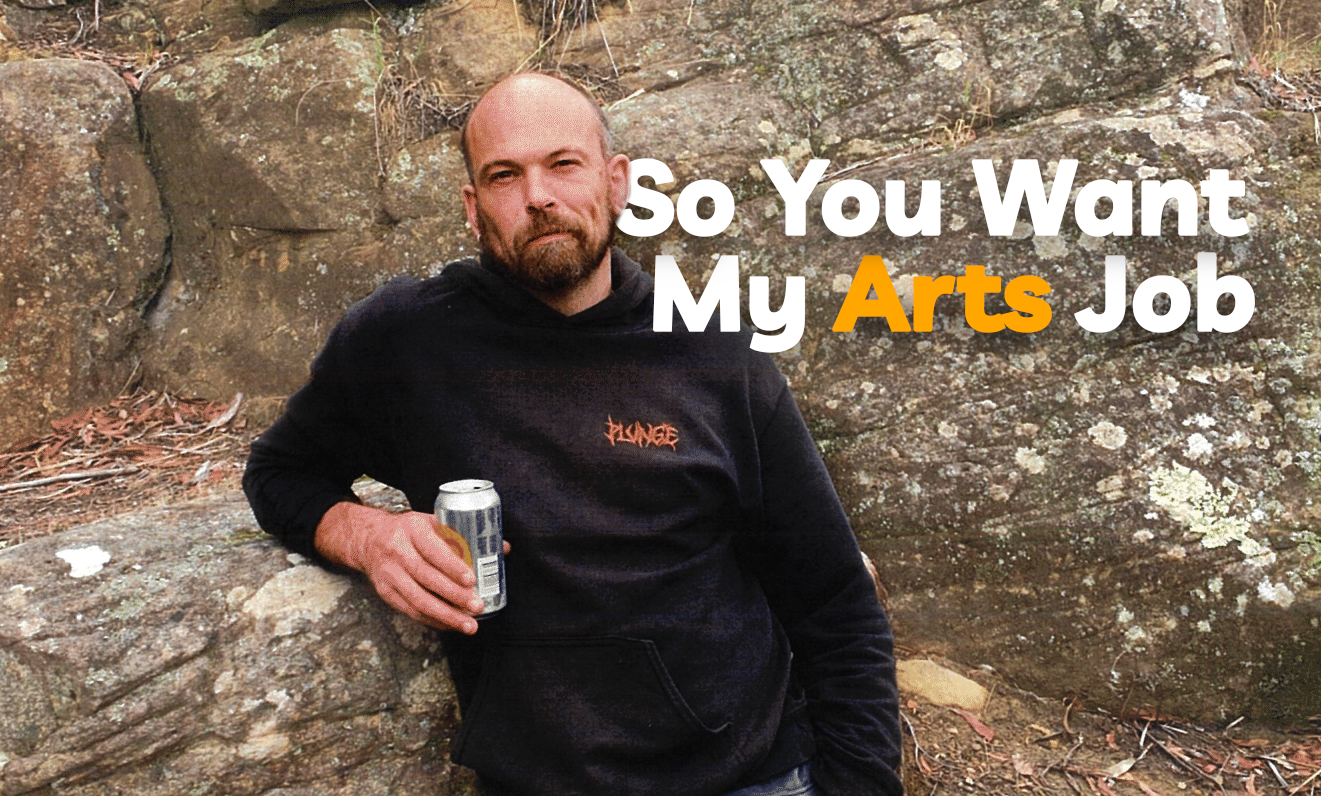 A rare opportunity saw Andrew Hawley join the National Gallery of Victoria (NGV) as a casual art handler after graduating from his BFA in Drawing at RMIT in 2003.
Eighteen years later, he is now the Collection and Exhibition Preparator at Hobart's Museum of Old and New Art (Mona), known for their eccentric and challenging exhibitions, and undoubtedly, one of the most exciting environments in which to work in art installations, storage, and exhibition preparations.
He also holds a Masters in Cultural Materials Conservation from the University of Melbourne, and has worked across ACMI, the Victorian Arts Centre, ExhibitOne, POD Museum and Art services, and the Melbourne Immigration Museum.
From Ron Meuck's 10 metre infant sculpture to Ai Weiwei's White House (2015) in Mona's Siloam, Hawley and his colleagues are the answer to your question: 'But how did they manage to get it there?'
Here, Hawley shares the excitement of working on high-profile exhibitions and discusses the skills you would need to pursue this challenging but rewarding profession.
HOW WOULD YOU DESCRIBE WHAT YOU DO?
In a nutshell; I prepare artwork and other culturally significant material for storage, exhibition and loan, and assist with exhibition/display installation. My role is quite varied but I spend most of my time at our off-site collection store where I design, construct and fit out custom packing units for artworks. These vary from timber crates and travel frames to archival board boxes, archival tubes for rolled works and the occasional solander box. I also ensure artwork is clean and display ready.
I organise and maintain the off-site collection storage area which involves a lot of 3D Tetris. I work closely with colleagues including registrars, a conservator, a mount maker and several other very highly skilled art handler/technicians as well as a wider team of kinetic artwork and time based media technicians.
I assist with exhibition installation/deinstallation and collection changeover at the museum and some external locations during festivals.
I'm also a qualified paper conservator so I undertake some conservation assessments and treatments when required.
Read: So you want my arts job: Museum Program Producer
HOW DID YOU GET STARTED IN YOUR CAREER?
I finished a fine art degree in 2003 and was looking for something outside the hospitality industry and inside the museum/gallery industry. Luckily, a regular customer at one of the venues I worked in (as a chef/cook), let word slip that the National Gallery of Victoria were hiring casual art handlers to prepare to move into the refurbished premises at St Kilda Road. I got the boss' details, wrote an application letter, attended a job interview and somehow was successful, despite no prior experience.
WHAT DO YOU LOOK FORWARD TO THE MOST IN YOUR JOB?
Unique challenges and a reliance on lateral thinking for solutions – something I experience almost every day. I also have great colleagues with whom I liaise about all aspects of the job. We learn from each others' creative perspectives.
I love the excitement of a large or high profile exhibition, including engagement with external or international artists and curators, trying to help realise a vision that may or may not be clear in everybody's mind. I equally love the calm and solitude of a collection store and the fact that I work so closely with museum objects on a daily basis. If I have a bad day, looking at an ancient Egyptian mummified cat or some 2,000 year old bronze knife coins is very soothing.
IN AN INTERVIEW FOR YOUR JOB, WHAT SKILLS AND QUALITIES WOULD YOU LOOK FOR?
Similar institutional experience in a similar capacity (eg. art handling, art packing) would be a must. It takes many years to attune yourself to the level of care required around culturally significant objects and irreplaceable artworks.
Other qualifiers would include:
A strong work ethic
An ability to handle multiple projects with strict deadlines
The ability to delegate fun jobs
The ability to undertake monotonous or tedious jobs
Strong, clear communication
Patience
Physically fit and able
The ability to look outside oneself and one's own experience for solutions. It's a bit of a 'jack of all trades' kind of position and a good Jack should know when they need to call on a master of something.
Someone who prefers order and neatness in their professional life. I'm in no way the neatest person in my private life but organising a storage area that keeps artwork safe and secure requires a high degree of attention to detail.
WHAT IS ONE OF THE MOST MEMORABLE INSTALLATION EXPERIENCES/PROJECTS THAT YOU'VE WORKED ON?
There's been a lot over the years – I've done everything from helping carry and install a 10 metre silicon sculpture of an infant (Ron Mueck) to hanging iconic works from Picasso, Munch or Tom Roberts. From installing 100 tiny neolithic arrow/spear heads in one showcase to helping build a large, imperial Chinese house framework on glass balls (Ai Weiwei), and from installing famous AFL players' jerseys in a sports museum (MCG/Australian Sports Museum) to hanging stills from Kubrick's 2001 Space Odyssey (ACMI).
It's hard to pick one moment from one project. In recent times, it's probably been the preparatory work and final install of big MONA shows like On the Origins of Art, The Museum of Everything and our recent Monanisms 2021 collection based exhibition.
WHAT'S THE BEST THING HAPPENING IN YOUR SECTOR AT THE MOMENT?
We're still operating and I still enjoy my job.
Read: So you want my arts job: Theatre Technician
Art installation using analogue telephones to bring people closer together – CTV Edmonton


EDMONTON –
An art installation at Butler Memorial Park aimed to bring people closer together with the use of landline telephones.
Six phones were set up on a closed intercom system over the weekend. When soneone picked up one phone another one in the park would start to ring, allowing people in the park to talk to each other from afar.
"For some generations, one of the things you do to pass the time is just pick up the phone and call a friend and have a chat and using these traditional telephones, I think, has a bit of nostalgia associated with it," said Wayne Garrett, one of the artists.
The installation Sunday was just a prototype for a future piece Garrett and Caitlind Brown are working on.
"The form of the artwork is going to depend on our experiment today," said Brown. "So no matter what, there'll be some sort of element of domestic object."
The installation was only up for the weekend, but people can call 877-516-2990 to leave a message that will be used in the full installation.
"The content from those messages will be on the voice mail of the eventual installation so that if someone picks up a phone in the park and no one answers, then they'll hear these messages that other people left and they'll have a chance to leave a message for the future," said Garrett.
A pop up art installation was connecting Edmontonians. Sunday Oct. 24, 2021 (CTV News Edmonton)
If this installation goes forward in the park, it'll sort of be like a walkie-talkie system, so the people who use this space often, maybe they'll see a friend across the park and the phone closest to their friend will ring," added Brown.
"So there's a possibility for the phones to be useful, but more than anything we imagine this idea of, maybe people who don't know each other already, like strangers, having a conversation and connecting in some small way, even if it's just a voice mail."
Rockland roundabout art installation put on hold – Campbell River Mirror – Campbell River Mirror
Plans for an art feature at the centre of the Rockland Road and Highway 19A roundabout are on hold, and a new design evaluation process will be launched in consultation with the local arts community, after a decision by city council.
The roundabout feature was planned as the cherry-on-top of the city's three-year Highway 19A upgrade project, now otherwise complete.
In August 2019, four feature concepts designed by McElhanney landscape architects were shortlisted by city council. The city then asked residents to weigh-in on them and received 1,300 votes. Among the designs, a "Tide Pool" concept received the most votes and was selected as the winning theme in March 2020.
But some members of Campbell River's arts community were frustrated by not being involved in this process. Because of this, Ken Blackburn, Campbell River Arts Council executive director, with support from other community representatives, requested in an Aug. 20 letter to council that the process be put on hold.
The "Tide Pool" design is "pedestrian, bland, weakly composed and absolutely not representative of the thriving arts community of Campbell River," said Blackburn, in the letter. "It is a poorly thought through engineering add-on."
In response, Campbell River city council voted on Oct. 18 to put the plans on hold. The motion also directed staff to engage with the Arts Council in a new design process.
Coun. Kermit Dahl said during the meeting he supports putting the project on hold given current economic hardships faced by businesses, families and individuals — a view echoed by Councillors Ron Kerr and Sean Smyth.
"I don't think this is the appropriate time to be spending large sums of money on something that might look pretty in the middle of the highway," said Dahl.
But Coun. Colleen Evans, who proposed the motion, said its purpose is to put the funds on hold to allow for a more engaged design process, rather than shelving the project indefinitely and redistributing the funds to other projects.
"To basically exclude the arts community from being engaged in something that could become significant for Campbell River, I think is a missed opportunity," said Evans.
Coun. Charlie Cornfield said he would stand by city council's original decision in favour of McElhenney's design.
"I don't know why council keeps on reconsidering motions because we get a little bit of flack," he said.
The decision to restart the process will cost the city time and money, added Cornfield.
City council's decision to restart the process was welcomed news, said Blackburn, in an interview.
"I think it's just respectful to the arts community to acknowledge that what we were getting wasn't really representative of the arts community here," he said.
The Arts Council hopes to engage with other representatives of the local arts community, including the art gallery, museum, Patrons of the Arts and local First Nations.
"I'd really like to encourage collaboration, with artist teams or even cross-cultural collaboration, but that's just my own preference," said Blackburn. "The ambition is that we will have a piece that represents the culture of this community."
---

sean.feagan@campbellrivermirror.com
Like us on Facebook and follow us on Twitter