Aimless walks, an iPhone Pietà and a huge gargoyle: Art Basel is back – Euronews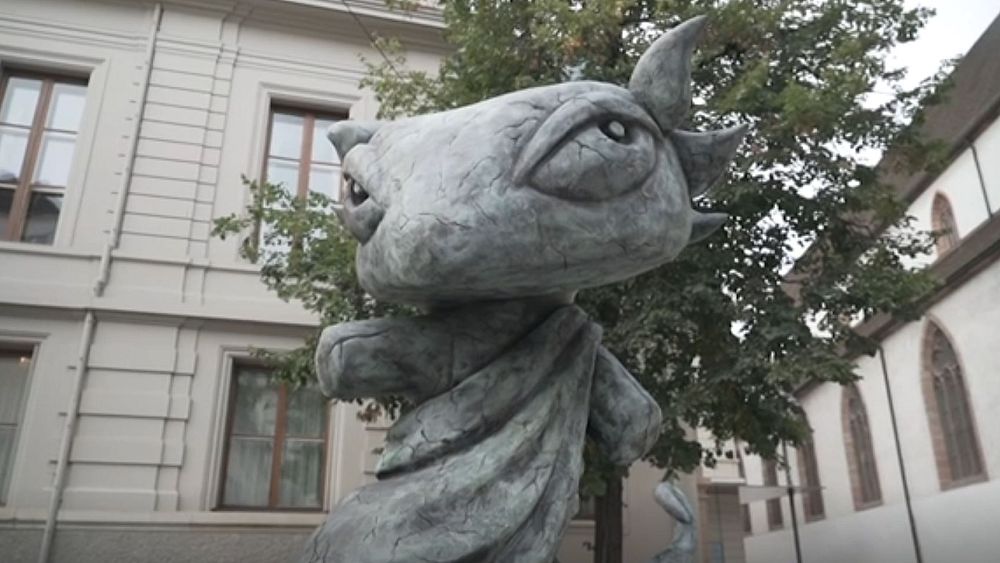 What might at first glance appear to be confused tourists lost on Basel's central Marktplatz, is actually a performance artwork at Switzerland's iconic art fair, Art Basel.
'Walking In Every Direction', by English artist Hamish Fulton sees volunteers going on an hour-long aimless walk, the idea being participants turn inwards and reflect, perhaps even meditate.
It's one of 20 site-specific installations and performances in Art Basel's 'Parcours' event staged across the city's centre.
After an entirely online event last year due to the pandemic, Art Basel is returning in person this week.
"It's an indoor and outdoor sculpture project, installation, performance project, which takes place almost in everywhere in the historic centre of Basel, meaning that we find different locations, hosts, partners, who offer their spaces and we try to match it with exciting projects from artists," explains Samuel Leuenberger, curating Parcours for the fifth time.
Leuenberger chose the theme of 'Can We Find Happiness Together Again?' for this year's selection.
It's a reference to the artists and galleries he worked with to make this year's show happen, but also a reflection of the joy of seeing friends and colleagues after over a year apart.
"To really be able to trust that this will come through, to trust that this will take place, even though we're still in the midst of a pandemic, and so, hence the title," he says.
"Of course, finding happiness with each other, but also through the arts and through just working together again and meeting each other in the public space."
Last year's Art Basel was moved entirely online due to the pandemic. Leuenberger says he had to rip up about half of his plans for 2020.
He hopes his happiness-themed selection – from Bunny Rogers' stone gargoyle to Thomas Bayrle's iPhone Pietà – might win over those not accustomed to traditional art settings.
"I think a lot of people who have fear of crossing the threshold of going to a museum, people who are maybe not so into the arts, this is a beautiful way to merge a different kind of public, maybe a more art insider public and one that's just walking by," he says.
"This is the beauty of it, you can walk around the corner and you bump into a piece and you would be completely surprised why it's here, you might not know that Parcours is happening."
Art museum Kunsthalle Basel is also taking part, playing host to a Parcours piece and staging events alongside Art Basel.
Museum director Elena Filipovic says after a year without the city's traditional art fair she missed a lot.
"I miss most the conversations around art, the curiosity, the passion that everyone brings when they come to this week of Art Basel and to our shows at Kunsthalle Basel," she says.
Of course, this year's fair will be very different than previous editions with COVID-19 certificate checks and face masks worn throughout, there'll likely be fewer buyers from the United States and South America attending in person, due to travel restrictions.
"Already starting mid-last week, you could see the demographics of the city had changed, so definitely people are coming," says Filipovic.
"And, if there are fewer in numbers – and I could imagine there would be fewer of our colleagues from the US, from Latin America, from Asia, nevertheless, I have the feeling the people who are here are really serious, are the ones who really couldn't be kept away. And that's nice."
Art Basel art fair opens with media previews on Tuesday 21 September 2021. The general public are invited to attend from Friday 24 September to Sunday 26 September. Parcours will also run till Sunday 26 September.
Art Beat: It's Art Crawl weekend – Coast Reporter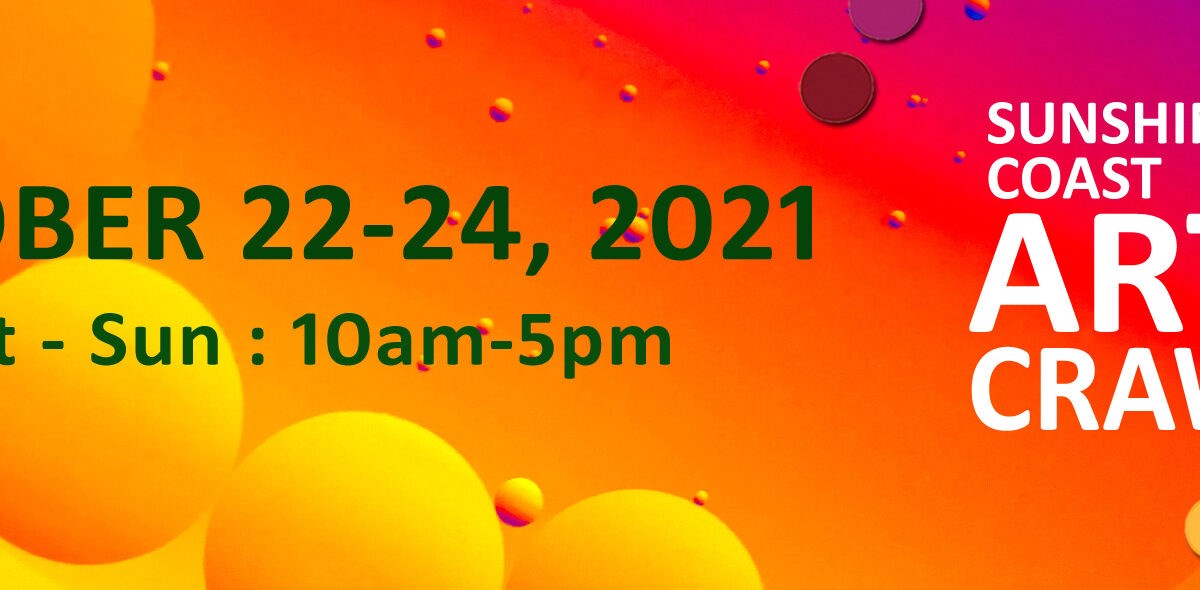 The 2021 Sunshine Coast Art Crawl kicks off Friday, Oct. 22 at 10 a.m., with 164 venues open to visitors until 5 p.m. all three days, through Sunday. And at 10 of those venues (as of press time), Friday evening from 7 to 9 p.m. will also be a time for celebration. Most of the partying is at Gibsons venues, but Redecor + Design (venue #111) on Cowrie Street in Sechelt will also be open, as are Halfmoon Bay venues The Mink Farm Gallery (#146), and Kito Tosetti (#147). Details are at the "Friday Night Parties" link at sunshinecoastartcrawl.com.
Art of Healing
The Sechelt Hospital Foundation's Art of Healing campaign holds its Gala on Saturday, Oct. 23 at the Sunshine Coast Botanical Garden (venue #126). That's where 36 works donated by some great local artists are on display and will be distributed in an exclusive online raffle draw to 36 ticketholders. All visitors to the exhibit can also bid on auction packages, and purchase raffle tickets for the grand travel prizes, among them a grand prize of a trip for two to Venice or any other European destination.
Sechelt Arts Festival
It's also the final weekend of the Sechelt Arts Festival, with the premiere of the play, Voices, at Raven's Cry Theatre. There will be three performances, Friday night, Oct. 22, Saturday night, and a Sunday matinee. The visual art and heritage canoe displays at Seaside Centre become Art Crawl venue #115. Poet Valerie Mason-John speaks in a free event (registration required) at Raven's Cry on Saturday at 11:30 a.m. And your last chance to add your touch to the Paintillio mural at Trail Bay Centre will also be on Saturday, until 4 p.m. Info and tickets at the festival website.
New writers' group
The Sunshine Coast Writers and Editors Society is holding its first meeting on Friday, Oct. 22 at 7 p.m., via Zoom. The society's purpose is "to serve writers, editors and groups on the Sunshine Coast to grow and develop their skills, as well as support other writers' groups and events in the province and across Canada," and "to hold events and launch projects to highlight the incredible talent that exists on the Coast." Contact Cathalynn Cindy Labonte-Smith at 604-724-3534 for a Zoom link.
Meet the author
Writer Jennie Tschoban will be signing copies of her funny and touching memoir, Tales & Lies My Baba Told Me, on Saturday, Oct. 23, from 1 to 3 p.m. at Daffadowndilly Boutique & Gallery, on Marine Drive in Gibsons.
Meet the artists
On Sunday, Oct. 24 starting at 2 p.m., Jennifer Bryant and Jennifer Ireland will talk about their new exhibit, Matters of Scale, on now at the Sunshine Coast Arts Council's Doris Crowston Gallery in Sechelt.
Live Music
The band Astral Motion bring their blend of originals and classics to Roberts Creek Legion on Friday, Oct. 22 at 7 p.m. On Saturday, Oct. 23 at the Creek Legion, Vancouver acoustic band Farmteam start their sets at 7:30 p.m.
The Locals play the Turf Stage at Tapworks in Gibsons on Saturday, Oct. 23, 2:30 to 4:30 p.m. On Wednesday, Oct. 27, Vancouver singer-songwriter Eamon McGrath plays Tapworks at 8 p.m.
At the Gibsons Legion on Saturday, Oct. 23, Poppa Greg and the band kick things off at 7:30 p.m.
At the Clubhouse Restaurant in Pender Harbour, catch Half Cut and the Slackers on Sunday, Oct. 24, from 2 to 5 p.m.
ArtCity: Art education in the gallery (and virtual) space – Woodstock Sentinel Review
In September, I returned to the Woodstock Art Gallery as the assistant curator of education intern, eager to actively bridge arts programming within the permanent collection and the public.
Article content
In September, I returned to the Woodstock Art Gallery as the assistant curator of education intern, eager to actively bridge arts programming within the permanent collection and the public. I have been involved with the gallery for three years, beginning as a co-op student with the education department in 2018 and then as the curatorial and collections assistant in 2019 and 2020. In my previous position, I worked exclusively in a background role curating exhibitions and assisting in collections management. With this new role as assistant curator of education, however, I was able to once again rekindle my interest in bringing the arts to the local community.
Article content
This position, of course, comes with unique challenges during a pandemic. Everything that we once considered emblematic of educational programming – in-person classroom trips, tours and studio events – has been put on pause in an abundance of caution. Over the last year and a half, the staff at the Woodstock Art Gallery have created online lessons and educational resources, virtual exhibitions and other online activities for the public. In addition, artist talks, curator webinars and exhibition openings have all been streamed virtually. It is within these unique circumstances that I began my new position in the education department.
The role of assistant curator of education is a fairly recent addition to the Woodstock Art Gallery staff roster. Created in 2018, this short-term internship aids the education and curatorial departments in realizing public programming. Previous interns have curated exhibitions, written a practical accessibility guide, conducted research and led education programming. The education department's current goals had to be completely reoriented to accommodate the pandemic, however. Virtual resources are being further developed and made accessible to both the public and teachers alike. As collaboration with the curatorial department at the Woodstock Art Gallery has become a central component of arts education programming, alternative methods to experience exhibitions are also currently in the works.
Article content
The future of education programming, however, will not remain entirely within a virtual space. There is a unique value to in-person programming that staff at the Woodstock Art Gallery yearn to return to. Releasing Community Creation Kits and art grab bags throughout this past year, for instance, has been a way to bring art-making materials back into the hands of the public during the toughest restrictions. Now as lockdowns slowly ease and restrictions lessen, we have begun to return to in-person educational programming.
In September, the gallery hosted its first Creative PA day program since the beginning of the pandemic with a small group of kids. The day was filled with the arts as we toured exhibitions, visited the park, and explored lessons in sculpture making. By the end of the day, each child brought home their sculpture and multimedia creations, along with the tools to create more. Building upon this successful day, the education department will slowly begin to roll out more in-person programming, including another Creative PA Day in November. But this, of course, will take time.
Throughout this pandemic, educational programming has taken on many forms – from entirely virtual resources to at-home art kits and PA days, educational programming has required innovation and creativity. The future of education will forever be shaped by the lessons learned during the pandemic and will perhaps take on a whole new form that has yet to be explored.
Julia deKwant is the assistant curator of education intern at the Woodstock Art Gallery. The Woodstock Art Gallery acknowledges the support for this position which is funded by Young Canada Works at Building Careers in Heritage.
Who Are the Indigenous Artists to Watch at Art Toronto? – Ocula Magazine