Air Canada denies certain compensations claims, calls staff shortages a 'safety-related issue' – CBC.ca
Less than four hours before departure, Ryan Farrell was surprised to learn his flight from Yellowknife to Calgary had been cancelled.
Air Canada cited "crew constraints" and rebooked him on a plane leaving 48 hours after the June 17 flight's original takeoff time.
Farrell was even more surprised six weeks later, when he learned his request for compensation had been denied on the basis of the staff shortage.
"Since your Air Canada flight was delayed/cancelled due to crew constraints resulting from the impact of the COVID-19 pandemic on our operations, the compensation you are requesting does not apply because the delay/cancellation was caused by a safety-related issue," reads the email from customer relations dated July 29.
What do you think about this story? Do you have a question, experience or story tip to share? Send them in an email to ask@cbc.ca or join us in the comments now.
The rejection "feels like a slap in the face," Farrell said.
"If they don't have replacement crew to substitute in, then the flight [was] cancelled because they failed to assemble a crew, not because any other factor would have made it inherently unsafe to run the flight," he said in an email.
"I think the airlines are trying to exploit a general emotional connection that people make between 'COVID-19' and 'safety,' when in reality if you put their logic to the test it doesn't stand up."
WATCH | Airlines avoiding compensating passengers:
Passengers are frustrated as airlines blame travel disruptions on factors beyond their control, denying compensation in the process.
Not a unique problem
Air Canada's response to Farrell's complaint was not an outlier. In a Dec. 29 memo, the company instructed employees to classify flight cancellations caused by staff shortages as a "safety" problem, which would exclude travellers from compensation under federal regulations. That policy remains in place.
Canada's passenger rights charter, the Air Passenger Protection Regulations (APPR), mandates airlines to pay up to $1,000 in compensation for cancellations or significant delays that stem from reasons within the carrier's control when the notification comes 14 days or less before departure. However, airlines do not have to pay if the change was required for safety purposes.
The Canadian Transportation Agency (CTA), a quasi-judicial federal body, says treating staff shortages as a safety matter violates federal rules.
"If a crew shortage is due to the actions or inactions of the carrier, the disruption will be considered within the carrier's control for the purposes of the APPR. Therefore, a disruption caused by a crew shortage should not be considered 'required for safety purposes' when it is the carrier who caused the safety issue as a result of its own actions," the agency said in an email.
That stance reinforces a decision made July 8 — three weeks before Farrell learned he'd been denied compensation — when the CTA used nearly identical language in a dispute over a flight at a different air carrier. The regulatory panel's ruling in that case emphasized airlines' obligations around advance planning "to ensure that the carrier has enough staff available to operate the services it offers for sale."
WATCH | Dubious honour for Canada's largest airport:
Toronto's Pearson International Airport was ranked the world's worst airport for flight delays. Amid travel chaos, travellers continue to share complaints on social media while tourism groups fear this publicity may affect travel to Canada.
Air Canada exploiting policy, advocate says
In the December memo, which was issued at the height of the Omicron wave of COVID-19, Air Canada said: "Effective immediately, flight cancellations due to crew are considered as Within Carrier Control — For Safety."
"Customers impacted by these flight cancellations will still be eligible for the standard of treatments such as hotel accommodations, meals etc. but will no longer be eligible for APPR claims/monetary compensation."
The staff directive said the stance would be "temporary." But Air Canada acknowledged in an email on July 25 that the policy "remains in place given the continued exceptional circumstances brought on by COVID variants."
Gabor Lukacs, president of the Air Passenger Rights advocacy group, said Air Canada is "unlawfully" exploiting the passenger rights charter to avoid paying compensation and called on the transport regulator for stronger enforcement.
"They are misclassifying things that are clearly not a safety issue," he said of Canada's largest airline, calling the policy "egregious."
Consumers can dispute an airline's denial of a claim via a complaint to the CTA. However, the agency's backlog topped 15,300 air travel complaints as of May.
Air Canada trying to deter compensation claims: lawyer
Lukacs also noted that European Union regulations do not exclude safety reasons from situations requiring compensation in the event of cancellations or delays. Payouts are precluded only as a result of "extraordinary circumstances," such as weather or political instability.
"This document, along with the previous declarations and behaviour since the beginning of the pandemic, shows that Air Canada's priority is clearly to try to limit the costs of the flight cancellations instead of providing good service to its clients," Sylvie De Bellefeuille, a lawyer with Quebec-based advocacy group Option consommateurs, said after reviewing a copy of the directive.
She said Air Canada aims to deter passengers from requesting compensation in the first place. "This tactic does not, in our opinion, demonstrate that the company cares about its customers."
Air Canada disagrees with that characterization.
"Air Canada had and continues to have more employees proportionate to its flying schedule when compared prior to the pandemic," the company said in an emailed statement, indicating it had done everything it could to prepare for operational hiccups.
"Air Canada follows all public health directives as part of its safety culture, and during the Omicron wave last winter that affected some crew availability, we revised our policy to better assist customers in their travels with enhanced levels of customer care for flight cancellations related to crew contending with COVID."
John Gradek, head of McGill University's aviation management program, said the transportation agency is partly responsible for the "debacle" because it established looser rules than those in Europe and the United States.
"Carriers have been making strong efforts to point fingers and claim delays are outside of their control to reduce liability," he said in an email.
LISTEN | No relief for frustrated travellers:
The Current28:53Travellers continue to battle wait times and cancellations at airports, but experts say there won't be relief anytime soon
Travellers continue to battle long wait times, delays and flight cancellations as they try to travel by plane this summer. Those challenges prompted Air Canada to cancel flights throughout the summer. For Jenn MacDougall, that meant she had to sleep on the floor of the airport. Now she tells guest host Rosemary Barton that she's calling for action; travel expert Scott Keyes discusses how people can be best prepared; and Monette Pasher, president of the Canadian Airports Council, says global travel likely won't get better anytime soon.
5 things to know before the stock market opens Tuesday – CNBC
1. Relief rally
UBS' "shotgun wedding" with Credit Suisse might have done the trick, at least for now, as U.S. equities markets rallied Monday following the latest moves to shore up the global banking system. Now, Wall Street's focus is almost entirely on what'll come of the Federal Reserve's policy-setting meeting, which kicks off Tuesday and concludes Wednesday. The money is still on a quarter-point rate hike, even though many are arguing for a pause on increases, given the recent banking sector tumult. At this point, though, markets are more likely to react to what the Fed and its chairman, Jerome Powell, say about what's next in the central bank's battle with inflation. Follow live markets updates.
2. First Republic's last resort?
Yes, but what about First Republic? The regional bank – which, like Silicon Valley Bank, caters to clients with big, uninsured deposits – is teetering. Shares of First Republic are down about 90% this month after another brutal session Monday, even after 11 banks announced last week they were depositing a total of $30 billion with the bank. Now, JPMorgan Chase, which led that effort, is advising First Republic on strategic alternatives, including a capital raise, which would dilute shareholders, or even a sale, according to CNBC's David Faber.
3. Pressure on Jassy
Amazon CEO Andy Jassy
F. Carter Smith | Bloomberg | Getty Images
Amazon will lay off another 9,000 employees over the coming weeks, the company said. These cuts come on top of the 18,000 layoffs the e-commerce and cloud computing giant executed between November and January, and some market observers think there could be more to come. The decision is the latest difficult moment for CEO Andy Jassy, who took over from founder Jeff Bezos nearly two years ago. Over that time, Amazon's shares have fallen 44%, as the company's big gains during the lockdown era of the pandemic were wiped away while life started to return to normal. So while he's now slashing costs, Jassy will face intense pressure to reignite growth, writes CNBC's Annie Palmer.
4. Virgin Orbit's existential crisis
The company's modified 747 jet "Cosmic Girl" in Mojave, California.
Virgin Orbit
Virgin Orbit seemed to have everything going for it. Name recognition. Wealthy backers. The excitement over a new space race fueled by private investment. Now it's on the verge of bankruptcy. A filing could come as soon as this week as the company struggles to find a buyer, according to CNBC space reporter Michael Sheetz. And many of the company's employees, from executives to engineers, are actively looking for new jobs. Virgin Orbit, which was spun out of Virgin Galactic, counts charismatic billionaire Richard Branson as its largest shareholder. After going public in December 2021 during the final stretch of the SPAC wave, its shares are now trading at around 50 cents a pop.
5. Xi and Putin strengthen their bond
In this grab taken from video, China's President Xi Jinping, left, speaks with Russian President Vladimir Putin during their meeting in Moscow, Russia, Monday, March 20, 2023.
Russian Presidential Press Office | AP
Chinese President Xi Jinping and Russian President Vladimir Putin will hold a second day of meetings Tuesday in Moscow. The two leaders are working to increase ties between their two countries in the face of economic, diplomatic and military opposition from the west, led by the United States. Xi invited Putin to visit China some time this year, while the two are expected to sign a series of pacts and discuss cooperation over Russia's war in Ukraine. Follow live war updates.
– CNBC's Yun Li, Jesse Pound, David Faber, Annie Palmer, Michael Sheetz and Holly Ellyatt contributed to this report.
— Follow broader market action like a pro on CNBC Pro.
Liquidation sales at Nordstrom stores set to start Tuesday – Ottawa Citizen
The upscale department store chain has a store at the Rideau Centre mall as well as a Nordstrom Rack location at the Ottawa Train Yards shopping centre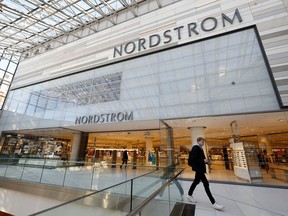 Article content
The liquidation sales at Nordstrom stores across Canada will begin Tuesday.
Article content
A spokesperson for Nordstrom confirmed the impending sales period Monday in an email to The Canadian Press, just after the Ontario Superior Court of Justice gave the U.S. retailer's Canadian branch permission to start selling off its merchandise.
The upscale department store chain that primarily sells designer apparel, shoes and accessories has six Canadian stores and seven discount Nordstrom Rack locations, including its Rideau Centre location and a Nordstrom Rack at the Ottawa Train Yards shopping centre, which sells merchandise at discounted prices.
When Nordstrom announced the move in early March, it said it expected the Canadian stores to close by late June and 2,500 workers to lose their jobs.
The company initiated the exit from the market because chief executive Erik Nordstrom said, "despite our best efforts, we do not see a realistic path to profitability for the Canadian business."
Article content
Nordstrom opened its first Canadian store in Calgary in 2014, followed by the Ottawa store at the Rideau Centre, which occupied the second and third levels of a former Sears location.
The Rideau Centre store has an alterations and tailoring shop and an energy drinks bar. Merchandise ranges from brand name to designer apparel, housewares, furnishings and beauty products, including brands such as Geox shoes, Gucci, Adidas and Adidas by Stella McCartney.
Later on came Nordstrom Rack, which made its Canadian debut in 2018 at Vaughan Mills, a mall north of Toronto. At the time, Nordstrom said as many as 15 more Rack locations could follow.
Nordstrom promised each Rack store would deliver savings of up to 70 per cent on apparel, accessories, home, beauty and travel items from 38 of the top 50 brands sold in its Canadian department stores.
Article content
Nordstrom had trouble with profitability because of its selection of products and the COVID-19 pandemic, said Tamara Szames, executive director and industry adviser of Canadian retail at the NPD Group research firm, a day after Nordstrom announced its exit.
"You would hear a lot of Canadian saying that the assortment wasn't the same in Canada that it was in the U.S.," she said.
She noticed Nordstrom started to shift its product mix away from some luxury brands around 2018 and saw it as a sign that the retailer was struggling to maintain its original vision and integrity.
The pandemic made matters worse because many stores were forced to temporarily close their doors to quell the virus and shoppers were less likely to need some of the items Nordstrom sells like dressy apparel because events had been cancelled.
Article content
Despite stores reopening and many sectors rebounding, Szames said the apparel business is the only industry NPD Group tracks that has yet to recover from the health crisis.
"The consumer has really been holding back in terms of spend…within that industry."
At a hearing at Osgoode Hall in Toronto, lawyer Jeremy Dacks, who represented Nordstrom, said the company has "worked hard to achieve a consensual path forward" with landlords, suppliers and a court-appointed monitor to find an orderly way to wind down the business.
The monitor, Alvarez & Marsal Canada, suggested five potential third-party liquidators and Nordstrom was approached by another five. The company decided to go with a joint venture comprised of Hilco Merchant Retail Solutions ULC and Gordon Brothers Canada, which were involved in the liquidation of Target, Sears and Forever 21 in Canada, Dacks said.
Article content
They will oversee the sale of merchandise, furniture, fixtures and equipment, but not goods from third parties, which removed products this past weekend, Dacks said. He added that all sales will be final and no returns will be allowed.
Lawyers for Nordstrom landlords Cadillac Fairview, Ivanhoe Cambridge, Oxford Properties Ltd. and First Capital Realty testified Monday that they were pleased with how "smoothly" and "organized" the process has gone so far.
In approving Dacks' liquidation request, Chief Justice Geoffrey Morawetz agreed, saying Nordstrom is facing a "difficult time, but this process is unfolding in a very cooperative manner."
Nordstrom required court approval to begin the liquidation because it is winding down its Canadian operations under the Companies' Creditors Arrangement Act, which helps insolvent businesses restructure or end operations in an orderly fashion.
With files from Joanne Laucius
Canadian Banks' AT1s join selloff after Credit Suisse rescue – BNN Bloomberg
Canadian financial institutions' regulator moved to reassure investors as the country's riskiest bank debt joined a global selloff after the value of some Credit Suisse Group AG bonds was wiped out in the bank's takeover by UBS Group AG.
Canada's "capital regime preserves creditor hierarchy which helps to maintain financial stability," the Office of the Superintendent of Financial Institutions said in statement on its website.
Prices of Canadian limited recourse capital notes, known as LRCNs, fell between 2 cents and 5 cents on the dollar Monday before OSFI's announcement, according to people familiar with the matter who asked not to be named. That has widened the spread on the notes by over 60 basis points compared with Friday's levels, the people said. Specific levels vary depending on the security.
The bonds are another form of so-called additional tier 1 securities, issued by financial institutions and designed to act as a shock absorber in the system. They can be converted to equity to bolster a bank's capital if it runs into trouble.
Over the weekend, Swiss regulators triggered a complete writedown of 16 billion francs (US$17.2 billion) of Credit Suisse's AT1 bonds as part of the rescue plan for the venerable bank. While it wasn't a surprise that the bonds were likely to take a loss, some investors in the instruments were shocked to be wiped out when Credit Suisse's shareholders were not.
Under Canada's capital regime "additional tier 1 and tier 2 capital instruments to be converted into common shares in a manner that respects the hierarchy of claims in liquidation," said OSFI, referring to a situation in which a bank would reach non-viability status. "Such a conversion ensures that additional tier 1 and tier 2 holders are entitled to a more favorable economic outcome than existing common shareholders who would be the first to suffer losses."
"Our view is that we don't expect LRCNs would be wiped out before common equity," said Furaz Ahmad, a Toronto-based corporate debt strategist at BMO Capital Markets. "OSFI has said that they would convert to common equity, since that is more consistent with traditional insolvency norms and respects the expectations of all stakeholders."
Earlier Monday, European authorities sought to restore investor confidence in banks' AT1s by publicly stating that they should only face losses after shareholders are fully written down. AT1s from UBS Group and Deutsche Bank AG fell by more than 10 cents earlier on Monday.