Senate passes Democrats' sweeping health care and climate bill – CNN
(CNN)The Senate on Sunday afternoon passed Democrats' $750 billion health care, tax and climate bill, in a significant victory for President Joe Biden and his party.
The final, party-line vote was 51-50, with
Vice President Kamala Harris
breaking the tie. The package is the product of painstaking negotiations, and its final passage would give Democrats a chance to achieve major policy objectives ahead of the upcoming midterm elections.
The Democrat-controlled House, which is expected to take up the legislation on Friday, August 12, must approve the bill before Biden can sign it into law.
The sweeping
bill — named the Inflation Reduction Act
— would represent the
largest climate investment in US history
and make major changes to health policy by giving Medicare the power for the first time
to negotiate the prices
of certain prescription drugs and extending expiring health care subsidies for three years. The legislation would reduce the deficit, be paid for through new taxes — including a 15% minimum tax on large corporations and a 1% tax on stock buybacks — and boost the Internal Revenue Service's ability to collect.
It would raise over $700 billion in government revenue over 10 years and spend over $430 billion to reduce carbon emissions and extend subsidies for health insurance under the Affordable Care Act and use the rest of the new revenue to reduce the deficit.
Senate Democrats, with a narrow 50-seat majority, stayed unified to pass the legislation, using a special, filibuster-proof process to approve the measure without Republican votes. Final passage came after a marathon series of contentious amendment votes
known as a "vote-a-rama" t
hat stretched nearly 16 hours from late Saturday night until Sunday afternoon.
West Virginia Democratic Sen. Joe Manchin told CNN that the legislation he helped write is "a good balanced bill."
"I think we'll all benefit from it; the country will," Manchin told CNN. "We have energy security, that's what we were looking for. And we have the ability to invest in the energy of the future."
Biden praised the Senate for passing the bill in a statement Sunday, thanking Democrats in the chamber and touting the legislation's climate investments and health care provisions.
"Today, Senate Democrats sided with American families over special interests, voting to lower the cost of prescription drugs, health insurance, and everyday energy costs and reduce the deficit, while making the wealthiest corporations finally pay their fair share," Biden said.
How Senate Democrats passed the bill on a party-line vote
Senate Democrats have long hoped to pass a signature legislative package that would incorporate major agenda items for the party, but struggled for months to reach a deal that gained full support of their caucus.
Manchin played a key role in shaping the legislation — which only moved forward after the West Virginia Democrat and Senate Majority Leader Chuck Schumer announced a deal at the end of July, a major breakthrough for Democrats after earlier negotiations had stalled out.
Arizona Sen. Kyrsten Sinema on Thursday night offered critical support after party leaders agreed to change new tax proposals, indicating she would "move forward" on the sweeping economic package.
But Sinema, Manchin and other senators worked through the weekend making crucial alterations on the bill.
To avoid a last-minute collapse of the bill on Sunday, Democrats created a plan to win over Sinema, who was concerned over the 15% corporate minimum tax's impact on subsidiaries owned by private equity. Senate Democrats accepted a narrower tax proposal, but instead of paying for it through a change to the state and local tax (SALT) deduction, as Senate GOP Whip John Thune of South Dakota suggested, they instead extended the limitation on the amount of losses that businesses can deduct for another two years.
The change was intended to prevent House Democrats primarily from coastal districts, who have campaigned on repealing limits on the SALT deduction, from breaking from the bill, when they vote on it later this week.
After the bill's passage in the Senate, Sinema said in a statement it would "help Arizonans build better lives for themselves and their families by lowering prices, making health care more affordable and accessible, and securing Arizona's water and energy future," while also "boosting innovation and spurring job creation."
In a good sign for the bill becoming law, key House Democrats signaled later Sunday that they'll vote for it despite previous demands over SALT.
Rep. Josh Gottheimer of New Jersey had been part of the "No SALT, no deal" caucus. But he said the bill passes his test because it doesn't raise individual income tax rates.
Rep. Mikie Sherrill of New Jersey, another member of that caucus, echoed his sentiment: "I will also remain steadfast in my commitment to ensuring that any discussion of reforms to the 2017 tax law begins with addressing SALT. Because this legislation does not raise taxes on families in my district, but in fact significantly lowers their costs, I will be voting for it."
Republicans used the weekend "vote-a-rama" to put Democrats on the spot and force politically tough votes. They were also successful in removing a key insulin provision to cap the price of insulin to $35 per month on the private insurance market, which the Senate parliamentarian ruled was not compliant with the Senate's reconciliation rules. The $35 insulin cap for Medicare beneficiaries remains in place.
Senate Minority Leader Mitch McConnell said in a statement that the bill included "giant job-killing tax hikes" and amounted to "a war on American fossil fuel." The Kentucky Republican said Democrats "do not care about middle-class families' priorities."
"And their response to the runaway inflation they've created is a bill that experts say will not meaningfully cut inflation at all," said McConnell. "The American people are clear about their priorities. Environmental regulation is a 3% issue. Americans want solutions for inflation, crime, and the border."
How the bill addresses the climate crisis
While
economists disagree
over whether the
package
would, in fact, live up to its name and reduce inflation, particularly in the short term, the bill would have a crucial impact on reducing carbon emissions.
The nearly $370 billion clean energy and climate package is the largest climate investment in US history, and the biggest victory for the environmental movement since the landmark Clean Air Act. It also comes at a critical time; this summer has seen punishing heat waves and deadly floods across the country, which scientists say are both linked to a warming planet.
Analysis from Senate Majority Leader Chuck Schumer's office — as well as multiple independent analyses — suggests the measure would reduce US carbon emissions by up to 40% by 2030. Strong climate regulations from the Biden administration and action from states would be needed to get to President Joe Biden's goal of cutting emissions 50% by 2030.
The bill also contains many tax incentives meant to bring down the cost of electricity with more renewables, and spur more American consumers to switch to electricity to power their homes and vehicles.
Lawmakers said the bill represents a monumental victory and is also just the start of what's needed to combat the climate crisis.
"This isn't about the laws of politics, this is about the laws of physics," Democratic Sen. Brian Schatz of Hawaii told CNN. "We all knew coming into this effort that we had to do what the science tells us what we need to do."
Key health care and tax policy in the bill
The bill would empower Medicare to negotiate prices of certain costly medications administered in doctors' offices or purchased at the pharmacy. The Health and Human Services secretary would negotiate the prices of 10 drugs in 2026, and another 15 drugs in 2027 and again in 2028. The number would rise to 20 drugs a year for 2029 and beyond.
This controversial provision is far more limited than the one House Democratic leaders have backed in the past. But it would open the door to fulfilling a longstanding party goal of allowing Medicare to use its heft to lower drug costs.
Democrats are also planning to extend the enhanced federal premium subsidies for Obamacare coverage through 2025, a year later than lawmakers recently discussed. That way, they wouldn't expire just after the 2024 presidential election.
To boost revenue, the bill would impose a 15% minimum tax on the income large corporations report to shareholders, known as book income, as opposed to the Internal Revenue Service. The measure, which would raise $258 billion over a decade, would apply to companies with profits over $1 billion.
Concerned about how this provision would affect certain businesses, particularly manufacturers, Sinema has suggested that she won changes to the Democrats' plan to pare back how companies can deduct depreciated assets from their taxes. The details remain unclear.
However, Sinema nixed her party's effort to tighten the carried interest loophole, which allows investment managers to treat much of their compensation as capital gains and pay a 20% long-term capital gains tax rate instead of income tax rates of up to 37%.
The provision would have lengthened the amount of time investment managers' profit interest must be held from three years to five years to take advantage of the lower tax rate. Addressing this loophole, which would have raised $14 billion over a decade, had been a longtime goal of congressional Democrats.
In its place, a 1% excise tax on companies' stock buybacks was added, raising another $74 billion, according to a Democratic aide.
This story and headline have been updated with additional developments.
Chinese politics has become even more of a black box under Xi Jinping – The Globe and Mail
It should be easy to prove a coup hasn't taken place.
Over the weekend, however, as unfounded claims Chinese President Xi Jinping had been deposed spread first from Chinese dissident outlets to Indian media and then across Twitter – based on non-existent or willfully misinterpreted evidence – even respectable China watchers were cautious in their debunking: This almost certainly isn't happening, but we can't say for sure.
"The inherent opacity of the system just gives these rumours more room to spread, even if not based on reality," said Washington-based analyst Bill Bishop.
Mr. Xi hasn't been seen for a few days, most likely because he is in quarantine after returning from a trip to Central Asia last week – he similarly disappeared from public view after a visit to Hong Kong in July. On Sunday, state news agency Xinhua included him in a list of senior cadres attending next month's Communist Party Congress.
Yakabuski: The 'friendship' between Xi and Putin has hit a rough patch
Tiny island on Taiwan's frontier with China wants peace – and return of mainland tourists
At that meeting, far from being overthrown, Mr. Xi is expected to secure an unprecedented third term as leader. There are no serious challengers, and he could yet stay in power for another decade.
Even that prediction, however – while the consensus view among analysts – is ultimately a guess based on pronouncements in Chinese state media, Mr. Xi's own actions and perceived Party norms – many of which have already been broken during Mr. Xi's decade in power.
"This is analysis imposed on a system by people who have no experience inside the system," said Drew Thompson, a senior fellow at the Lee Kuan Yew School of Public Policy in Singapore. "It's a political black box at the top."
Mr. Xi's fate ultimately rests with the seven-member Politburo Standing Committee and a handful of retired Party grandees. Outside that circle, few others know what is going on, whether Mr. Xi is truly in the position of strength he appears to be or frantically making deals and compromises to stay the course.
We may get some clarity at the Party Congress itself, but what goes on behind the scenes will remain shrouded in secrecy.
This applies both to foreigners and ordinary Chinese, who often have scant insight into how key decisions are made on their behalf. But as China faces growing challenges and the spectre of conflict rises with its neighbours and rivals, the lack of transparency becomes more dangerous.
"Beijing's radical opacity has real-world consequences," Richard McGregor, an expert on Communist Party politics at the Lowy Institute in Sydney, wrote recently. "How would Xi, for example, make any decision to invade Taiwan? What would happen if the military pushed back? Could the politburo vote to overrule Xi? Does Xi feel pressure from the public to take the island?
"Almost anything China does has global fallout these days, but its internal debates and its decision-making processes are almost entirely hidden," he added.
Mr. Thompson, a former U.S. Defence Department official, said that even during the Cold War, Washington and other Western powers had greater insight into how decisions were made in the Kremlin, and what to look out for, but "we don't have any of that with China."
"So we're ripe for misperception, for misunderstandings and miscalculations, because we don't know how they're signalling," he said.
Nigel Inkster, a former director at British spy agency MI6, now an analyst with London-based Enodo Economics, agreed Chinese politics can be remarkably hard to parse, even for those who make a career of it.
"We have a number of areas where China seems to be saying one thing and doing another and it can be genuinely be very difficult to work out what their intentions are," he told The Globe.
Because of the opaque nature of Chinese elite politics, theories about the Party's functioning depend on historical analyses, which are not always good at predicting the future, or even elucidating the present.
During Mr. Xi's predecessor Hu Jintao's two terms as Chinese leader, there was much focus on supposed factions within the Party, and a perceived tussle for power between Mr. Hu's Communist Youth League allies and the "Shanghai gang" around former leader Jiang Zemin.
But Mr. Xi upended this model. Many of his key allies have been linked to factions believed to be in fierce opposition to each other – either he has negotiated (or forced) a peace between warring sides, or the divides were never as great as outsiders once believed.
David Shambaugh, a long-time scholar of the Communist leadership, favours the latter interpretation.
"Since 1989, I don't think factions have been a very useful or even identifiable thing when it comes to studying Chinese politics," he said. "We just can't clearly identify them."
Even settled history when it comes to China often isn't as certain as is presented.
Former paramount leader Deng Xiaoping is often credited – by both Chinese and foreign sources – with kick-starting capitalist reforms and encouraging collective leadership within the Party in the 1980s and '90s.
Recent research has challenged both claims. Not only do many now credit Mr. Deng's predecessor Hua Guofeng with key economic policies, but, as academic Joseph Torigian writes, "the Deng era was emphatically one of continued strongman rule."
If we are only now understanding one of the most scrutinized periods of modern China – that which followed Mao Zedong's death – hope of gleaning what is currently happening within the Party's top ranks can sometimes seem next to impossible.
So inevitably, in the run-up to major events like the Party Congress, we enter the "silly season" of Chinese politics, when rumours abound – and people start shouting coup just because Xi Jinping stayed inside for a few days.
55 Tufton Street: The other black door shaping British politics – BBC
On a rainy afternoon earlier this month, Liz Truss walked through the famous black door of No 10 Downing Street for the first time as prime minister.
But under a mile away, there's another black door that's had a lasting effect on the previous decade in British politics – and looks like being influential under this administration too – No 55 Tufton Street.
The building houses organisations including the TaxPayers' Alliance and the Global Warming Policy Foundation – and is the former home of many others, such as Vote Leave and Brexit Central.
Just hours after Liz Truss made her first speech on the steps of Downing Street, she announced that her new economics adviser would be Matthew Sinclair, a former chief executive of the TaxPayers' Alliance.
And a couple of weeks later, the new chancellor, Kwasi Kwarteng, delivered the most consequential financial statement for a generation, ripping up decades of economic orthodoxy.
He was pictured celebrating with Mr Sinclair – a man who made his name working behind that other black door.
The influence of TaxPayers' Alliance began in 2008, when the financial crash led to bank collapse around the world.
"If you didn't want that to happen in the UK, you had to get growth higher," says Andrew Lilico, chairman of Europe Economics and Matthew Sinclair's former boss.
"One way you could get growth high was just to get spending down and it might not be a very pleasant way of getting growth higher, but needs must in these kinds of circumstances.
"There was a TaxPayers' Alliance report called How to Save £50 billion, which to some extent breached the dike on where things were going. And very shortly after that, others all chimed in. So quite quickly there were proposals for cutting spending by £150bn and £200bn."
In 2010, David Cameron became prime minister and ushered in a new age of austerity.
The TaxPayers' Alliance was no longer a fringe group frustrated with the Conservatives' approach to the economy. Instead, they became a key public backer of the government's approach to the economy.
"The newspapers or the broadcast media would have a spokesperson from an organisation, it could be the TaxPayers' Alliance, it could be another think tank," says Nicky Morgan, a Treasury minister in the coalition government.
"As a minister, if you're going to advance a difficult or a controversial idea, it's no surprise that before you announce such a thing, what you try to aim for is that phrase 'rolling the pitch'. You've got people outside saying, 'this is what we need'. So when you announce it, one hopes that it's going to be well received."
But the organisations at No 55 had started to attract controversy too.
Many of them have a long-standing policy of protecting the anonymity of their donors, something the Lib Dems wanted to change.
The coalition government did change the rules on lobbying. But the BBC understands the Lib Dems wanted those changes to go further – and to include think tanks, which do not come under lobbying rules.
Few would suggest that David Cameron and his chancellor George Osborne were Tufton Street's natural allies – one senior member of Osborne's Treasury team describes the TaxPayers' Alliance as "a bit of a joke". But they were useful in helping sell those austerity policies to the public.
After the 2015 election, David Cameron pledged to hold a referendum on EU membership – and that's when the relationship changed.
Vote Leave, which would go on to become the official leave campaign, was originally based at No 55 as well. Andrew Lilico, who was Vote Leave's chief economist in the latter days of the campaign, says the think tanks there were natural Brexiteers.
"I think that they are people who are quite optimistic about what the market can achieve. And they're quite pessimistic about grand state projects.
"So the European Union, as a supranational, multinational body would be an iconic example of something that they would be sceptical about.
"Matthew Elliott, in particular, who's the chief executive of Vote Leave, comes directly out of that that setting. He was the chief executive of the TaxPayers' Alliance."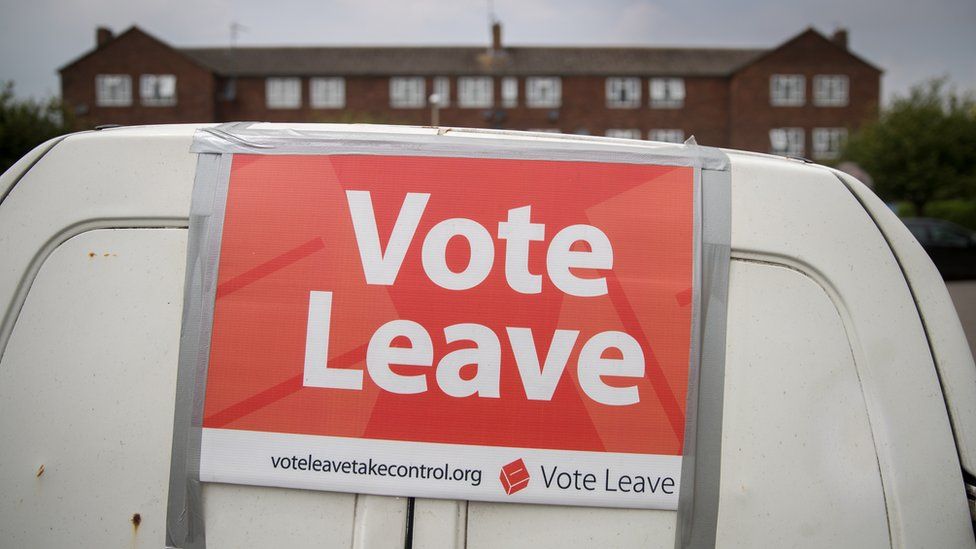 After the Leave campaign won the referendum, the fight shifted again. The battle over how exactly to define Brexit had begun.
"People thought that the referendum would be the end of it, and of course in many respects it was just the beginning of the argument," says David Jones, minister for exiting the EU from 2016.
"Vote Leave wound itself up so there was there was nobody there. A number of other organisations did spring up to fill that vacuum.
"And Brexit Central was a very important one."
Headed up by Jonathan Isaby, another former chief executive of the TaxPayers' Alliance, Brexit Central also ended up being based at 55 Tufton Street.
"So it became almost required reading for those who were on the pro-Brexit side of the argument," says Mr Jones. "Every day you'd check in at Brexit Central and see what they were reporting."
Boris Johnson's victory in 2019 – and his pledge to take the UK out of the EU's single market and customs union – was another huge moment for Tufton Street.
After the financial crash, once-fringe views on public spending had become mainstream – and now the same happened with Brexit.
The apparent influence made the argument around who funds these groups rear its head again.
But while privately critical of where the money comes from, the Labour Party hasn't made it a public priority to reform the rules governing this area of politics.
"55 Tufton Street shouldn't have any more influence than any other street in the UK," says Angela Rayner, Labour's deputy leader.
"That street seems to dominate particular policy and what's happening in government and legislation and it's not transparent enough.
"Labour would consult on the wider definition of what lobby groups are – so that would include what is currently known as think tanks because we don't believe that the definition is wide enough, but also around transparency around where their funding comes from as well."
The BBC did ask representatives from the organisations mentioned for an interview, but no-one came forward.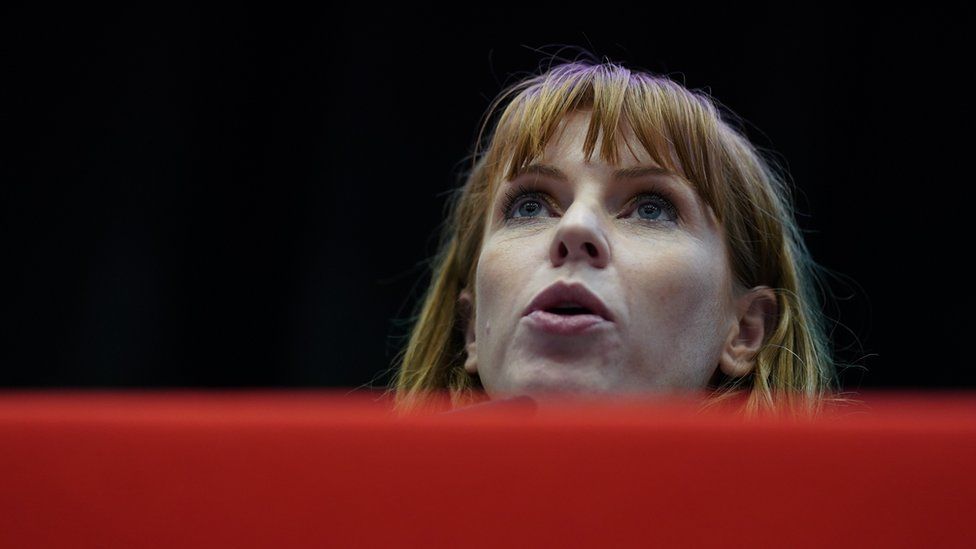 Labour may want to change the rules – but for now, that's not in their gift.
Instead, last week's financial statement seemed to confirm that Liz Truss is more aligned with the ideas floating around No 55 than any of the previous recent occupants of No 10.
So what sort of new policies might the government start to enact?
The TaxPayers' Alliance has had a long-running campaign to crack down on paid time off for trade union officials, including when Mr Sinclair was chief executive.
The new Business Secretary, Jacob Rees-Mogg, met the TPA in March.
The BBC has used a freedom of information request to discover that the meeting was called to discuss paid time off for trade union officials – something Liz Truss has now pledged to crack down on.
Still, no one can be sure exactly what will take place behind the famous black door of No 10 over the next few years.
But perhaps by paying closer attention to what's happening behind the other black door, we might get a good idea.
'The Other Black Door' will be broadcast on BBC Radio 4 at 20.00 BST on Monday 26 September, and will also be available on BBC Sounds.
Politics Podcast: Why Biden's Unpopularity Doesn't Seem To Be Tanking Democrats – FiveThirtyEight
A president's approval rating is traditionally tied to how his party performs in a midterm election, but Democrats have been outpacing President Biden in the polls for months. In this installment of the FiveThirtyEight Politics podcast, the crew discusses how Biden's approval rating may impact the midterm election and how the Democrats' performance in November could influence the president's 2024 reelection plans.
The team also debates whether tracking Google search terms over time is a better barometer than traditional polling when it comes to understanding the issues shaping American voting patterns. Lastly, politics reporter Alex Samuels and visual journalist Elena Mejía break down their reporting on how Black voters are changing the political landscape of Georgia.
You can listen to the episode by clicking the "play" button in the audio player above or by downloading it in iTunes, the ESPN App or your favorite podcast platform. If you are new to podcasts, learn how to listen.
The FiveThirtyEight Politics podcast is recorded Mondays and Thursdays. Help new listeners discover the show by leaving us a rating and review on iTunes. Have a comment, question or suggestion for "good polling vs. bad polling"? Get in touch by email, on Twitter or in the comments.