Albertans can get flu, COVID shots in one appointment as fall flu season arrives
Anyone five years old and older can get both a flu and COVID shot at the same time
Sarah Peterson left the Northgate Community Health Centre with two sore arms on Monday.
She got her flu shot in one arm, then turned around so the bivalent COVID-19 booster vaccine could go in the other. It's the first time that Albertans have been able to book their influenza and COVID shots together, with the newest booster rolling out around the same time as the annual flu immunization campaign.
The flu vaccine is now available at Alberta Health Services clinics, in pharmacies and at some doctors' offices. Anyone five years old and older can get both a flu and COVID shot at the same time.
Peterson is finishing her studies in occupational therapy, which often involves working with people with health conditions that put them at risk, and her fiancé is also immunocompromised.
With the added protection from vaccination, "we both feel safer going out into the community," she said.

"And there's not that anxious feeling that I might bring something home to him."

In Alberta, Moderna's bivalent COVID vaccine targeting the BA.1 subvariant is available only for adults 18 and older. Pfizer's bivalent vaccine targeting the BA.4 and BA.5 subvariants will be available for people 12 and older starting Oct. 24.

Public-health experts have advised taking the COVID booster that's available when you're eligible, especially if it's been more than five months since your last shot.

The bivalent booster can be given to people who already have at least an initial "primary series" of COVID vaccines, which for most means two previous shots. A fall booster is recommended as long as it's been five months since you last got COVID or had a COVID vaccine. Some who might be at a high risk from the disease can get the booster after a shorter three-month wait.
Doctors expect worse flu season compared to previous years
So far in 2022, there have been 40 lab-confirmed cases of influenza in Alberta.
AHS lead medical officer of health of communicable diseases Dr. Kristin Klein said flu shots are especially important this year, since COVID restrictions that suppressed flu spread over the past two years are no longer in effect.
"Definitely anticipate that it will be worse than the last couple of years," she said.
Young children and adults older than 65 are at higher risk of serious health problems from influenza, and the immunization doesn't guarantee you won't get the flu, but it reduces your chances of getting it and spreading it to others.
Looking to other countries in the southern hemisphere, where the flu season takes place over our summer months, Klein said there's increased flu activity after a couple "atypical" years.
"So what that means is we're going to see probably several thousand cases, as well as the impacts on our hospitals and ICUs."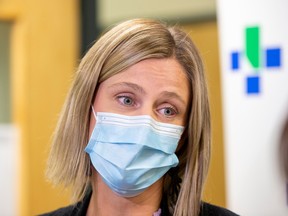 Klein added there's understandable fatigue around COVID at this point, but the start of flu season is a good reminder to assess your immune protection.
"Having the simplicity of offering both vaccines this fall at the same appointment, I'm really hoping people take that opportunity and come get immunized."
Albertans can book flu and COVID vaccines at bookvaccine.alberta.ca, by calling 811 or by contacting a local pharmacy. Some pharmacies may also offer walk-in appointments.
Children between six months and five years old have to be immunized at an AHS clinic or in a doctor's office. They're also the only group that can't get both vaccines at the same time, and instead have to wait 14 days between the shots.
At least five B.C. children died from influenza last month, as mortalities spike
At least five children died last month in British Columbia from influenza as a rise of early season respiratory illnesses added strain to the beleaguered healthcare system.
The figure marks a departure from the average of two to three annual flu deaths among children in the province between 2015 and 2019, data from the BC Coroners Service shows.
"Public health is monitoring the situation closely and is reminding people of the steps they can take to protect themselves, their children and their loved ones against the flu," the B.C. Centre for Disease Control said in a statement.
"It is important to know that death associated with influenza in previously healthy children continues to be rare."
The centre said it is aware of a sixth reported flu death among children and youth under 19, but it was not immediately clear why the sixth wasn't included in the coroners' figures.
Provincial Health Officer Dr. Bonnie Henry said the children who died included one who was younger than five years old, three who were between five and nine, and two adolescents who were between 15 and 19.
"Early findings indicate some of the children experienced secondary bacterial infections contributing to severe illness, which can be a complication of influenza," Henry said in a statement Thursday.
The deaths in British Columbia suggest figures could tick up across the country given the common challenges facing health systems this respiratory season. Alberta has also recorded the deaths of two children with influenza so far this season.
Before the COVID-19 pandemic, an average of five to six kids died per flu season across Canada, data collected from 12 hospitals across the country shows.
The national data was collected between 2010 and 2019 by IMPACT, a national surveillance network administered by the Canadian Paediatric Association. It was included in a research paper published in March in "The Lancet Regional Health — Americas" journal that also found no deaths from the flu among children in either 2020 or 2021.
No one from either IMPACT or the B.C. Centre for Disease Control was immediately available for an interview.
On Monday, Henry said that after two years of low flu rates, mostly due to COVID-19 pandemic restrictions, the province is seeing a "dramatic increase" in illness and it arrived sooner than normal.
She urged parents to get their children vaccinated against the flu.
On Thursday, British Columbia's Health Ministry announced a "blitz" of walk-in flu clinics that will open across the province Friday through Sunday. Flu vaccines are free to all kids aged six months and older in B.C.
The B.C. Centre for Disease Control said getting the shot is particularly important for those at risk of severe outcomes, including those with chronic medical conditions like heart, lung, kidney or liver disorders and diseases, those with conditions that cause difficulty breathing or swallowing, those who need to take Aspirin for long periods of time and those who are very obese.
The BC Coroners Service said its data is preliminary and subject to change while investigations are completed.
The cases include those where influenza was identified as an immediate, pre-existing or underlying cause of death, or as a significant condition.
Henry said updates on pediatric influenza-related deaths will be posted weekly as part of the respiratory surveillance summaries on the B.C. Centre for Disease Control website.
This report by The Canadian Press was first published Dec. 8, 2022.
Cough and cold medication shortage to end next year, pharmacists association says
Children's Tylenol returning slowly to retail outlets in town
Parents with sick kids might be able to take a break from crushing adult Tylenol and mixing it with apple sauce if they hurry quickly to a local pharmacy.
Children's Tylenol (acetaminophen) in liquid form began arriving at retail outlets in late November, but in such limited quantities that pharmacists are keeping them behind the counter and limiting them to one bottle per customer.
A Shopper's Drug Mart pharmacist The Daily Press spoke with on Tuesday wouldn't say how much they'd received but advised to hurry while quantities last. A Rexall pharmacist is only selling children's Tylenol to parents with sick kids, not to those just preparing for a rainy day.
Adam Chappell, owner and pharmacist at Parma Right in The 101 Mall, told The Daily Press he was expecting nine retail-sized bottles of children's Tylenol last Wednesday, which he also planned to keep behind the counter and limit to one bottle per customer.
He predicts that more will become available, but that there will be extended shortages in the short term. Pharmacies are being allocated small amounts by the manufacturers, to spread out supply.

The shortage makes it difficult for parents to control fevers in their children, leading to more doctor visits, he said.

"We had more public health measures in place with COVID, so we had 1½ to two years where we really didn't see much influenza or common cold," said Chappell, whose independent pharmacy opened in November.

"So now we're seeing everything all at once because we're now socializing more. It's that time of year, so we're starting to see more influenza, cough and colds and COVID is still circulating. I think it's a combination of higher use and some lingering logistical issues."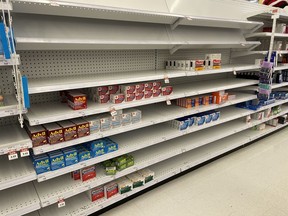 A children's drug shortage began in the spring and worsened in the summer when an early onset of flu and respiratory syncytial virus was made worse by COVID-19, which presents as a cold. Parents began stocking up.
When local manufacturers could not keep up with demand, Health Canada arranged to import supply from the United States and Australia, whose first shipment in early November went straight to hospitals, in part because the labels were not bilingual, Postmedia reported.
Health Canada has authorized 500,000 bottles of imported children's acetaminophen for retail to arrive in December, and domestic supply is starting to recover, Jen Belcher with the Ontario Pharmacists Association told The Daily Press in a telephone interview.
"The demand really hasn't abated, and manufacturing really hasn't been able to keep up from a straight capacity standpoint, rather than a supply interruption with a lack of ingredients," she said, when asked to respond to a claim by the German pharmacist's association.

That organization asserts pandemic lockdowns in China are blocking exports of the raw ingredients used for medications, Postmedia reported Nov. 16.

If lockdowns in China continue, however, she conceded it could interrupt the ingredient supply in the long-term.  There is also a global reliance on India for the raw ingredients used in over-the-counter medication.

Canadian manufacturers can tap various international suppliers if approved by Health Canada, Belcher said.
Children's Advil (ibuprofen), an anti-inflammatory, continues to be in short supply in pharmacies, but available in hospital. Neither Belcher nor Chappell has heard reports of Health Canada planning to import it for retail outlets.

Adult Tylenol and Advil remain plentiful.

Chappell recommends that parents speak to their pharmacist to determine a dosage of adult pills based on the child's weight and symptoms. They can be crushed and added to yogurt, apple sauce or chocolate syrup.

If parents can wait a few days for the package to arrive, they can order a supply for their child from a compounding pharmacist, who is qualified to make custom medications including liquid formulations. There are several compounding pharmacists in Sudbury, but none in Timmins.
Adults in Timmins who have come down with a cold or flu lately may also have been surprised to see empty shelves in the adult cough and cold section of their local pharmacy.

"When it comes to cough and cold medication for both adults and children, we're not seeing an imported supply of those. Those are short and have been for quite some time due to this high level of demand, small amounts have been trickling through the supply chain but it hasn't been enough to keep up with demand," said Belcher.

She expects the adult cough and cold medication shortage to end sometime between January and March, 2023, just in time for the end of flu season.

A quick check of the adult cough and cold section of four downtown pharmacies on Tuesday showed partially empty shelves, but there was still a variety of medication to choose from.

Belcher said pharmacists have lots of experience finding alternatives for patients, if necessary.

"While the over-the-counter medications in short supply are the most visible representation of the challenges to our supply chain, pharmacy teams have been managing very high levels of drug shortages, some critical, where there are really few or no alternative options," she said, adding that up to 20 per cent of the team's day is spent managing shortages.
Study explores the risk of new-onset diabetes mellitus following SARS-CoV-2 infections
In a recent study posted to the medRxiv* preprint server, researchers evaluated individuals who had severe acute respiratory syndrome coronavirus 2 (SARS-CoV-2) infections and were diagnosed with diabetes mellitus within six months of the onset of coronavirus disease 2019 (COVID-19) to understand the temporal relationship between SARS-CoV-2 infections and diabetes mellitus.
Background
Recent research indicates a potential increase in the new-onset diabetes mellitus diagnoses after SARS-CoV-2 infections. While the causative mechanisms are not clearly understood, various hypotheses suggest the roles of stress-induced hyperglycemia during SARS-CoV-2 infections, changes in the innate immune system, virus-induced damage or changes to the beta cells or vasculature of the pancreas, as well as the side effects of the treatment in the increased incidence of diabetes mellitus diagnoses.
Furthermore, the drastic lifestyle changes brought about by the COVID-19 pandemic have decreased physical activity and increased obesity. The stress induced by the pandemic has also increased endogenous cortisol levels, a known risk factor for diabetes mellitus. Examining the temporal relationship between SARS-CoV-2 infections and new-onset cases of diabetes mellitus will help develop effective screening and therapeutic strategies.
About the study
In the present study, the team conducted a nationwide analysis using electronic health records aggregated in the National COVID Cohort Collaborative (N3C) database in the United States (U.S.). They analyzed all individuals with SARS-CoV-2 infections and type 2 diabetes mellitus between March 2020 and February 2022. Data from the health records for the six months preceding and following the SARS-CoV-2 infections were included to avoid selection and ascertainment bias.
SARS-CoV-2 infections were confirmed based on the International Classification of Diseases, Tenth Revision (ICD-10) code, or laboratory test results. New-onset diabetes mellitus cases were defined as those that did not have an ICD code for diabetes mellitus in their electronic health records before September 2019. The incidence of diabetes mellitus was then analyzed concerning SARS-CoV-2 infections.
Results
The results reported a sharp increase in new-onset diabetes mellitus diagnoses in the 30 days following SARS-CoV-2 infections, with the incidence of new diagnoses decreasing in the post-acute stage up to approximately a year after the infection. Surprisingly, the number of new-onset diabetes mellitus cases in the months following SARS-CoV-2 infections is lower than in the months preceding the infection.
The authors believe that the increase in healthcare interactions brought about due to the COVID-19 pandemic might explain the notable increase in diabetes mellitus diagnoses in the time surrounding SARS-CoV-2 infections. New patients might have been tested for hemoglobin A1C or glucose levels during their first interaction with the healthcare system, the results of which might have then been used to diagnose diabetes mellitus.
Additionally, SARS-CoV-2 infection-induced physiological stress could have triggered diabetes mellitus in high-risk individuals who might have developed the disease later in life without COVID-19.
According to the authors, the overall risk of developing diabetes mellitus has increased, irrespective of SARS-CoV-2 infections, due to the drastic decrease in physical activity, weight gain, and the stress induced by the COVID-19 pandemic. Furthermore, a longer follow-up period might report an increased incidence in new-onset diabetes mellitus cases, with the SARS-CoV-2 infection precipitating disease development in individuals who might not have otherwise developed diabetes.
Conclusions
To summarize, the researchers conducted a cross-sectional, nationwide analysis of individuals in the U.S. to understand the temporal relationship between diagnoses of new-onset diabetes mellitus and SARS-CoV-2 infections. The results reported a spike in diabetes mellitus diagnoses in the one month following SARS-CoV-2 infections, followed by a marked decrease in the number of diagnoses for up to a year after the infection.
The authors believe that the sudden increase in diabetes diagnoses could be due to increased healthcare interactions brought about by the COVID-19 pandemic. The new-onset diabetes mellitus cases could also be a reaction to the physiological stress induced by SARS-CoV-2 infections.
Furthermore, the drastic lifestyle changes brought about by the COVID-19 pandemic might be responsible for the high incidence of diabetes mellitus, irrespective of SARS-CoV-2 infections. However, extensive research is required to understand the epidemiology and mechanisms connecting SARS-CoV-2 infections with new-onset diabetes mellitus.
*Important notice
medRxiv publishes preliminary scientific reports that are not peer-reviewed and, therefore, should not be regarded as conclusive, guide clinical practice/health-related behavior, or treated as established information.