Amazon's Ring reveals a flying drone for your home and new car alarms – MobileSyrup
At Amazon's fall hardware event, the company revealed several new Ring products, including an autonomous drone that flies around and monitors your home.
The Ring Always Home Cam drone flies by itself, but users can tell it what path to take through their house. This means the setup for the drone involves mapping the inside of your home and setting lookout points to make sure the drone catches all the info you're after.
The drone can also fly to inspect disturbances triggered by other Ring Alarms.
When this new camera finishes flying, it returns to a little docking station where it recharges so it can do another pass later. While sitting in its dock, the camera and microphones are covered, so it only records when it's flying around, according to Amazon.
While an interesting concept, it's unlikely many people are going to want to pay $249 USD (roughly $332 CAD) for this drone when they could place much cheaper cameras in several locations around their home. Then there's also the privacy concerns surrounding a tiny flying drone continually monitoring your home. The Ring Home Cam is slated for release sometime in 2021.
Ring Car alarms
Beyond the futuristic, dystopian home drone, Ring also announced three new products aimed at the car.
The first is called Ring Car Alarm and plugs into the OBD-II port that most cars feature and then alerts users to bumps, break-ins, when you're being towed and more. When the device detects one of these events, it triggers an alert that's sent to the user's phone so that they can set off an alarm. This can also link to your Alexa devices so they can notify you as well.
Then there's the Ring Car Cam, which also monitors for bumps and break-ins like the Ring Car Alarm, but it will videotape whatever is happening as well. This device also has a car crash detection feature that alerts local authorities if you're in a serious collision.
The final device, called the Ring Car Connect, is a software framework for developers and an aftermarket device that adds the features from the Ring Car Alarm and Ring Car Cam directly into a vehicle. So far, this is only going to be available in Tesla's cars, but once users install the device, they'll be able to see footage from the Tesla's cameras and record driving footage via the Ring app.
Overall, it seems unlikely that Amazon will bring these products to Canada since they'll require partnerships with Canadian carriers.
Source: Ring
iPhone 12 Lineup Enables Personal Hotspot Over Faster 5GHz Wi-Fi – MacRumors
As noted by MacRumors contributor Steve Moser, and confirmed by Aaron Zollo, the iPhone 12 lineup introduces support for Personal Hotspot tethering over faster 5GHz Wi-Fi, compared to 2.4GHz Wi-Fi on previous iPhones.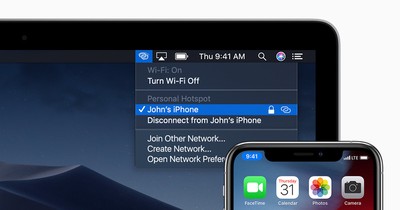 Personal Hotspot over 5GHz Wi-Fi is enabled by default on all iPhone 12 models. In the Settings > Personal Hotspot menu on these devices, there is a new "Maximize Compatibility" toggle that reverts Personal Hotspot to 2.4GHz Wi-Fi when enabled, with Apple noting that this may reduce internet performance on devices that are connected to the hotspot.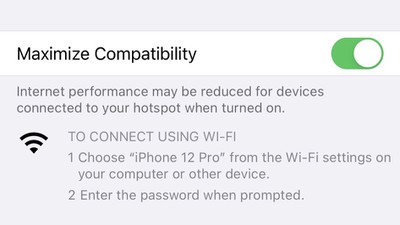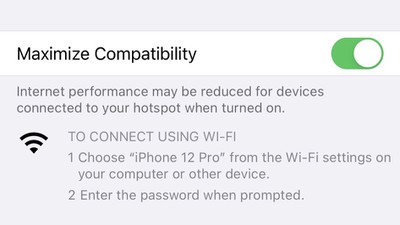 The combination of iPhone 12 models supporting higher-speed 5G networks and 5GHz Wi-Fi's higher maximum throughput paves the way for faster Personal Hotspot, but testing will have to be done to confirm the exact speed improvements. Keep in mind that while 5GHz Wi-Fi is faster than 2.4GHz Wi-Fi, it has shorter range, so Personal Hotspot speeds will vary based on the distance of a tethered device to the iPhone.
MagSafe 15W fast charging restricted to Apple 20W adapter – AppleInsider
New testing shows Apple's MagSafe charging puck does peak at 15W with iPhone 12, but only when paired with the company's 20W adapter.
The apparent restriction was discovered by Aaron Zollo of YouTube channel Zollotech. In a comprehensive evaluation of Apple's MagSafe device posted on Monday, Zollo found two Apple adapters — a new standalone 20W USB-C device and the 18W unit that came with iPhone 11 Pro handsets — achieved high rates of charge.
Measuring energy throughput with an inline digital meter revealed MagSafe hits the advertised 15W peak charging rate (up to 16W in the video) when paired with Apple's branded 20W adapter. Speeds drop to about 13W with the 18W adapter, and Zollo notes the system takes some time to ramp up to that level.
Older adapters and third-party models with high output ratings do not fare well in the test. Apple's own 96W MacBook Pro USB-C adapter eked out 10W with MagSafe, matching a high seen by Anker's PowerPort Atom PD1. Likewise, charging rates hovered between 6W and 9W when attached to Aukey's 65W adapter, Google's Pixel adapter and Samsung's Note 20 Ultra adapter.
It appears third-party devices will need to adopt a MagSafe-compatible power delivery (PD) profile to ensure fast, stable energy delivery when connected to iPhone 12 series devices.
As can be expected with any charging solution, temperature plays a significant role in potential throughput. Zollo found MagSafe significantly throttles speeds as temperatures rise, meaning actual rates are not a constant 15W even when using the 20W adapter. When heat rises, energy output decreases to protect sensitive hardware components and the battery itself. In some cases, this could prompt users to remove their iPhone from its case — including Apple-branded MagSafe models — to achieve maximum thermal efficiency.
Zollo also confirms older Qi-compatible iPhone models, like iPhone 8 Plus and iPhone 11 Pro Max, charge at about 5W with MagSafe. Apple previously said Qi devices would charge at 7.5W.
Hollywood North: B.C. film production recovers to top pre-pandemic levels – Vancouver Sun
Article content continued
Visual effects and animation divisions also moved to remote work setups early on and were able to continue working through the shutdown, keeping the lights on B.C.'s film sector.
While B.C.'s film industry was never subject to an official order to close by health officials, studio heads, local health authorities and unions were in communication throughout the shutdown to ensure a return to filming could be done safely.
"As a collaborative, agile and adaptable business sector, we are in the fortunate position to help restore the productivity and optimism that characterizes our region, as we navigate recovery from an extraordinary global crisis together," said Peter Leitch, chairperson of the Motion Picture Production Industry Association of B.C. and president of North Shore Studios.
Prior to 2020's unpredictable storyline, research conducted by the Vancouver Economic Commission also notes that B.C.'s film industry had set a new record last year, with more than $4.1 billion spent in the province (all figures in Canadian dollars).
Of that total, $3.1 billion was on physical production alone, with the remaining $1 billion on post-production and animation, much of which also takes place in Vancouver.
The $4.1 billion figure nearly triples 2012's $1.6 billion. In the period between 2012 and 2019, film activity has translated into $22.7 billion for the provincial economy in the areas of hospitality, tourism, material suppliers, transportation and construction, including $12.5 billion alone in wages for British Columbians. It's estimated that the film industry supports more than 70,000 jobs across B.C.