Ancient 'crazy beast' which broke 'evolutionary rules for mammals' discovered
Scientists have discovered a "crazy beast" mammal which lived alongside dinosaurs on Madagascar approximately 66 million years ago.
It was about the size of a modern cat or an opossum, according to researchers at Stony Brook University in the US, and the skeleton is the most complete for any mammal ever discovered from this era in the southern hemisphere.
The animal is also surprisingly large for mammals of its time, which were believed to be about the size of mice, and is expected to have burrowed to hunt for food and avoid dinosaurs.
It is officially called Adalatherium hui, which literally translates from Malagasy – the national language of Madagascar – and Greek as "crazy beast" and was announced in the journal Nature.
Professor David Krause said: "Knowing what we know about the skeletal anatomy of all living and extinct mammals, it is difficult to imagine that a mammal like Adalatherium could have evolved; it bends and even breaks a lot of rules."
Despite the reconstruction showing the crazy beast's appearance to be similar to a badger, scientists say the animal's skeleton is actually "outlandish" – with primitive features in its snout which haven't "been seen for a hundred million years" in modern mammals.
"Its nasal cavity exhibits an amazing mosaic of features, some of which are very standard for a mammal, but some that I've never seen in anything before," explained Dr James Rossie.
Adalatherium had more holes, or foramina, on its face than any known mammal – passageways through the skull for nerves and blood vessels for what must have been a sensitive snout,covered with whiskers.
And bizarrely there is one very large hole on the top of its snout for which the scientists say there is simply no parallel in any known mammal, living or extinct.
Its teeth are also unlikely anything ever seen before in a mammal, and it had more vertebrae in its back than any other mammal from the same period.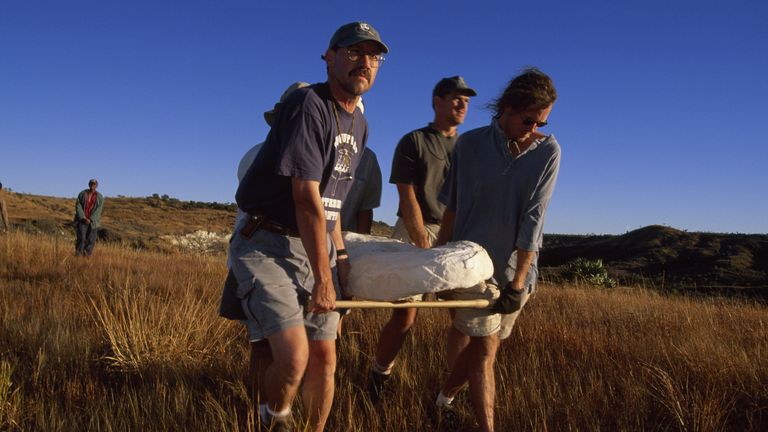 The researchers believe that it would have evolved into such a strange creature thanks to how isolated Madagascar was from any other land, due to plate tectonics.
Separated from mainland populations, animals on the island had more than 20 million years to develop "many ludicrous features" according to Professor Krause.
Source:- Sky News
Celebrate Virtual International Observe the Moon Night with NASA Goddard – Stockhouse
PR Newswire
WASHINGTON, Sept. 22, 2020
WASHINGTON , Sept. 22, 2020 /PRNewswire/ — The public is invited to virtually attend NASA's Goddard Space Flight Center's International Observe the Moon Night on Saturday, September 26 from 7-8 p.m. EDT . The event will feature engaging pre-recorded content – presentations, demonstrations, video clips – and a question-and-answer session with NASA scientists and engineers.
Presentation content will be streamed via NASA TV, the Goddard Visitor Center Facebook page and on the NASA Goddard YouTube channel . NASA experts will be online throughout the event to answer questions. There will be about 40 minutes of pre-recorded content and then 20 minutes of dedicated Q&A with NASA scientists/engineers.
The agenda includes:
Lunar videos
Demonstration on volcanoes and how to build your own volcano at home
Discussion on geology and the elements of art
Presentation on

SOFIA

and its connection to Artemis and lunar water
International Observe the Moon Night is a global celebration of lunar and planetary science and exploration, celestial observation, and personal and cultural connections to the Moon. It occurs annually in September or October, when the Moon is around first quarter ― a great phase for evening observing.
International Observe the Moon Night is sponsored by NASA's Lunar Reconnaissance Orbiter (LRO) mission and the Solar System Exploration Division of NASA's Goddard Space Flight Center, with many contributors. LRO is managed by NASA's Goddard Space Flight Center in Greenbelt, Maryland , for the Science Mission Directorate at NASA Headquarters in Washington, D.C.
No registration is needed.
For more information about International Observe the Moon Night, visit: https://moon.nasa.gov/observe
For more information about LRO, visit: https://www.nasa.gov/lro
For more information on the Moon, visit: https://moon.nasa.gov
View original content to download multimedia: http://www.prnewswire.com/news-releases/celebrate-virtual-international-observe-the-moon-night-with-nasa-goddard-301135661.html
SOURCE NASA
'Mini-moon' set to join Earth might be a rock — or something more – Global News
Earth and the moon have had a pretty steady relationship over the last 4.53 billion years, but our planet is about to have a close encounter with another body in space, according to astronomers' projections.
A small object is expected to fall into Earth's orbit in October, when it will potentially become a so-called "mini-moon" for the next several months. The new object, dubbed 2020 SO, will loop around the Earth in a figure-eight before spinning back into space in May 2021, according to NASA tracking data. The space agency has dubbed it an Apollo object, meaning it's expected to cross Earth's orbit.
Most space objects are asteroids, but astronomers say there's something unusual about this one. They say it's no mini-moon — it's a piece of space trash. More specifically, it might be a discarded Centaur rocket booster from the Surveyor 2 robot that crash-landed on the moon in September 1966.
Whatever it is, it could become the second mini-moon in Earth's orbit this year after 2020 CD3, a car-sized bit of space rock, left us in February. That mini-moon quietly circled Earth for about two years, though astronomers didn't spot it until shortly before it left.
This one is on course to become a mini-moon but it has a "highly chaotic path," according to Tony Dunn, who runs the website Orbit Simulator.
Mini-moons are extremely rare despite our luck with them this year. Earth's gravity will typically pull a space rock down as a meteor or bend its trajectory before releasing it into space. However, space objects can do a few loops around our planet if they approach it just right.
That's what happened with 2020 CD3 earlier this year. Earth also hooked up with another asteroid, dubbed 2006 RH120, for a brief mini-moon fling through space 14 years ago.
There's still no guarantee that the object will become a mini-moon, as Lisa Harvey-Smith, an astrophysicist with the Australian government, pointed out on Twitter.

0:41


India loses contact with space craft heading for moon



The object is expected to come within 50,000 kilometres of Earth on its first pass, and within 220,000 kilometres for its second close encounter. Both passes will bring it closer to Earth than the moon.
This object would become our third mini-moon in recent memory — and perhaps the first one made by humans.
The strongest indicator that it's not an asteroid is the low velocity, according to Alice Gorman, a space archaeologist at Flinders University in Australia.
"What I'm seeing is that it's just moving too slowly, which reflects its initial velocity," she told ScienceAlert. "That's essentially a big giveaway."
The object is between 6.4 and 14 metres long, according to NASA.
The Centaur rocket booster was 12.68 metres long, and it helped propel the Surveyor 2 lander to the moon exactly 54 years ago. The lander jettisoned the booster into space during the mission.
Gorman says that if it is an old piece of human technology, she'd like to scan it to see how much damage it's sustained after half a century in space.
"It's human material that's been out in a different part of space," she said.
"It would be interesting to compare that to the results you get from stuff in low Earth orbit, which is much, much denser material."
The object is expected to approach Earth on Oct. 1.
© 2020 Global News, a division of Corus Entertainment Inc.
'Minimoon' approaching Earth may be 'space junk' from 1966 rocket launch – CTV News
TORONTO —
A small asteroid that scientists project could orbit Earth until next spring might actually just be "space junk" more than half a century old.
The new object spotted by astronomers last week and dubbed 2020 SO, a provisional designation based on the discovery date, is expected to fall into our orbit, where it will spin from mid-October to May 2021.
If it doesn't change course, it could be the third object — sometimes referred to as "minimoons" — confirmed by scientists to be captured in Earth's celestial path, according to news site ScienceAlert. In 2006, asteroid 2006 RH120 orbited with Earth for about nine months, and in 2020, scientists realized that a rock called 2020 CD3 had been orbiting for three years already.
Though it is still unclear whether 2020 SO is a small asteroid or a man-made object, one NASA scientist with the Jet Propulsion Laboratory in Southern California has "tentatively identified" it as a piece from the failed Surveyor 2 moon lander program in 1966. At the time, NASA used "multi-stage" rockets, some parts of which would fall back to the ground for reuse while others would be discarded in space.
According to a member of the The Minor Planet Mailing List, an online group of space enthusiasts and lunar researchers, the velocity projections of the object suggest "it is unlikely it is a natural body" and that is is "more likely space junk."
Current estimates put the size of the object between roughly six and 14 metres in length, which is consistent with the size of the 1966 rocket piece NASA identified, according to ScienceAlert.
It won't get very close and is on a "highly-chaotic path," wrote orbit simulator Tony Dunn on Twitter. In fact, projections suggest it will pass by Earth on Dec. 1 at a distance of about 50,000 kilometres, and later in February at about 220,000 kilometres.