Anishinaabe artist turns everyday garbage into beaded pieces of art – CBC.ca
One man's trash is another man's beadwork.
Nico Williams, an Anishinaabe contemporary artist, is turning pieces of garbage that he found lying on the ground in Montreal into beaded works of art for a new exhibition.
He said that In the past, Indigenous peoples used baskets and basketry to hold things, and passed these items down from generation to generation. With his latest work, he hopes to get people thinking about the objects they bring in their home, and how they are temporary pieces which only get used once.
His newest exhibition, ataason | ils emmagasinent | they store it, opened up at Blouin Division in Quebec City on Nov. 6.
"I've been getting contacted from the community and they're like, oh my gosh, we love this work. And they're laughing because it's just so rez," said Williams, who is from Aamjiwnaang First Nation.
In the past he has beaded lottery scratch tickets, and his newest exhibition features a three-dimensional-style beaded grocery bag, as well as cereal and Kraft Dinner boxes.
"I think there's always humour within the Indigenous community because it's like a healing process, and it's great to have a good laugh with the community," said Williams.
The artist has also beaded a J Cloth, which he says reminds him of his grandmother's house.
"It's just an object that we all had in our household," said Williams.
"A lot of stuff happened in the kitchen like … when aunties would sit at a table on Sundays or Friday nights all together as a community. So it's kind of interesting that I'm using these objects in the kitchen to try to have that discussion and that relationship."
As a multidisciplinary artist, one of Williams' main inspirations is to get people interested in beadwork.
He has a public art project, a metal beadwork sculpture, coming up in Quebec City in the spring, and has been teaching beading workshops to people interested in learning the craft.
"I just was really interested in how Nico was able to look around in his surroundings and then use that as inspiration for his art," said Craig Commanda.
Commanda, who is from Kitigan Zibi Anishinaabeg, has been applying some of the techniques that he learned from Williams and has collaborated with the artist on a couple of projects.
Michelle McGeough, who is an assistant professor at Concordia University in the art history department, visited the exhibition on Saturday and said that she's impressed by how Williams is taking everyday objects and turning them into pieces of art.
"I think that artists like Nico open up the possibilities for us to see and explore the materials that we work with in really different ways," said McGeough.
The exhibit at Blouin Division is on until Jan. 22, 2022.
From Venus to Medusa, How Art Codifies the Objectification of Women – The New York Times
'The Barge' takes on a second life as a public art installation on social media – Vancouver Sun
The City of Vancouver said Wednesday that Transport Canada has received a plan to move the barge.
Article content
The barge at English Bay shows no end of inspiring Vancouverites.
Article content
One of the memes circulating online is calling the barge — which became grounded at English Bay during a severe storm last month — a public art installation.
On Twitter, Greg @goldenmulletman said Monday after a failed attempt to remove the barge, "Hey @CityofVancouver you should admit defeat and declare this barge an urban art installation."
Someone who knows about public art is Barrie Mowatt, founder and president of the Vancouver Biennale , the region's outdoor public art exhibition.
He said the barge isn't public art, but could be.
"It is in the public and in its current position artful, but it's not public art in the sense of how we define public art," he said. "It does certainly draw people's attention and get them connected with the space. It's cool in that sense."
Article content
Mowatt said the barge could become public art if it was incorporated into a narrative about the former industrial heritage of False Creek, for example, and how the city has changed since. As well, he suggested it could be painted and turned into a mural, but in a way that didn't look like graffiti.
"Yes, it could become an interesting piece of public art," he said from Palm Springs. "As it is now, with good signage, it could create dialogue and engagement about what is public art."
Not everyone agrees with the idea the barge is or could be public art.
On Wednesday morning, Jo-Ann Heinz cycled from Yaletown to English Bay and Sunset Beach to see the barge because a friend contacted her to say something was happening. Nothing did, even though a high tide and whitecaps on the water all suggested movement.
Article content
"I'm just kind of curious to see how they get this monstrosity off the seawall," she said.
Heinz said while the barge could be turned into a restaurant, she questioned the idea that it was already an example of public art just by its position on the rocks.
Heinz is a sailor who has been around the world and seen similar examples of wrecked vessels abandoned on the shore. She called them eyesores.
"This is an eyesore," she said. "We're in Vancouver. We should be able to figure out how to get this off the shore."
It looks like the barge will be at home on English Bay for a few more days.
The City of Vancouver said Wednesday that Transport Canada has received a plan to move the barge from its owner.
"In the coming days, the barge will be assessed and repaired as needed in preparation for its removal," the city said by email.
Article content
The homophonic link between "Barge on the Beach" and "Bard on the Beach" has inspired a parody of a famous speech from the play Henry V by William Shakespeare.
Christopher Gaze, founder and artistic director of Bard on the Beach , Vancouver's summer Shakespeare festival, said he thought of the play's famous St. Crispin's Day speech given by the king on the eve of the Battle of Agincourt. The speech was meant to inspire the outnumbered English forces to overcome the French.
In Gaze's version, the speech is about the failure to float the barge away on the king tide that would have lifted the barge like "Noah's flood."
"This day is called the Barge on the Beach day/We that shall live this day and come safe home/Will stand a tiptoe when this day is named/And rouse us at the sight of the Barge on the rocks./West End residents that shall live this day and see old age will/yearly feast their neighbours/And say, tomorrow is the bedevilled Barge Day …"
Gaze said the timing focuses attention on Bard on the Beach, which returns to Vanier Park/Senakw next summer after being cancelled for two years because of the pandemic.
Around Town: Art of Inclusion – Alaska Highway News
Carmella Klassen paints a snowman in the window of the Fort St. John Association for Community Living's Art of Inclusion studio on 100 Avenue.
The art program began earlier this year, and recently moved into a standalone studio down the street from the ACL office, where members show up to sessions on Tuesdays and Thursdays to learn how to work with paints and pastels, linocuts and silkscreens, and other mixed-media techniques.
"I love art," says Klassen, who has been taking part in the program since the beginning. "I make something new every time, and I want to learn how to do different things. Lorna is one of the best teachers I can think of."
Klassen is referring to Montney artist Lorna Penner, who has been helping out with instruction since August. On Tuesday afternoon, Penner was working with Klassen and others on mixed-media self-evaluations and teaching them how to paint with pastels.
"It's talking about how they feel when they do art. They're very determined, they're unique," says Penner.
Penner works with about four students per session, which she says is perfect. "We can really get into things very deep," says Penner.
The studio recently held a printmaking open house for family and friends, and exhibited a COVID-19 show at Peace Gallery North earlier this year.
The program wraps for the holidays next week and will continue in the new year.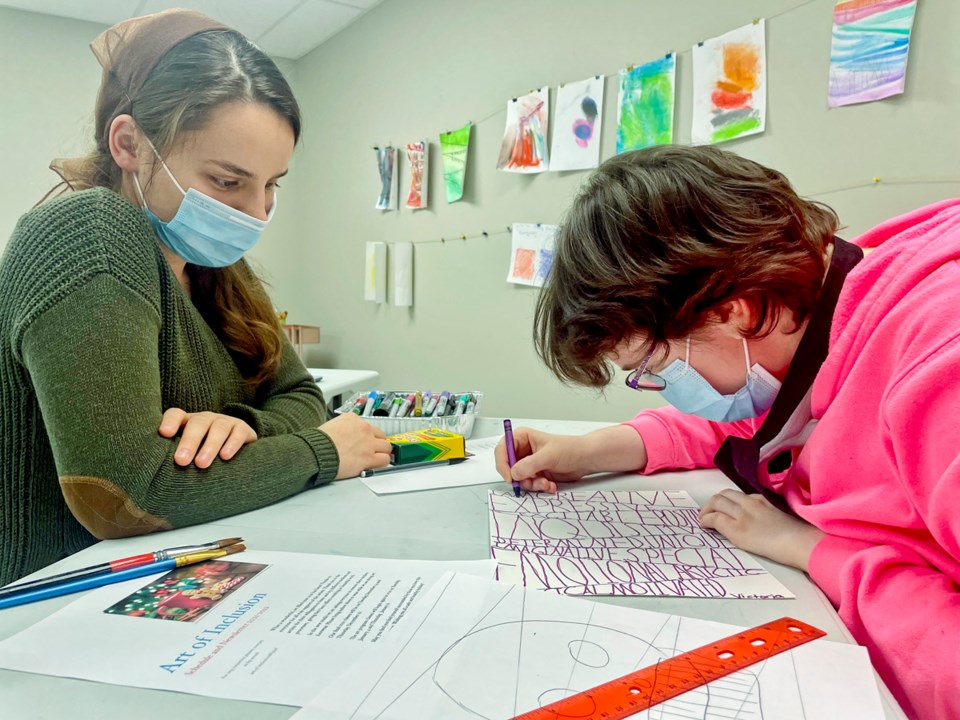 ---
Email Managing Editor Matt Preprost at editor@ahnfsj.ca