Apple AirPods Max Users Reportedly Facing Noise Cancellation-Toggle Issue: How to Fix It – Gadgets 360
AirPods Max users are reportedly experiencing a noise cancellation issue with their new Apple headphones. The problem occurs when toggling between two noise control modes available: active noise cancellation (ANC) and ambient mode. When users toggle between the two modes, only one ear cup erroneously switches modes, while the other remains on the previous input. There's reportedly a simple fix if this occurs, and a reset should help solve it. Apart from this, AirPods Max users have also reported of condensation issues on their Rs. 59,990-priced headset.
MacRumors reports that some users are experiencing a glitch when toggling between two noise cancellation modes on AirPods Max. There is a noise control button on the right ear cup of AirPods Max to toggle between ANC and transparency mode. When switching between modes, sometimes one cup switches to the new mode, while the other remains on the older input.
The report says that there is a simple fix if you experience this glitch in the future. Apparently, resetting the AirPods Max headphones does the trick and fixes the toggle to go back to seamless transition. Before you reset AirPods Max, ensure that they are sufficiently charged, or keep them on charging. Long press the noise control button and the digital crown simultaneously until the LED status light at the bottom of the right earcup turns orange.
This should reset the AirPods Max headphones, and once that process is complete, the noise cancellation issue should be resolved. Every time a user experiences this off-balance issue while switching between noise control modes, a reset should fix it. Apple should likely fix it in an update soon.
AirPods Max users are also reporting of a condensation issue, where water droplets are forming under the ear pads near the drivers. The water droplets are reportedly causing ear-detection problems on the headset.
---
Is HomePod mini the best smart speaker under Rs. 10,000? We discussed this on Orbital, our weekly technology podcast, which you can subscribe to via Apple Podcasts, Google Podcasts, or RSS, download the episode, or just hit the play button below.
New Microsoft advert claims the Surface Pro 7 is a better option than the MacBook Pro 13, including for gaming – Notebookcheck.net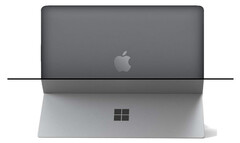 Microsoft is heavily promoting the Surface Pro 7 with recent price drops now accompanied by a new advert comparing the Surface Pro 7 to the MacBook Pro 13 M1. The advert is done in a presentation style and shows why Microsoft thinks you should choose its 2-in-1 device over Apple's laptop.
Views, thoughts, and opinions expressed in the text belong solely to the author.
The reasoning is mostly around the Surface's dual tablet/laptop nature and the use of Windows, which makes sense since this was the niche the Surface Pro line popularised after the release of Windows 8. We can't deny that the inclusion of a touch screen and pen input adds value to how users interact with the device. There is also logic in the argument that the Surface Pro 7 can "run your favourite apps" since the x86 processor and Windows OS gives access to a vast library of modern and legacy software.
Where the advert veers off into murky territory is the claim that it's a much better gaming device, presumably because of the massive catalogue of Windows games. This is also where the point Microsoft is making starts to fall apart too. Yes, the Surface Pro 7 has enough power to play older or lighter games, but its CPU and GPU performance is outclassed by the ARM-powered MacBook Pro 13 against which Microsoft is comparing it.
This gets us wondering whether Microsoft is even making the right comparison. The recent price drop shows that Microsoft is focusing on selling the Surface Pro 7 right now, but can they rightly compare a laptop to a 2-in-1 and then penalise the laptop for not having tablet features? We can't help but think that Microsoft is avoiding the iPad Air 4 or iPad Pro 2020 with Magic Keyboard because they share characteristics such as the touchscreen and pen/pencil input. The iPad is also an arguably better tablet gaming experience, as long as you aren't trying to play the latest console/PC releases. The Surface Pro 7 and the iPad Pro are both creators devices, so Microsoft would have only had the operating system to promote as the main point of difference.
Perhaps the Surface Laptop 3 would have been a more appropriate comparison. The boxes are still ticked for touch screen and pen input, even if the awkward angle makes the pen useless for anything other than quick mark-up. Maybe Microsoft just needs to move some excess Surface Pro 7 stock before the announcement of the Surface Pro 8.
PewDiePie Announces "Big Change" to His YouTube Channel – ComicBook.com
PewDiePie has announced a big change to his YouTube channel, inspired by the likes of Corpse Husband, Dream, and a growing trend amongst popular streamers on Twitch and YouTube. After a two-week break from YouTube, the platform's most popular content creator is back. In the build-up to his return, the king of YouTube teased a "big reveal." Following up this tease, today, PewDiePie released a new YouTube video titled, "I'm Back With A Huge Announcement." And as you would expect, the video is already trending and has nearly two million views. Of course, every PewDiePie upload achieves wild engagement, but this video, in particular, is garnering extra attention for the aforementioned announcement.
For those that haven't seen the video, PewDiePie is taking a page out of the playbook of Dream, Corpse Husband, Pokimane, and other streamers and YouTubers and will now hide his identity behind an avatar. According to PewDiePie, he's getting rid of his self-facing camera and doing the "reverse face reveal" to stay relevant.
"I've realized that the only way for me to stay relevant at this point… it's necessary for me to do this," said PewDiePie, clearly joking. "Corpse Husband… no face cam, no face reveal, massively popular. Dream… no face cam, no face reveal, massively popular."
Right now, the YouTuber hasn't decided on a final avatar, but for most of the video, he did use a temporary one, or more specifically, the avatar below:
For now, it remains to be seen how permanent this change will be. In the video, PewDiePie asks fans for help in finding and choosing an avatar, suggesting at the very least the avatar above won't be around for long. Again though, it's hard to gauge how long PewDiePie will keep this going. In the video, he's clearly joking around and perhaps poking fun at the trend, but it also seems like he's going to keep the avatar at least for a little while.
For more coverage on all things gaming — including all of the latest on PewDiePie — click here or check out some of the relevant links listed below:
Microsoft reverses Xbox Live price hike, will add free multiplayer for some games – Yahoo Canada Shine On
Eat This, Not That!
Dr. Anthony Fauci, the chief medical advisor to the President, has admired our Federalist heritage—but not the fact that every state has handled the coronavirus differently. It's resulted in some areas containing the virus—and others overrun. A new Wallethub study, using data collected from the U.S. Census Bureau, Centers for Disease Control and Prevention, The COVID Tracking Project and rt.live, has ranked all 50 states, in order from most to least safe during the pandemic. The factors they considered: vaccination rates, COVID-19 positivity, hospitalization, death, and transmission. Read on to see the bottom ten, ending with the absolute least safe—and to ensure your health and the health of others, don't miss these Sure Signs You've Already Had Coronavirus. 10 Kansas On the same day it was reported that four nurses in rural Kansas refused to administer the vaccine, deaths rose, currently standing at 3,579 and 7,930 hospitalizations. That includes this heartbreaker: "A Salina couple's love is being celebrated as they died from COVID-19 while holding hands," reports KAKE. "'They were just full of love and happiness,' Sharolyn Hoffman, the daughter of Bert and Carol Stevenson, said. 'They got married later in life, after previous marriages, and so, I think they finally found their love match,' Hoffman said." 9 Arkansas Earlier this month, the state hit records for hospitalizations, and the surge has included an outbreak in the Legislature. "Rep. Lanny Fite, who serves District 23 in Saline County, said Wednesday that he tested positive but has not had any symptoms," reports KATV. "Fite said he is isolating at home and had already been quarantining since Rep. Milton Nicks tested positive last week. Fite sits next to Nicks in the House chamber. Rep. Keith Slape tested positive for the virus on Monday." 8 Pennsylvania Getting a vaccine in Pennsylvania or nearby New Jersey is proving nearly impossible for some. "David Zalles, 82, spent an hour on Montgomery County's website before he realized all the appointments to get the coronavirus vaccine were already booked," reports the Philadelphia Inquirer. "Five weeks after the coronavirus vaccine rollout began nationwide, millions are now eligible to get the shots in Pennsylvania and New Jersey. But the states are still receiving far fewer doses than they need, and with no centralized system for administering them, confusion and frustration reign among the vaccine-hungry public." 7 California California has made headlines worldwide for the severity of its COVID outbreak. The surprising thing isn't that it's on this list, but that it's so far down. "Now, with the crisis showing signs of easing, the main reason for the catastrophic surge is coming into focus: a false confidence that the pandemic could be kept in check," reports the Los Angeles Times. "For the public, that complacency showed up in fatigue and frustration over safety restrictions. Officials, for their part, were caught off-guard by how rapidly, and how broadly, the virus spread once the numbers began to climb. By Christmas, so many patients struggling to breathe needed to be hospitalized in California that emergency rooms in large swaths of the state closed to ambulances as doctors stuffed patients in hospital corridors. The holiday surge has so far killed more than 18,100 Californians, more than doubling the state's total death toll from the pandemic in less than three months." 6 Georgia "Some grim perspective as the average number of deaths per day in Georgia from COVID-19 for the last two weeks has exceeded 100 for the first time ever and the number of confirmed cases has now surpassed 700,000, according to state data," reports Fox 5. "As of 3 p.m. Thursday, the Georgia Department of Public Health reports 11,511 confirmed deaths and 1,378 probable deaths since the start of the pandemic. That is an average of 101 confirmed deaths per day for the last 14 days or 1,411 confirmed deaths in the same time period. Just over 14.2% of all confirmed deaths in Georgia have happened since the New Year, according to state data." 5 South Carolina "South Carolina's death toll is climbing to tragic new heights. Data from the South Carolina Department of Health and Environmental Control shows the state broke its single week record for deaths the week of January 9, tallying 329 confirmed and suspected deaths," reports WIS News. "The previous record was 325 deaths, counted the week of July 25. Between the weeks ending on Dec. 26 through Jan. 16, DHEC has tallied 1,160. That's the deadliest four week span of the pandemic." 4 Nevada "A surge of Nevada coronavirus cases following December holidays may have passed, but deaths are still spiking, experts told a panel guiding the state's COVID-19 response Thursday," reports News 4. "'It's pretty likely that we're right in the throes of the peak related to mortality,' chief state biostatistician Kyra Morgan told the COVID-19 task force a day after state health officials reported a new record high number of deaths in one day, 71." 3 Mississippi Another state, another Legislative breakout. "At least three members of the Mississippi Legislature recently tested positive for COVID-19, and now there's a debate between House and Senate leaders about suspending the session," reports WAPT. The light at the end of the tunnel seems far away. "At the current rate, it would take almost nine months to vaccinate Mississippians now eligible to receive COVID-19 shots, with the majority receiving their doses at Mississippi State Department of Health drive-thru clinics," reports the Sun Herald. 2 Alabama "Alabama is grappling with surging deaths as COVID-19 cases and hospitalizations remain high and intensive care unit capacity is stretched," reports ABC News. "The state reported record numbers of new cases and hospitalizations following the holidays. At one point last week, only 39 ICU beds were available statewide."RELATED: If You Feel This, You May Have Already Had COVID, Says Dr. Fauci 1 Arizona "Over the course of the pandemic, the Yuma area has identified coronavirus cases at a higher rate than any other U.S. region. One out of every six residents has come down with the virus," reports the New York Times of the country's "Salad Bowl." "Each winter, the county's population swells by 100,000 people, to more than 300,000, as field workers descend on the farms and snowbirds from the Midwest pull into R.V. parks. This seasonal ritual brings jobs, local spending and high tax revenue. But this year, the influx has turned deadly."No matter where you live, follow the public health fundamentals and help end this surge, no matter where you live—wear a face mask, social distance, avoid large crowds, don't go indoors with people you're not sheltering with (especially in bars), practice good hand hygiene, get vaccinated when it becomes available to you, and to protect your life and the lives of others, don't visit any of these 35 Places You're Most Likely to Catch COVID.