Apple: Chinese workers flee Covid lockdown at iPhone factory – BBC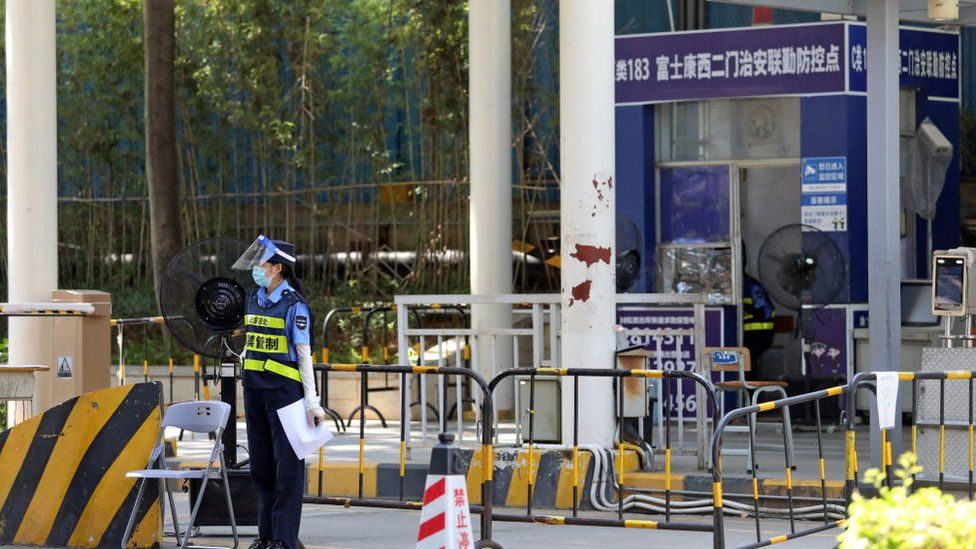 Workers have broken out of Apple's largest iPhone assembly factory in China after a Covid outbreak forced staff to lockdown at the workplace.
Video shared online showed about 10 people jumping a fence outside the plant, owned by manufacturer Foxconn, in the central city of Zhengzhou.
It is not clear how many cases of Covid have been identified at the factory.
However in the last week, Zhengzhou, the capital of China's Henan province, reported 167 locally transmitted infections – up from 97 the week before, according to Reuters news agency.
The city of about 10 million people was partially locked down as a result, as China continues to use strict lockdown measures to deal with Covid.
Foxconn, which acts as a supplier to US-based Apple, has hundreds of thousands of workers at its Zhengzhou complex and has not provided an official count of how many are infected.
The Taiwan-based company claimed on Sunday that it would not stop workers from leaving.
However, in footage shared on Chinese social media, and by the BBC's China correspondent Stephen McDonnell, workers were allegedly filmed escaping from the grounds to begin lengthy walks back to their hometowns in a bid to avoid being caught on public transport.
One 22-year-old worker, surnamed Xia, told the Financial Times it was "total chaos in the dormitories" he and colleagues were being kept in. "We jumped a plastic fence and a metal fence to get out of the campus," he added.
Workers also claimed the area surrounding the plant had been locked down for days, with Covid-positive workers being subjected to daily testing and quarantines to try to contain the outbreak.
Last week, on 19 October, Foxconn announced it was banning all dine-in catering at the Zhengzhou plant and required workers to eat meals in their rooms.
At the same time, the company told reporters it was maintaining "normal production" as the plant ramped up production of the latest iPhone 14 models.
"The government agreed to resume dine-in meals to improve the convenience and satisfaction of employees' lives," Foxconn said in a statement on Sunday.
It added that for those wanting to return home, "the [plant] is co-operating with the government to organise personnel and vehicles to provide a point-to-point orderly return service for employees from today".
The BBC has reached out to Foxconn for comment.
Under China's strict zero-Covid policy, cities are given powers to act swiftly to quell any outbreaks of the virus. This includes anything from full-scale lockdowns to regular testing and travel restrictions.
FTX founder speaks for 1st time since crypto company's collapse – CBC.ca
[unable to retrieve full-text content]
Blackstone limits withdrawals from its US$69-billion REIT – The Globe and Mail
Blackstone Inc limited withdrawals from its $69 billion real estate income trust (REIT) on Thursday after receiving too many redemption requests, an unprecedented blow to a franchise that helped it turn into an asset management behemoth.
The curbs in redemptions came because they hit pre-set limits, rather than Blackstone setting the redemption limits on the day. Nonetheless, they fuelled investor concerns about the future of the REIT, which makes up about 17% of Blackstone's earnings. Blackstone shares ended trading down 7.1% on the news.
Investors in the REIT, which is not publicly traded, have been growing concerned that Blackstone has been slow to adjust the vehicle's valuation to that of publicly-traded REITs, which have taken a hit amid rising interest rates, a source close to the fund said. Rising interest rates weigh on real estate values because they make financing them more expensive.
Blackstone has reported a 9.3% year-to-date return for its REIT, net of fees, while the publicly-traded REIT index is down 3.02% in the same period. This outperformance has some investors questioning how Blackstone comes up with the valuation of its REIT, said Alex Snyder, a portfolio manager at CenterSquare Investment Management LLC in Philadelphia.
"People are taking profits at the value Blackstone says their Blackstone REIT shares are at," said Snyder.
A Blackstone spokesperson declined to comment on how Blackstone values its REIT but said its portfolio was concentrated in rental housing and logistics and relied on a long-term fixed rate debt structure, making it resilient.
"Our business is built on performance, not fund flows, and performance is rock solid," the spokesperson said.
Two sources familiar with the matter said turmoil in the Asian market, fuelled by concerns about China's economic prospects and political stability, contributed to the redemptions. The majority of investors redeeming were from Asia and needed the liquidity, they said.
Blackstone said it would curb withdrawals from its REIT franchise after it received redemption requests in November greater than 2% of its monthly net asset value and 5% of its quarterly net asset value.
Analysts said that Blackstone's REIT runs the risk of getting caught in a spiral of selling assets to meet redemptions if it cannot regain the trust of many of its investors. On Thursday, the firm said the REIT had agreed to sell its 49.9% interest in two Las Vegas casinos for $1.27 billion.
"The impact on Blackstone depends on whether the REIT is able to stabilize its net asset value over time, or is forced to enter an extended run-off scenario, with significant asset sales and ongoing redemption backlog – too early to tell, in our view," BMO Capital Markets analysts wrote in a note.
Big Six bank earnings show mixed bag for Canadian economy – CTV News
The most recent earnings reports from Canada's big banks are showing signs that the Canadian economy is slowing down ahead of a potential recession, with some signs of optimism.
The Big Six banks – RBC, TD, CIBC, Scotiabank, BMO and National Bank – all released their Q4 2022 reports this week. Five out of the six saw their profits dip compared to last year and three fell short of their earnings expectations.
Michael Morrow, managing director of mergers and acquisitions and capital markets at financial firm BDO Canada, says high inflation, lower capital markets activity and rising loan-loss provisions are all putting pressure on the big banks.
High inflation has meant higher operating costs – including higher staffing costs amid a tight labour market – that has cut into their margins, Morrow said. Meanwhile, rising interest rates and economic uncertainties have slowed investment and led to lower capital markets activity.
"Capital markets activity continues to be a drag on all of the banks, particularly those that have a higher concentration of capital markets activity versus regular retail-related activity," Morrow said.
RBC CEO Dave McKay said on an earnings call on Wednesday the bank is bracing for a "brief and moderate recession."
In anticipation of an economic downturn, the big banks are also increasing their loan-loss provisions, which refers to money set aside to cover bad loans.
"As the bank's worry about the economic performance of the Canadian economy, what that might mean is more loan losses going forward. And so their provisions every quarter has been creeping up, including this quarter," Morrow said.
"It's definitely a leading indicator in terms of where we think the Canadian economy will be next year and where the where the risks lie."
Loan-loss provisions especially weighed heavily on CIBC, which set provisions for credit losses for the three-month period of $436 million, up from $78 million in the same quarter last year. CIBC missed its earnings expectations by over 19 per cent.
"As we look ahead to 2023, global economic growth is expected to be slower as central banks continue with their monetary policy tightening to tame inflation," said CIBC CEO Victor Dodig on an earnings call on Thursday.
"In response to these headwinds … we are going to continue to take actions to reposition our business to adjust to these new realities, but also continue to grow our client franchise and moderate our expense growth."
But despite these so-called headwinds, Morrow believes there is still good news to be gleaned from these results. Most of the Big Six are increasing their dividend rates for shareholders, which Morrow says "provides us with a view of confidence in the stability of the banks and their earnings profile."
"If they're increasing dividend rates, then that's certainly an indication that they feel that the business and their capital ratios are going to be able to not only withstand this downturn, but continue to thrive through the year, through the back half of next year," he explained.
On top of that, RBC announced it would be taking over HSBC's Canadian operations in a $13.5 billion deal, pending regulatory approval. Morrow says he sees the purchase as a "positive vote of confidence for the Canadian economy," especially given the fact that RBC is paying a premium price for the acquisition. The bank is paying 9.4 times HSBC Canada's 2024 adjusted earnings.
"Certainly, you know, it gleans to the confidence that RBC has within the within the Canadian lending market. And if there were certain doubts in the Canadian market, you wouldn't see these participants paying premiums in the marketplace at this point in the cycle," he said.
With files from The Canadian Press and Reuters