Apple claims to be environmentally aware – MENAFN.COM
(MENAFN) Apple claims to be a sustainable company that is all about 'green' and the environment, and is now offering to pick up old I-phones in return for the new I-phone 12. "If it's in good shape, we'll help it go to a new owner," is one of their slogans on the website, the other being; "if not, we'll send it to our recycling partner, so we can save more precious materials and take less from the earth."
But now people are questioning their sincerity.
Previously this year, Apple filed a lawsuit against GEEP Canada, a recycling company it had employed to destroy and recycle old devices. But after some investigations, Apple found out that the employees of the company had been reselling the devices, deciding they were in "good shape" instead of actually recycling them, like it was agreed upon.
Apple's dispute with GEEP is definitely justified if those claims are correct. But users who entrusted Apple to manage their used devices in an environmentally friendly way are angry as well, for new details of the case have been revealed, and most people in the tech world protested. In this case and others, it's evident that Apple has repeatedly failed to live up to its own arrogant promises on dealing with old devices. In doing so, it stopped users from finding their own sustainable and worthwhile methods for getting rid of their old devices.
Truth is; manufacturing a new Smartphone isn't an environmentally friendly process. Based on records from Apple, 79 percent of the carbon emissions linked to the total lifespan of an I-Phone 11 is produced during the manufacturing phase. To be fair, the company has attempted to lessen these negative impacts.
Another attempt is that they now use recycled tin and rare-earth elements, which is a big improvement over using virgin materials. And Apple's trade-in program offers a stable stream of used phones that can be renovated and resold. In its most recent environmental record, Apple states that it revamped 11.1 million devices for new users in 2019, and highlights the fact that each one "represents a smarter and more environmentally efficient use of the resources and materials we rely on to build our products."
MENAFN1810202000450000ID1100975954
Legal Disclaimer: MENAFN provides the information "as is" without warranty of any kind. We do not accept any responsibility or liability for the accuracy, content, images, videos, licenses, completeness, legality, or reliability of the information contained in this article. If you have any complaints or copyright issues related to this article, kindly contact the provider above.
AMD's new Radeon RX 6800 XT promises to go head to head with Nvidia's RTX 3080 – The Verge
AMD is introducing three new Radeon RX 6000 Series graphics cards today that will take on Nvidia's latest RTX 3000 Series of GPUs. There's the Radeon RX 6800 XT ($649), which goes up against the RTX 3080; the Radeon RX 6800 ($579), which can be compared to the RTX 2080 Ti or RTX 3070; and finally the Radeon RX 6900 XT ($999), which is pitted against Nvidia's giant RTX 3090.
All three are based on AMD's latest RDNA 2 technology that's also found inside the PS5 and Xbox Series X. These latest Radeon cards will support hardware-accelerated ray tracing for next-gen games, and AMD is promising to go head to head with Nvidia in 4K and 1440p PC gaming.
The new $649 Radeon RX 6800 XT is aimed at Nvidia's RTX 3080 specifically, promising performance in 4K and 1440p gaming that matches or exceeds Nvidia's latest card for $50 less. It comes equipped with 16GB of GDDR6 memory, a 2015Mhz base clock, 2250Mhz boost clock, 20.74 teraflops of GPU performance, and 72 compute units overall.
AMD has shared some early benchmarks that show the Radeon RX 6800 XT beating the RTX 3080 at 4K in Battlefield V, Borderlands 3, Call of Duty: Modern Warfare, Forza Horizon 4, and more. It also matches the RTX 3080 in Shadow of the Tomb Raider, Gears 5, and Doom Eternal. If these results are similar across a wider range of games, then the Radeon RX 6800 XT certainly looks promising for solid 4K gaming performance.
AMD's own benchmarks are also similar at 1440p, with the same games tested. We'll obviously need to test this card fully against the RTX 3080, but it looks like AMD has managed to match or beat Nvidia's latest GPU in a number of games. AMD has achieved these performance improvements while keeping the power draw less than Nvidia's RTX 3080. The RX 6800 XT draws up to 300 watts of power, while the RTX 3080 draws up to 320 watts.
Next up is the $579 Radeon RX 6800, which is aiming for Nvidia's RTX 2080 Ti. According to AMD, it beats or matches Nvidia's older card in the limited number of games that the company has tested in both 4K and 1440p. It comes equipped with 60 compute units, a 1815Mhz base clock, 2105Mhz boost clock, 16.17 teraflops of GPU performance, and 16GB of GDDR6 memory.
Interestingly, the base 6800 draws 250 watts of power, just 10 watts less than Nvidia's own RTX 2080 Ti Founders Edition. AMD hasn't shared benchmarks against the new RTX 3070, but if it can also match or exceed Nvidia's latest $499 card, then it might just be another great option for 1440p.
Finally, there's the $999 RX 6900 XT, which goes head to head with Nvidia's RTX 3090. While Nvidia has positioned the RTX 3090 for 8K gaming, its large 24GB of memory makes it more likely to be used by the creative industry as a Titan replacement. AMD hasn't opted to bump the memory on its equivalent, keeping the RX 6900 XT at 16GB of GDDR6 memory and offering a competitive price as a result.
AMD has bumped up its compute units to 80 in total here, but the core clock remains at 2015Mhz with a boost of 2250Mhz. This all results in 23.04 teraflops of GPU performance. The performance against the RTX 3090 looks a lot more mixed from AMD's own benchmarks. While the RX 6900 XT promises to comfortably beat the RTX 3090 in Battlefield V, Forza Horizon 4, and Gears 5, it loses out or just matches in other titles.
All three new Radeon RX 6000 Series cards also use a traditional 2.5 slot design, with regular PCIe connections and a triple-fan system that cools the cards. AMD hasn't done any fancy work to shrink its PCB like Nvidia has, nor is it introducing a new 12-pin power connector.
You'll notice that AMD has opted for 16GB of GDDR6 memory in all three of its new Radeon cards. That's more than what's available on the RTX 3070 (8GB) and RTX 3080 (10GB) but less than the 24GB found on the RTX 3090. Both Nvidia's RTX 3080 and 3090 cards also use faster GDDR6X modules, but AMD opted to avoid the move to more expensive and more power-hungry high-speed modules.
Instead, the company is aiming for efficiency improvements with a new Infinity Cache design. Infinity Cache is the biggest part of AMD's memory improvements here. Gaming at 4K can often be limited by memory bandwidth in modern GPUs, and AMD is hoping to answer some of these demands with a bigger, more capable cache instead of higher-speed GDDR6X.
AMD is using a high-speed 128MB cache that's based on the company's Zen 3 L3 CPU cache design. It's optimized for graphics use and promises to deliver twice the bandwidth. What this all means is that these latest Radeon cards can more efficiently feed data to the graphics pipeline and provide performance improvements without significant increases to power draw. AMD's goal here was to double the performance from its previous RX 5700 XT card with only a slight bump to power draw.
Because these cards are all RDNA 2, that means they support Microsoft's DirectX12 Ultimate APIs and even DirectStorage once it's available. This includes hardware-accelerated ray tracing and variable rate shading. Once DirectStorage is fully enabled in Windows at some point in 2021, load times on certain NVMe drives will be reduced further. AMD also has a "rage mode" for easy and stable overclocking on these cards. It will be interesting to see how much extra performance can be squeezed out of these supposedly efficient cards.
While AMD is promising to go head to head with Nvidia in 4K gaming and more, the one big missing piece of this battle is a lack of an equivalent to Nvidia's DLSS. Nvidia's AI-powered super sampling technology has been transformative for the games that support it, bringing great image quality and higher frame rates by simply toggling a game setting.
AMD tells me it has a new super sampling feature in testing, which is designed to increase performance during ray tracing. The company is promising its super sampling technology will be open and cross-platform, which means it could come to next-gen consoles like the Xbox Series X and PS5. AMD is working with a number of partners on this technology, and it's expecting strong industry support. Unfortunately, this won't be ready for the launch of these three new Radeon RX 6000 Series cards.
Both the Radeon RX 6800 XT and RX 6800 will go on sale on November 18th, with the Radeon RX 6900 XT hitting stores on December 8th. While AMD hasn't been able to match or beat Nvidia's pricing for the RTX 3070, the $50 saving on the RX 6800 XT vs. the RTX 3080 could be significant. It will all depend on whether AMD's performance promises measure up to Nvidia's latest cards, as they could offer a great alternative for people looking to upgrade their GPUs in the coming months. Hopefully AMD will be able to supply enough stock for the inevitable demand.
Apple working on its own search engine as Google ties could be cut soon – GSMArena.com news – GSMArena.com
Apple is said to be working on its own search engine to replace Google.
As of now Google pays Apple between $10b and $12b a year to be the main search provider on Apple devices, but that deal will soon expire and a reported antitrust case against Google by the US Department of Justice could prevent its extension.
Apple has already made moves for a transition away from Google. Its Applebot, which was first reported of in 2014, has been crawling the web ever since and has allegedly increased its rate substantially recently. Furthermore, in iOS 14's home screen search, Apple has begun to link directly to websites, bypassing Google entirely.
Finally, nearly three years ago, Apple poached Google's Search and Artificial Intelligence chief John Giannandrea, who is now Senior VP or Machine Learning and AI Strategy at Apple.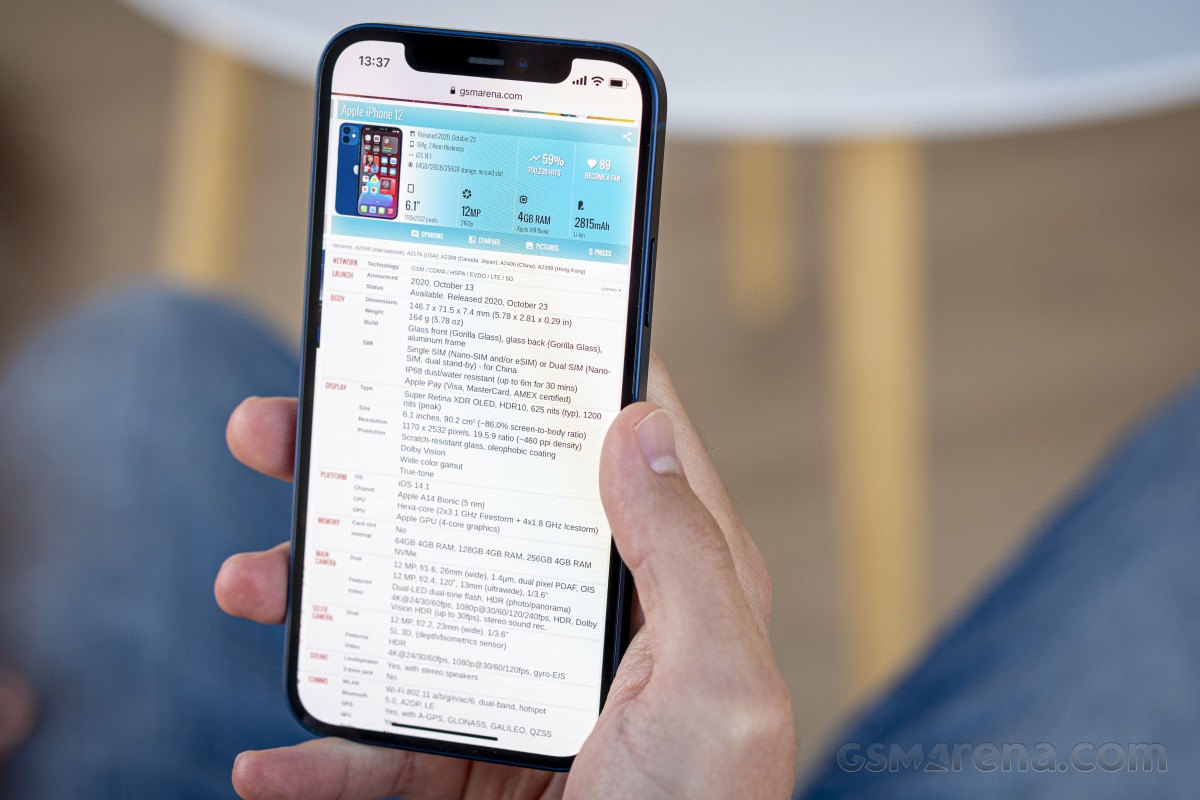 It's unclear what shape or form an Apple search engine could take. If it will be an enhanced Spotlight on iOS and OS X devices or if it will be a full-blown website like Google.com.
But it's becoming clearer that Apple and Google's practices of receiving payment to be the primary search provider on millions of devices would soon face regulatory pressure. Google's payments to Apple are reportedly around 20% of Apple's services revenue.
One issue of Apple becoming a search giant would be its commitment to privacy. In an open letter to its customers Apple CEO Tim Cook once said: "Our business model is very straightforward: We sell great products. We don't build a profile based on your email content or web browsing habits to sell to advertisers. We don't "monetize" the information you store on your iPhone or in iCloud. And we don't read your email or your messages to get information to market to you.". It's not clear how Apple could create a successful search engine without building a profile around a user's browsing habits or using that customer's stored data on the iPhone as a means to better search results.
Apple search engine efforts 'stepping up' as Google deal under threat – FT – 9to5Mac
Speculation about plans for an Apple search engine to compete with Google has been around for many years now, ever since the company was first seen to be using its own web crawler back in 2014. Apple confirmed the existence of the Applebot crawler in 2015.
A report in the Financial Times claims that Apple is now 'stepping up' efforts to create its own search engine as its lucrative deal with Google comes under threat …
Google currently pays Apple an estimated $8-12 billion per year to be the default search engine on iOS devices. In 2018, for example, the sum was estimated at a little under $10 billion – around 20% of the company's Services income for the year. However, antitrust regulators are now putting this deal in the spotlight, and arguing that it may be anticompetitive.
This raises the question of what Apple would do if it was banned from renewing the deal, and lost that income. One suggestion that has been that the iPhone maker could create an Apple search engine.
The FT report cites circumstantial evidence and industry commentary, rather than inside sources, and not much of it is new. It opens, for example, with a change seen in iOS 14 to the swipe-down search box.
Apple is stepping up efforts to develop its own search technology as US antitrust authorities threaten multibillion-dollar payments that Google makes to secure prime placement of its engine on the iPhone.

In a little-noticed change to the latest version of the iPhone operating system, iOS 14, Apple has begun to show its own search results and link directly to websites when users type queries from its home screen.

That web search capability marks an important advance in Apple's in-house development and could form the foundation of a fuller attack on Google, according to several people in the industry.
It also points to the two-and-a-half year old news of Apple poaching Google's John Giannandrea, putting its own spin on the hire.
Apple poached Google's head of search, John Giannandrea. The hire was ostensibly to boost its artificial intelligence capabilities and its Siri virtual assistant, but also brought eight years of experience running the world's most popular search engine.
It includes commentary from former senior Google execs, but this too is purely speculative.
"They [Apple] have a credible team that I think has the experience and the depth, if they wanted to, to build a more general search engine," said Bill Coughran, Google's former engineering chief, who is now a partner at Silicon Valley investor Sequoia Capital […]

"Apple's position is very unique because it has the iPhone and iOS. It controls the default browser," said Sridhar Ramaswamy, Neeva's co-founder and Google's former head of advertising. Expanding in search "feels natural" for Apple, he said, as it has the ability to gather data and learn from user behaviour at large scale.
Applebot's crawl rate – the number of times it visits websites in order to update its database – is said to have increased substantially. Others note that Apple is one of the few companies in the world with the resources to create a search engine to compete with Google.
But all of the known facts would be consistent with Apple simply working on making Siri smarter.
The single biggest argument against Apple creating a search engine is the company's strong privacy stance, and its less-than-flattering commentary on ad-funded services like Google.
A few years ago, users of Internet services began to realize that when an online service is free, you're not the customer. You're the product. But at Apple, we believe a great customer experience shouldn't come at the expense of your privacy.

Our business model is very straightforward: We sell great products. We don't build a profile based on your email content or web browsing habits to sell to advertisers. We don't "monetize" the information you store on your iPhone or in iCloud. And we don't read your email or your messages to get information to market to you.
Walking that back would be problematic to say the least.
FTC: We use income earning auto affiliate links. More.
Check out 9to5Mac on YouTube for more Apple news:
[embedded content]