Apple cuts iPad production to feed chips to iPhone 13 -Nikkei
Apple Inc has cut back production of iPad tablets to allocate more components to the iPhone 13, a sign the global chip supply crunch is hitting Apple harder than previously indicated, Nikkei said on Tuesday, citing multiple sources.
Production of the iPad was down half from Apple's original plans for the past two months, the newspaper said on its website, adding that parts intended for older iPhones were also being switched to the iPhone 13.
Even though iPhone 13 production hit a snag due to factory closures in Asia and high demand in the second half of the year, Apple has weathered the supply crunch better than many other companies due to its massive purchasing power and long-term supply agreements with chip vendors, eating into its rivals' market share in the third quarter.
The iPhone maker is prioritising iPhone 13 output in part because it forecasts stronger demand for the smartphone than for the iPad as Western markets begin to emerge from the pandemic, Nikkei said, citing unidentified sources.
Apple did not immediately respond to Reuters' request for comment.
(Reporting by Bhargav Acharya in Bengaluru; Editing by Clarence Fernandez and Kenneth Maxwell)
Labor shortage: Canada in need of cooks, nurses, mall Santas – ABS-CBN News
OTTAWA – The signs of an unprecedented labor shortage in Canada are glaring: hospital emergency rooms closed because of a lack of nurses, restaurants skipping meals and fewer Santas in malls.
In Ottawa, a "Help Wanted" notice in the window of Corazon De Maiz restaurant — like those in storefronts across Canada — has gone mostly unanswered since the recent lifting of public health restrictions introduced 19 months ago to slow the spread of the coronavirus.
The end of Covid-19 lockdowns brought droves of customers to the capital city eatery, but with kitchen staffing levels down, the restaurant has been unable to meet the demand for burritos and tacos.
"We're suddenly busier, but we're having to close early because my wife and I are exhausted after working all day," owner Eric Igari told AFP.
One new hire worked three hours and quit, saying the job was too hard for not enough pay, Igari said.
"We've asked friends to pitch in, and even a few regular customers offered to help," Igari said. Two customers actually worked a few shifts.
NO 'HO HO HO'
Studies by the government and industry associations found that up to two-thirds of Canadian businesses are facing worker shortages, and claim the deficit is limiting their growth.
The industries most affected are health care, food services, manufacturing and construction.
According to the latest from Statistics Canada, there were a total of 1,014,600 job vacancies in September, including 196,100 in food services and 131,200 in health care — double the numbers from two years ago.
Trevin Stratton, a partner at Deloitte Canada, said factors contributing to the shortfall include an aging population leaving the workforce and lower recent immigration due to travel restrictions — which Canada lifted in September.
Some sectors are adapting through the use of technologies such as increased automation in manufacturing, e-commerce in retail, or allowing staff to work from home.
But in others, "many workers might not necessarily yet feel comfortable working somewhere where their physical presence is required," Stratton said.
This is particularly true in the restaurant industry, which also shed workers fed up with the cycle of lockdowns and re-openings throughout the pandemic. "They're now looking for more stability," Stratton said.
With Christmas just weeks away, the trend has also impacted the supply of Santa actors usually hired for photos with children on their knee at shopping malls or professional mixers.
Jeff Gilroy of Just Be Claus said he's turned down 200 Santa gigs in Ontario. After large gatherings were banned last Christmas, he told AFP, "people are looking to have a Santa to make it a more festive Christmas."
Catherine Lacasse of the Professional Santa Claus Agency of Quebec said her province has ample Santas, "but we're struggling to find enough elves."
NURSES' BURNOUT
"In health care, we've seen an exodus, particularly of nurses this year," Stratton said. "Some of that has to do with the stress of the job right now."
Lachine hospital in Montreal was forced to close its emergency room at night due to a "critical shortage of nurses," said spokeswoman Gilda Salomone.
Several others, she said, "are experiencing a major labor shortage that is limiting the quality and access to care."
Observers have suggested simply raising salaries to lure workers.
But Jasmin Guenette of the Canadian Federation of Independent Business (CFIB), said this "isn't an option for many small businesses still struggling to recoup pandemic losses."
"We see things slowly getting back to normal, going out to restaurants, for example, and we think that means businesses are doing well. But that's not the case. The impact of the pandemic was severe, and is still being felt," he said.
According to a CFIB survey, the average small business in Canada racked up Can$170,000 (US$135,000) in debts over the pandemic. And an estimated 180,000 businesses, or one in six, are now "at risk of closing."
Chez Mere-Grand restaurant in Montreal sought for 21 weeks to hire a cook and a barista. Its owner Romain Beiso explained that the hiring pool is smaller because many people now insist on a better work-life balance and job security found in other sectors.
"Our wages are not competitive because we cannot afford it," he also acknowledged.
Over at Hotel Place d'Armes, manager Benoit Pretet worries about being short 25 staff going into the holiday season.
"The clientele is back," he said, "but we can't open all our rooms."
amc-ast/caw/dw
© Agence France-Presse
U.S. stock futures, oil rally as sentiment steadies – Reuters
Register now for FREE unlimited access to reuters.com
Register
<a href="https://tmsnrt.rs/2zpUAr4″>Asian stock markets:</a>
U.S. stock futures bounce, bonds surrender some gains
Nikkei recoups early losses, sentiment stabilises
Omicron spreads, but markets hope effects will be mild
Oil rallies 5% after Friday's plunge
SYDNEY, Nov 29 (Reuters) – U.S. stock futures led a market rebound on Monday as investors prepared to wait a few weeks to see if the Omicron coronavirus variant would really derail economic recoveries and the tightening plans of some central banks.
Oil prices bounced more than $3 a barrel to recoup a chunk of Friday's shellacking, while safe haven bonds and the yen lost ground as markets latched onto hopes the new variant of concern would prove to be "mild".
While Omicron was already as far afield as Canada and Australia, a South African doctor who had treated cases said symptoms of virus were so far mild. read more
Register now for FREE unlimited access to reuters.com
Register
"Another key difference is there are far higher vaccination take up rates globally now compared with when Delta emerged," said Craig James, chief economist at asset manager CommSec.
"What the news on Omicron does highlight is the need for central banks and governments to take a cautious approach to removal of economic support and stimulus."
Trading was erratic on Monday but there were signs of stabilisation as S&P 500 futures added 1.0% and Nasdaq futures 1.2%. Both indices suffered their sharpest fall in months on Friday with travel and airline stocks hit hard.
EUROSTOXX 50 futures rallied 1.7%, while FTSE futures firmed 1.3%.
MSCI's broadest index of Asia-Pacific shares outside Japan (.MIAPJ0000PUS) eased 0.1%, but found support ahead of its 2021 low. Likewise, Japan's Nikkei (.N225) recouped early losses to be almost unchanged.
Bonds gave back some of their hefty gains, with Treasury futures down 16 ticks. The market had rallied sharply as investors priced in the risk of a slower start to rate hikes from the U.S. Federal Reserve, and less tightening by some other central banks.
Two-year Treasury yields edged up to 0.56%, after falling 14 basis points on Friday in the biggest drop since March last year. Fed fund futures had pushed the first rate rise out by a month or so.
The shift in expectations undermined the U.S. dollar, to the benefit of the safe haven Japanese yen and Swiss franc.
On Monday the dollar had steadied somewhat at 113.71 yen , after sliding 1.7% on Friday. The dollar index held at 96.190, after Friday's 0.7% drop.
The euro was struggling again at $1.1276 , following its rally from $1.1203 late last week.
European Central Bank President Christine Lagarde put a brave face on the latest virus scare, saying the euro zone was better equipped to face the economic impact of a new wave of COVID-19 infections or the Omicron variant. read more
The economic diary is also busy this week with China's manufacturing PMIs on Tuesday to offer another update on the health of the Asian giant. The U.S. ISM survey of factories is out on Wednesday, ahead of payrolls on Friday.
Fed Chair Jerome Powell and Treasury Secretary Janet Yellen speak before Congress on Tuesday and Wednesday.
In commodity markets, oil prices bounced after suffering their largest one-day drop since April 2020 on Friday.
"The move all but guarantees the OPEC+ alliance will suspend its scheduled increase for January at its meeting on 2 December," wrote analyst at ANZ in a note.
"Such headwinds are the reason it's been only gradually raising output in recent months, despite demand rebounding strongly."
Brent rebounded 4.8% to $76.20 a barrel, while U.S. crude rose 5.2% to $71.71.
Gold has so far found little in the way of safe haven demand, leaving it stuck at $1,791 an ounce .
Register now for FREE unlimited access to reuters.com
Register
Reporting by Wayne Cole; Editing by Richard Pullin, Shri Navaratnam and Lincoln Feast.
Our Standards: The Thomson Reuters Trust Principles.
U.S. stock futures rise following Friday's omicron-sparked selloff – MarketWatch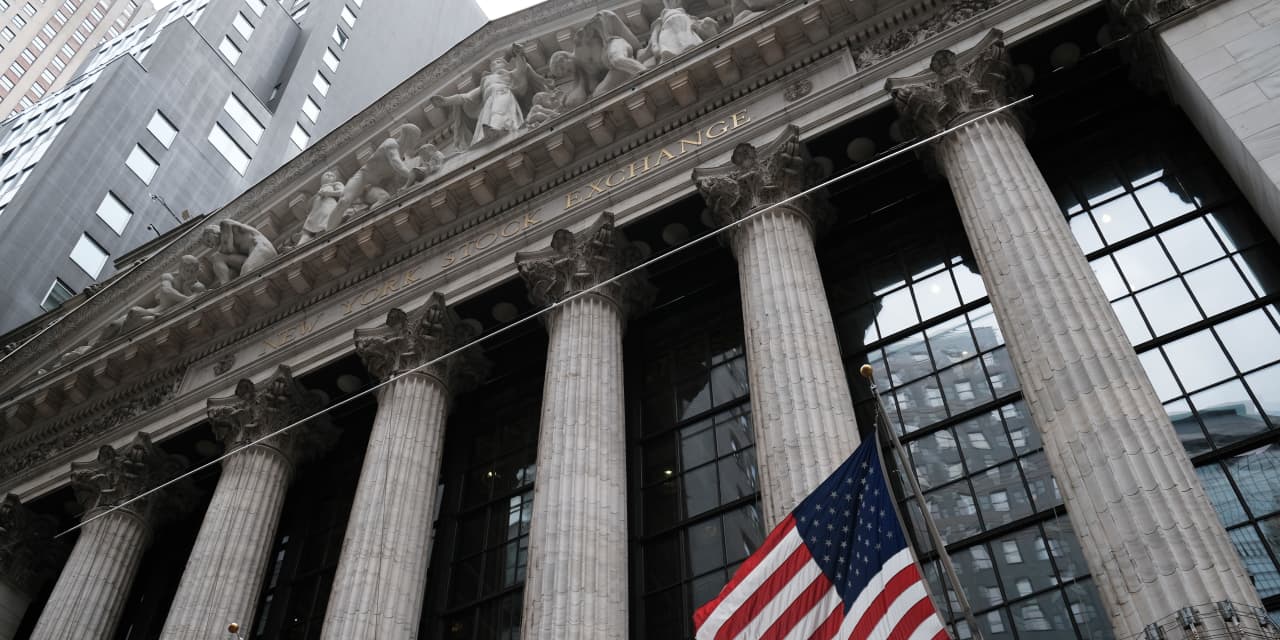 U.S. stock futures rose late Sunday, following a steep selloff Friday sparked by fears of the global economic impact of a worrisome new strain of COVID-19.
Dow Jones Industrial Average futures
YM00,
+0.70%
gained about 230 points, or 0.7%, as of 9 p.m. Eastern. S&P 500 futures
ES00,
+0.92%
and Nasdaq-100 futures
NQ00,
+1.14%
also showed solid gains.
Crude oil futures also rebounded Sunday from a Friday plunge, with benchmark U.S. crude
CLF22,
+5.24%
and Brent crude
BRNF22,
+4.70%,
the international benchmark, jumping roughly 4% higher.
On Friday, Wall Street suffered its worst day in more than a year amid growing concerns over the new omicron variant of COVID-19. The World Health Organization's technical advisory group on Friday declared it a "variant of concern," and a number of countries imposed flight bans from countries in southern Africa, where the variant was first discovered.
Little is known about omicron, but investors Friday braced for bad news.
Read: U.S. health officials urge caution, but not panic, over omicron variant
In a holiday-shortened session, the Dow Jones Industrial Average
DJIA,
-2.53%
slumped 905.04 points, or 2.5%, to 34,899.34, with the index logging its worst daily drop since Oct. 28, 2020, according to FactSet data. The S&P 500
SPX,
-2.27%
fell 106.84 points, or 2.3%, to 4,594.62, and the Nasdaq Composite Index
COMP,
-2.23%
sank 353.57 points, or 2.2%, to 15,491.66.
"The pandemic and COVID variants remain one of the biggest risks to markets, and are likely to continue to inject volatility over the next year(s)," Keith Lerner, co-chief investment officer and chief market strategist at Truist Advisory Services, wrote in a Friday note. "It's hard to say at this point how lasting or impactful this latest variant will be for markets."