Art Fx #37: "Put Your Feet Up" by Chantelle Poisson – Huntsville Doppler
Art Fx is a year-long series on Huntsville Doppler featuring Huntsville-area visual artists.
"Put Your Feet Up" by Chantelle Poisson is a 48″ x 24″ oil painting.
"I was inspired to paint this piece after seeing my daughter so content wrapped up in the blanket," says Chantelle. "It brought me such a sense of contentment, warmth and simple happiness. I knew I wanted to convey that feeling of contentment on a canvas."
About the artist
"As a graduate of Sheridan College Art program, I bring the skills I learned as well as my love for the outdoors to my art. I enjoy being in nature whether it be kayaking, hiking, gardening or spending time with my chickens and ducks. Nature and my family are my inspiration for most of my work," says Chantelle.
Her studio is in Baysville and her preferred medium is oil. "The vibrancy and depth oil paints bring to pieces truly makes the paintings come alive," she notes.
Find Chantelle on Instagram @chantellepoissonart or see more of her work @therealmuskokaunlimited.
See more local art in Doppler's Art Fx series here.
Don't miss out on Doppler!
Sign up here to receive our email digest with links to our most recent stories.
Local news in your inbox three times per week!
Click here to support local news
3rd Majhi International Art Residency – Announcements – E-Flux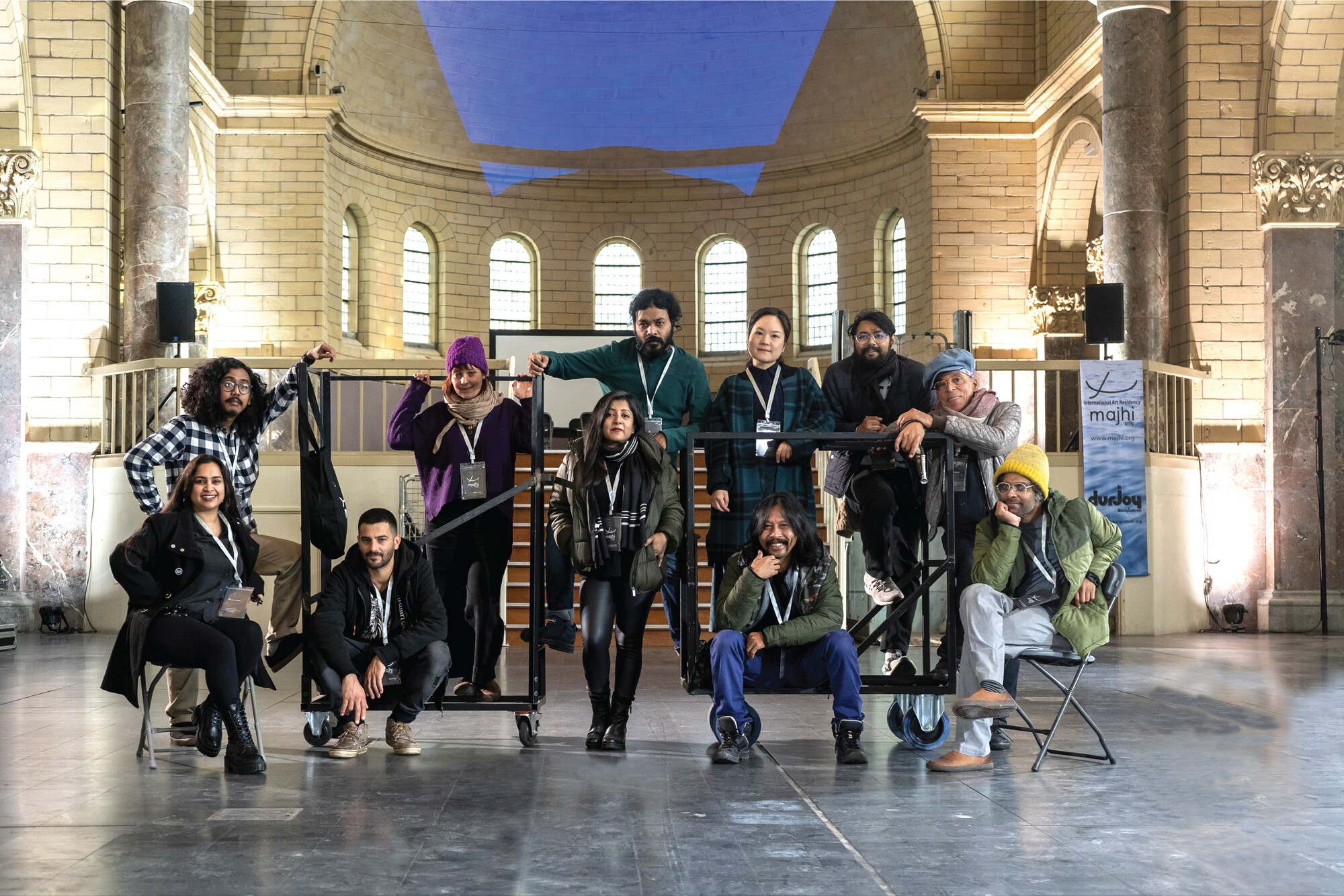 Third Majhi International Art Residency
Third Majhi International Art Residency exhibition: October 21–24
Steentjeskerk Church

Sint Antoniusstraat 5

5616 RT Eindhoven
Netherlands
Durjoy Bangladesh Foundation (DBF) is delighted to announce the launch of the third edition of Majhi International Art Residency in Eindhoven, the Netherlands. Ten international artists and art collectives from Bangladesh, Indonesia, the UK, the Netherlands, and Italy will meet and work at the historic Steentjeskerk Church in Eindhoven from October 10, culminating in an exhibition opening on October 21, 2021.
Curated by Bangladeshi independent curator and researcher Kehkasha Sabah, the residency and accompanying exhibition is titled Land, Water & Border, and will address individual and collective experiences of the role played by land, border, politics, culture, heritage, nature and technology.
Participating artists for the 2021 Majhi Eindhoven edition are Giulia Deval (Italy), Joydeb Roaja (Bangladesh), Non-Native Native (Netherlands), Moch Hasrul (Indonesia), Pier Alfeo (Italy), Satch Hoyt (Jamaica/UK), Shorab Jahan (Bangladesh), Sounak Das (Netherlands/Bangladesh), Yu Zhang (Netherlands/China), Zihan Karim (Bangladesh), Jog Arts Space (Bangladesh). Event Director: Eeshita Azad.
About Majhi International Art Residency
Majhi International Art Residency is a yearly itinerant residency programme, initiated and produced by the Durjoy Bangladesh Foundation (DBF). The programme stages cross-cultural encounters between artists, scholars, and thinkers, with the aim of supporting and promoting art and research from South Asia and the Global South in a critical, international context and bridging artistic practices between east and west. The first (2019) edition was held in Venice, Italy, while the second (2020) edition was held in Berlin, Germany, one of the few international residency programmes to take place offline, with artists overcoming travel challenges to contribute to an in-person programme. The third 2021 edition in Eindhoven, will again be held in the context of restrictive international travel, which for artists coming from South Asia and South-East Asia has been particularly challenging. As such, Majhi emphasizes the need for connection and collaboration, which the DBF is committed to cultivating despite the pandemic's challenges.
About Durjoy Bangladesh Foundation (DBF)
Durjoy Bangladesh Foundation (DBF) is a private foundation set up by art patron and philanthropist Durjoy Rahman in 2018 to support and promote artistic development and art practices from across South Asia and beyond. It supports artists in creating new artworks and engages art practitioners in relevant exhibitions, publications, and residencies, often in collaboration with key international cultural institutions.
The Fine Art Of Course Correction – Forbes
In Lewis Carroll's Alice's Adventures in Wonderland, Alice asks the Cheshire cat, "Would you tell me, please, which way I ought to go from here?"
The cat answers, "That depends a good deal on where you want to get to."
A sense of direction is as critical for companies today as it was for young Alice traveling through a strange fictional world. During periods of rapid change, a bold direction helps an organization adapt. Direction is one of nine elements that comprise any organization's structural ability to change, research my colleague Kevin Murphy and I published in this summer's Harvard Business Review cover article "How Good Is Your Company at Change?"
It's hard for people to feel confident about change when they're unsure which direction to head. But how can leaders provide direction in today's environment of chronic uncertainty, with its ever-increasing pace of change?
The conventional process for providing such strategic direction—the relatively rigid annual and three-year planning cycle—is on its way to the history books. The business world faces rapidly changing customer behavior, fast-moving technology trends, and increasingly aggressive competitive jostling, and this old model simply can't keep up. If there was any doubt about that, the pandemic has brought into clear focus just how mismatched fixed-cycle planning is to today's dynamic environment. "Fixed-cycle is out, and dynamic, adaptive, and connective strategy is (finally) in," as my colleagues Herman Spruit and James Dixon write in their article "How to Breathe New Life into Strategy."
There are important implications for developing and communicating clear strategic direction. I see many leaders today reimagining how their executive committee spends its time. They are drawing a clear distinction between their business delivery agenda, with its focus on executing business operations on time and on budget, and their development agenda, which is about strategic choices and building new business.
In their book Doing Agile Right, my colleagues Darrell Rigby, Sarah Elk, and Steve Berez describe how Agile leadership teams evolve from spending 60% of their day on operations, 10% on strategy, and 30% on people to just 25% on operations, 40% on strategy, and 35% on people. By making more room to discuss often complex and ambiguous issues related to strategy and people, these executives strengthen their organization's direction and make it possible to flexibly adjust as new information arrives.
The leadership team of one multibillion-dollar enterprise has split its gatherings into delivery and development-oriented meetings. In delivery meetings, team members solve problems, and managers cultivate constructive dialogues they hope will accelerate results. Some are short business reviews, but many dive deeper to explore issues and correct course as needed, transforming into coaching and experience-sharing sessions that develop both talent and key capabilities.
The development sessions, by contrast, are often held in an offsite location and always include a guest speaker from outside the team. This person provides inspiration and stimulates new thinking and problem solving with unexpected and creative approaches. These gatherings are light on PowerPoint slide presentations and heavy on discussion. Executives check day-to-day operating concerns at the door and instead spend their time reflecting on what they might be missing, what competitors are doing, what customers are telling them, and where their industry is headed. These are not just lofty conceptual discussions. This group probes key issues that might be suited to experimentation, such as a new prototype, for example. Exploring and working creatively to find answers together, executives strengthen their shared fabric of trust, alignment, and collaboration.
We all have a fundamental human desire for clarity of purpose and direction. That's why seeing an entire map and being able to plot out a journey each step of the way brings comfort, confidence, and security. The business counterpart to that carefully plotted itinerary on the map is the fixed-cycle three-year strategy. But our environment today is so dynamic that this just isn't realistic anymore. The likelihood that you'll need to adjust that plan along the way is near certain.
The metaphor that works for me is that of the Golden Gate Bridge in San Francisco. Years ago, when we lived in the Bay Area of California, I was awestruck looking at the fog that would frequently creep in from the Pacific Ocean to crawl over the bridge like a soft, white blanket. You couldn't quite see from one side to the other. Crossing, you knew your destination but might only be able to see a few steps ahead.
Like drivers crossing the Golden Gate on a foggy morning, today's executives probably cannot see the exact route of the journey ahead. Accepting that and setting up systems that allow for frequent reflection and redirection are what make navigation—and success—possible.
Moose Jaw Museum & Art Gallery is currently hosting exhibits by Belinda Harrow & David Milne – moosejawtoday.com
Two different styles from two different eras of Saskatchewan landscape art are currently on display at the Moose Jaw Museum & Art Gallery. Belinda Harrow's work occupies the front of the gallery with sculptures, drawings, and paintings representing animal and human interactions and overlaps in and around Regina. It is titled Unsettled.
"I think people will really enjoy them," Jennifer McRorie, Director/Curator at MJMAG says, "they have a lot of whimsy and humor, but they also have deeply layered meanings, political themes, themes surrounding land and animals, and indigenous themes around indigenous use of the land and colonialism."
Harrow is a highly-educated Saskatchewan artist who has taught at the Design and Art College of New Zealand and been a guest lecturer in Beijing, China and Ahmedabad, India. Working across a wide variety of art mediums, she has had exhibits across Canada, and in New Zealand, the UK, China, and Thailand. Some of her work is part of the permanent collection of the Yukon Government. She lives and works in Regina.
At the back of the gallery is an extensive display of David Milne's art on loan from the Art Gallery of Windsor. Its curator Chris Finn will be participating in an Artist's Talk hosted by MJMAG this Wednesday at 7:00pm. The link to the virtual talk can be found on the Gallery's current exhibitions page.
Milne's art was, "Pretty ahead of its time, approaching landscape in abstract ways," McRorie comments. "He was involved during his time with making work with the Group of Seven, whom most people have heard of. But he also studied in New York and was heavily influenced by the abstract experimentation taking place there just prior to WWI."
Milne continues to have a heavy influence on Saskatchewan landscape painting. The exhibit, titled 'Blazes Along the Trail': Exploring David Milne's Imaginative Vision, also explores his history, legacy, and current influence.
The current lobby exhibit is from MJMAG's permanent collection, and is called Shibui: Rob Froese, Shoji Hamada, Jack Sures, Randy Woolsey. It showcases ceramics by Canadian and Japanese artists. Those wishing to see Shibui should go soon, as it will leave the lobby on Sep. 26th.
The Heritage Gallery has a deeply moving new exhibit called Lost Children of the Residential School System, incorporating community-contributed objects from the display at St. Andrew's United Church, which was in response to the recent revelations surrounding residential school system abuses.
Finally, MJMAG is looking forward to once again hosting the Moose Jaw Art Guild's annual exhibition. Titled Looking Out My Window, it will run from Nov. 12 to January 9.
Moose Jaw Museum & Art Gallery's hours are Tuesday to Sunday from 1:00 to 5:00pm. They also have special hours on Wednesdays from 10:00am to noon specifically for seniors and immunocompromised individuals.