ArtCity: Art in times of crisis – Woodstock Sentinel Review
Article content
Miao Yutong
ArtCity
Article content
It is no doubt that the global pandemic has brought unprecedented challenges to the art world. After more than a year of lockdowns and social-distancing measures, artists and art organizations have been forced to find alternative ways to engage with creative activities amid isolation and uncertainties. Yet, when we look back in history, humans have been fighting infectious diseases for centuries, which have profoundly shaped the history of art. A great number of influential artworks and artistic movements were born in times of crisis, their lifespan exceeding their creators, and their meaning growing with generations of viewers. How did past pandemics make an impact on art? Are we witnessing a historic moment as the coronavirus is doing the same?
In the 14th century, the bubonic plague took the lives of nearly a third of Europe's entire population. However, it was also during this period of darkness when European art rose to glory. Many Renaissance masters, including Michelangelo, Rembrandt and Titan, lived their entire lives in the shadow of death while creating masterpieces that celebrated beauty and humanism. Other artists, such as Tintoretto, painted their best works for the church dedicated to plague-protective saints. Many iconic imageries of Renaissance art, such as the Dance with Death, the Divine Retribution and various patron saints, came into being as a reflection of the lived experience of the plague. Despite struggles faced by artists, patrons and ordinary individuals, art survived and flourished as a means for people to communicate their fear, pain and hope with each other and future generations.
Article content
Likewise, in 1918, the Spanish flu brought trauma and fear around the world, infecting nearly 500-million people and taking the lives of an estimated 100-million people. Driven by shock, fear and pain, many artists turned away from realism in favour of a bold, expressionist style that could convey their intense emotions and complex psychological states following the devastating experience of the disease. Among them were Norwegian painter Edvard Munch, who painted portraits of himself after contracting the flu, as well as Austrian painter Egon Schiele, who created sketches of his teacher Gustav Klimt on his death bed. Living in the shadow of death brought by the flu, as well as the horror of First World War, many artists found themselves confronted with a chaotic world and sought artistic resolution in avant-garde movements that embraced mixed media and abstraction, paving the way for a new era in the history of modern art.
Stepping back in time just a few decades ago to the early 1980s, the AIDS public health crisis not only brought fear, anger and confusion among the general public, but also a condemnation of the LGBT community. Due to lack of recognition and support from the government and the medical industry, early AIDS patients suffered from bigotry and discrimination. As a response, many artists took part in the AIDS activist movement through a wide range of artistic initiatives, which sought to stress the medical impact of the disease, express feelings of longing and loss, and advocate for social and political response to the disease. Such a public and collective movement paved the way for a new generation of contemporary artists who sought to make a sociopolitical statement and foster awareness, action and change through artistic representations.
Article content
As COVID-19 put humanity in a time of crisis again, it is no doubt that art will continue to play a vital role in our lives during this challenging time. Though artists around the globe have been confined at home, they continue to engage in artistic practice, sometimes uncovering new creative force driven by experiences in an unusual time. Though art museums and galleries had to close their doors at times, a huge number of virtual exhibitions and artistic activities came into being, bringing us joy and keeping us inspired and connected.
The Woodstock Art Gallery has also been making every effort to foster art within the community with a number of new exhibitions featuring artworks created by local artists in the past year. Among them are Visual Elements 63, a juried exhibition with a selection of artworks submitted by 33 local artists, as well as The Woodstock Camera Club Presents, which showcases winning photography entries from the Woodstock Camera Club's annual contests. Sharing their personal perspectives of a universal experience of the pandemic through a wide range of styles and mediums, the artists allow us to explore how art and the pandemic had an impact on one another at this critical moment of history.
Miao Yutong is the curatorial/collections assistant at the Woodstock Art Gallery. The Woodstock Art Gallery acknowledges the support for this position which is funded by two federal student employment programs: Young Canada Works and Canada Summer Jobs.
Indigenous knowledge keepers help Winnipeg Art Gallery in renaming of art collections – CTV News Winnipeg


WINNIPEG –
Indigenous knowledge keepers are helping Winnipeg Art Gallery-Qaumajuq rename pieces of art that were given inappropriate titles.
Julia Lafreniere, head of Indigenous initiatives at WAG-Qaumajuq, has been working with researchers and Indigenous knowledge keepers to identify 57 works at the gallery that are in need of a name change.
It is part of the art gallery's work to decolonize its collection.
"As with many historical art collections at galleries, there are often pieces that have inappropriate titles in today's context. For example, some pieces will still carry words like 'Indian,' or 'Eskimo,' or 'Savage,'" Lafreniere told CTV News.
Julia Lafreniere, head of Indigenous initiatives at WAG-Qaumajuq, has been working with researchers and Indigenous knowledge keepers to identify 57 works at the gallery that are in need of a name change. (Source: Danton Unger/ CTV News Winnipeg)
The gallery identified each nation depicted in these 57 pieces, and asked knowledge keepers from those nations to rename the art. She said Anishinaabe, Cree, Dakota, Inuit and Dene knowledge keepers joined the initiative.
"They all did it in their own way," Lafreniere said, adding some knowledge keepers held renaming ceremonies, giving the pieces new names in their Indigenous languages.
One collection, formerly titled 'Drawings of Eskimo Clothing', is being given a new name in Inuktitut, 'Ajjinuanga Angnaop Annuranganik.'
One collection, formerly titled 'Drawings of Eskimo Clothing' (pictured), is being given a new name in Inuktitut, 'Ajjnuanga Angnaop Annurangnik' as a part of WAG-Qaumajuq's renaming initiative. (Source: Danton Unger/ CTV News Winnipeg)
While the pieces are getting new names, Lafreniere said the knowledge keepers have asked that the old names still be included to be used as an educational tool.
She said the renaming is an important step.
"The titles, oftentimes, are the first way that the artwork is introduced to the public and people engaging with that artwork," she said.
"Giving them these new titles given by ceremonial leaders from the Indigenous community, it really ingrains Indigenous knowledge into the canon of art history."
She said WAG-Qaumajuq is the first art gallery to do this kind of renaming initiative, but she hopes other galleries do the same.
More information about the Artworks Renaming Initiative can be found online.
Jidar, Rabat's street art festival draws international attention | | AW – The Arab Weekly
Art Beat: Prize-winning author pays Coast a virtual visit – Coast Reporter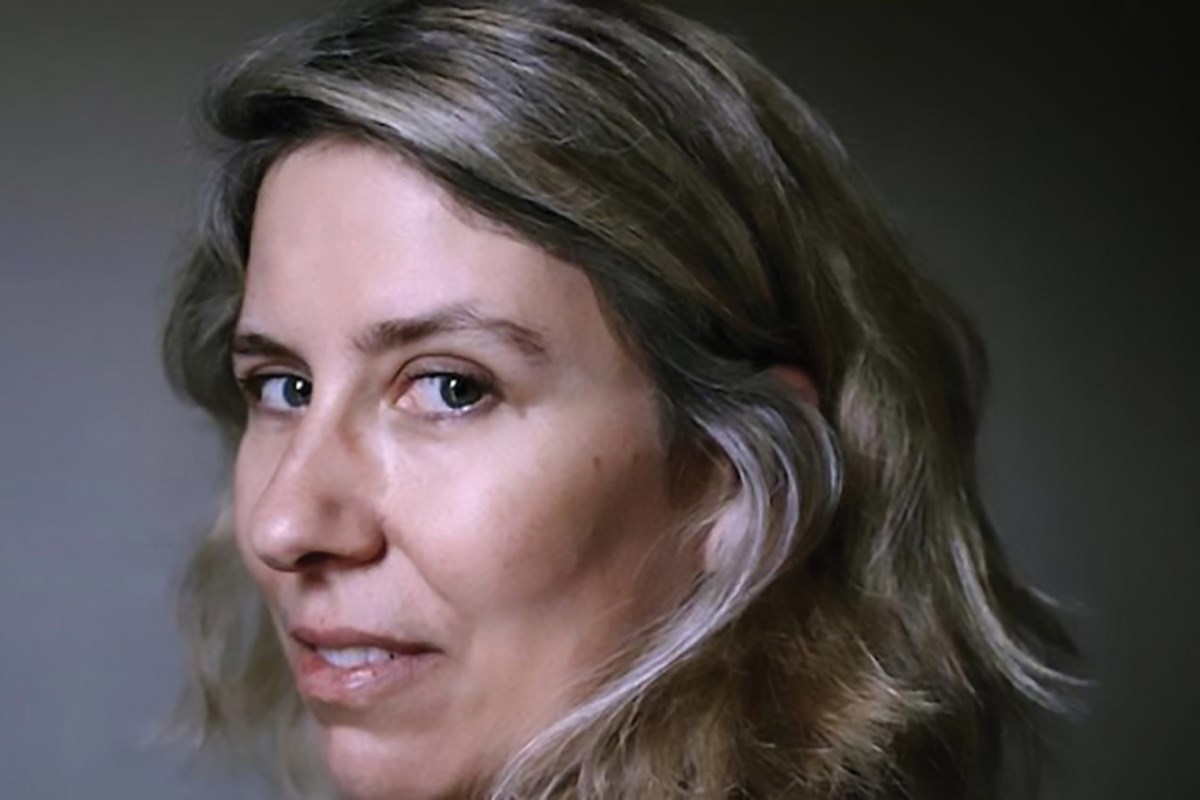 The Sunshine Coast Arts Council's Reading Series presents author Gil Adamson on Saturday, Sept. 18 at 7 p.m. Adamson will read from her recent novel, Ridgerunner, a finalist for the 2020 Scotiabank Giller Prize, and winner of the Writers' Trust Fiction Prize. Set in the Canadian and U.S. West in 1917, the book is a sequel to Adamson's well-received first novel, Outlander. Publisher House of Anansi described Ridgerunner as "a vivid historical novel that draws from the epic tradition… a literary Western brimming with a cast of unforgettable characters touched with humour and loss, and steeped in the wild of the natural world." The reading is a Zoom event and it's free. Register in advance through eventbrite.ca.
A Beautiful Mess
FibreWorks Studio & Gallery in Madeira Park is holding an opening reception on Saturday, Sept. 18 for its new exhibition, A Beautiful Mess: the joyful & random discovery of the artistic process. Creating something real out of the imagination can be a dishevelled and uncertain undertaking, usually carried out in private. Here, FibreWorks is turning that inside-out. "This show aims to create a sense of intimacy between the artist and the public." The reception runs from 2 to 4 p.m. The show will run until Oct.31.
Live Music
The Roberts Creek Legion has helped keep live music going on the Sunshine Coast through the warmer days over the past 18 months, thanks to its outdoor stage. Those setups have kept patrons in the fresh air and safely separated. Now the club is moving its visiting bands back to its indoor stage – and visitors onto its new dance floor – with a "Grande Re-Opening" on Friday, Sept. 17, featuring the Ween tribute band, Captain Fantasy. Doors at 7 p.m. The legion follows on Saturday, Sept. 18, from 7 to 11 p.m. with a string of acts, including The Locals, Eddy Edrick, Michelle Morand, and an open-stage jam. Proof of vaccination will be required for admission to all shows.
The Locals also play the outdoor venue at Tapworks in Gibsons on Saturday, from 2:30 to 4:30 p.m. That might depend on the weather, as (at press time) heavy rain was forecast for Saturday.
The Clubhouse Restaurant in Pender Harbour presents Karl Kirkaldy on Friday, Sept. 17, from 5 to 8 p.m. On Sunday, Sept. 19, Half Cut and The Slackers rock the Clubhouse from 2 to 5 p.m.
Joe Stanton is scheduled to entertain on Saturday, Sept. 18 on the patio at the Backeddy Resort and Marina in Egmont. Again, that's weather-dependent.
Let us know about your event by email at arts@coastreporter.net.