Artist Jose Miguel Hernandez merges his immigration story and art into sound during his Trent Radio artist residency – kawarthaNOW.com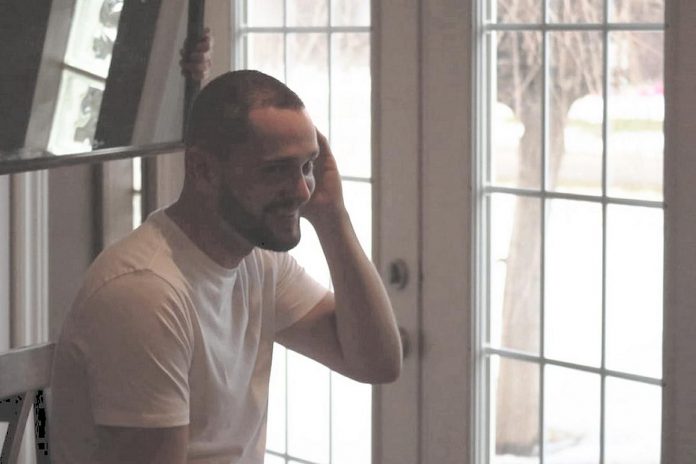 For Jose Miguel Hernandez, becoming an artist wasn't a choice but a calling. While growing up in Venezuela, Hernandez practised art as a hobby and took art classes. But it wasn't until one day during his last year of university that Hernandez felt a calling to collect his old art supplies and paint something.
As he worked on his painting that day, he experienced for the first time a passion that would eventually lead him to where he is today: a full-time artist living in Nogojiwanong-Peterborough who will translate the story of his journey as an immigrant and an artist into sound during his artistic residency with Trent Radio's "Your Radio is Their Stage" project.
Hernandez moved from Venezuela to Canada in 2014 to escape a difficult political and economic climate. According to Hernandez, he could not be gay freely in Venezuela and was looking to escape when family members in Canada offered him a place to stay until he got settled.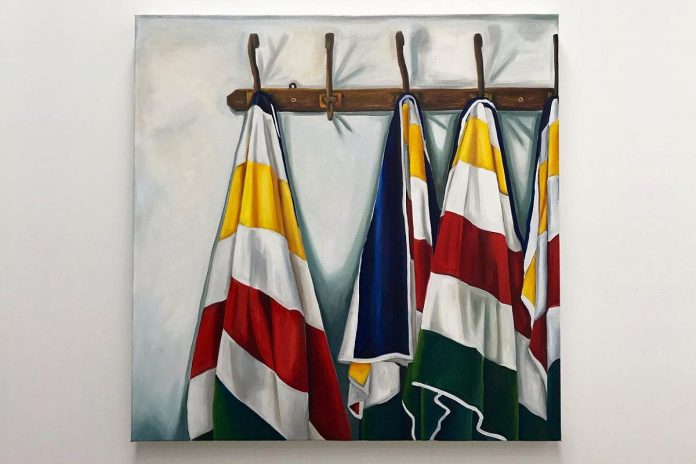 "I worked in industrial design for three years after I graduated and then I came to Canada, and it was life changing," explains Hernandez. "The freedom here to be whoever you want to be — that's the biggest blessing."
After he first arrived in Canada, Hernandez was unable to work while awaiting his work visa. During this period of significant transition, he turned to art to fill his time and to express his emotions.
"I was able to find myself," Hernandez recalls. "My immigration process was super hard, so I dealt with my emotions through art, and that's how I became who I am today as an artist."
After receiving his work visa, Hernandez continued to practice his art while working at other jobs. But when the pandemic hit in March 2020, he lost all of his sources of income.
"I spent seven months without a job and not knowing what to do," Hernandez says. "It felt like, 'What am I doing with my life?'"
These circumstances finally pushed Hernandez to become a full-time working artist in September 2020. He is now a member of the board of directors for the Art School of Peterborough, where he also teaches.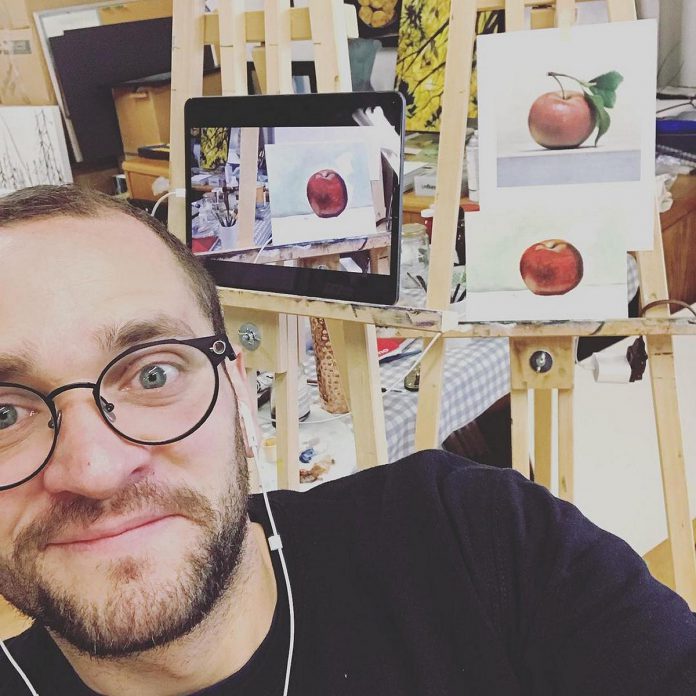 As a visual artist, Hernandez is not married to one genre, creating oil paintings, charcoal and pencil drawings, and mural design and paintings.
Hernandez's oil paintings are all informed by emotions and the events that changed his life and brought him to where he is today. He describes his style as "isolated realism", focusing on simple images and feelings while leaving out extraneous details around the subject matter.
"You cannot label me as a landscape painter or a still-life painter," Hernandez explains. "I paint things that strike an emotion and bring me to a moment, or something that left a fingerprint on me. So I have to deal with it and express what I went through. My paintings are really emotional and super personal."
Hernandez also designs and paints murals and public installations for organizations in Peterborough and the surrounding area.
"Whether I do a painting, drawing, or a mural, my art is an extension of who I am, my sensitivity, and the way I see the world," says Hernandez.
During his five-week residency with Trent Radio's "Your Radio Is Their Stage" project, Hernandez is receiving mentorship, equipment, and training to support him in translating his virtual artistry into the medium of sound.
This is his first time experimenting with audio, and Hernandez says he expects to continue using it after the residency is completed.
According to Hernandez, his idea for Trent Radio's "Your Radio is Their Stage" project has evolved throughout the residency. Initially, he wanted to translate his paintings into sounds, expressing all of the emotions and messages in his work in an auditory way.
However, that original idea has now morphed into something else: he plans to use sound to tell the story of how he came to Canada and the struggles he has overcome.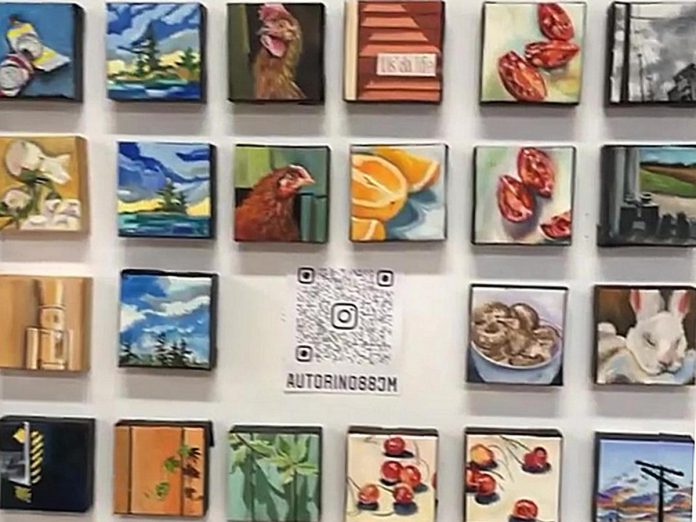 "It's merging into something a little bit more personal than just my work," Hernandez says. "It's going to be kind of interesting, somehow reflecting where I grew up and how I grew up, and what it meant to move to Canada, and why my paintings are how they are."
To learn more about Hernandez's artist practices, visit his website at www.autorinoart.com, or follow him on Instagram @autorino88jm.
Hernandez's completed work will be broadcast at the end of his residency, from 6 to 7:30 p.m. on Sunday, November 14th on Trent Radio at 92.7 CFFF FM in Peterborough, 287 on Cogeco Cable, and online at www.trentradio.ca.
Trent Radio's "Your Radio Is Their Stage" artist residency project runs until March 2022, with Hernandez's residency concluding on November 14.
Textile artist Melanie McCall was the first to complete her residency on October 17, with the remaining four artist residencies JoEllen Brydon (folkloric art and installation), Justin Million (poetry), Gillian Turnham (Islamic art), and John Marris (community arts). The re-imagined work of all six participating artists will also be broadcast next April.
"Your Radio Is Their Stage" is made possible by the Community Radio Fund of Canada, the only organization mandated to support campus and community radio stations in Canada financially.
This story was created in partnership with Trent Radio, a producer-oriented broadcast facility that started as a Trent University student club in 1968. Sponsored and designed by students from Trent University, Trent Radio incorporated as a registered charity in 1978. Trent Radio currently holds a Community Broadcast License, and is a resource that is shared with the Nogojiwanong-Peterborough community.
Lawrence Weiner obituary – The Guardian
Peter Lynch Gives More Than $20 Million In Rare Art To Boston College – Forbes
Legendary Fidelity investor Peter Lynch has given more than $20 million in art from his and his late wife Carolyn's private collection to Boston College. The gift includes 27 paintings and three drawings, which will go to Boston College's McMullen Museum of Art.
The donated art includes pieces by Pablo Picasso, Winslow Homer, John Singer Sargent, Mary Cassatt, Childe Hassam, Albert Bierstadt, Martin Johnson Heade, and Jack Butler Yeats.
In addition to the works of art, Lynch also gave a $5 million grant to support the ongoing curation and exhibition of what will be called the Carolyn A. and Peter S. Lynch Collection, making the total gift "one of the largest in University history," according to a press release from the school.
Lynch, former manager of Fidelity's Magellan fund and current vice chairman of Fidelity, graduated in 1965 from Boston College. He said in the release that he donated the art to inspire students and museum visitors.
"My hope is that this artwork, all of which my wife Carolyn and I collected during our 50 years together, will help students to develop a deeper understanding of art and its importance as a form of expression," he said.
The collection features a diversity of painting styles. Among the notable pieces are Pablo Picasso's drawing Head; Winslow Homer's painting Grace Hoops; Mary Cassatt's watercolor Mother and Child; John Singer Sargent's painting Olive Trees, Corfu; and Jack Butler Yeats's 1929 painting Farewell to Mayo, which the actor Sir Laurence Olivier gave Vivien Leigh as a wedding present.
Theodore E. Stebbins Jr., the consultative curator of American art at Harvard University's Fogg Museum and the former curator of American paintings at the Museum of Fine Arts in Boston, called the collection "an extraordinary compilation of artwork."
Nancy Netzer, the Robert L. and Judith T. Winston Director of the McMullen Museum, called the donation "a transformational gift for the McMullen Museum." She said the museum would work with Boston College faculty and students and other art scholars to conduct new research on the artwork and share it widely with other audiences.
Lynch said that when he and Carolyn married, they did not have the money to buy fine art so the collection came later. "We cherished having this art in our homes, but it is now time to give it away so that it can be studied and enjoyed by others."
"I know that the collection was sought after by other museums, but I wanted it to go to my alma mater, which dramatically improved my life, and where my father taught mathematics and physics, my wife proudly received an honorary degree in 2009, and my daughter Annie spent four wonderful and productive years," he said.
The Lynches have a long history of supporting Boston College. In 1999, they gave more than $10 million to name the Carolyn A. and Peter S. Lynch School of Education and Human Development. In 2010, their gift of $20 million established The Lynch Leadership Academy, which trains and provides support for principals and aspiring principals in the Commonwealth of Massachusetts.
"I am an extremely lucky person who has been so blessed in life," said Lynch. "Giving this collection to Boston College is a small way for me to give back."
Art honours gold mining past | The Star – Toronto Star
GOLDENVILLE – There may be less controversial traditions to commemorate, but for one St. Mary's community, gold mining is not only a matter of local history; it's in the town's name. And now it's recorded on canvas.
The Heritage Goldenville Society is marking the area's past with a new water colour depiction of the area's first mineral operation, circa 1860, by Sherbrooke artist Beverly Cameron, called Gold Mining Works at Goldenville.
According to the organization's chair, Neil Black, proceeds from the sale of a limited number of prints will help support the society's work to collect and preserve the community's economic and social legacy. "Our whole source of revenue comes from bringing in donations at the door," he said. "We have a nice little museum here with all sorts of interesting artifacts."
Sherbrooke resident Cameron – who has exhibited her art in Fredericton, Saint John and Halifax – said she was happy to undertake the project after speaking with Black and other society members last year. "They offered to pay me, and I said I would be happy to make a donation," she noted. "Gold on the Eastern Shore is part of our history."
Between 1862 to 1941, production in the area reportedly topped 200,000 ounces, making Goldenville the unofficial gold capital of the province.
"Thousands of people actually lived and worked around here in those days," Black said. "Folks spent their money in Sherbrooke, and you had teachers and church people arriving here [because of gold mining]."
Cameron said she had to undertake a bit of sleuthing to draw the picture accurately. "I just went and got a whole lot of different old pictures from the archives they [the Society] provided and put it together," she explained. "I used line drawing and watercolor. So, what you're seeing is me doing my very best to represent what it used to look like."
Atlantic Gold, a subsidiary of Australian mining company St Barbara Ltd., hopes to build an open pit mine along the environmentally sensitive St. Mary's River. The project has yet to undergo an environmental assessment, but opinions on both sides of the issue are running hot in the area. Despite this, however, Black says he hasn't received any pushback from the community about the art fundraiser.
"There's been absolutely none of that," he stressed. "This was part of our history and it was economically good for the community at the time. And, of course, it was really before anybody had an understanding of environmental waste and damages."
The society hopes to introduce a "non-invasive" gold panning program for residents and tourists this summer. "We won't be using any chemicals. We'll teach people how to pan for gold, and then offer a sourdough's meal," Black said. "People can go off and find history with their own hands."