Arts, culture, fun in London this weekend and beyond (Dec. 26-Jan. 1) – The London Free Press
What's happening in and around London this weekend and into next week.
What's happening in and around London this weekend and into next week:
CLUBS
Call the Office: Xxxmas: A Christmas Tragedy with Euphoria, Mesa, Road to Elysium, Saturday, 8 p.m.; The Discarded and Back Breaker, Ditchbanger, Dave Rocket and The Jobbers, Ty Flies, Sunday, 8 p.m., $10, 19+; NYE No Scrubs Dance Party with DJ Wolf Pup, Tuesday, 10 p.m., $10, 19+; 216 York St.
Eastside Bar and Grill: Juice, Friday, 10 p.m.; Big Bang, Saturday, 10 p.m.; NYE with Zed, Tuesday (sold out); 750 Hamilton Rd.; 519-457-7467.
Jimbo's Pub And Eatery: Karaoke Party hosted by Maggie, Fridays, 10 p.m.; 920 Commissioners Rd. E.; 519-204-7991 or visit www.jimbospub.ca.
London Music Club: Pete Denomme and The Cosmic Cowboys, Emm Gryner, Keelan Purchase, Brent Jones, Dave Cowell, Saturday, 6:30 p.m.; NYE with The LMC All-Stars, Tuesday, 7:30 p.m.; 470 Colborne St.; 519-640-6996.
London Music Hall: The London Boys Reunited with Thymios Partalas and Friends, Friday, 9 p.m., $40, 19+; The Penthouse, Tuesday, 9 p.m., $25, 19+; 185 Queens Ave.; 519-432-1107.
Norma Jean's: No Heros, The Skraggs and Spinster Jones, Saturday, 9 p.m.; 1332 Huron St.; 519-455-7711 or visit www.normajeans.ca.
Rum Runners: The Weathered, The Black Box Review, Gracie Mae, Saturday, 10 p.m., $5, 19+; NYE 2020 The Party Continues with Saad Ayub, Alex Hawken, Basso, Joel Demoor, Richard K, Sanad, Tuesday, 9 p.m., $13, 19+; 178 Dundas St.; 519-432-1107.
St. Regis Tavern: A Very Bluegrass Christmas VII with Kevin's Bacon Train, Saturday, 9 p.m.; 625 Dundas St.; 519-432-0162.
Wortley Roadhouse: Rumblefish, Friday and Saturday; Rev. Doug and The Old South Boys, Sunday, 4-8 p.m.; NYE with Geoff Masse Band, Tuesday; 190 Wortley Rd.; 519-438-5141.
---
DANCING
Come Dancing: Ballroom, Latin and swing dance with Robert and Patricia, Friday, 8 p.m. at Polish Hall, 554 Hill St.; admission: $10, includes coffee, tea and snacks; everyone welcome; 519-421-7234.
Latin Dance Night: Come out and do the Salsa, Merengue, Reggaeton and Bachata with JaviDj, Saturday, 10 p.m., free admission; Jimbo's Pub, 920 Commissioners Rd. E.; 519-204-7991 or visit www.jimbospub.ca.
New Year's Eve Celebration: Dance to the music of Wolfeman DJ, Tuesday at German Canadian Club, 1 Cove Rd.; tickets: members $40, non-members $50, includes party favours, light buffet and midnight champagne toast, available at the club or online at onstagedirect.com; 519-433-2901.
New Year's Eve Dance: Dance to the music of County Road Country Band, Tuesday, 8 p.m. at Victory Legion, 311 Oakland Ave.; tickets: $30, includes late lunch, available at the bar; 519-455-2331.
Royal Canadian Legion – Lambeth: Dance to the music of CW Country, Saturday, 2-5 p.m., free; New Year's Eve Dance to the music of Mike Fagan, Tuesday, tickets $45, includes dinner; Levee Day, dance to the music of Country Versatiles, Wednesday, opens at noon with Colours marched on at 2 p.m., followed by music; 7097 Kilbourne Rd.; 519-652-3412.
Royal Canadian Legion – Victory: Dance to the music of T.L.A. Band, Saturday, 7:30 p.m., $10; NYE with County Road, Tuesday, 8 p.m. (downstairs, NYE with Sideline, 8 p.m. (upstairs); 311 Oakland Ave.
Singles Dance Party: Year-end dance to the music of Wolfeman DJ, Saturday, 8 p.m. at Polish Club, 554 Hill St.; admission: $7, all welcome; 519-433-2579.
---
ETC.
New Year's Levee: Celebrate the New Year with a visit to Eldon House and enjoy musical entertainment in the elegant drawing room, exchange greetings and gather with friends for hot cider and treats in the Interpretive Centre, Wednesday, drop-in 1-4 p.m.; admission by donation; 481 Ridout St. N.; 519-661-5169.
Read. Learn. Live.: Celebrating its 60th anniversary this year, CODE has launched this photography exhibit by internationally renowned Canadian photojournalist, Peter Bregg, opens Tuesday, runs till Jan. 13 at Central Library, 251 Dundas St., 1st floor Library Commons; free admission.
---
GALLERIES AND MUSEUMS
Art With Panache: Featured artists for December include Tony Furlong, Paul Snoddy, Lyn Tremblay, Lynne Pinchin, Mary Lillyman, Kit Cutting, Lois Fuchs, Audrey Cooper, Margaret Crosby, Nic DeGroot and Andrew Gillet; hours: Monday to Friday, 10 a.m.-5 p.m.; 140 Fullarton St.; 519-870-7218.
Eldon House: London's oldest residence contains family heirlooms, furnishings and priceless treasures of the Harris Family; hours: Wednesday to Sunday, noon-5 p.m.; admission by donation; 481 Ridout St. N.; 519-661-5169 or visit www.eldonhouse.ca.
Elgin County Heritage Centre: Voices from the Engraver: Canadian stamps and bank notes – design to printing – features original art, printing plates, videos, interactives, stamps and money, runs till Jan. 11; hours: Tuesday to Thursday, 9 a.m.-5 p.m., Friday, Saturday, 10 a.m.-4 p.m.; 460 Sunset Dr., St. Thomas; 519-631-1460 ext. 193 or visit www.elgincounty.ca/museum.
Michael Gibson Gallery: The Hockey Show, hockey-themed exhibition features 20 Canadian artists, runs till Jan. 4; hours: Tuesday to Saturday, 11 a.m.-5 p.m.; 157 Carling St.; 519-439-0451 or visit www.gibsongallery.com.
Museum London: Esmaa Mohamoud: To Play in the Face of Certain Defeat, Ways of Being: Yhonnie Scarce and Michael Belmore, both exhibits run till Jan. 5; London Lens: Ian MacEachern and Don Vincent, runs till Jan. 19; The Lost City: Ian MacEachern's Photographs of Saint John, runs till Jan. 26; 421 Ridout St.; 519-661-0333.
St. Thomas-Elgin Public Art Centre: Contemporary Selections from the Permanent Collection: Celebrating 50 Years, in Gallery One and Two and White Walls and Substantial Forms: Small Sculpture from the Permanent Collection, in Gallery Three, both exhibits run till Feb. 15; hours: Tuesday, Wednesday, 10 a.m.-4 p.m., Thursday, Friday, 10 a.m.-9 p.m., Saturday, noon-4 p.m., Sunday, noon-3 p.m.; 301 Talbot St., St. Thomas; 519-631-4040.
Westland Gallery: The Big Little Christmas Show features small scale artwork by local artists, ends Sunday; hours: Tuesday to Friday, 10 a.m.-6 p.m., Saturday, 10 a.m.-5 p.m., Sunday, noon-4 p.m.; 156 Wortley Rd.; 519-601-4420 or visit www.westlandgallery.ca.
Woodstock Art Gallery: Dancing on the Grave: Dil Hildebrand and Patrick Thibert and Life on the Back of a Turtle: Woodlands and Plains Indigenous Art, both exhibits run till Jan. 25; Walk On: the ongoing sculpture project of John McEwen, runs till June 27; 449 Dundas St., Woodstock; 519-539-6761.
---
OUTDOORS
Nature London: New Year's Day Bird Walk along the Thames River, looking for birds along the river and in the adjacent parklands, Wednesday, 10 a.m.-noon; meet the leader in the parking lot for the Springbank Gardens Community Centre, 205 Wonderland Rd. S.; 519-472-48-64.
Saturday Morning Walks: Walk through Sifton Bog Natural Area, meet at Hazelden park, 400 Hyde Park Rd., on the west side of Hyde Park Road, north of Riverside Drive; walks are approximately one hour; families with children are welcome, no dogs; John Clark, 519-641-0442 or visit www.tvta.ca.
---
THEATRE
Mary Poppins: A Disney musical, ends Sunday on Spriet Stage, Grand Theatre, 471 Richmond St.; tickets $20 adult, $15 senior/student by calling 519-672-9030 or visit grandtheatre.com.
[embedded content]
Water themes will be on display at art event in Lund – Powell River Peak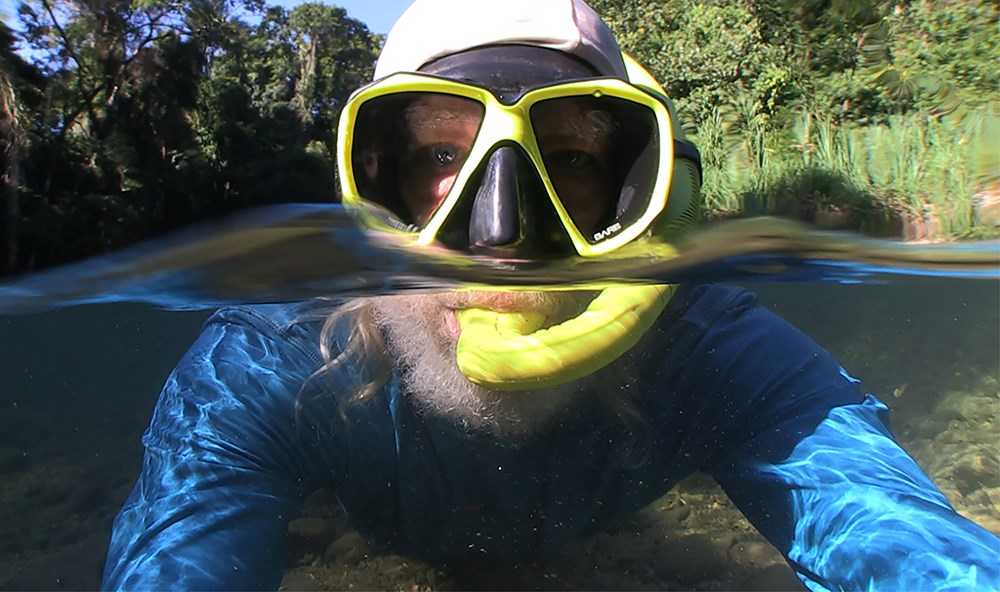 Self-described amphibiographer Terry L. Brown will be sharing his passion for the water through an aquatic video and photo presentation, and through a workshop, where interested parties can learn about photography and videography around the water.
As part of Ebb and Flow, a water-themed art show at Tidal Art Centre on Finn Bay Road in Lund, Brown will be showing photographs and videos he has taken around and under the water, with the showing on Thursday, August 18, at 7 pm.
"You don't even have to get wet to enjoy viewing some of my wondrous videos and photos," said Brown.
For the adventurous who want to learn some aquatic photography techniques, Brown is offering an in-water workshop on August 20, with a venue to be determined, depending on wind and wave conditions on the ocean.
"I've had some fascinating experiences in this amazing aquatic world and I love to share it with people," said Brown.
Regarding the Ebb and Flow art show, Brown said he has four aquatic-themed photos as part of the display. He said his presentation at the art centre will showcase what he calls amphibiography.
"The images are at the interface of water, air and land," said Brown. "There are still photos that are half above water and half under. There are video images that transition from underwater to above water. I will be showing videos and photos that evening and explaining how I get the images, for people who are interested in photography and underwater photography.
"Then, on Saturday, August 20, I'm offering a workshop for those people who want to participate in and practice some aquatic videos. It will be shallow water, either in the shallow ocean water if it's not too windy and wavy, or, it will be in a lake if ocean conditions aren't good."
Breathe deep and dive shallow
This will be a snorkel event, not a scuba diving event.
Brown said most of his photography and videography is actually at or near the water's surface.
"Most people think you have to go deep to get good stuff," said Brown. "I do scuba dive but most of my work is close to the surface. It's basically about as deep as the local pool. My motto is: breathe deep and dive shallow.
"Most of my work is with available light. I seldom use video lights or electronic flash. It's very different when you see the critters underwater in available light in the way the light plays over them."
Brown said the water itself is a prime photographic subject for him because it is constantly changing. He said one of the photos he has in the Ebb and Flow show is called River Vortex, which depicts whitewater rapids, but underwater.
"The water is swirling around and is creating a vortex," said Brown. "It's what it looks like from a fish's eye view underwater.
"I do videos of rapids, also, where the water is pouring over rocks and curving around. It's just the motion of the water and the shapes that water takes that is just spectacular."
Brown said he had read in a book about the dancing curvaceousness of nature, and to him, that's water.
"It's constantly curving and moving and dancing and flowing," said Brown. "I can shoot 10 minutes in one place and every second is different."
He said his work is his prime passion in life.
"My motto is immersing you in wonder, and my passion is immersing people in this amazing world, so they fall in love with it," he added. "Then, then can act out of that love to protect."
Riches in ditches
Brown said he and his partner have chosen to live in the qathet region because of the opportunities afforded in both the incredible freshwater and saltwater here. He said people can even photograph in ditches and get great images.
"There's riches in them ditches," said Brown.
With photography or videography, there is always an expense involved, but Brown said it can be reasonable. He said if people have action cameras, like GoPros, videographers can get some "amazing stuff" with them. However, even smartphones can take great images if they are in waterproof housings.
"I'll show people how they can get some fabulous stuff just dunking it," said Brown. "You don't even have to get really wet. You can just wade along the shore somewhere and dunk that underwater. I'll show them how to make images that make people go 'wow, what is that?' It's right at your feet."
Brown said the in-water event will be a hands-on session. He said he will have an underwater video camera that people can do some video with but it's great if they have their own equipment so they can use it and get the most out of it.
People don't need to make reservations for the show at the Tidal Art Centre. They can just show up to the free presentation.
If people are interested in the workshop, they can contact Brown directly to let him know they will be in attendance. They can ask about equipment, or Brown can answer any questions that they have. There is no specific charge for the workshop, but after it is over, people can voluntarily leave an honorarium for him if they so choose.
"I don't want to keep people away who might not be able to afford coming," said Brown. "The theme is: get out and get wet. Explore your local liquid.
"I like helping people to be aware. So much of life we go through and we're not aware of who or what is around us and what is right in front of us. Part of my mission is to help people become aware, and then to make that connection."
For workshop participants, a mask and snorkel is essential and having a wetsuit or drysuit will allow more comfort and longer immersion time. Children with adult supervision are welcome.
People can contact Brown at 604.414.7883, or by email at amphibiographer@hotmail.com. For examples of Brown's video work, go to amphibiographer.tv, and for still photos, they can go to terrylbrown.com.
"Water is a magical mystery place," said Brown.
Tehran unveils Western art masterpieces hidden for decades – CityNews Toronto
Fake psychics helped woman steal $180M in art from elderly mom, police say – Global News
A Brazilian woman was arrested Wednesday after police found that she orchestrated an elaborate scheme to defraud her elderly mother out of precious works of art.
Sabine Coll Boghici, 48, is accused of using a ring of fraudulent psychics to swindle her mother, Genevieve Boghici, 82, out of around 724 million reais, or $180 million, in art, jewelry and money, according to a statement by police in Rio de Janeiro.
Police say the racket began in January 2020, when Genevieve, the widow of renowned Brazilian art collector Jean Boghici, was contacted by someone claiming to be a psychic who had seen a vision of her daughter Sabine's death.
The phoney psychic then introduced her to other seers, who used personal information provided by Sabine to convince the elderly woman that their claims were real. The ring of psychics used their leverage to get money out of Genevieve for "spiritual treatment," in order to save her daughter from her prophesied death, according to NBC News and the BBC.
The suspects were later alleged to have physically threatened the elderly woman and Sabine eventually kept her mother confined to the house after she became suspicious of the scheme.
Sabine and a psychic then began to take artwork from Genevieve's house and told her that the paintings were cursed with negative energy that needed to be "prayed over," said police officer Gilberto Ribeiro, according to Reuters.
Eventually, Genevieve sought help from the police, who uncovered the scheme.
At least 16 paintings were stolen from the elderly woman, police said, including works from celebrated Brazilian artists Cicero Dias, Rubens Gerchman and Alberto Guignard.
Three of the stolen paintings were works by famed modernist Tarsila do Amaral. Those three paintings alone were worth a reported 700 million reais, or just under $175 million.
Police say they have recovered 14 of the stolen paintings, having found 11 during a raid of the home of one of the accused psychics and three that were sold to an art gallery in Sao Paulo. At least two paintings have yet to be recovered, though, including pieces that were sold to a museum in Buenos Aires.
A video posted on Twitter by a local media outlet shows the moment one of Amaral's paintings, Sol Poente (which means setting sun), was found inside a bed frame hidden under a mattress.
At least seven people were involved in the years-long plot, Reuters reported. Police said four were arrested, including Sabine, on Wednesday but the others remain at large.
The accused are facing charges of embezzlement, robbery, extortion, false imprisonment and criminal association.
© 2022 Global News, a division of Corus Entertainment Inc.