Trump's Phase One Trade Deal Shows He Envies Xi's State-Control of China's Economy – Forbes
Something glaring has been lost in the media's headlines and in the carefully detailed analysis by many of my fellow trade economists in the wake of the White House announcement in December 2019 that China and the U.S. have come to an agreement on "Phase One" of a hoped for grand trade détente between the world's two largest economies.
It is the recognition that under the Trump Administration, American policy toward international commerce has pivoted markedly toward a greater role for the U.S. government, rather than businesses, to engage directly in commercial cross-border transactions.
The centerpiece and seemingly the most tangible component of the Phase One agreement—at least as much as anyone can tell, since as 2019 comes to a close neither side has yet to issue a formal text—is a commitment by the Chinese government, through its state owned enterprises, to procure perhaps as much as $50bn worth of agricultural products from the U.S. over several years.
The irony that the President Trump's trade team is relying heavily on state-to-state procurement transactions to ease trade frictions has not been lost on Xi Jinping according to friends of mine very well placed in Beijing.
Indeed, that the U.S. has become more like China rather than the other way around—at least in terms of respecting the WTO rules-of-the road regarding disciplines on non-market economies—is exactly what Mr. Xi has been hoping for as his Christmas gift all year long.
As long as Trump stays in power, Xi can count on this as the gift that will keep on giving. Given imperiled economy Mr. Xi oversees—if not feverishly trying to resuscitate—Trump's gift is welcome indeed.
There is a plausible reason why Mr. Xi understands very well what drives the U.S. president. Trump emulates Mr. Xi's ability to give the state the paramount role in the functioning of the economy.
The same can be said for Trump's simpatico rapport with Russia's Vladimir Putin, Turkey's Recep Tayyip Erdoğan, and even North Korea's Kim Jong-un, among other strongmen today across the globe.
Beyond the arranged agricultural deals with China, other actions reflect Trump's longing for state control of the U.S. economy. Here are three that the president or his team have been contemplating or have begun to execute during his term in office so far.
The first is the starkest example. It was Trump's attempt to order U.S. firms to leave China. Recall his Tweet earlier in 2019: "Our great American companies are hereby ordered to immediately start looking for an alternative to China, including bringing your companies HOME and making your products in the USA."
Second, Trump and his Treasury Secretary, Steven Mnuchin, have been working with allies in Congress to force a de-listing of Chinese firms from U.S. stock exchanges.
Ironically, portfolio investments in these businesses by American individuals and institutions might help those groups attain greater oversight of—or at least a better window on—the activities and performance of those Chinese firms, something one would think would be of value to the U.S. government.
And, third, Mr. Trump's Secretary of Education, Betsy Devos, has launched a new program to penalize U.S. universities that inadequately disclose funding received from certain foreign governments.
These are resources that significantly help finance the operations of U.S. universities' overseas campuses (which are highly profitable activities); fund cutting edge research activities taking place within U.S. universities by U.S. scholars; and plug a hole in cash-strapped U.S. universities, especially publicly funded schools.
These three initiatives are a few of the components of Mr. Trump's overarching drive for a forced "decoupling" of the U.S. from China. If such a decoupling were successful, it would be the ultimate example of Trump's exercise of a state-directed economy.
Fortunately, as I have written earlier in this space, any meaningful form of artificial decoupling is not only unwise public policy but it simply will not take root easily in a global economy whose supply chains, including the assembly of various components sourced from numerous geographies into final products, are truly multinational.
In short, no matter how forceful a government's policy might be to try and sharply re-orient the current worldwide constellation of the location of production and consumption, as well as both the flows of technological advances and their geographic diffusion, it will unlikely counter in the short-run powerful forces engendered by inertia.
Why do I say that?
First, enacting and implementing new U.S. policies to bring about changes in taxes, tariffs and wage rates—among other factors—in order to alter global supply chains will not be easy tasks to accomplish. Even if the same party controlled both the executive and legislative branches, do not underestimate the power of U.S. businesses, labor and other interest groups to weigh in heavily.
Second, corporations with large fixed investments abroad will—for good reasons—not reconfigure their supply chain configurations on a dime. They will want to hedge their bets that any policy changes are durable.
Third, countries compete against each other to attract investment. A move by the U.S. to, say, make China a less desirable location for American firms to operate, will beget compensatory changes not only by Beijing but other countries in the region, for example, the ASEAN states. The world marketplace operates like a dynamic game.
Finally, the notion that the world will operate according to bifurcated technology standards for very long—say a duopoly of Western and Chinese technological regimes—is hard to digest.
The power of global economies of scale and scope will likely disrupt any semblance of a stable competitive equilibrium in this regard. One does not have think back very long to remember the race between Betamax, VHS, and DVDs.
Mr. Trump surely envies Mr. Xi's sweeping governmental powers and his hold over the Chinese economy, which—for better or worse—has become the "world's factory" of today.
In an ever-changing global marketplace, however, nothing guarantees such a configuration will not migrate to elsewhere on the globe in a few decades time. Indeed, this could be hastened by Xi's reluctance to reform a moribund economic system.
In this regard, Trump would do well to recognize that strongmen economies do come to end, and often their demise is not a pretty sight, particularly for those at the very top.
Action on climate change can provide a shot in the arm for the global economy, economist says – CNBC
An employee with Ipsun Solar installs solar panels on the roof of the Peace Lutheran Church in Alexandria, Virginia on May 17, 2021.
Andrew Caballero-Reynolds | AFP | Getty Images
Ramping up investment in policies and technologies to tackle climate change could play a significant role in the global economy's recovery from the coronavirus pandemic.
In a recent note, Charles Dumas, chief economist at U.K.-based investment research firm TS Lombard, said that action on climate change is often criticized as moving too slowly. However, with governments increasing spending to aid their post-Covid economies, they may start catching up.
A key tenet of this is the ever-decreasing cost of electricity per megawatt hour, according to figures from TS Lombard, with costs of solar, offshore and onshore wind dropping over the last 10 years, while gas and coal have remained largely the same.
"Effectively by 2030 the cost of renewable electricity is going to be half that of coal and gas sourced electricity," Dumas told CNBC.
These trends will bring many of the various pledges to reach net zero more closely in sight.
The fatal floods in Germany in recent weeks have put the impacts of climate change firmly in the spotlight again but they are only the latest in a series of devastating extreme weather events of late, including the sprawling wildfires in Oregon.
COP26 priorities
Amid this backdrop, the United Nations Climate Change Conference, better known as COP26, will meet in Glasgow in November. It will mark one of the most significant multilateral meetings on climate since the Paris agreement.
Dumas said that as COP26 approaches, governments need to understand their key priorities, and among them should be infrastructure investments as numerous technological and engineering challenges continue to obstruct renewable energy.
"I think the intermittency problem is pretty serious and it's not just that the sun goes down at night," Dumas said.
In the case of solar power, output can be mixed depending on the location of infrastructure like solar farms.
"There's huge variation with sunny days in winter and sunny days in the middle of summer so the intermittency takes on a very big seasonal aspect," Dumas said.
"You can have vicious weather for a long time in the middle of December or January and lo and behold you wouldn't want to be depending on solar power."
Energy transmission could be another bottleneck, he said. While the developing world, including several African nations, has great potential in developing sites for generating solar power, that power needs to move easily.
"The issue of transmission technology is really major. If you want Chad to be the new Saudi Arabia, because of the Sahara Desert there's a lot of sun there, but you want the electricity to be used in Europe then you're talking about some expensive processes and processes needing a lot of research and a lot of further investment."
Storage and carbon capture are all areas that require hefty investment, Dumas added, if governments are to reach their net-zero targets.
"What we need is a very clear public policy lead in order to get anywhere near these net zero promises and I suspect that actually what it's going to be about is a carbon tax, which the Americans may resist but will be necessary," he said.
Job creation
Paul Steele, chief economist at an independent policy research institute called the International Institute for Environment and Development, said that climate action and renewable energy investments will serve the dual purpose of tackling the climate crisis while creating jobs for the post-Covid economy.
"One of the priorities coming out of Covid is to create labor intensive employment. Both in developed and developing countries, you can provide labor intensive employment through renewable energy," Steele said.
One example, he said, was the retrofitting of boilers in homes in the U.K., which would help push the country toward its climate targets and create new jobs while being relatively inexpensive in the grand scheme of things.
Steele said that investments to drive a climate-friendly economy cannot be short term or have quick goals.
He pointed to the various government support schemes for the airline industry, which has been battered by the pandemic. Just this week, the European courts gave the nod to a $2.9 billion bailout for Air France-KLM's Dutch business.
Bailout funds like these should be tied to sustainability commitments by the airline industry, he said, but that can be a dicey proposition to get over the line.
"Governments aren't making the connections enough and traditionally treasuries and particularly the ministries of transport are still dominated by road building lobbies and people who like to build highways and increase transport rather than people who want to invest in sustainable alternatives."
Labour proposes 'new deal for jobs' to transform UK economy – BBC News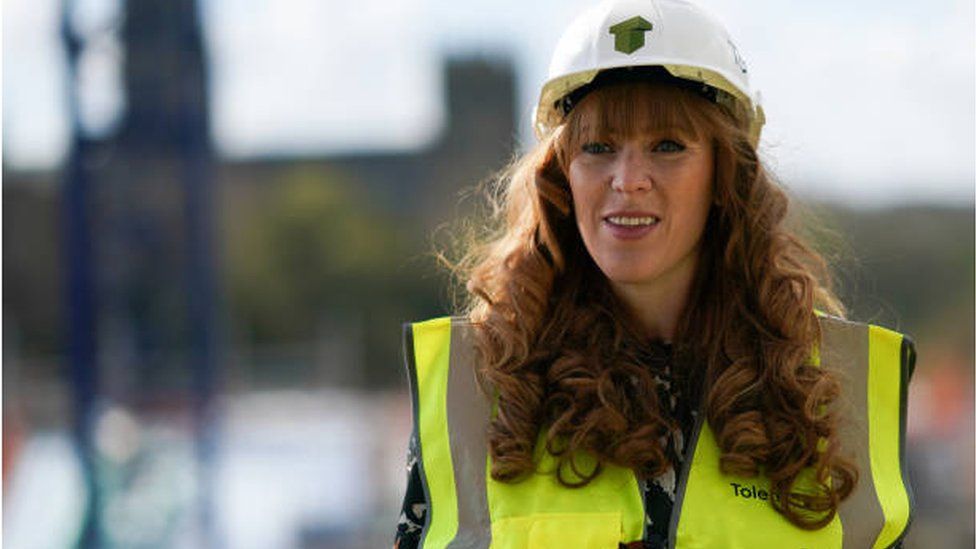 Labour says it will "fundamentally change our economy" with a "new deal" for post-pandemic Britain.
Shadow secretary of state for the future of work Angela Rayner will kick off a summer of campaigning with a visit to a social enterprise project in London on Monday.
She says the party wants "good quality jobs" that pay a "proper wage that people can raise a family on".
The lifting of Covid restrictions has sparked a debate about inequality and the future of work in the UK.
Research conducted by the TUC found one in nine workers – 3.6 million people – had no pay or job security and three quarters of those on zero-hours contracts lost shifts during the pandemic.
Labour leader Sir Keir Starmer has said the pandemic revealed that "millions of workers don't have the dignity and security they deserve from their job".
After the party's poor results in the English local elections in May, Ms Rayner was appointed to the newly created future-of-work role, saying it was time for a "new deal" as people adjusted to the "new normal".
She will be joined by Mr Starmer and and other members of the shadow cabinet over the summer on a campaigning tour to set out Labour's vision.
It is based on five principles:
Security at work – outlawing fire and rehire, a new right to work flexibly and strengthened trade unions
Quality jobs – buy, make and sell more in Britain and invest in well-paid, high quality "green" jobs
A fairer economy – a level playing field on tax between the multinational giants and local businesses and tackling harassment and discrimination at work
Opportunity for all – A jobs-promise for young people with a guarantee of quality education, training or employment; creating tens of thousands of apprenticeships
Work that pays – real living wage of at least £10 an hour and more workers covered by collectively agreed deals that boost pay.
Ms Rayner said Britain was "at a fork in the road" as it rebuilt from the pandemic.
She said: "Under the Conservatives we have a broken economic model defined by insecure work, low wages and in-work poverty and a lack of opportunity for people who want to get on and find good work to support themselves and their families."
She said Labour would "fundamentally change our economy to make it work for working people" and create jobs that were a source of "pride, security and dignity".
Amanda Milling MP, co-chairman of the Conservative Party, said the Tory government had brought in an "unprecedented" furlough scheme which had paid the wages of 10 million workers during the pandemic; in addition to rising the National Living Wage and "taking millions of the lowest paid out of paying income tax".
She added: "While Labour carp from the sidelines, we're continuing to support business while taking the tough decisions needed to rebuild from the pandemic and protect people's jobs and livelihoods."
Earlier this month, the prime minister set out what he called the "skeleton" of a plan to "level up" the country by spreading power and opportunity more evenly.
Ministers say it involves investing in transport, skills and businesses to address regional disparities, with more details expected in September.
UK economy growing at fastest rate in 80 years, says forecaster – The Guardian