Raw log exports hurt the economy: Burns Lake mayor – BCLocalNews
Burns Lake council wants the province to stop allowing northern B.C.'s raw logs to be shipped to other countries.
In a letter to the Ministry of Forests, council urged the province to "reconsider allowing log exports out of Stewart."
"Instead of shipping logs offshore to be processed, the logs could be sent to local mills, maintaining employment and milling capacity in the region," stated the letter dated Nov. 15.
Burns Lake Mayor Dolores Funk told Lakes District News the issue of raw log exports is one that affects the forest products industry as a whole.
"Raw log export weakens our ability to benefit our economy through the manufacturing of value-added products," said Funk. "As a community that relies heavily on the forest industry, we are concerned that this practice still continues."
Dawn Makarowski, a ministry spokesperson, said allowing some exports from remote areas of the province allows fibre that would otherwise be too expensive to access to be harvested, in turn providing employment in the harvesting, transportation and support industries.
But Makarowski said it is the government's objective is to see more logs processed in British Columbia.
The Coast Forest Sector Revitalization initiative, announced in January 2019, aims to increase the processing of B.C. logs within the province while reducing residual waste fibre left in the woods by redirecting it to B.C. pulp and paper mills. A similar review is underway for the Interior.
Funk said raw log exports stunt the industry's ability to create new markets.
"We know that as the quality and quantity of our logs dwindles, we must evolve our industry to ensure that raw logs are no longer exported and that we gain as much economic benefit as possible from each harvested tree," said Funk.
In 2018, 67.4 million cubic metres of logs were harvested in B.C. Exports of 5.1 million cubic metres (7.6 per cent of harvest), mostly from coastal areas, were worth $740 million.
The U.S., China, and Japan are the top three export markets for the B.C. forest sector.
The forest products industry in the Burns Lake area has been facing other challenges, including a reduction in annual allowable cut (AAC).
Hampton Lumber, which owns Decker Lake and Babine Forest Products, has been working to find a solution to continue operating at full capacity after the region's AAC was reduced by 41 per cent in November.
Bank of Canada will hold current level of policy rate until inflation objective is achieved, continues quantitative easing – Bank of Canada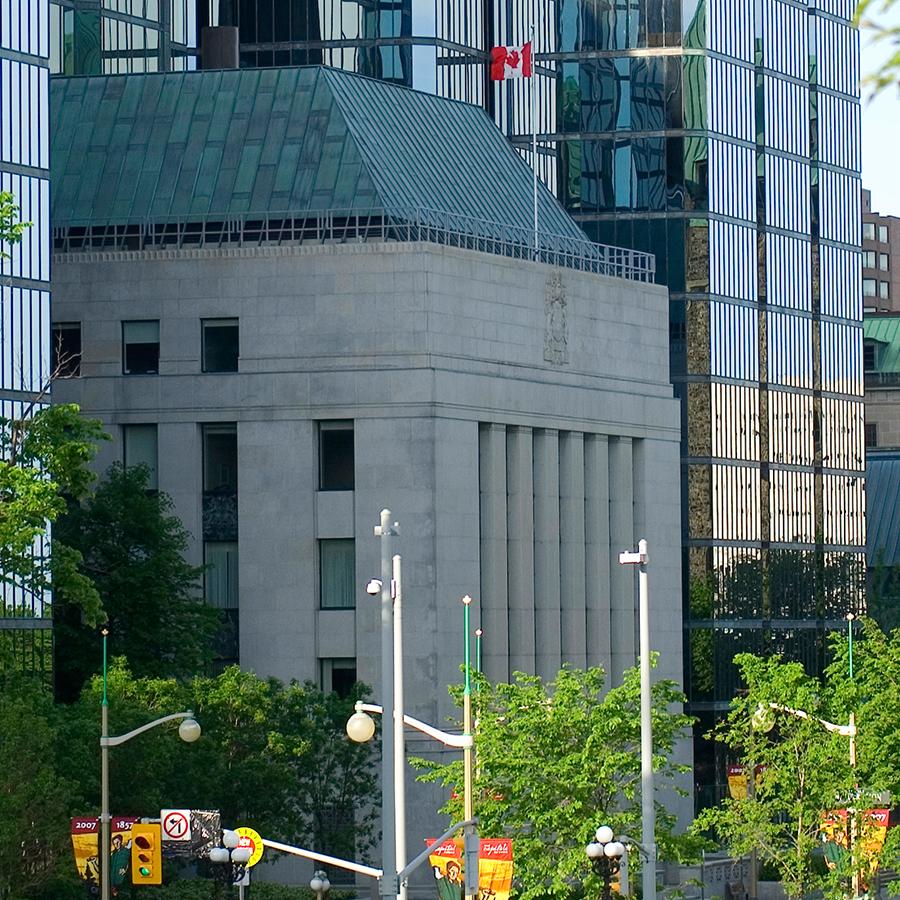 The Bank of Canada today held its target for the overnight rate at the effective lower bound of ¼ percent, with the Bank Rate at ½ percent and the deposit rate at ¼ percent. The Bank is maintaining its extraordinary forward guidance, reinforced and supplemented by its quantitative easing (QE) program, which continues at its current pace of at least $4 billion per week.
The COVID-19 pandemic continues to take a severe human and economic toll in Canada and around the world. The earlier-than anticipated arrival of effective vaccines will save lives and livelihoods, and has reduced uncertainty from extreme levels. Nevertheless, uncertainty is still elevated, and the outlook remains highly conditional on the path of the virus and the timeline for the effective rollout of vaccines.
The economic recovery has been interrupted in many countries as new waves of COVID-19 infections force governments to re-impose containment measures. However, the arrival of effective vaccines combined with further fiscal and monetary policy support have boosted the medium-term outlook for growth. In its January Monetary Policy Report (MPR), the Bank projects global growth to average just over 5 percent per year in 2021 and 2022, before slowing to just under 4 percent in 2023. Global financial markets and commodity prices have reacted positively to improving economic prospects. A broad-based decline in the US exchange rate combined with stronger commodity prices have led to a further appreciation of the Canadian dollar.
Canada's economy had strong momentum through to late 2020, but the resurgence of cases and the reintroduction of lockdown measures are a serious setback. Growth in the first quarter of 2021 is now expected to be negative. Assuming restrictions are lifted later in the first quarter, the Bank expects a strong second-quarter rebound. Consumption is forecast to gain strength as parts of the economy reopen and confidence improves, and exports and business investment will be buoyed by rising foreign demand. Beyond the near term, the outlook for Canada is now stronger and more secure than in the October projection, thanks to earlier-than-expected availability of vaccines and significant ongoing policy stimulus. After a decline in real GDP of 5 ½ percent in 2020, the Bank projects the economy will grow by 4 percent in 2021, almost 5 percent in 2022, and around 2 ½ percent in 2023.
CPI inflation has risen to the low end of the Bank's 1-3 percent target range in recent months, while measures of core inflation are still below 2 percent. CPI inflation is forecast to rise temporarily to around 2 percent in the first half of the year, as the base-year effects of price declines at the pandemic's outset — mostly gasoline — dissipate. Excess supply is expected to weigh on inflation throughout the projection period. As it is absorbed, inflation is expected to return sustainably to the 2 percent target in 2023.
In view of the weakness of near-term growth and the protracted nature of the recovery, the Canadian economy will continue to require extraordinary monetary policy support. The Governing Council will hold the policy interest rate at the effective lower bound until economic slack is absorbed so that the 2 percent inflation target is sustainably achieved. In our projection, this does not happen until into 2023. To reinforce this commitment and keep interest rates low across the yield curve, the Bank will continue its QE program until the recovery is well underway. As the Governing Council gains confidence in the strength of the recovery, the pace of net purchases of Government of Canada bonds will be adjusted as required. We remain committed to providing the appropriate degree of monetary policy stimulus to support the recovery and achieve the inflation objective.
Information note
The next scheduled date for announcing the overnight rate target is March 10, 2021. The next full update of the Bank's outlook for the economy and inflation, including risks to the projection, will be published in the MPR on April 21, 2021.
As announced, starting with this decision the target for the overnight rate will take effect on the business day following each rate announcement.
The Economy in Charts as Biden Takes Helm of Uneven Recovery – Bloomberg

Joe Biden assumes the helm of the world's largest economy and faces an uneven recovery — steady in some areas like housing and manufacturing but rough in others, most notably the job market.
In the week prior to his inauguration Wednesday as the 46th U.S. president, Biden vowed to push for more aid once in the White House, unveiling an initial economic recovery plan with a $1.9 trillion price tag.
Janet Yellen, Biden's pick for Treasury Secretary and a former Federal Reserve chair, backed that proposal at her Tuesday confirmation hearing — urging lawmakers to "act big" in efforts to rescue an economy battered by the coronavirus.
The financial system regained its footing swiftly last year after the federal government doled out trillions in fiscal support and the Fed cut interest rates. While some areas such as residential real estate and manufacturing continue to improve, the pace of hiring has slowed and a summertime burst of consumer spending dissipated as the year drew to a close.
The following six charts help depict the degrees of progress in various sectors since the pandemic upended the economy nearly a year ago and as the nation continues to get vaccinated.
The Overview

The economy snapped back quickly in the third quarter, posting its fastest annualized pace of growth in records going back to the 1940s. Still, economists project more tempered growth when fourth quarter data is released.
A slowdown in household spending, which accounts for about two-thirds of gross domestic product, explains most of that moderation.
Rough Seas

When Americans headed to the polls in November, the government's retail sales data painted a bright picture of demand from May through September. While the value of retail receipts remains above the pre-pandemic level, purchases have declined in each of last three months.
Job growth helped bolster household consumption for several months. But employment gains aren't coming fast enough and the pandemic is worsening, helping explain the urgency among some in Washington to keep the fiscal-aid spigot open.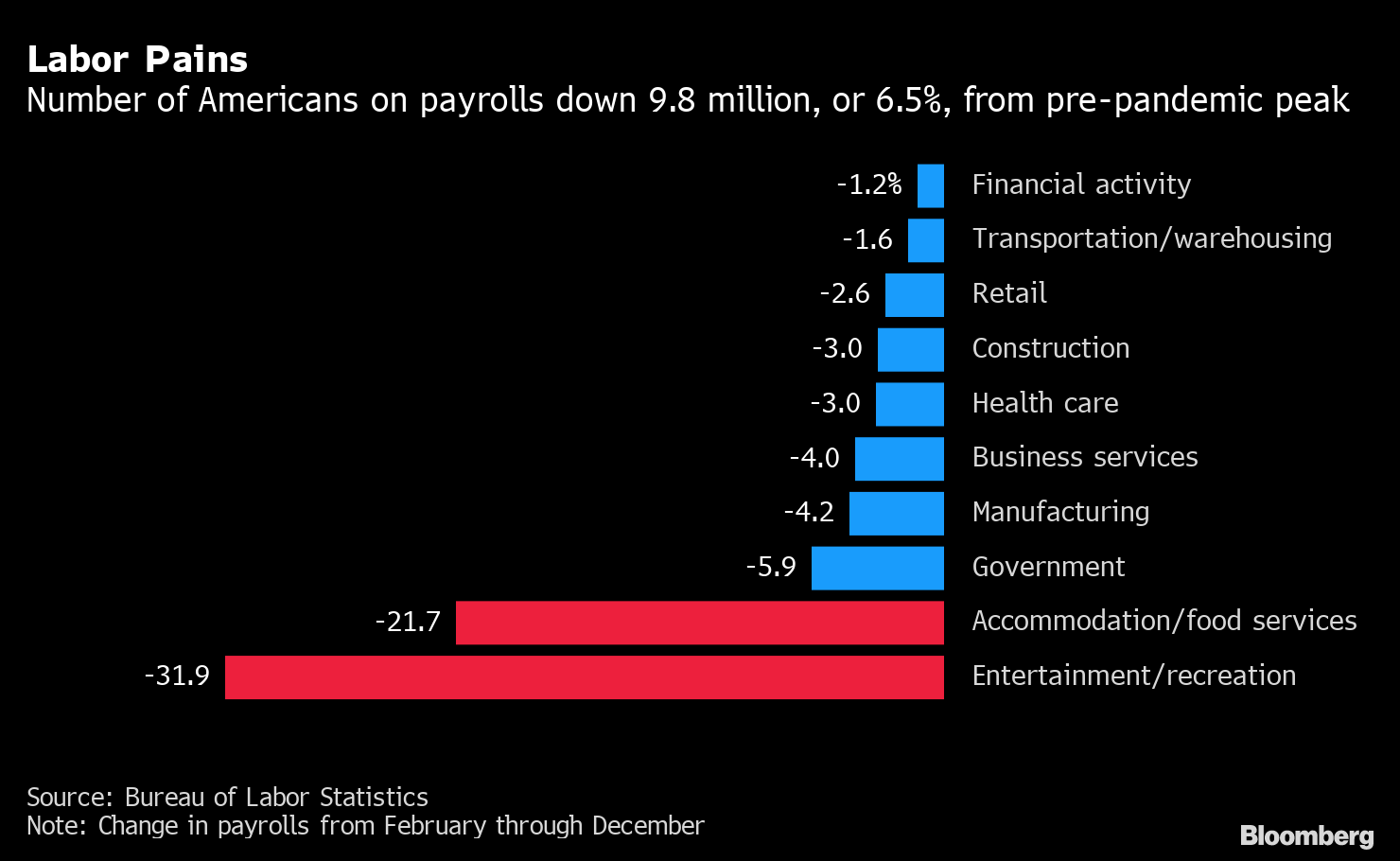 Employment plunged by more than 22 million in March and April combined. While payrolls have since increased by some 12.3 million, industries such as accommodation, food services and entertainment — those most impacted by the virus and subsequent restrictions — remain severely depressed.
Meanwhile, other parts of the economy have been sailing along.
Steadier Waters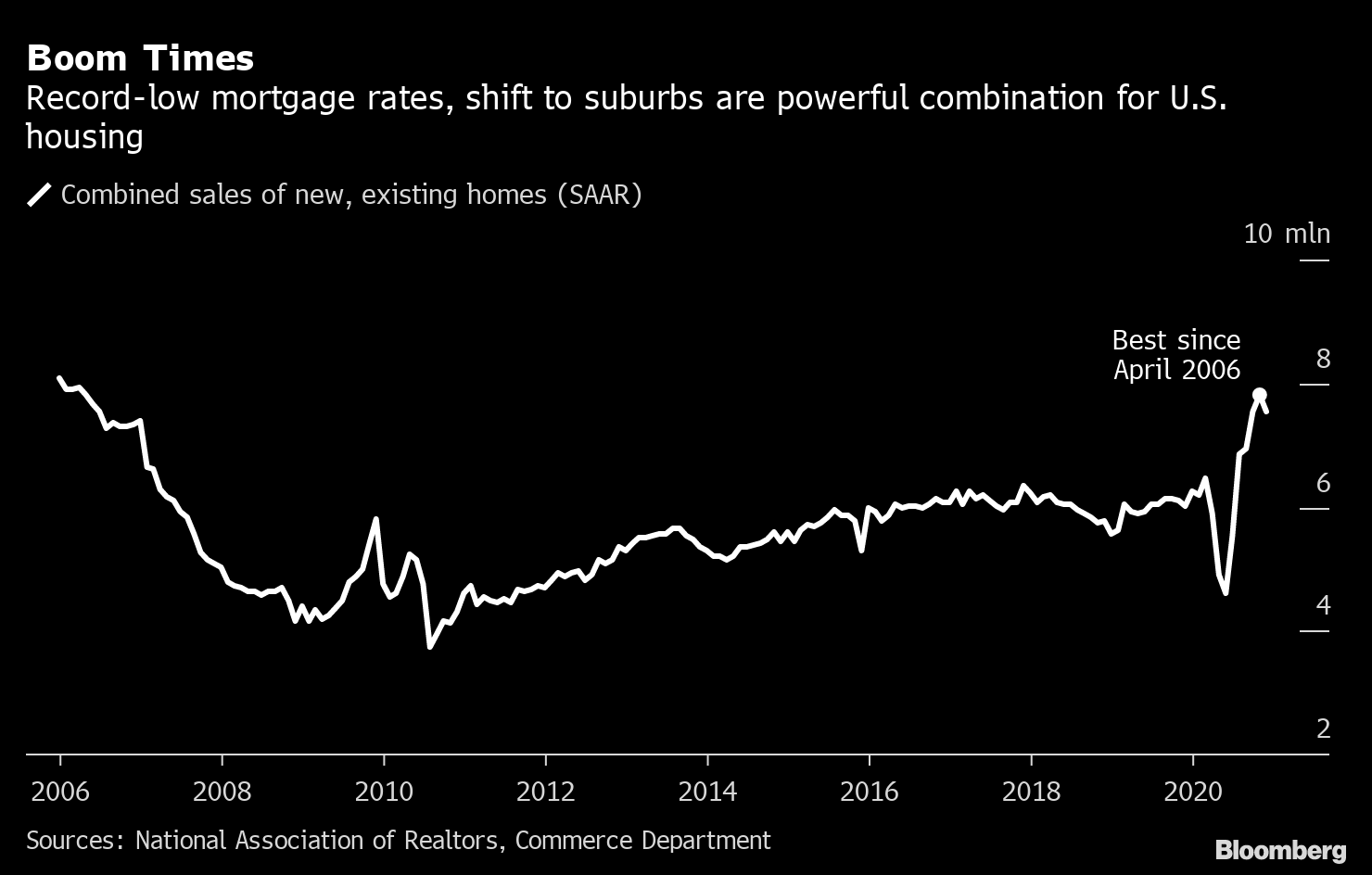 A drop in mortgage rates to record lows, coupled with a desire for bigger spaces as more Americans worked from home, ignited a housing boom. In October, combined purchases of new and previously owned homes were at highs not seen since the spring of 2006.
The red-hot demand has come at a cost. Asking prices have soared, reducing affordability, because inventory levels have plunged. Still, elevated sales are expected to continue fueling more construction projects.

Inventory of merchandise and equipment also is depressed, which translates into good news for U.S. factories.
Manufacturing has gathered steam since the early days of the pandemic. Fed data show the longest string of gains in factory output since 1997-1998, and inventory-sales ratios indicate there's impetus for more production.

Ultra-low borrowing costs have also encouraged companies to invest in their operations.
Business investment in equipment such as communications gear, machinery and computers registered a notable pickup in the third quarter. By October, the value of core capital goods shipments and orders hit their highest in records dating back to 1968.
— With assistance by Kyungjin Yoo
Asian markets gain on hopes Biden will act on economy, virus – CTV News
TOKYO —
Asian shares were mostly higher ahead of Joe Biden's inauguration as U.S. president Wednesday, though worries about surging coronavirus cases sapped the Japanese market's early gains.
Japan's benchmark Nikkei 225 slipped 0.4% to finish at 28,523.26. Australia's S&P/ASX 200 added 0.4% to 6,770.40, while South Korea's Kospi edged up 0.6% to 3,112.03. Hong Kong's Hang Seng added 0.7% to 29,835.04, while the Shanghai Composite rose 0.1% to 3,570.40.
Hopes are growing that Biden's planned stimulus for the American economy as well as measures to curb the pandemic will boost regional markets.
While many Asian nations have fared better in the pandemic than European countries and the U.S., worries still run high. Main urban areas in Japan, including Tokyo, are under a state of emergency, with evening dining discouraged. Critics say that's not enough, as deaths related to COVID-19 have been rising.
"Chinese New Year is less than a month away. With COVID infection numbers already on the rise again in parts of Asia, there are concerns about what the holiday season may mean for efforts to contain the virus's spread," said Stephen Innes, chief global market strategist at Axi.
On Wall Street, the S&P 500 rose 30.66 points, or 0.8%, to 3,798.91, pulling to within 1% of its record high set earlier this month. The Dow Jones Industrial Average added 116.26 points, or 0.4%, to 30,930.52. The Nasdaq composite gained 198.68 points, or 1.5%, to 13,197.18.
About 60% of the companies in the S&P benchmark index rose. Technology, communication services and health care stocks accounted for much of the rally, though energy sector companies notched the biggest gain.
Traders continued to bid up shares in smaller companies, a sign of confidence in the prospects for future economic growth. The Russell 2000 index picked up 27.94 points, or 1.3%, to 2,151.14.
U.S. markets were closed Monday in observance of Martin Luther King Day.
The gains this week marked a reversal from last week, when stocks ran out of steam after a strong start to the year. Markets have been rising on enthusiasm about a coming economic recovery as more people are inoculated with COVID-19 vaccines and Washington gets set to try for another round of economic stimulus.
Janet Yellen, Biden's nominee to be Treasury secretary, told the Senate Finance Committee during her confirmation hearing that the incoming administration would focus on winning quick passage of its US$1.9 trillion pandemic relief plan.
"More must be done," Yellen said. "Without further action, we risk a longer, more painful recession now — and long-term scarring of the economy later."
The plan would include $1,400 cash payments for most Americans. Democrats are also pushing for faster rollout of COVID-19 vaccines, a higher minimum wage for workers and enhanced benefits for laid-off workers. The hope is that such stimulus can carry the economy until later this year, when more widespread vaccinations get life returning to some semblance of normal.
"If most of this is implemented, it does suggest significant pickup in economic growth as we head through to the fourth quarter of this year," said David Kelly, chief global strategist at JPMorgan Funds.
In energy trading, benchmark U.S. crude added 31 cents to $53.29 a barrel. Brent crude, the international standard, rose 35 cents to $56.25.
In currency trading, the U.S. dollar slipped to 103.74 Japanese yen from 103.99 yen. The dollar cost $1.2146, up from $1.2115.
——
AP Business Writers Stan Choe, Damian J. Troise and Alex Veiga contributed.