Astronomers set a new Record and Find the Farthest Galaxy. Its Light Took 13.4 Billion Years to Reach us – Universe Today
Since time immemorial, philosophers and scholars have contemplated the beginning of time and even tried to determine when all things began. It's only been in the age of modern astronomy that we've come close to answering that question with a fair degree of certainty. According to the most widely-accepted cosmological models, the Universe began with the Bang Bang roughly 13.8 billion years ago.
Even so, astronomers are still uncertain about what the early Universe looked like since this period coincided with the cosmic "Dark Ages." Therefore, astronomers keep pushing the limits of their instruments to see when the earliest galaxies formed. Thanks to new research by an international team of astronomers, the oldest and most distant galaxy observed in our Universe to date (GN-z11) has been identified!
The team, whose research was recently published in the journal Nature Astronomy, was led by Linhua Jiang of the Kavli Institute for Astronomy and Astrophysics and Prof. Nobunari Kashikawa of the University of Tokyo. They were joined by researchers from the Observatories of the Carnegie Institution for Science, the Steward Observatory, the Geneva Observatory, Peking University, and the University of Tokyo.
Simply put, the cosmic Dark Ages began about 370 thousand years after the Big Bang and continued for another 1 billion years. At this time, the only light sources were either the photons released before – which is still detectable today as the Cosmic Microwave Background (CMB) – and those released by neutral hydrogen atoms. The light of these photons is so shifted due to the expansion of the Universe that they are invisible to us today.
This effect is known as "redshift," where the wavelength of light is elongated (or "shift" towards the red end of the spectrum) as it passes through the ever-expanding cosmos on its way to reach us. For objects moving closer to our galaxy, the effect is reversed, with the wavelength shortening and shifting towards the blue end of the spectrum (aka. "blueshift").
For nearly a century, astronomers have used these effects to determine the distance of galaxies and the rate at which the Universe is expanding. In this case, the research team used the Keck I telescope at Maunakea, Hawaii, to measure the redshift of GN-z11 to determine its distance. The results they obtained indicated that it is the farthest (and oldest) galaxy ever observed. As Kashikawa explained in a University of Tokyo press release:
"From previous studies, the galaxy GN-z11 seems to be the farthest detectable galaxy from us, at 13.4 billion light years, or 134 nonillion kilometers (that's 134 followed by 30 zeros). But measuring and verifying such a distance is not an easy task."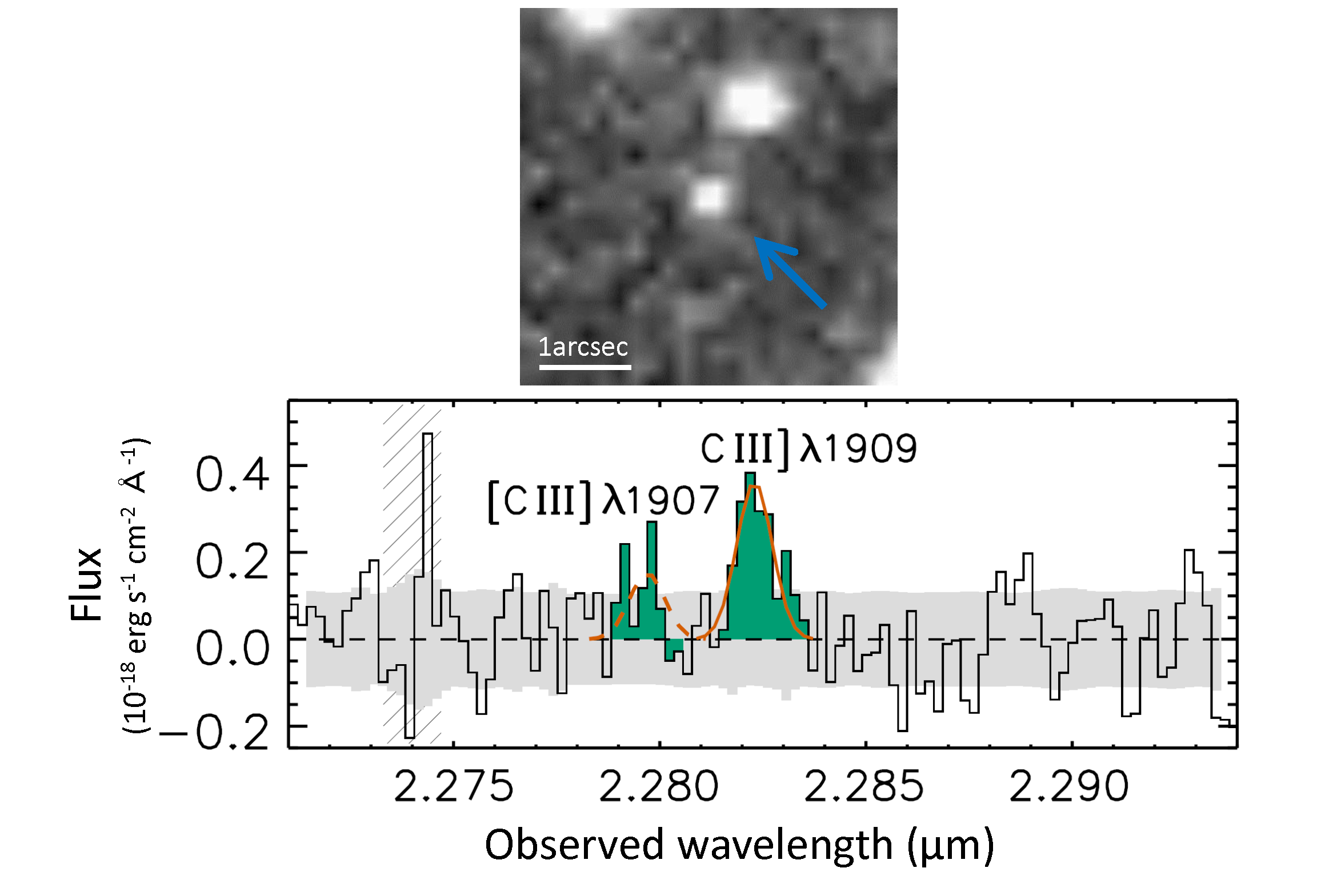 Specifically, the team examined the carbon emissions lines coming from GN-z11, which were in the ultraviolet range when they left the galaxy and were shifted by a factor of 10 – to the infrared (0.2 micrometers) – by the time it reached Earth. This level of redshift indicates that this galaxy existed as observed roughly 13.4 billion years ago – aka. just 400 million years after the Big Bang.
At this distance, GN-z11 is so far that it defines the very boundary of the observable Universe itself! While this galaxy had been observed in the past (by Hubble), it took the resolving power and spectroscopic capabilities of the Keck Observatory to make accurate measurements. This was performed as part of the Multi-Object Spectrograph for Infrared Exploration (MOSFIRE) survey, which captured the emission lines from GN-z11 in detail.
This allowed the team to produce distance estimates for this galaxy that were improved by a factor of 100 over any measurements that were previously made. Said Kashikawa:
"The Hubble Space Telescope detected the signature multiple times in the spectrum of GN-z11. However, even the Hubble cannot resolve ultraviolet emission lines to the degree we needed. So we turned to a more up-to-date ground-based spectrograph, an instrument to measure emission lines, called MOSFIRE, which is mounted to the Keck I telescope in Hawaii."
If subsequent observations can confirm the results of this latest study, then the astronomers can say with certainty that GN-z11 is the farthest galaxy ever observed. Through the study of objects like this one, astronomers hope to be able to shed light on a period of cosmic history when the Universe was just a few hundred millions of years old.
This period coincides with the Universe was beginning to emerge from the "Dark Ages," when the first stars and galaxies formed and filled the early Universe with visible light. By studying these, astronomers hope to learn more about how the large-scale structures of the Universe subsequently evolved. This will be assisted by next-generation telescopes like the James Webb Space Telescope (JWST) – scheduled to launch on October 31st, 2021.
These instruments will even allow astronomers to be able to study the the "Dark Ages" itself, a time when the only non-CMB light was the spin line of neutral hydrogen – in the far microwave wavelength (21 cm). To be able to probe the very beginnings of the Universe itself and watch as the first stars and galaxies form. What a time an exciting that will be!
The observations that made this research possible were conducted under the time exchange program between the Keck Observatory and the Subaru Telescope on Maunakea, Hawaii.
Further Reading: University of Tokyo, Keck Observatory, Nature Astronomy
NASA Declares The Mars InSight Digger Dead After Two Years! – Mashable India
NASA announced on Thursday that a "mole" on Mars has ended its mission after landing on the Red Planet nearly two years ago.
The mole — also called a digger, drill, and probe — was built by the German Aerospace Center (DLR) and deployed by NASA's InSight lander. Its purpose was to drill 16 feet into Martian soil to take its temperature and…well, it never managed to do that.
The digger had drilled down merely 14 inches before getting stuck in the first month of its mission. Months later in Oct. 2019, NASA engineers made a plan to put the digger back on track by using a robotic scoop to help refill the 14 inches and support the digger in its next attempt at burrowing down 16 feet. The team at NASA was confident that the probe was finally ready to go, but they were wrong.
NASA's next idea, in Feb. 2020, was to direct the InSight lander to push on the probe with its robotic arm.
That didn't work, either. After attempting to use the scoop on InSight's robotic arm once again on Jan. 9, 2021, the probe made 500 additional hammer strokes with no progress. At that point, the team declared the probe dead.
"We've given it everything we've got, but Mars and our heroic mole remain incompatible," said DLR's Tilman Spohn in NASA's announcement.
There is good news, however. Spohn said that the work on this probe will benefit future missions, as they've learned a lot about the surface of Mars.
Thomas Zurbuchen, associate administrator for science at NASA's Washington headquarters, said he was proud of the mission's team — and that their work was purposeful. "This is why we take risks at NASA — we have to push the limits of technology to learn what works and what doesn't," he said.
"In that sense, we've been successful: We've learned a lot that will benefit future missions to Mars and elsewhere," Zurbuchen continued, "and we thank our German partners from DLR for providing this instrument and for their collaboration."
Study highlights human activity in Tanzania 2 million years ago – SlashGear
A new study was recently published by principal investigators from Canada and Tanzania working with partners in Africa, North America, and Europe. The entire team is working together to describe a large assemblage of stone tools, fossil bones, and chemical proxies obtained from dental and plant materials. Researchers on the study also examined tiny microscopic bits of silica left by plants, ancient pollen, and airborne charcoal resulting from natural fires retrieved from an ancient riverbed and Lake outcrops on the Serengeti plains.
Scientists say that the data gathered presents the earliest evidence for human activity in the Olduvai Gorge, dating back to about 2 million years ago. Researchers say their study is an important step in filling the gap between fossils and environmental context, and cultural items left by extinct humans. The data used in the study was obtained during a survey of an unexplored western portion of the ancient basin in a locality called Ewass Oldupa.
Stone tools were uncovered at the site belonging to a culture identified by archaeologists as Oldowan. The discovery shows that ancient humans were using tools millions of years ago. Concentrations of both stone tools and animal fossils showed that humans and fauna were gathering around water sources. The study found that early humans carried rocks with them that they used as tools that were obtained from distant sources across the basin at a distance of 12 kilometers east.
[embedded content]
These ancient humans also have the flexibility to survive in changing environments. Research showed that humans continued to come to Ewass Oldupa to use local resources for over 200,000 years despite significant and rapid changes to the landscape. Artifacts discovered at the site are dated to the Early Pleistocene era about 2 million years ago. Researchers note that it's not clear which species made the tools, and no hominid fossils were discovered in the study. However, younger sediments from a site 350 meters away did have Homo habilis fossils.
NASA Test of Mega Moon Rocket Engines Cut Short Unexpectedly – Gadgets 360
NASA's deep space exploration rocket built by Boeing briefly ignited all four engines of its behemoth core stage for the first time on Saturday, cutting short a crucial test to advance a years-delayed US government programme to return humans to the moon in the next few years.
Mounted in a test facility at NASA's Stennis Space Center in Mississippi, the Space Launch System's (SLS) 212-foot tall core stage roared to life at 4:27pm local time (3:57am IST) for just over a minute — well short of the roughly four minutes engineers needed to stay on track for the rocket's first launch in November this year.
"Today was a good day," NASA administrator Jim Bridenstine said at a press conference after the test, adding "we got lots of data that we're going to be able to sort through" to determine if a do-over is needed and whether a November 2021 debut launch date is still possible.
The engine test, the last leg of NASA's nearly year-long "Green Run" test campaign, was a vital step for the space agency and its top SLS contractor Boeing before a debut unmanned launch later this year under NASA's Artemis programme, the Trump administration's push to return US astronauts to the moon by 2024.
It was unclear whether Boeing and NASA would have to repeat the test, a prospect that could push the debut launch into 2022. NASA's SLS program manager John Honeycutt, cautioning the data review from the test is ongoing, told reporters the turnaround time for another hot fire test could be roughly one month.
To simulate internal conditions of a real liftoff, the rocket's four Aerojet Rocketdyne RS-25 engines ignited for roughly one minute and 15 seconds, generating 1.6 million pounds of thrust and consuming 700,000 gallons of propellants on NASA's largest test stand, a massive facility towering 35 stories tall.
The expendable super heavy-lift SLS is three years behind schedule and nearly $3 billion (roughly Rs. 22,000 crores) over budget. Critics have long argued for NASA to retire the rocket's shuttle-era core technologies, which have launch costs of $1 billion (roughly Rs. 7,300 crores) or more per mission, in favor of newer commercial alternatives that promise lower costs.
By comparison, it costs as little as $90 million to fly the massive but less powerful Falcon Heavy rocket designed and manufactured by Elon Musk's SpaceX, and some $350 million (roughly Rs. 2,600 crores) per launch for United Launch Alliance's legacy Delta IV Heavy.
While newer, more reusable rockets from both companies – SpaceX's Starship and United Launch Alliance's Vulcan – promise heavier lift capacity than the Falcon Heavy or Delta IV Heavy potentially at lower cost, SLS backers argue it would take two or more launches on those rockets to launch what the SLS could carry in a single mission.
Reuters reported in October that President-elect Joe Biden's space advisers aim to delay Trump's 2024 goal, casting fresh doubts on the long-term fate of SLS just as SpaceX and Jeff Bezos' Blue Origin scramble to bring rival new heavy-lift capacity to market.
NASA and Boeing engineers have stayed on a ten-month schedule for the Green Run "despite having significant adversity this year," Boeing's SLS manager John Shannon told reporters this week, citing five tropical storms and a hurricane that hit Stennis, as well as a three-month closure after some engineers tested positive for the coronavirus in March.
© Thomson Reuters 2020
---
Does WhatsApp's new privacy policy spell the end for your privacy? We discussed this on Orbital, our weekly technology podcast, which you can subscribe to via Apple Podcasts, Google Podcasts, or RSS, download the episode, or just hit the play button below.