At least 1 dead in tugboat incident south of Kitimat – Ashcroft Cache Creek Journal
Two people are dead and another one rescued following an incident involving a tugboat off B.C.'s northwest coast in the early morning hours of Feb. 11.
BC Coroners service confirmed they are investigating two deaths related to a tugboat incident near Kitimat.
A tugboat owned by Wainwright Marine Services in Prince Rupert, was towing a barge in the Gardner Canal 35 nautical miles south of Kitimat where it is believed to have capsized.
Conditions at the time were reported as very windy.
The Joint Rescue Coordination Centre in Victoria confirmed they were contacted early this morning to assist the Coast Guard and RCMP with the search for a missing tug, dispatching a CC-115 Buffalo fixed wing aircraft and a CH-149 Cormorant helicopter from the Canadian Forces Base Comox. Bad weather hampered their search efforts.
The search and rescue operation was called off as of 2 p.m. and the case was transferred to the Kitimat RCMP and B.C. Emergency Health Services.
Black Press Media has reached out to both agencies.
The barge was carrying cargo in connection with the Rio Tinto project to drill a second tunnel at its Kemano hydro-electric generating facility.
Water from the Nechako Reservoir flows through a first tunnel down to hydro-electric generators at Kemano to produce electricity which is then transmitted through power lines to Rio Tinto's aluminum smelter at Kitimat.
The second tunnel is meant to provide a backup if required to ensure electricity can be generated using water from the Nechako Reservoir.
More to come.
Mars City design: 6 sci-fi cities that will blow your mind – Inverse
As Perseverance inspires the entire world about the thrill of visiting our nearest solar neighbor, Mars, it's easy to start fantasizing about what it will be like when human beings regularly live on the red planet in the future.
Between SpaceX and NASA, it feels reasonable that human beings will be living on Mars before the end of the century. The question is when they do, what will the first Martian cities look like?
Science fiction should never be used as an actual forecast for human culture, but it is a lot of fun to think about how sci-fi stories have imagined our future lives on Mars. Here are six of the best very best Martian cities, ranked not in order of livability, but instead, but pure sci-fi coolness.
6. Bradbury City – Mars trilogy
There are several fictional cities in Kim Stanely Robinson's seminal SF books about the settlement of Mars — Red Mars, Green Mars, and Blue Mars — so it's hard to pick just one. But, if you have to choose only one Martian metropolis from his books, Bradbury City is the way to go.
Named for Ray Bradbury, who wrote The Martian Chronicles, Robinson's Bradbury City is designed to recreate a city in Illinois. Bradbury was born in Waukegan, Illinois. The Martian Chronicles features several unlikely Martian cities, some made by humans, some made by Martians. But, in almost all cases, like in "Night Meeting," these towns and cities often have gas stations and pickup trucks.
5. Bowie Base One – Doctor Who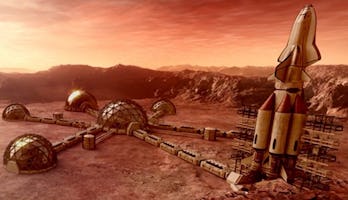 Not exactly a city per se, but certainly a great Martian settlement in the pantheon of science fiction — if only for its name.
In the 2009 David Tennant-era Doctor Who one-off, "The Water of Mars," the Doctor battles a type of sentient alien water called "the Flood," that turns people into water zombies. Bowie Base One, in the Who-canon, is the first human colony on Mars, which leads to many, many others. Obviously, it's named for David Bowie and the song "Life on Mars."
4. Utopia Planitia – Star Trek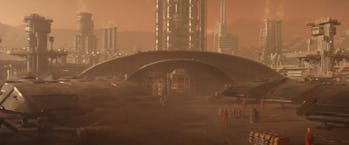 In the 24th Century-era of Trek, most of the best ships in Starfleet are built at the Utopia Planitia Shipyards in orbit of Mars. The Trek franchise rarely visited Mars, although the final episodes of Enterprise Season 4 — "Terra Prime" and "Demons" — had a lot of action on the Martian surface.
Both Star Trek: Picard and its prequel, "Children of Mars," revealed that the shipyards weren't just in orbit of Mars, but also on the ground, which meant that a huge civilization population lived and worked on Mars prior to the Sythn revolt in 2285.
3. Londres Nova – The Expanse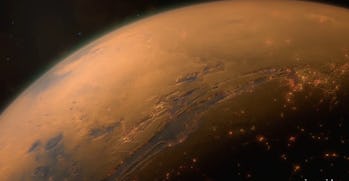 More than any other contemporary science fiction series, The Expanse — both the books and the TV series — have made a convincing projection of what a future Martian colony might be like.
The capital city, Londres Nova, is sometimes called "New London." In the reality of The Expanse, what makes the settlement of Mars so interesting is the way in which it eventually just becomes totally independent from the Earth to the point at which its government is basically in direct competition with Earth for the entire solar system's resources. By the future time period of The Expanse, Mars is basically an alien planet, populated by humans.
2. Mars Dome One – Babylon 5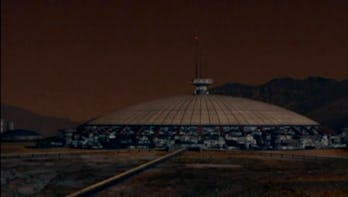 Somewhat unique among science fiction, Babylon 5 started off with a lead character who was born on Mars, Commander Jeffery Sinclair. In B5, being from Mars isn't that weird, but the politics of Mars are integral to the overall story of the series.
Mars Dome One is the biggest city there, and yes, it's a giant dome. But, Mars Dome One and other cities in Babylon 5 are fascinating because unlike Earth, there's more of an underworld on Mars, including an underground railroad for rogue telepaths.
1. Chyrse – Total Recall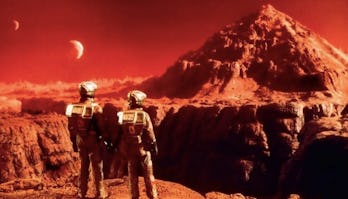 The Martian city visited by Arnold Schwarzenegger's Quaid is by far the most memorable Martian city in science fiction, even if it doesn't make a whole lot of sense.
In the Philip K. Dick short story upon which Total Recall was based, "We Can Remember It For Your Wholesale," the lead character never actually goes to Mars, at least not in the realtime of the story. The triumph of Chryse in Total Recall is the edgy naturalism of this future city. It's sleazy, dirty, and dangerous.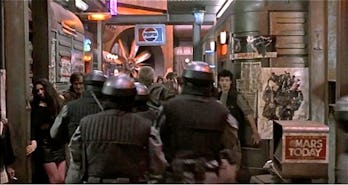 In Blade Runner, you're told that humans have emigrated to a variety of other planets. Chryse in Total Recall is like the Martian city equivalent of Los Angeles in Blade Runner. You can basically imagine them existing in the same shared universe. Would author Philip K. Dick approve? Maybe!
Perseverance saw its own descent stage crash – EarthSky


<!–
googletag.cmd.push(function() googletag.display('post_link_unit'); );
–>
One of the coolest shots we've seen from Perseverance on Mars so far came from the day of its successful landing, February 18, 2021. Minutes after landing, Perseverance managed to look off into the distance and capture an image of its own descent stage crash landing on Mars' surface.
What's the descent stage? Its role in Perseverance's landing was brief, but vital. The descent stage is the rocket-powered section that deployed after the parachute. It was needed in part because Mars' atmosphere is so thin that parachutes alone can't guarantee a soft-enough landing. The descent stage kept the rover steady just above Mars' surface, as the rover was deployed to Mars' surface via cables. The descent stage wasn't designed to land safely. After deploying the rover, it flew some distance off and crashed itself. That's what Perseverance captured in this image.
Perseverance is busy on Mars examining its environs and recording all that it sees. It reports its findings with an anthropomorphized – and adorable – Twitter account @NASAPersevere. Its tweet about the descent stage crash landing was one of its first.
A moment of respect for the descent stage. Within two minutes of safely delivering me to the surface of Mars, I caught the smoke plume on one of my Hazcams from its intentional surface impact — an act that protected me and the scientific integrity of my landing site. pic.twitter.com/bG4dekrbvJ

— NASA's Perseverance Mars Rover (@NASAPersevere) February 24, 2021
As you may have heard by now – or realized yourself – Mars is the only planet we know that's populated by robots! A total of 18 spacecraft have been put in orbit around Mars, eight of which are still operating. Of the Mars' rovers sent to Mars's surface, five are still operational: Sojourner, Spirit and Opportunity, Curiosity, and Perseverance.
One Mars orbiter, the European Space Agency's ExoMars Trace Gas Orbiter, also captured Perseverance on Mars' surface, at its landing spot. It managed to find the rover and the pieces shed on descent, then tweeted an image:
There you are @NASAPersevere! I finally got the chance to take a photo of you in your new home ? #CountdownToMars
? @ExoMars_CaSSIS https://t.co/Zl2FhZ2Z8q #ExploreFarther #Mars pic.twitter.com/1CoOrs1r1S

— ExoMars orbiter (@ESA_TGO) February 25, 2021
The rover is near the bottom center of the image, with the heat shield a dark circular spot in the upper right, the descent stage to the left (and in the plume photo above), and the white parachute and back shell bright on the surface at far left. You can see from the overhead view the large ridge between the rover and the descent stage that the rover is looking toward in the top image.
Since 1960, nine countries have sent missions either to orbit Mars or attempt to land on its surface, and many of them have crashed and burned, quite literally.
February 2021 saw three missions successfully make it to Mars, both in orbit and on the surface. Perseverance was one. The other two were the UAE's Hope mission and China's Tianwen-1.
Bottom line: NASA's Mars rover Perseverance tweeted a photo of the resulting plume of smoke from the impact of the descent stage.
BlackburnNews.com – Fireball flies over Chatham-Kent sky – BlackburnNews.com
Fireball flies over Chatham-Kent sky
February 26, 2021 fireball (Screen capture via fireballs.ndc.nasa.gov)
February 27, 2021 12:45pm
If you witnessed a bright light flash across the sky Friday night in Chatham-Kent, you weren't imagining things.
A fireball passed over the region around 10:07 p.m.
Peter Brown, a Western University professor, meteor scientist and planetary astronomer tweeted a video of the event. Brown described it as being "as bright as [the] full Moon."
According to the NASA All Sky Fireball Network, observers in Ontario, Michigan, New York, Ohio and Pennsylvania reported seeing a bright fireball in the sky on Friday evening. The event was captured by several all-sky meteor cameras belonging to the NASA All Sky Fireball Network and the Southern Ontario Meteor Network operated by Western University.
Fireball as bright as full moon passed directly over Chatham, ON last night at 10:07 pm. Ended at 30 km height just N of Lake St. Claire near Fair Haven , MI. Fast (30 km/s) so very small or no meteorites likely. @amsmeteors @ScottWx_TWN #fireball 1/2 pic.twitter.com/AQkljeScsz

— Peter Brown (@pgbrown) February 27, 2021
According to NASA, an initial analysis of the video shows that the meteor appears 90 km above Erieau on the northern shore of Lake Erie. It moved northwest at a speed of 105,800 km per hour as it crossed the Canada-U.S. border before ending 32 km above Fair Haven, MI.
"At its brightest, the fireball rivalled the quarter Moon in intensity," read a statement on the NASA All Sky Fireball Network. "Combining this with the speed gives the fragment a mass of at least 2 kilograms and a diameter of approximately 12 centimetres."
It's believed that the meteor was caused by a fragment of a Jupiter family comet although an asteroidal origin is also possible.