At least 30 dead, several million still without power in U.S. after days of extreme weather – CBC.ca
Utility crews raced Wednesday to restore power to nearly 3.4 million customers around the U.S. who were still without electricity or heat in the aftermath of a deadly winter storm, and another blast of ice and snow threatened to sow more chaos.
The latest storm front was expected to bring more hardship, especially to states that are unaccustomed to such frigid weather — parts of Texas, Arkansas and the Lower Mississippi Valley.
"There's really no letup to some of the misery people are feeling across that area," said Bob Oravec, lead forecaster with the U.S. National Weather Service, referring to Texas.
The system was forecast to move into the Northeast on Thursday. More than 100 million people live in areas covered by some type of winter weather warning, watch or advisory, the weather service said.
At least 30 people have died in the extreme weather this week, some while struggling to find warmth inside their homes. In the Houston area, one family succumbed to carbon monoxide poisoning from car exhaust in their garage. Another perished as they used a fireplace to keep warm.
WATCH | Millions across U.S. are without power and heat amid deadly winter storm:
Millions of Texans are struggling to stay warm as power outages continue across the state, while politicians are looking to place blame for the systemic failure. 3:35
Record low temperatures were reported in city after city. Scientists say the polar vortex, a weather pattern that usually keeps to the Arctic, is increasingly spilling into lower latitudes and staying there longer, and global warming is partly responsible.
Rolling blackouts
Utilities from Minnesota to Texas and Mississippi have implemented rolling blackouts to ease the burden on power grids straining to meet extreme demand for heat and electricity. In Mexico, rolling blackouts Tuesday covered more than one-third of the country after the storms in Texas cut the supply of imported natural gas.
The worst U.S. power outages by far have been in Texas, where three million homes and businesses remained without power as of midday Wednesday. The state's power grid manager, the Electric Reliability Council of Texas, said electricity had been restored to 600,000 homes and businesses by Tuesday night. Officials did not know when power would be restored, but council president Bill Magness said he hoped many customers would see at least partial service restored by later Wednesday or Thursday.
Magness also defended the decision to force outages "to prevent an event that would have been even more catastrophic than the terrible events we've seen this week."
Dashawn Walker, 33, was thrilled to find the power back on in his Dallas apartment Wednesday. He stayed at a suburban hotel Tuesday night after being without power since Sunday but said he was charged $474 US for one night.
"It's crazy," Walker said. "I mean why would y'all go up on the hotels in the middle of a crisis?"
Widespread power loss
More than 200,000 additional customers were in the dark in four Appalachian states, and nearly that many in the Pacific Northwest, according to poweroutage.us, which tracks utility outage reports.
Oklahoma's largest electric utility reported no outages Wednesday, a day after rolling blackouts in and around Oklahoma City stopped electric-powered space heaters, furnaces and lights in –8 C weather. But Oklahoma Gas & Electric warned customers of the potential for more short-term service interruptions due to the extreme cold and high demand for natural gas.
Nebraska also avoided another round of rolling power outages as subzero temperatures started to ease.
Entergy imposed rolling blackouts Tuesday night in Arkansas, Louisiana, Mississippi and Southeast Texas at the direction of its grid manager, the Midcontinent Independent System Operator, according to a statement from the New Orleans-based utility.
The Southwest Power Pool, a group of utilities covering 14 states, said the blackouts were "a last resort to preserve the reliability of the electric system as a whole."
The weather also caused major disruptions to water systems in several southern U.S. cities, including in Shreveport, Louisiana, where city fire trucks delivered water to several hospitals, and bottled water was being brought in for patients and staff, Shreveport television station KSLA reported.
Carbon monoxide poisoning incidents
In Austin, Houston and other cities, residents were asked to stop letting water drip from pipes, a practice to prevent freezing, because of a major drop in water pressure. Houston residents also were told to boil their water — if they had power — because the pressure drop was allowing bacteria to seep into the pipes.
In the southwest Louisiana city of Lake Charles, Mayor Nic Hunter said Wednesday that water reserves remained low even after power was restored, and that local hospitals were faced with the possibility they might have to transfer patients to other areas because of low water pressure.
Travel remains ill-advised in much of the United States, with roadways treacherous and thousands of flights cancelled. Many school systems delayed or cancelled face-to-face classes.
But even staying home can be hazardous in places without power.
Authorities said a fire that killed three young children and their grandmother in the Houston area likely was caused by the fireplace they were using to keep warm. In Oregon, authorities confirmed Tuesday that four people died in the Portland area of carbon monoxide poisoning.
At least 13 children were treated for carbon monoxide poisoning at Cook Children's Medical Center in Fort Worth and one parent died of the toxic fumes, hospital officials said.
Fears of more snow
Stories of kindness emerged from the crisis.
In Clinton, Mississippi, Army veteran Evelyn Fletcher has been cooking and delivering meals to sidelined truck drivers, travellers and people staying at hotels after losing power at home.
"They're stranded, they're isolated — people are in need of support right now," Fletcher said.
On Monday, Fletcher made 85 meals. On Tuesday, she made 30 plates, while a local restaurant, T'Beaux's Crawfish and Catering, cooked 75 plates of shrimp and gumbo that she and other volunteers delivered. And on Wednesday, Fletcher was cooking a pot of turkey noodle soup, hoping to deliver another 70 meals.
"People are worried about more snow," she said. "We are going to keep people fed and keep them feeling hopeful."
WATCH | Texas residents ill-prepared for winter blast:
Millions of people are without power in Texas after an unexpected cold snap. Diana Gomez says people in Texas don't have snow tires or any infrastructure to endure such cold weather and snow. 1:16
Nova Scotia reports 3 new cases of COVID-19 Sunday – HalifaxToday.ca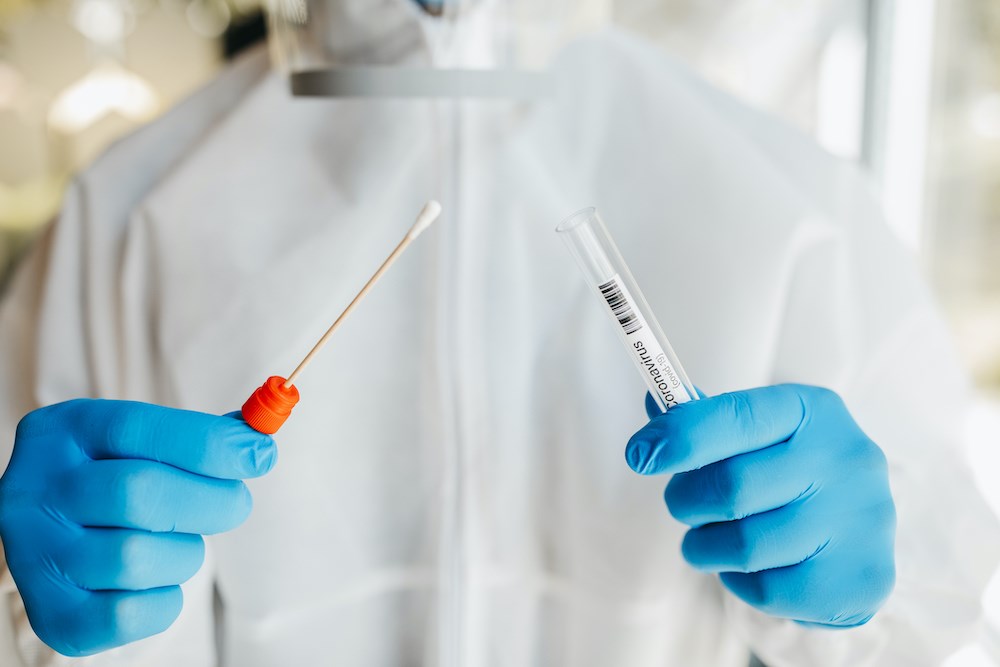 NEWS RELEASE
COVID-19/HEALTH/WELLNESS
*************************
Three new cases of COVID-19 are being reported in Nova Scotia today, Feb. 28.
One case is in Central Zone and is a close contact of a previous case.
One case is in Eastern Zone and is related to travel outside Atlantic Canada.
One case is in Northern Zone and is related to travel outside Atlantic Canada.
All three people are self-isolating, as required.
"I want to thank the Nova Scotians who have responded in great numbers to get tested, setting a one-day record at the lab," said Premier Iain Rankin. "Let's continue to make proactive testing a top priority. No matter whether you live in Halifax or elsewhere in the province, I encourage you, even if you don't have symptoms, to book an appointment at one of the primary assessment centres or drop into a pop-up testing site.
As of today, Feb. 28, Nova Scotia has 38 active cases of COVID-19.
Nova Scotia Health Authority's labs completed a record 4,839 Nova Scotia tests on Feb. 27, compared to the previous high of 4,125, completed on Nov. 30. Additional comparisons:
— Last Saturday, Feb. 20, the lab completed 1,698 tests.
— Including today's report, the average for the last seven days is 2,808 tests per day.
In addition, the number of people getting a pop-up test on both Friday and Saturday was four times higher than the average daily total.
Since Oct. 1, Nova Scotia has completed 211,008 tests. There have been 552 positive COVID-19 cases and no deaths. Two people are currently in hospital, in ICU. Cases range in age from under 10 to over 70. There are 514 resolved cases. Cumulative cases may change as data is updated in Panorama.
"While the case numbers are low today, we must remain vigilant and keep following the restrictions to ensure our communities stay safe," said Dr. Robert Strang, Nova Scotia's chief medical officer of health. "Follow all the public health measures and make testing part of your regular COVID-19 prevention measures. And if you have flu or cold symptoms, it is especially important you get tested for COVID-19."
Nova Scotians are strongly encouraged to seek asymptomatic COVID-19 testing, particularly if they have a large number of close contacts due to their work or social activities. Appointments can be booked at https://covid-self-assessment.novascotia.ca/ , by choosing the asymptomatic option. Rapid testing pop-up sites continue to be set up around the province as well. More information on testing can be found at https://www.nshealth.ca/coronavirustesting .
Visit https://covid-self-assessment.novascotia.ca/ to do a self-assessment if in the past 48 hours you have had or you are currently experiencing:
— fever (i.e. chills/sweats) or cough (new or worsening)
Or:
Two or more of the following symptoms (new or worsening):
— sore throat
— runny nose/nasal congestion
— headache
— shortness of breath/difficulty breathing
Call 811 if you cannot access the online self-assessment or wish to speak with a nurse about your symptoms.
When a new case of COVID-19 is confirmed, the person is directed to self-isolate at home, away from the public, for 14 days. Public health works to identify and test people who may have come in close contact with that person.
Anyone who has travelled from anywhere except Prince Edward Island must self-isolate for 14 days. As always, anyone who develops symptoms of acute respiratory illness should limit their contact with others until they feel better.
It remains important for Nova Scotians to strictly adhere to the public health order and directives — practise good hand washing and other hygiene steps, maintain a physical distance when and where required. Wearing a non-medical mask is mandatory in most indoor public places.
Nova Scotians can find accurate, up-to-date information, handwashing posters and fact sheets at https://novascotia.ca/coronavirus .
Businesses and other organizations can find information to help them safely reopen and operate at https://novascotia.ca/reopening-nova-scotia .
Quick Facts:
— additional information on COVID-19 case data, testing and vaccines is available at https://novascotia.ca/coronavirus/data/
— a state of emergency was declared under the Emergency Management Act on March 22, 2020 and extended to March 7, 2021
— online booking for COVID-19 testing appointments is available at https://covid-self-assessment.novascotia.ca/
Additional Resources:
Government of Canada: https://canada.ca/coronavirus
Government of Canada information line 1-833-784-4397 (toll-free)
The Mental Health Provincial Crisis Line is available 24/7 to anyone experiencing a mental health or addictions crisis, or someone concerned about them, by calling 1-888-429-8167 (toll-free)
If you need help with a non-crisis mental health or addiction concern call Community Mental Health and Addictions at 1-855-922-1122 (toll-free) weekdays 8:30 a.m. to 4:30 p.m.
Kids Help Phone is available 24/7 by calling 1-800-668-6868 (toll-free)
For help or information about domestic violence 24/7, call 1-855-225-0220 (toll-free)
For more information about COVID-19 testing and online booking, visit https://novascotia.ca/coronavirus/symptoms-and-testing/
*************************
Latest COVID update Feb. 27: 5 deaths,162 new cases, record high vaccinations – CKOM News Talk Sports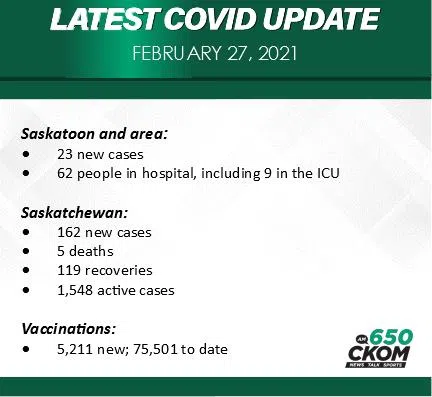 Saskatchewan saw a record amount of daily COVID-19 vaccinations as the province hit a total of 75,501 to date.
The record-high 5,211 doses were administered in the Saskatoon (254), Regina (286), far northwest (33), north-central (869), northwest (918), central-east (1202), central-west (403), southeast (570) and southwest (676) zones on Friday.
There were also five people with the virus who died in the province, bringing the number of Saskatchewan residents who have died with COVID to 385.
The deaths were reported in the 80 plus age group from the Regina (three), Saskatoon (one) and southeast (one) zones.
There were 162 new cases of the coronavirus reported in the province on Saturday, bringing the provincial total to 28,506 cases.
The new cases are located in the far northwest (27), far northeast (five), northwest (13), north-central (three), northeast (nine), Saskatoon (23), central-east (18), Regina (52), south-central (seven) and southeast (one) zones, while four cases are pending residence information. Nine cases with pending residence information were assigned to the far northeast (one), northwest (one), north-central (three), Regina (three) and south-central (one) zones.
The number of people in hospitals throughout the province battling COVID-19 continues to drop.
There are 151 people in hospital with the virus, including 135 people receiving inpatient care in the far northwest (five), far northeast (two), northwest (11), north-central (13), northeast (one), Saskatoon (53), central-west (one), central-east (seven), Regina (36), south-central (two) and southeast (four) areas.
Sixteen people are in intensive care with COVID in the northwest (one), Saskatoon (nine) and Regina (six) regions.
There are a total of 26,573 recoveries from the virus to date and 1,548 cases are considered active.
Canada adds 45 new COVID-19 deaths as P.E.I. introduces 'circuit breaker' measures – Global News
One of the provinces that's largely escaped the ravages of the COVID-19 pandemic abruptly moved to stem a burgeoning outbreak on Saturday, while Canada's two long-standing virus hot spots marked a grim anniversary and braced to pass some sobering milestones in their respective fights against the pandemic.
All of this comes amid another 2,724 cases of COVID-19 reported by health authorities across the country Saturday, pushing the national caseload to 864,132. Another 45 deaths were reported on Saturday as well, with the country's death toll standing at 21,960.
At least 811,300 patients have since recovered from contracting the virus however, while over 24.8 million tests and 1.83 million vaccine doses have been administered.
Prince Edward Island's newly announced "circuit-breaker" measures, which limit gathering sizes and social circles, are meant to clamp down on an outbreak of COVID-19 that officials believe is linked to the variant of the virus that first emerged in the United Kingdom.
"We do seem to be stuck in this tangled spider's web of COVID and it won't really let us out of its grip," P.E.I. Premier Dennis King said Saturday.
The measures come into effect Sunday and are set to last two weeks.
They also prohibit indoor dining and receptions for weddings and funerals, while limiting occupancy in retail stores and gyms.
The province counted six new cases of COVID-19 on Saturday, all among people in their 20s. None of the cases are linked to travel outside the province.
[ Sign up for our Health IQ newsletter for the latest coronavirus updates ]
P.E.I. has had 127 cases of the virus since the pandemic began, 10 per cent of which are currently active.

2:28


Alone and Apart: Loneliness pandemic's toll on mental health



Ontario, meanwhile, is poised to cross the 300,000 case threshold on Sunday after the 1,185 new infections counted Saturday pushed the overall tally to 299,754.
The province has been logging roughly 1,000 new cases per day in recent weeks. Ontario is also approaching 7,000 total deaths linked to the virus, with 6,960 recorded as of Saturday.
The province is taking a regional approach to its pandemic response, and is set to push two public health units back into lockdown on Monday — Simcoe-Muskoka and Thunder Bay.
Meanwhile, restrictions will loosen Monday in the Niagara Region, Chatham-Kent; Middlesex-London; Southwestern; Haldimand-Norfolk; Huron Perth; and Grey Bruce public health regions.
Meanwhile Quebec, Ontario's neighbour to the east, marked one year since detecting its first case of COVID-19.
In that time, it's seen 287,003 cases of the virus, including 858 that were announced Saturday. It also logged 13 more deaths for a total of 10,385.
But Premier Francois Legault said there was reason for optimism, as the infection rate has been relatively stable and the province has begun vaccinating members of the general public in some regions.
"We should receive around 175,000 doses of vaccine per week in March and therefore we will move quickly," Legault wrote. "We still have a few critical weeks ahead of us, especially because of the spring break and the new variants."
The province has 34 confirmed variant cases with 30 of them identified as the B.1.1.7 mutation first detected in the U.K.
Elsewhere, New Brunswick reported two new cases of COVID-19 on Saturday, while Nova Scotia and Newfoundland and Labrador each added four.
Manitoba recorded 88 new cases of the virus and four more deaths, while Saskatchewan added five deaths and 162 new infections.
Alberta, meanwhile, reported six new deaths linked to COVID-19 and 415 new diagnoses.
— With files from Global News
© 2021 The Canadian Press