August Capital Region Commercial Real Estate Report – Business Examiner
Sponsored by:
COLWOOD AND LANGFORD
Following a successful entry into the housing market last year, homebuilder Formwell has unveiled plans to expand its development portfolio to Victoria's West Shore.
Situated in the emerging Olympic View neighbourhood of Colwood, one of Formwell's two upcoming West Shore development parcels is located at 641 Latoria Road, at a size of 1.74-acres.
A few blocks away in the adjacent Happy Valley neighbourhood of Langford, Formwell's second holding at 898-914 Klahanie Drive is a 4.07-acre property.
A mix of family-oriented three and four-bedroom townhomes are envisioned for both projects.
LANGFORD
Another office complex could be coming to Victoria's West Shore region as the suburban office space sub-market continues to gain traction.
Planned for the 4300-block of the newly-built West Shore Parkway (near Valemount Court) is a five-storey, approximately 29,000 square foot concept that would be built-to-suit for a future tenant or tenants by Urban Pro Developments.
According to municipal documents, the company is requesting a variance to permit a five-storey structure in lieu of the zoning's four-storey maximum, and to raise the permitted building height to nearly 20 metres from a 15 metre maximum.
REGIONAL
A Victoria-based company is bringing dog wash and pet care stations to multi-unit housing projects nationwide as the in-building amenity gains traction among pet-friendly buildings.
Furever Clean has become a staple of the dog care kiosk industry with its dog wash station product line-up offering a wide array of customizable options available to developers planning new buildings, strata councils seeking ways to address pet care needs, and rental operators looking for new perks.
Furever Clean's dog wash stations can be as simple as a galvanized steel basin with a hose, or more sophisticated self-serve, pay-for-use kiosks able to take payment in cash, debit or credit cards and Apple Pay, and with automated product disbursements, a built-in dryer, pet tub disinfectant, and a hair filtration system.
Pricing can range from several thousand dollars for entry level and basic solutions, to over $20,000 for heavy duty 'K9000' machines.
SAANICH
A boutique condominium project along the Shelbourne Valley corridor is nearing its sales launch by TLA Developments.
The builder/developer recently unveiled Ferrell, a 24-suite, four-storey complex slated for 1544 Christmas Avenue at Ophir Street near the intersection of Shelbourne Street and Cedar Hill Cross Road.
Comprised of nine studio, six one-bedroom and nine two-bedroom layouts, Ferrell's floor plans will range from nearly 400 square feet to just over 1,000 square feet targeting first-time purchasers, urban professionals and right-sizers seeking attainable new-build housing in Victoria's core.
SOOKE
Victoria's western-most suburb is adding a record number of residential units to its commercial centre as the seaside town responds to growth pressures and demand for housing.
Collectively, high density construction now underway and proposed is expected to deliver 736 apartment and condominium homes by the mid-2020s, according to the current project pipeline tracked by Citified, with a further 259, at least, as part of single-family and/or townhome offerings (all totalling 995-units).
VICTORIA
Developers behind a downtown condominium project are offering a unique first-time homebuyer program through lower down-payment requirements and a longer period to contribute those payments.
Mod, a 15-storey, 129-suite mixed-use tower now rising on View Street at Cook Street in the former Pluto's Diner location, surpassed 50 per cent sold-out status earlier this summer. But one segment of the market developer Fraser McColl believes could use a leg-up to make homeownership possible is made up of younger, and often first-time, buyers working to overcome the down payment threshold.
McColl and partner Dan Robbins have structured a down payment option that lowers the up-front (or pre-mortgage) cost to secure a home at Mod from 15 per cent to 10 per cent, and buyers can make equal instalments of 2.5 per cent over a 12 month period in lieu of the three month standard.
View Royal
The final pre-sale campaign for the upcoming Skyeview condominium has been released with a collection of seven pet and child-friendly two-bedroom homes.
Last winter, TLA Developments culminated its initial pre-sale campaign by reaching a targeted 75% sold-out status for the 37-unit, four-storey project, now rising at 242-244 Island Highway west of Admirals Road at Craigflower Road, with completion earmarked for early 2023.
Mike Kozakowski is with Citified Media and can be reached at mailto:mike@citifiedmedia.com
This Week's Top Stories: Canadian Real Estate Braces For Impact As Bay Street Warns of A Hard Landing – Better Dwelling
Hong Kong Billionaire's K. Wah Wins Shanghai Real Estate Bid, Sees "Excellent" Opportunity – Forbes
Hong Kong billionaire Lui Che-woo has been making successful investments in Shanghai real estate since the 1980s, such as K. Wah Center set along the city's swank Huai Hai Road. A new project coming amid the country's economically painful zero-Covid policies took a big step forward on Friday when his flagship K. Wah International Holdings said it had won a joint tender bid for HK$4.18 billion, or $532 million, to develop land on the city's western side.
K. Wah, though a subsidiary, will hold 60% of a joint venture in partnership with two state-owned companies to develop residential and commercial property in an area planned for artificial intelligence and healthcare-related businesses, the announcement said.
K. Wah said the project "represents an excellent investment opportunity for the group to be engaged in a transit-oriented development to expand its presence in the Shanghai property market, replenish the group's land bank and is in line with the group's business development strategy and planning."
The announcement comes after China's overall GDP growth fell to 0.4% in the second quarter from a year earlier. In Shanghai, where millions experienced lockdowns of varying duration in the April-June period, GDP shrank by 5.7%. China's relations with the United States and Europe have been strained by Beijing's close ties with Russia and recent military exercises near Taiwan.
Mainland-born Lui, worth $12.1 billion on the Forbes Real-Time Billionaires list today, moved to Hong Kong at age four. Possessing only an elementary school education, he helped his grandmother run a retail outfit that sold food staples in Hong Kong as a teenager. In the late 1940s he re-exported army surplus, and by 1950 was buying construction equipment from Japan and selling it to Southeast Asia. In 1964 his was the first private company to obtain quarrying rights in Hong Kong, thanks to a record bid.
After that, Lui started building undistinguished residential housing there. Lui was also an early investor in China, buying into a quarry in Shenzhen in 1980 and later acquiring a land bank in Guangzhou. K. Wah Center opened in Shanghai in April 2005; beside real estate, part of his fortune also comes from the Macau casino operator Galaxy Entertainment Group.
Another long-term Hong Kong success story in Shanghai property development, Shui On Land, led by billionaire Vincent Lo, noted in a filing last month China's short-term business outlook faces uncertainties. "The Chinese economy faces considerable headwinds amid a highly uncertain geopolitical environment, tense U.S.-China relations, and tightening monetary policy in the advanced economies," it said. "The property sector debt issue will take time to resolve. Still, the government has the policy means and experience to handle the developers' debt restructuring process and address the suspended project issue."
And yet Shui On, whose Shanghai projects include city's iconic Xintiandi nightlife and shopping area, was nevertheless upbeat about the longer-term investment prospects there. "Although the immediate outlook is less than favorable, the impending market correction should enable us to acquire assets in prime locations at attractive prices during what could be a golden era for new investment," it said.
See related posts:
World Will Have Nearly 40% More Millionaires By 2026: Credit Suisse
The 10 Richest Chinese Billionaires
Taxes, Inequality and Unemployment Will Weigh On China After Party Congress
U.S. Business Optimism About China Drops To Record Low
Pandemic's Impact On China's Economy Only Short Term, U.S. Ambassador Says
@rflannerychina
Real estate markets slow in most nearby communities – Calgary Herald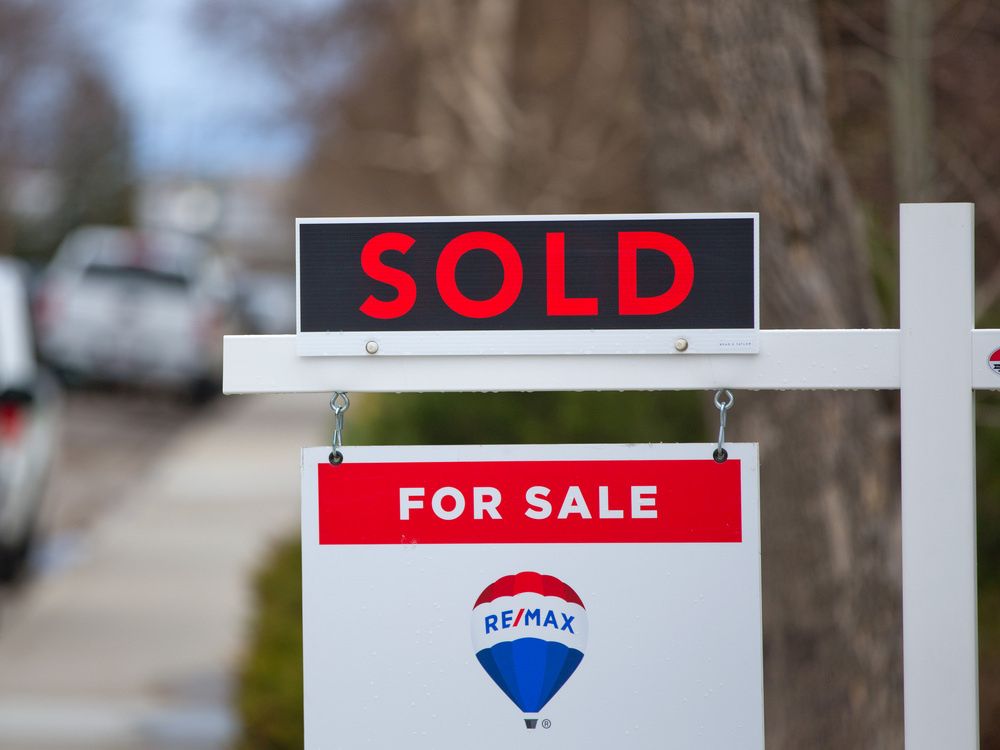 Reviews and recommendations are unbiased and products are independently selected. Postmedia may earn an affiliate commission from purchases made through links on this page.
Article content
Slowing demand and rising supply in outlying communities like Airdrie have set in along with cooler temperatures of late summer, recent data shows.
Article content
Calgary Real Estate Board statistics from last month show sales falling year over year in most communities while supply is rising.
Article content
"In all those markets, we've seen improvements in inventory," says Ann-Marie Lurie, chief economist with CREB.
"Still these markets remain quite tight, but we are seeing some price adjustments and that's because they came up so high during the pandemic."
Airdrie is the largest and most in-demand market with the highest sales last month, 169 transactions, down almost eight per cent year over year. Still, the community saw inventory rise more than 10 per cent with now more than 1.69 months of supply, an increase of nearly 20 per cent from last year.
Other communities have also seen sales fall and supply rise. These include Cochrane, which had 75 sales, down about 17 per cent from August last year. Its supply is now more than two months, up about 26 per cent year over year.
Okotoks had 53 sales in August, down about 19 per cent year over year while supply grew to more than 1.8 months.
Despite falling demand and growing supply, prices still grew year over year in these communities. The benchmark price in Airdrie increased almost 19 per cent to $493,500. In Cochrane, the benchmark price grew by more than 16 per cent to $517,400 while the benchmark reached $549,300 in Okotoks, also an increase of more than 16 per cent.
Chestermere saw the biggest drop in sales year over year at more than 48 per cent.
Only High River experienced a slight increase in activity with sales last month up 2.5 per cent versus the same span last year.