Aurora Cannabis Provides Corporate Update and Confirms Cannabis 2.0 Roll Out – PRNewswire
"We have focused our collective efforts to be ready for the successful launch of Cannabis 2.0 as Canada takes the next step in the legalization of newly allowed product forms. We are ready and have launched a diversified portfolio of new product formats and are excited for Canadians to have access to high-quality, safe alternative cannabis products such as edibles, vape pens and other derivatives," said Terry Booth, CEO of Aurora. "We have prudently deployed capital and we believe that we're ready with the appropriate combination of technology, scale and consumer insights to have the right products on store shelves in a timely fashion. This was not an easy task and I would like to thank the entire Aurora team for their collective efforts in getting 2.0 across the goal line in time for our provincial regulators."
Recent Corporate Initiatives
Aurora has taken steps to proactively rationalize capital expenditures, reduce near term debt and bolster liquidity in an effort to position the Company for the long-term success. The previously announced deferral of construction and commissioning activities is expected to conserve approximately $200 million of cash in the near term. Aurora believes that its existing assets are sufficient to meet current demand at a low cost per gram. The company expects to have the flexibility to ramp up projects as global demand dictates.
In late November, the Company also retired $227 million of the $230 million 5% unsecured convertible debentures that were due in March 2020 with the issuance of shares and thereby preserving cash. Aurora continues to evaluate multiple sources of capital and currently has access to undrawn capacity under a CDN$360 million credit facility with a syndicate of banks, in addition to its US$400 million at-the-market ("ATM") equity distribution program.
Cannabis 2.0 Product Launch
The Company has commenced shipments of initial orders received to 10 of Canada's provincial regulators of Cannabis 2.0 products following December 17, 2019, however most Canadian consumers will likely not see these products on retail store shelves until early January 2020 due to varied retail operations across the country. Patients can now immediately access a variety of the new product formats.
Initially the Company is providing a variety of CBD and THC vape and edible products, such as gummies, chocolates, baked goods and mints. These new cannabis products are being produced at Aurora Sky in Edmonton, Alberta, Aurora River in Bradford, Ontario and Aurora Vie in Pointe-Claire, Quebec. These centres have been outfitted to provide centralized production, packaging, logistics and distribution capabilities. The Company has prioritized its resources to prepare for a successful initial launch and has built inventories to support an ongoing replenishment strategy to help ensure consumers across Canada have access to a diverse portfolio of high-quality derivative products.
The Company encourages Canadian consumers to review Aurora's "Ready for Edibles" campaign, which aims to educate consumers about the responsible consumption of cannabis edibles. The campaign can be seen at cannabis retail outlets across Canada. For more information, visit the Ready for Edibles website.
To learn more about Aurora's upcoming portfolio of new products please click here.
Provincial Regulatory Updates
Aurora commends Premier Ford, Minister Downey and the Government of Ontario for committing to improving the province of Ontario's cannabis retail environment through the open allocation of retail cannabis licensing. The new policy is expected to see the removal of the cap on the number of private cannabis stores in the province as well as thoughtful pre-qualification requirements.
"We applaud this positive step by the Province of Ontario to provide a retail environment which is conducive to a successful system that provides Canadians with more safe, regulated cannabis products," said Terry Booth, CEO of Aurora.
Recent Executive Appointment
Aurora is pleased to announce that Rick Savone has joined the company as Senior Vice President of Global Government Relations. In this new role, Rick will oversee Aurora's relationships with governments around the world, helping them to create regulations that will allow greater access to medical cannabis products for patients. Over the course of his career Rick has developed deep government relations experience, most recently as the Director General for Global Affairs Canada. Prior to that, Rick was Canada's ambassador to Brazil and has held various other senior level positions with the Department including as consul general in Shanghai.
International Market Developments
Denmark
Aurora has received the very first approval from the Danish Medicines Agency for the import of the Company's Sedamen Softgel capsules into Denmark. Aurora is currently working to obtain an export permit from Health Canada and expects to complete the first shipment from its Aurora Ridge facility in Markham, Ontario in the first calendar quarter of 2020.
Ireland
On December 2, 2019, Aurora announced that one of the Company's oil products has now been approved for use under Ireland's new Medical Cannabis Access Programme ("MCAP"). Aurora's High CBD Oil Drops received approval from the Irish authorities and have now been added to a regulatory schedule by the Irish Minister of Health enabling importation, prescribing and supply under the schedule and is to date, one of only two products to gain such authorization.
Flagship Retail Store Update
Aurora's Experiential Flagship Store Opens in the West Edmonton Mall
The Company's flagship retail store official opened on November 27, 2019 in North America's largest shopping mall. At approximately 11,000 square feet, the location in the West Edmonton Mall combines a retail cannabis store that showcases Aurora brands and an immersive experiential space for cannabis education, events and community engagement. With more than 30 million visitors to the West Edmonton Mall each year, Aurora's flagship is already seeing a combined average of 700 visitors per day. On average, 94% of visitors to the cannabis and accessories store make a purchase. Thus far, the top selling cannabis products have been Aurora's Hybrid and THC Pre-Rolls, Whistlers organic products and the Company's popular cultivar, LA Confidential. To learn more about Aurora's new flagship store, please click here.
Facility Status Updates
Whistler Pemberton Facility Construction Complete
Aurora's wholly-owned subsidiary, Whistler Medical Marijuana Corp. ("Whistler"), recently completed construction of its 62,000 square foot production facility in Pemberton, British Columbia (the "Pemberton Facility"). Construction of the Pemberton Facility commenced April 2018, and is purpose built to European Union Good Manufacturing Practices (EU GMP) standards. The fifteen-room Pemberton facility is Whistler's largest and has a designed capacity of 4,500 kg of premium, organic certified, cannabis per year. The new Pemberton facility also incorporates a public lounge to educate visitors to the region about Whistler and its history of pioneering organic certified cannabis cultivation.
Whistler product is in strong demand from both medical and consumer markets, and its craft production commands a premium brand position and pricing. The additional capacity of the Pemberton facility is expected to enable Aurora to increase the availability of Whistlers organic certified dried cannabis, hand-rolled joints and cannabis. Whistler expects to introduce a new line of organic certified hashish and live rosin cannabis extracts soon.
Aurora Nordic 1 Receives Additional Licensing
Aurora Nordic 1, the Company's 100,000 square foot facility located in Odense, Denmark, with a production capacity of 8,000 kg per year of medical cannabis, recently received a processing and drying license. Aurora has also completed the requisite filings to obtain EU GMP certification of the facility, and expects to receive approval in the first calendar quarter of 2020, which will allow for sale to patients across Europe.
New Extraction Technology Implemented at Aurora River
Aurora River, the Company's 210,000 square foot production facility located in Bradford, Ontario, recently completed installation of new, proprietary extraction equipment to increase the Company's resin extract production capacity for soon-to-be-released premium cannabis derivative products. The highly-advanced, process patented equipment was designed in-house and uses CO2 extraction to process up to 20 kg of plant material per run and is capable of performing two runs per day. Aurora River is already using the new extraction technology for the production of edibles and Aurora's new line of vapes with high-quality cannabis resin from the company's high-THC and high-CBD cultivars.
Aurora Eau Receives Health Canada Processing License
Aurora Eau located in Lachute, Quebec, recently received a Health Canada processing license. In addition to its existing Health Canada license, which authorized cannabis cultivation and sales, the new license allows the facility to process, package and sell dried and fresh cannabis to authorized Canadian retailers. Designed for the cultivation of niche and exotic cannabis varieties and home to Aurora's eastern Canada outdoor grow operation, Aurora Eau is a 48,000 square foot facility with a production capacity of 4,500 kg/ year.
New Automated Packaging Line Installed at Aurora Vie
Aurora Vie located in Pointe-Claire, Quebec, recently commissioned and installed a new automated packaging line, reducing the time it takes to package solid dose cannabis products. The state-of-the-art equipment can package, seal and cap up to 100 bottles per minute and has been used for softgels at the facility since Oct. 31, 2019. The new packaging line is used for cannabis-infused mints, which are made at Aurora Vie and are expected to enter the consumer and medical cannabis markets after December 17, 2019.
Dehulling and Decorticator Arrive at Hempco's Nisku Facility
Hempco's new, state-of-the-art, 56,000 square foot processing facility, which is capable of processing 2.9 million kg per year hemp is nearing completion. The facility, located in Nisku, Alberta, recently commissioned its new dehulling and decorticating equipment. Upon completion in the first calendar quarter of 2020, the new equipment will be capable of dehulling 450 kg/hour of hemp hearts and decorticating 1.5 tonnes per hour of hemp fibre.
Industry Recognition
Aurora Wins Top Prizes at Canadian Cannabis Awards
Aurora took home four top prizes at Lift & Co.'s Canadian Cannabis Awards on November 8, 2019. Awards received at the event included "Top Sativa Flower" for San Rafael '71 Tangerine Dream, "Top Indica Flower" for San Rafael '71 Pink Kush, "Top Cannabis Spray" for Aurora Sativa Oral Spray and "Top Balanced Bottled Oil" for MedReleaf Midnight Oil. Other Aurora family products and companies were also finalists in the "Top Sativa Flower," "Top High CBD Bottled Oil," "Top Cannabis Capsules," "Top Home Growing Box" and "Top Testing Lab" categories.
Strategic Partner Developments
Aurora has a broad partnership portfolio of cannabis and cannabis-adjacent businesses which all provide valuable strategic benefits to Aurora. The benefits include retail footprint and customer insights, product technology/intellectual property, and operational or cost advantages. The Company continuously evaluates the strategic fit of these investments and may choose to monetize investments which are no longer core to the strategic plan.
Alcanna Inc. ("Alcanna")
Alcanna continues to build-out its cannabis retail store network across

Canada

with 30 Nova Cannabis locations in

Alberta

;
Nova Cannabis'

Queen Street West

location in

Toronto

continues to average

$400,000

–

$500,000

per week in sales – of which Aurora and MedReleaf are the highest selling brands by a wide margin;
Alcanna is targeting the maximum of 10 stores in

Ontario

by

August 31, 2020

with 10-15 more by year end and to reach the 30-store limit before

August 2021

.
Capcium Inc. ("Capcium")
Capcium is currently in the final stages of construction at its new state-of-the-art production facility with a capacity for up to 10 softgel encapsulation lines capable of producing approximately 2.5 billion softgel capsules annually.
Capcium recently received its cannabis R&D license for the new facility and will be starting its cannabis R&D laboratories in Q1 2020. Capcium is expecting to obtain its standard processor license by end of Q1 2020.
Capcium's softgel capsules manufactured for Aurora were the first finished softgel products of a Canadian LP to be approved for sale in an EU country.
Choom Holdings Inc. ("Choom")
Currently, Choom has 14 stores open and operating and is targeting 20 stores open across

Canada

by the first quarter of 2020 with two additional cannabis development permits in highly coveted areas of the

Greater Vancouver

region;
On

December 1, 2019

, Choom expanded its executive team with the appointment of

Corey Gillon

as the company's new Chief Executive Officer, who was also appointed to the Board of Directors. Corey's executive leadership roles were established at Walmart and Aritzia where the corporate strategies he implemented were customer-focused and ensured operational retail development;
With the recent announcement made by the Alcohol and Gaming Commission of

Ontario

to move to open market for private cannabis retail, Choom had commenced the process of exercising the option to purchase its branded flagship retail store located in

Niagara Falls

. With these regulatory changes, Choom expects to expand its footprint in

Ontario

starting the first quarter of 2020.
CTT Pharmaceutical Holdings Inc. ("CTT")
On

October 6, 2019

, Aurora commenced sales of its Dissolve Strips to the Canadian medical market. Dissolve Strips, a novel non-smokable, sublingual cannabinoid delivery technology, were developed in collaboration between CTT and Aurora, who hold a 9% ownership interest;
Based on the successful market introduction, with the Dissolve Strips selling out in short order, Aurora and CTT are in the process of developing additional SKUs, including CBD infused strips and THC:CBD balanced strips for both the medical and the consumer markets;
EnWave Corporation ("EnWave")
EnWave has signed a total of 14 royalty-bearing commercial licenses for REV technology in fiscal 2019;
On

December 11, 2019

, EnWave announced that in its Fiscal 2019 it generated

$42.8 million

in revenue, up 88% from

$22.8 million

in 2018;
EnWave has sold its innovative REV machines for the drying of Cannabis to Swiss, Australian and

New Zealand

companies.
High Tide Inc. ("High Tide")
High Tide expanded its retail cannabis network from 25 branded stores at the end of September to 30 operating locations today, including 27 Canna Cabana stores and 3 KushBar stores located across

Alberta

,

Ontario

and

Saskatchewan

.
Acquired the remaining 49.9% of its KushBar joint venture, including 3 operating retail cannabis stores and a fourth location currently under construction, all located in

Alberta

.
Radient Technologies Inc. ("Radient")
Radient is currently extracting and processing a large inventory of cannabis biomass for Aurora at its Edmonton I cannabis processing facility (designed for 56,000 kg / year throughput capacity). Recovery of cannabinoids is consistently above 90% and as much as 99%. Products have shown high levels of quality and demonstrated extended "shelf life," with negligible cannabinoid degradation over multiple months.
Radient's Edmonton II hemp processing facility, designed to process 420,000 kg / year of hemp, is on track for completion at the end of calendar 2019. Additional commissioning and validation work is expected to commence in early calendar 2020, after licensing is granted by Health Canada. Radient's Edmonton III facility ("Edmonton III"), with construction well underway, is expected to begin operations in the second half of calendar 2020, scaling up to its intended full capacity of 280,000 kg/ year of cannabis and 2.8 million kg/ year of hemp thereafter.
Radient's

Germany

facility ("Germany") will be commissioned in two phases. The first phase, a leased production facility that is being built to suit cannabis extraction, is now under way. Phase one capacity and throughput will be 200 kg/ day, processing either hemp or cannabis biomass. The second phase will be the expansion of capacity on a site adjacent to the facility noted in the aforementioned first phase, scaling up to a throughput capacity of 280,000 kg/ year of cannabis, and 2.8 million kg/ year of hemp.
About Aurora
Headquartered in Edmonton, Alberta, Canada with funded capacity in excess of 625,000 kg per annum and sales and operations in 25 countries across five continents, Aurora is one of the world's largest and leading cannabis companies. Aurora is vertically integrated and horizontally diversified across every key segment of the value chain, from facility engineering and design to cannabis breeding and genetics research, cannabis and hemp production, derivatives, high value-add product development, home cultivation, wholesale and retail distribution.
Highly differentiated from its peers, Aurora has established a uniquely advanced, consistent and efficient production strategy, based on purpose-built facilities that integrate leading-edge technologies across all processes, defined by extensive automation and customization, resulting in the massive scale production of high-quality consistent product. Designed to be replicable and scalable globally, our production facilities are designed to produce cannabis at significant scale, with high quality, industry-leading yields, and low-per gram production costs. Each of Aurora's facilities is built to meet European Union Good Manufacturing Practices ("EU GMP") standards. Certification has been granted to Aurora's first production facility in Mountain View County, the MedReleaf Markham facility, and its wholly owned European medical cannabis distributor Aurora Deutschland. All Aurora facilities are designed and built to the EU GMP standard.
In addition to the Company's rapid organic growth and strong execution on strategic M&A, which to date includes 17 wholly owned subsidiary companies – MedReleaf, CanvasRX, Peloton Pharmaceutical, Aurora Deutschland, H2 Biopharma, BC Northern Lights, Larssen Greenhouses, CanniMed Therapeutics, Anandia, HotHouse Consulting, MED Colombia, Agropro, Borela, ICC Labs, Whistler, Chemi Pharmaceutical, and Hempco – Aurora is distinguished by its reputation as a partner and employer of choice in the global cannabis sector, having invested in and established strategic partnerships with a range of leading innovators, including: Radient Technologies Inc. (TSXV: RTI), Cann Group Ltd. (ASX: CAN), Micron Waste Technologies Inc. (CSE: MWM), Choom Holdings Inc. (CSE: CHOO), CTT Pharmaceuticals (OTCC: CTTH), Alcanna Inc. (TSX: CLIQ), High Tide Inc. (CSE: HITI), EnWave Corporation (TSXV: ENW), Capcium Inc. (private), Evio Beauty Group (private), and Wagner Dimas (private).
Aurora's Common Shares trade on the TSX and NYSE under the symbol "ACB", and is a constituent of the S&P/TSX Composite Index.
For more information about Aurora, please visit our investor website, investor.auroramj.com
Terry Booth, CEO
Aurora Cannabis Inc.
Forward Looking Statements
This news release includes statements containing certain "forward-looking information" within the meaning of applicable securities law ("forward-looking statements"). Forward-looking statements are frequently characterized by words such as "plan", "continue", "expect", "project", "intend", "believe", "anticipate", "estimate", "may", "will", "potential", "proposed" and other similar words, or statements that certain events or conditions "may" or "will" occur. These forward-looking statements are only predictions. Various assumptions were used in drawing the conclusions or making the projections contained in the forward-looking statements throughout this news release. Forward-looking statements are based on the opinions, estimates and assumptions of management in light of management's experience and perception of historical trends, current conditions and expected developments at the date the statements are made, such as current and future market conditions, the current and future regulatory environment and future approvals and permits. Forward-looking statements are subject to a variety of risks, uncertainties and other factors that management believes to be relevant and reasonable in the circumstances could cause actual events, results, level of activity, performance, prospects, opportunities or achievements to differ materially from those projected in the forward-looking statements, including general business and economic conditions, changes in laws and regulations, product demand, changes in prices of required commodities, competition and other risks, uncertainties and factors set out under the heading "Risk Factors" in the Company's annual information form dated September 10, 2019 (the "AIF") and filed with Canadian securities regulators available on the Company's issuer profile on SEDAR at www.sedar.com. The Company cautions that the list of risks, uncertainties and other factors described in the AIF is not exhaustive and other factors could also adversely affect its results. Readers are urged to consider the risks, uncertainties and assumptions carefully in evaluating the forward-looking statements and are cautioned not to place undue reliance on such information. The Company is under no obligation, and expressly disclaims any intention or obligation, to update or revise any forward-looking statements, whether as a result of new information, future events or otherwise, except as expressly required by applicable securities laws.
SOURCE Aurora Cannabis Inc.
Related Links
'How are people surviving?': Gas spike detrimental for rural mail carriers, residents – CP24 Toronto's Breaking News
Fakiha Baig, The Canadian Press

Published Friday, June 24, 2022 5:50AM EDT


Last Updated Friday, June 24, 2022 5:50AM EDT

A mail carrier says her out-of-pocket costs for delivering packages along her rural route have doubled because of the steep hike in gas prices and cost of living being experienced by many Canadians.
"The stress is exhausting," said Jennifer Henson, a Calgary mother of two boys and one of 11,000 rural and suburban mail carriers delivering letters for Canada Post across the country.
"It's not just gas. The cost of living has skyrocketed," Henson said. "I'm always wondering how to pay this bill and that bill and I'm no different than any working-class Canadian across the country."
The 38-year-old said it used to cost her $60 to the fill the tank of her Ford Flex.
"Now it's costing me $125 to fill my tank every two days, so it's completely doubled."
Canada Post's rural and suburban mail carriers don't get a red and white corporate truck and a gas card like their urban counterparts. So, along with being required to use a personal vehicle with a minimum cargo capacity of 1,415 litres, the rural carriers also cover the cost of gas, maintenance and insurance of their vehicle.
"I drive over 200 kilometres a day. We go through tires, oil change, a set of brakes a lot quicker than the average person," Henson said,
She said the Crown corporation provides her with a $720 biweekly allowance with the help of the Canadian Revenue Agency to pay for those bills, but she said it hasn't been enough.
"I don't want to slam Canada Post, because if you talk to most carriers, whether they're urban or rural, we do love our jobs. I love my route. The countryside is relaxing. I've met amazing people," said Henson, who has been a carrier for 16 years.
"But Canada Post has also increased their fuel surcharge, so when you go to the post office to mail something, you're paying more as a customer because of the fuel. That's not trickling down to us at all."
She also said the CRA raised carriers' allowance by five cents a litre this year, but she "a few cents isn't doing a whole lot when a year ago gas was about $1 less."
Statistics Canada said this week the annual inflation rate has skyrocketed to its highest level in nearly 40 years in May, fuelled by soaring gas prices.
The agency says its consumer price index in May rose 7.7 per cent compared to a year ago. It's the largest increase since January 1983.
Food prices for nearly everything in a grocery cart also grew by 9.7 per cent compared to a year ago.
Henson said the bill at the grocery store has also been a strain on her finances.
"My oldest son is 14 years old and my youngest will be 12 years old next month. They're growing and they eat more than most of my friends," she said.
"When you go to the grocery store, it just blows my mind. How are people surviving?"
Anna Beale, president of the Calgary Local of the Canadian Union of Postal Workers, said Canada Post needs to increase the allowance for its rural workers.
"Canada Post is able to provide all kinds of things like Tim Hortons gift cards (to their workers)," said Beale. "Why not take that money instead and make it work somehow for rural drivers so that they can afford these gas prices?"
A spokesperson for Canada Post said in a email the mail carrier is adapting to increased costs across many of its operations.
"Fuel prices are in unprecedented territory and have impacted the entire industry," said Phil Legault.
He said to address any additional or unforeseen expenses, rural and suburban mail carriers are entitled to a cost-of-living allowance.
"This is reviewed throughout the year and paid out as per the collective agreements," Legault said.
"The Canadian Union of Postal Workers has requested that we discuss the matter, and we will continue to engage them on this issue."
Along with the carriers, a vice president of the Canadian Federation of Agriculture said any spike in inflation, as well as the cost of gas and diesel, hits rural Canadians the hardest.
"We don't have access to public transit so we certainly pay disproportionately more for fuel because we have to drive everywhere," Keith Currie said.
This report by The Canadian Press was first published June 24, 2022.
This story was produced with the financial assistance of the Meta and Canadian Press News Fellowship.
Canadians are dispirited, cutting back on costs amid inflation highs: study – CBC News
With inflation at a 39-year high — and banks hiking interest rates to avoid economic recession — many Canadians are said to be distressed and dispirited as they cut back to manage the rising cost of living.
A new study from the polling non-profit Angus Reid Institute shows that 45 per cent of Canadians believe they are worse off now than they were at this time last year. Inflation is now at 7.7 per cent, the highest it has been since 1983.
With grocery and gas prices skyrocketing, Canadians are trying to spend less as their personal costs go up. Almost half say they are now seeking out alternative modes of transport to avoid filling up their gas tanks.
"A lot of people are concerned," said David Chilton, author of financial self-help book The Wealthy Barber, in an interview with CBC News Network.
Chilton noted that low-income people are particularly impacted by the price hikes because they spend a disproportionate percentage on essentials like food and gas.
According to the study, half of Canadians say it's been challenging to afford their typical grocery bills.
"I would argue the inflation numbers, as high as they are being reported today, are probably higher, frankly," Chilton said.
"Anybody that goes to the grocery store I think would agree with that."
'They will raise rates until they break something'
The Bank of Canada has been aggressively raising interest rates in efforts to calm inflation, with a hike in March to 0.5 per cent (the first since 2018) followed by another in April to one per cent.
In June, the bank raised its benchmark interest rate a third time this year to 1.5 per cent and indicated that several more hikes are coming. The increases are meant to encourage saving and discourage borrowing in an overheated economy.
WATCH | 45% of Canadians say they're worse off financially than last year: study
A study from the Angus Reid Institute suggests nearly half of Canadians say they're worse off financially now than a year ago, and 34 per cent think they'll be worse off next year.
As a result, 22 per cent of Canadians with a mortgage say their payments have increased; more than half say that they fully expect theirs to go up, according to the report.
An increase of $150 per month would be difficult for over a third of homeowners — but raising that number to $300 would be downright unaffordable, 66 per cent said, forcing them to seriously consider a change of plans.
Renters are also feeling stretched thin, with over half saying that affording monthly rent is difficult.
WATCH | The Wealthy Barber author discusses how rising inflation is impacting Canadians:
David Chilton, author of The Wealthy Barber, looks at how high gas prices and grocery bills amid stagnant wages have hit low-income Canadians the hardest.
"I think that you are going to see central banks throughout the world continue to raise rates" to contain inflation, Chilton said.
"It's impacting people and I think they will raise rates until they break something."
When it comes to placing their trust in the Bank of Canada, Canadians are split: just under half (46 per cent) say that they believe the bank adequately fulfils its mandate, while slightly fewer (41 per cent) say they believe otherwise.
Three quarters of Canadians are dissatisfied with the way that provinces have handled rising inflation.
The study, conducted online, surveyed 5,032 Canadian adults who are members of the Angus Reid Forum, between June 7 and 13. For comparison purposes, a probability sample of this size carries a margin of error of +/- 2 percentage points, the non-profit said.
In April, while announcing a rate hike, Bank of Canada governor Tiff Macklem told reporters that the bank is trying to anchor inflation expectations.
"The longer inflation remains well above our target, the greater is the risk that Canadians begin to think that this higher inflation is going to persist, and that becomes embedded in their inflation expectations."
"The need to make sure that inflation expectations remain moored on our two per cent target was reflected in our decision today."
About two in five Canadians have credit card debt, as well, with that number increasing to 62 per cent among those who qualified as "struggling" on the Angus Reid Institute's economic stress index.
Within this group, about 58 per cent say it will take over a year to pay off those debts.
It's a very "unusual time," Chilton says.
"I think everybody has to approach it from their individual perspective … I always believe you've got to watch your costs, but that's more true now than ever."
"Inflation Forecasts Aren't Worth the Paper They're Written on": This Is about the Bank of Canada's Reaction to Inflation, But it's the Same in the US and Everywhere – WOLF STREET
"Why the current tightening cycle is unlike anything we've observed in the past."

When Canada's Consumer Price Index for May was released a couple of days ago, it was – "as expected," I would say – a lot lot worse than expected, and exceeded once again by a huge margin the inflation forecasts by the Bank of Canada. According to the exasperated economists at the National Bank of Canada, CPI inflation runs 1.5 percentage points above the BoC forecasts of CPI, outrunning those forecasts at every step along the way. May was "the biggest miss yet in what has been a systematic underestimation of inflation," they wrote in a note.
"So if May's CPI report doesn't set alarm bells ringing at Governing Council [of the Bank of Canada], someone should check their collective pulse," they noted.
The headline CPI for Canada spiked by 7.7% in May compared to a year ago, the worst inflation rate since 1983, according to Statistics Canada: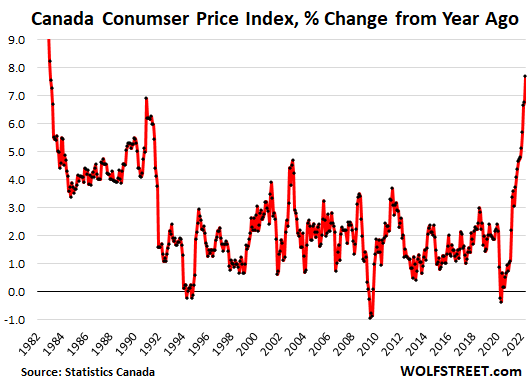 The BoC has already hiked its policy rates by 125 basis points, to 1.50%. At its last meeting, it included hawkish language of more and bigger hikes than expected, such as a 75- basis point hike at the July meeting. The BoC has also embarked on QT, and its balance sheet has been shrinking since March 2021. But the rate hikes and the hawkish language of future rate hikes were based on the BoC's inflation forecasts which have been "a systematic underestimation of inflation." So this rate-hike cycle is going to get interesting.
On a month-to-month basis, CPI jumped by a stunning 1.4% in May from April, not seasonally adjusted; and by 1.1% seasonally adjusted. As expected, I would say, those spikes totally blew away the expectations.
The month-to-month CPI rates of March, April, and May, annualized, spiked to an annual rate of 12.5%.
The red-hot month-to-month increases came across the board, and not just in a few commodities-linked items. It gave the BoC more than enough reasons to pull the trigger on a 75-basis point hike at its meeting on July 13.
"Inflation forecasts aren't worth the paper they're written on."
The BoC's inflation forecasts that it released at each of its prior meetings going back to April 2021 are depicted in different colors in the chart below from National Bank of Canada's Financial Markets shop. The red line is the actual CPI rate for each quarter. The BoC's estimates start at each meeting with the then current CPI rate.
So at its April 2021 meeting (light blue, first line from the bottom), as inflation had begun to surge, the BoC estimated that CPI would peak at just under 3% by mid-2021 and then decline to 2% by March 2022, hahahaha.
Then at its July 2021 meeting, the BoC forecast that inflation would top out at 3.8% by Q3 2021, then drop to 3% by about right now, hahahaha, and to 2% by Q3.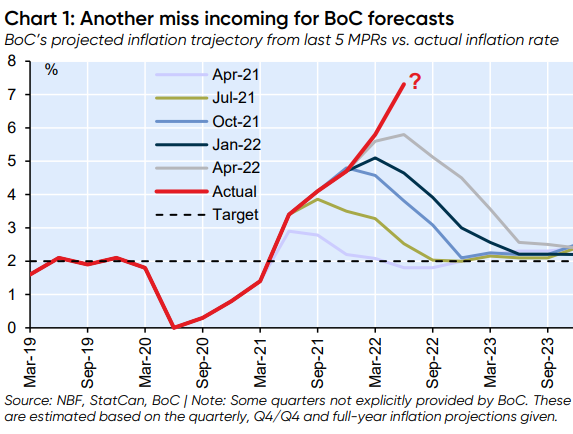 The above chart shows how ridiculously far off these inflation forecasts were, and how this inflation is a big wild card that just keeps getting worse, even as commodities prices have started to come down.
"For BoC watchers trying to compare today's inflation trajectory with earlier monetary tightening episodes, give up. There's simply no comparison in the overnight rate target era (that started in the mid-1990s). That's why the current tightening cycle is unlike anything we've observed in the past," said National Bank of Canada's Warren Lovely and Taylor Schleich in their note.
"As aggressive as the past couple of BoC actions may have seemed at the time, it's time to turn the screws even tighter," they said.
"A 75 bp rate hike on July 13th won't fix Canada's inflation problem, not with labour markets as tight as they are. As an aside, job vacancy data are clearly worrying, and Canada's acute labour shortage won't be remedied quickly despite a resumption of healthy population growth [through immigration]," they wrote.
And they added – sprinkled with stark inflation humor:
"To summarize: We have out-of-control inflation. Simply sending more money to households like some governments have done (or intend to do) is just like adding gasoline (itself already expensive) to the fire.

"Inflation demands an uber-forceful BoC reaction, including a 75 bp hike in three weeks' time.

"Exceptional rate hikes have done little to control prices (so far) but have turned housing markets upside down. Consumer psyches bear watching and recession risks have mounted.

"Indeed, with inflation data like this, securing a 'soft landing' might be like threading the eye of a needle. We haven't totally abandoned hope, but today's CPI report should sober up even the most enthusiastic among us."
The Fed was also ridiculously off with its inflation forecast every step along the way and by now has gotten burned at the stake for its use of "temporary" and transitory." The ECB too has been ridiculously far off with its inflation forecasts. And their monetary policies – their refusal to hike rates starting in early 2021, and their refusal to end QE and start QT at the same time – were driven by this ridiculous underestimation of inflation. But now they've gotten the memo.
It is an interesting turn of events that economists at the big banks in Canada as well as the US and everywhere are exhorting their respective central banks to crack down on inflation by raising rates further and harder as this inflation is threatening to spiral out of control, after which the economic and financial damage from runaway inflation is going to be huge.
Stock and bond markets have already reacted sharply to this tightening scenario, and in Canada, housing markets have already "turned upside down," and central banks have just started to tighten, and nothing central banks did in recent decades can be compared to what comes next, and if a recession is part of the deal of getting this runaway inflation under control, so be it.
Enjoy reading WOLF STREET and want to support it? Using ad blockers – I totally get why – but want to support the site? You can donate. I appreciate it immensely. Click on the beer and iced-tea mug to find out how:

Would you like to be notified via email when WOLF STREET publishes a new article? Sign up here.