B.C.'s first art store that reuses used art supplies opens in Victoria – iHeartRadio.ca
The province's first non-profit "Creative Reuse Centre" launched this past weekend in downtown Victoria with over 1,000 people attending during the opening weekend.
The centre is called Supply Victoria and it's a non-profit that redistributes used art, office, and school supplies through its low-cost supply store. It also offers programs and creative reuse classes to youth and adults.
Executive director Ashley Howe says Supply Victoria is like a thrift store for art supplies with everything from paint, brushes and paper, to bottle caps, pompoms, books and more.
"This is an affordable and more sustainable option and alternative to traditional art supplies," she said. "There are amazing resources for artists, students and teachers here."
ENVIRONMENTAL BENEFITS
Howe says the concept is unique to Victoria, with only a handful here in Canada and more than 130 creative reuse centres in the United States.
"Everything is either gleaned from local business waste or donated by the community," said Howe, whose mission is not only to offer affordable art supplies but also to protect the environment through reusing what otherwise might go into the garbage.
Supply Victoria plans to divert over 4,000 pounds of materials from the landfill in its first year of operation in its new space, putting the supplies into the hands of people who need them the most.
"So there's a large portion of materials needlessly going into the landfill every year," said Howe. "So we're just acting as a redistribution center to give those materials another life."
Supply Victoria has already been able to divert 2,000 pounds of waste from the Capital Regional District's Hartland Landfill over the past four years.
It has done this through education and sustainable art activities with over 750 students, young and old, since its inception in 2018 through community events, workshops and partnerships with neighbourhood associations and community centres.
With a permanent location now open, Supply Victoria plans to expand its ability to capture more materials before they are discarded.
Howe says the centre will also help the City of Victoria meet its Zero Waste Plan target of reducing landfill waste by 50 per cent by 2040.
It's a win-win for people and the environment, she says.
NEW SPACE AND LAYOUT
Creative minds will be able to find almost anything they need at a very affordable price, at least half of what you would pay in a retail store, says Howe.
Supply Victoria has 1,200-square-feet of space, including two rooms for supplies and a large open space for hands-on art education with reclaimed materials for youth and adults. It also offers space to rent to Victoria's arts, culture, and non-profit sectors.
Soon, Supply Victoria will offer Creative Reuse Kits, described as curated take-home crafting activity packages, and launch an online store featuring reuse retail inventory with local pick-up or bike courier delivery.
You can also volunteer at the centre and gain skill-building opportunities, connecting with other creatives, Howe says.
Supply Victoria is located at 750 Fairfield Rd. and is open Thursday to Saturday, 11 a.m. to 6 p.m.
Donations are accepted on Tuesday evenings between 6 p.m. and 8 p.m. Interested donors can check out the centre's website for current materials being accepted and criteria before dropping off donation.
Youth get creative at summer art camp – Lakeland TODAY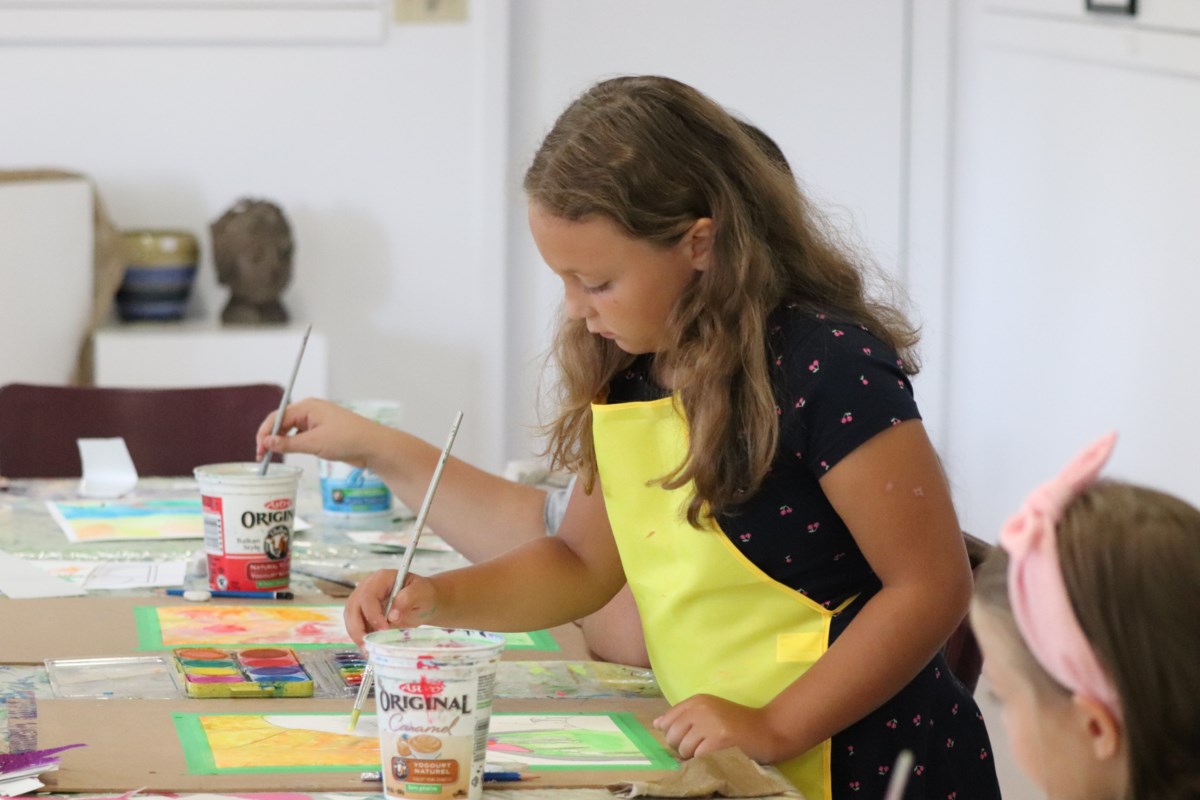 ST. PAUL – A variety of mediums were used to create unique works of art during a week-long Youth Art Camp held at the St. Paul Visual Arts Centre, last week.
Pam Bohn, the art instructor for the art camp, said the camp gives youth the chance to not only do art but form friendships.
"We also go outside to play and go to the park, and so it is also a day where they can make friends."
The art camp included acrylic painting, watercolour painting, mixed media projects, and much more.
"While I facilitate the classes, [the children] are free to create as they please," she said. "That allows those who like to do art that freedom to have different art mediums and try things that they may be unable to do at home."
Bohn said the participating youths have enjoyed the art camps, adding, "They all get excited when they come and take their [art] home to show their parents."
The Hive celebrates three new exhibitions at Art Gallery of Burlington | inHalton – insauga.com
Published August 15, 2022 at 2:41 pm
A special event celebrating three new exhibits is being hosted by the Art Gallery of Burlington.
The Hive is happening Saturday, Aug. 27, from 1 to 4 p.m. This free, all-ages event incorporates the organization, cooperation and energy of a beehive into an afternoon of art, activity, learning and fun.
The Hive will feature a special workshop led by Toronto's Clay and Paper Theatre, live arts and crafts demonstrations, a screen-printing presentation, live performance, food and drink.
The event is being held in celebration of the AGB's three new fall exhibitions:
The Future of Work, an exploration into how the pandemic has affected labour markets and our quality of life

ਨਜਰ ਨਾ ਲੱਗੇ

/Nazar na lage/Knock on wood, a vibrant and meaningful interpretation on the art of rangoli by artist Noni Kaur
Know your Place, an exhibit of cartoon-like clay sculpture that reveal the raw emotional experiences of the artist Sami Tsang
Known for work inspired by oral traditions, folk songs, poems and fables, Clay and Paper Theatre will charm participants and audiences with their original multi-disciplinary performance-based production. Guests who wish to participate with Clay and Paper Theatre should arrive early and be ready to create.
Visitors are invited to an interactive, screen-printing demonstration led by artist Jesse Purcell and are encouraged to bring any used clothing to be transformed into a bunting display to be hung in the gallery by the artist collective Works-in-Progress.
Arts Burlington will be opening its doors to guests with arts demonstrations and the Burlington Handweavers and Spinners Guild will guide guests through a natural plant-based dying demonstration, teaching attendees what they need to know to create from home.
The AGB parking lot will be free for the day. For more information, visit the AGB website.

insauga's Editorial Standards and Policies
Stay the know
Subscribe now to receive our daily email of today's top stories in your city!
advertising
'Miyo Nepin' (Good Summer) art show brings together Indigenous talent – battlefordsNOW
"[Nordstrom] contacted the artists; I contacted some. Then, she [decided] how it would look," Favel said.
"Miyo Nepin," which means Good Summer, is the theme of the show.
"We just came out of the pandemic, [so] it's a celebration of the freedom of movement, the freedom of the summer, and hopefully this freedom can stay in the future," Favel said.
He noted the theme is essentially about the freedom from health concerns, with the hope that everyone can enjoy good health again.
"It's a celebration of life and health," Favel said.
Some of the artists featured in the exhibition include Carl Thunderblanket from Sweetgrass, Meryl McMaster from Red Pheasant, Greg Tootoosis from Poundmaker, Charity Boxell from Poundmaker, and Dana Standinghorn from Sweetgrass.
The curators focused on showing pieces from artists with a substantial body of work.
Favel is particularly impressed with the calibre of the artists' projects in the show.
"We wanted to encourage, shed some light into this area of the talent that exists here," he said. "Hopefully, then, this work can keep going further, and their work can become more well-known provincially."
Favel added the artists are creating pieces of a national and international quality
"If you go to any gallery in Montreal or Toronto, you would see this is the quality of work we have here."
Favel hopes to keep putting the spotlight on many more of the Battlefords area's talented Indigenous artists going forward as well.
"In the future, like in my Performance Arts Festival, we will just keep going, and keep growing, and keep developing. That's our goal," he said.
The Miyo Nepin exhibition that features more than 20 pieces is on now through Sept. 4 at Fort Battleford.
–
Angela.Brown@pattisonmedia.com
On Twitter: @battlefordsNOW