Baker Real Estate Announces New President and Geographic Expansion – Canada NewsWire
TORONTO, Dec. 1, 2020 /CNW/ – Baker Real Estate Incorporated, Canada's leading pre-construction residential and condominium sales and marketing company, today announced the appointment of Harley Nakelsky as President, effective immediately.
"Harley is a seasoned professional who has been a valued member of Baker's senior leadership team for eight years, providing our clients with sound strategic advice and sales support," said Baker CEO, Barbara Lawlor. "This expanded role, along with our ongoing investments in talent and technology, provides us with a strong foundation to grow our business and serve clients across Canada."
"I am very excited by the opportunity to reinforce Baker's proven track record in the Toronto area and, increasingly, beyond," said Harley Nakelsky. "Our successful experience with launching new developments and selling down current developments despite COVID-19, has positioned us well for 2021 and beyond."
Building on Baker's long-term success, Baker is expanding into the Greater Vancouver market with the launch of Baker West, providing the firm's bespoke service to its clients and local developers.
Jeff Clark, Senior Vice President will continue to be responsible for our international initiatives, including the development of Baker West and the partnerships that will ensure our success in the Vancouver area, and Debbie LaFave, Senior Vice President, will continue to lead our successful business in the Montreal market.
About Baker Real Estate Incorporated:
Baker is a member of the Peerage Realty Partners group of companies. For over 25 years, Baker has been Canada's leading pre-construction residential and condominium sales company. With offices in Toronto, Montreal and Vancouver, it deploys its deep experience to provide consulting on all aspects of a development, ensuring clients strategically customize their projects and optimize returns with the ideal unit mix, floor-plan, pricing, and marketing. With a growing market share, Baker has sold over 100,00 units and generated $80-billion in new home sales.
About Peerage Realty Partners
Founded in 2007, Peerage Realty Partners, a subsidiary of the Peerage Capital Group, offers a unique professional partnership model for entrepreneurial real estate firms. Peerage transacts over C$16 billion in annual sales volume, with over 3,000 sales representatives and 78 offices. In addition to Baker Real Estate Incorporated, our partners include leading luxury brokerage firms: Chestnut Park Real Estate (Ontario,) Sotheby's International Realty Canada, Jameson Sotheby's International Realty (Chicago), Madison & Company Properties LLC, (Denver), as well as Fifth Avenue Real Estate Marketing, a leader in new development and condominium sales and marketing in British Columbia, and StreetCity Realty, a progressive brokerage in Ontario.
Related Links:
www.baker-re.com
www.peeragerealty.com
www.peeragecapital.com
SOURCE Baker Real Estate Incorporated
For further information: Barbara Lawlor, CEO, Baker Real Estate Incorporated, Tel: 416-923-4621, Email: [email protected]
With the real estate market still growing, here's how to invest this year – Regina Leader-Post
Article content
This article was created by StackCommerce. While Postmedia may collect a commission on sales through the links on this page, we are not being paid by the brands mentioned.
Investing in real estate has always been considered a smart move, and with so many Canadians in search of better housing thanks to the pandemic, the moment is right to strike. RBC estimates home resales in Canada increased by 13 per cent last year and predicts sales will hit an even higher level in 2021. Clearly, there is money to be made, but understanding the real estate market requires skill and know-how.
Every good investor takes time to study their intended market before making a move. Investing in a home for your entire family is considerably different from nailing down the perfect time for buying a building to flip when the demand is high. If you have ever considered purchasing an investment property, you've probably struggled with deciding which type of home is the right one to pour your money into. Not to mention all the other important questions you'll need to answer for an endeavour as big as this one.
This Vancouver 'gnome home' is trolling a local real estate company (VIDEO) – Vancouver Is Awesome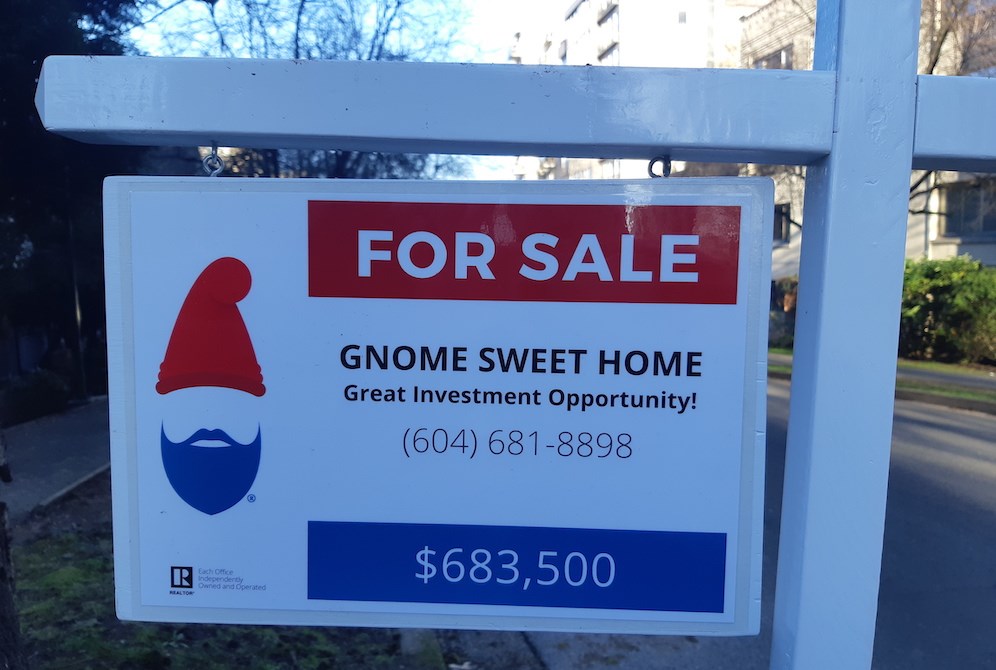 A tiny gnome home appears to be for sale on the corner of Nelson and Jervis in Vancouver.
Vancouver Is Awesome explored the adorable display, and also called the number on the real estate sign.
The company told us that they've received a few calls related to the miniature abode, but that they haven't been overwhelmed with queries.
Have a look at this adorable, pint-sized property.
[embedded content]
Canadian Real Estate Prices Grew Over 25x Faster Than U.S. Prices Since 2005 – Better Dwelling
Canadian real estate prices are growing to comical levels, as bad policy stacks up. U.S Federal Reserve data shows real adjusted home prices increased at double the pace of the U.S in Q3 2020. As big as the gain is, it's one of many times Canadian real estate prices have outperformed the U.S. home prices. In fact, it's now at the point where Canadian prices have grown 25 times faster than U.S. home prices since 2005.
Canadian Real Estate Prices Were Up Over 8%
Canadian real estate prices made a massive jump last year, despite the pandemic. Real home prices increased 2.93% in Q3 2020, from the previous quarter. This brings annual gains 8.27% higher than the same month last year. Across the country, prices have doubled since 2005, and that's after adjusting for inflation. One note worth taking away is, almost half of the gains occurred in the past 5 years. That's a very rapid acceleration, even before considering the other half of the growth took twice as long.
U.S. Real Estate Prices Were Up Over 3%
U.S. real estate also made substantial gains over the past year, but it doesn't look like much compared to Canada. Real prices increased 0.81% in Q3 2020, making them 3.45% higher than a year before. Across the country, prices are only 3.96% higher than they were in 2005, in real terms. In other words, prices have been moving largely with inflation over the past few decades.
Canadian Real Estate Prices Have Grown 25x Faster Than U.S. Prices Since 2005
The consistent growth without correction over nearly two decades has disconnected the two. Canadian real estate prices didn't just see double the growth over the past year. Since 2005, real estate prices have grown over 25.31 times faster than U.S. real estate prices. This is not a normal trend.
Canadian and U.S. Real Estate Prices
An inflation adjusted index of Canadian and U.S. real estate prices.
Source: US Federal Reserve, Better Dwelling.
Canadian real estate prices historically have moved in line with U.S. prices. From 2005 to 2020, real prices in Canada increased over 25 times faster than U.S. prices. Before 2006 though, they largely moved around the same pace, with exceptions in 1980 and 1990. At the time, these periods were "new paradigms," but subsequently found to just be bubbles. The recent home price acceleration is so large though, many people find it hard to believe a correction is possible.
Most people think of Canada's recent real estate price surge as a long-term trend. However, almost half of the price gains occurred over a period only a little longer than a single political term. It might seem like forever for some people, but it's just a fifth of a mortgage amortization. Cheap credit and policy to preserve (and inflate) prices hasn't lasted this long before. That doesn't mean it won't last, it just means there's no historic precedent. It's not clear if this establishes a new paradigm though.
In the early 90s, the U.S. attracted young Canadian professionals looking for a better balance. Recently, Canada's young people have been de-urbanizing due to high real estate prices. If both of those trends occur, will Canadians continue to pay premiums solely due to cheap credit?
Like this post? Like us on Facebook for the next one in your feed.