Blue Jays: What happens now with Mark Shapiro's contract? – Jays Journal
Mark Shapiro, the President and CEO of the Blue Jays, is only under contract until the end of the 2020 season. What happens now for him in Toronto?
There will be a lot of complicated variables for MLB executives to navigate over the coming weeks and even months, and I imagine things will be very much in limbo until we have some answers about the future of baseball in 2020.
That's the unfortunate reality for the players, the fans, and for the front offices across the game, but there could be another interesting factor to deal with at some point this year. The Blue Jays were set to enter the season with Mark Shapiro working under the final year of his current contract as President and CEO, and the two sides had yet to work out an extension.
According to the Athletic's Ken Rosenthal, there were talks around the idea back in October, but it didn't sound like anything was particularly close at the time. We do know that Ross Atkins, the Blue Jays GM, is under contract until after the 2021 season, and he has been closely tied to Shapiro throughout his career in baseball, including being hired by Shapiro to come to Toronto. All along I personally expected that Shapiro would be extended until the end of 2021, and all parties could re-evaluate at the end of the 2020 campaign to see where things were at with the front office.
More from Jays Journal
Fast forward to today, and we're now facing the very real threat that there may not be any baseball in 2020. That's a terribly depressing thought for a number of reasons, but it could also be relevant when it comes to the Blue Jays' situation with Shapiro. For the purposes of this thought train, let's assume there will be no baseball this season.
Without having any inside information whatsoever, I would still be surprised to see Shapiro leave with Atkins under contract for another year. The Blue Jays could decide to move on to a different front office group and fire Atkins with a year left on his contract this fall, but it's hard to see them making that decision now, especially without a 2020 campaign to evaluate their work. After focusing on building a homegrown core and rebuilding the roster for the last few years, Atkins and company went out and acquired some real help this winter including Hyun-Jin Ryu, Tanner Roark, Chase Anderson, and more. On paper it was an exciting winter for the Blue Jays, and it would be hard to justify moving on from the front office team without getting to see the fruits of their work.
All that said, Shapiro has been linked to other positions in the past, even in other sports. It's hard to know what could be on the table for the 53-year-old until a decision has been made either way, he has downplayed any rumours of that sort, and has repeatedly stated he is interested in seeing the job through.
"I've been clear and consistent about enjoying where I am and wanting to be here. From a competitive perspective, I want to finish the job. That's incredibly important to me."
Once again, my assumption is that if there's no baseball this year, the Blue Jays and Shapiro will be interested in at least a one year extension to his current deal. Without getting a chance to see what this current group can do, it's pretty hard for anyone to make a decision about the future at the moment.
As I said at the beginning, I don't expect it will be a priority for the immediate future for the Blue Jays or for Shapiro, but we'll see if and how that changes as the suspension of play continues. Hopefully there will still be baseball this season, but one way or another the decision on Shapiro's future is coming later this year.
A statistical look at the Toronto Maple Leafs vs. Columbus Blue Jackets play-in series – TSN
The National Hockey League's Return to Play format is official, and assuming all goes to plan, we are about six weeks away from watching hockey once again.
The new format – in the event you live under a rock – will feature 24 teams in total, and will open up with a 16-team qualifying round. The opening best-of-five series offers new life to eight teams that were below the original playoff cutline, and should create waves of excitement for eager sports fans.
With such a significant layoff, there will be ample questions about preparedness for every team. But the good news is with 70 or so regular-season games logged, we do have a rather strong understanding of each team's strengths and weaknesses.
To shake off the rust here, I will preview each qualifying round series over the next few weeks. Today we will start in the Eastern Conference, with the eight seed Toronto Maple Leafs taking on the nine seed Columbus Blue Jackets.
Regular Season Performance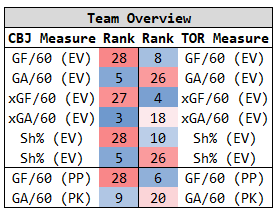 One of the things that I think makes a Toronto-Columbus matchup so intriguing is that the teams are polar opposites.
The Maple Leafs are a high-flying offensive team with loads of superstar talent up front, and carried one of the league's more prolific offences through the regular season. Toronto's 3.4 goals per game was actually third in the league, trailing only Tampa Bay (3.5) and Washington (3.4). Despite the wondrous offensive production, Toronto is still just an eighth seed – in large part because only five teams gave up more goals per game (3.2). Elite offensive team, shaky defensive team
The Blue Jackets live on the other end of the spectrum. Their 2.6 goals against per game was fourth best in the league – a surprisingly strong performance considering the exodus of talent from Columbus last summer. In many ways, it's a classic John Tortorella team: incredibly disciplined in the defensive zone, with five-man units that show very capable in pushing opposing forwards well into the perimeter.
It's also a classic Tortorella team because scoring was a problem all season long. 5-on-5 scoring and power-play production – which has been an area of concern for a few years now in Columbus – are ineffective, in large part because the team cannot create offence from the low slot: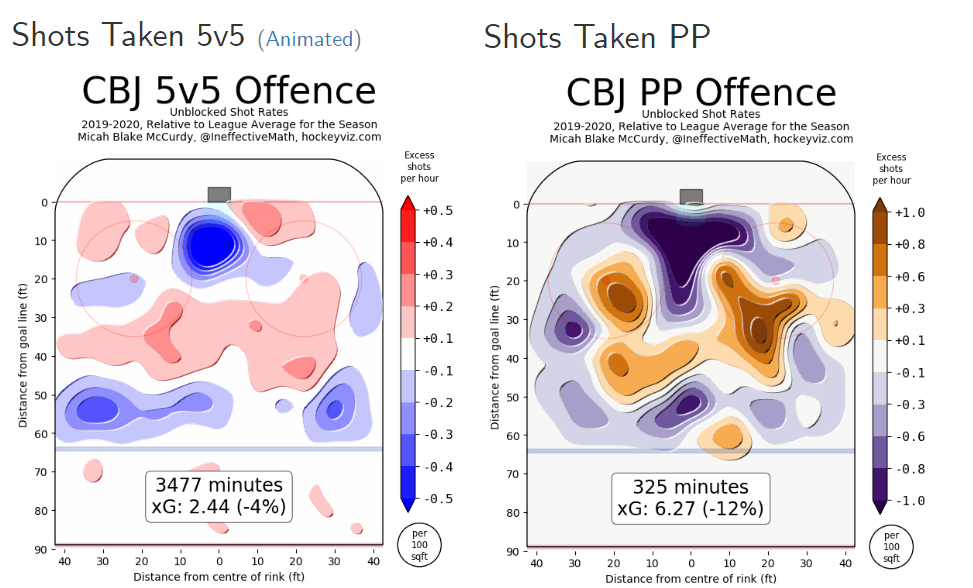 Skater Overview (Goals Above Replacement)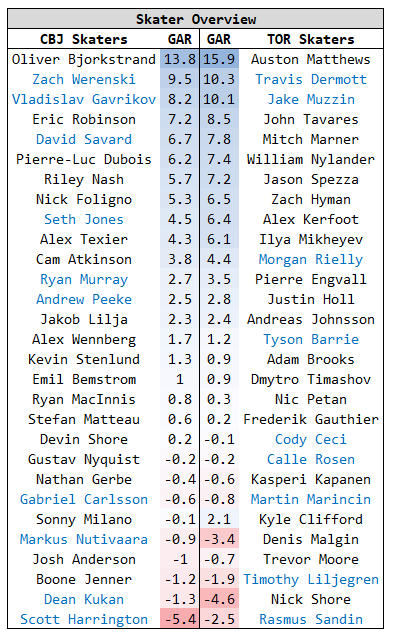 There is no doubt that Toronto's Auston Matthews is the best skater heading into this series. Matthews' fourth professional season was absolutely electric, with 47 goals and 33 assists in 70 games played. The season stoppage ultimately barred him from chasing down the Rocket Richard Trophy, finishing just one marker back of Boston's David Pastrnak and Washington's Alexander Ovechkin.
What differentiates Matthews from a number of other prolific scorers in Toronto is that the Maple Leafs showed a semblance of defensive competency with him on the ice. Toronto was a full goal better than its opponents for every 60 minutes of even-strength play with Matthews on the ice – a number that compares to the likes of Mark Stone and Evgeni Malkin.
Consider some of the other Leafs attackers, and you have a very different story. Mitchell Marner (+0.0 goals per 60 minutes), Kasperi Kapanen (-0.2 goals per 60 minutes), and John Tavares (-0.4 goals per-60 minutes) are just a handful of examples of productive offensive players who traded off those goals because of leaky defensive play behind them.
Matthews isn't the only player in the series to drive such an impressive on-ice goal differential, though. Oliver Bjorkstrand – the 25-year-old Columbus forward in the midst of his own breakout season – also finished a goal better than his opponents per 60 minutes, coming into his own with linemates Gustav Nyquist and Pierre-Luc Dubois.
But the story of Columbus ultimately centers on their blueline. The team's top pairing of Zach Werenski and Seth Jones has become one of the most formidable defensive duos in the league, and Toronto's top-six forwards are going to see an ample amount of both in this series.
The Jones/Werenski pairing is strong on both sides of the ice, and over the years it has led to some incredible goal rates. By season:
– 2016-17: +9 goals
– 2017-18: +16 goals
– 2018-19: -10 goals
– 2019-20: +14 goals
For Toronto to prevail in this series, neutralizing Columbus' best units – anchored by the Jones/Werenski pairing – will be critical.
Goaltender Overview (Goals Saved Above Average)

The questions about how porous the Maple Leafs defence has been this season has been quite tough to answer, if only because the goaltending has been comparatively abysmal. For every scoring chance where the blueline left a Toronto goalie out to dry, you had another lifeless shot from the point that somehow found its way in the back of the net.
Frederik Andersen did improve as the season progressed, and the acquisition of Jack Campbell from Los Angeles did prove to be a major upgrade over Michael Hutchinson. Andersen will be the guy in this series, but it's probably fair to say he doesn't have the longest leash of goalies in the qualifying round.
In Columbus, Tortorella had tough decisions to make in the post-Sergei Bobrovsky world. His tandem of Elvis Merzlikins (33 games) and Joonas Korpisalo (37 games) proved more than capable, and were one of the biggest reasons the Blue Jackets stayed in the hunt this season.
But in a short series, the value of a rotational goaltender system is diminished – Tortorella ultimately has to pick one. The games played edge would seemingly give it to Korpisalo, but on performance, Merzlikins was a definitively better goalie. I would be surprised if the Latvian isn't given the Game 1 start.
Prediction
If anyone is still counting out Columbus after last season's unbelievable sweep of the Tampa Bay Lightning, they are foolish. This is a strong, defensively disciplined team that's going to scratch and claw for every inch of the ice.
But this Toronto lineup just has too much firepower in the forward ranks, and there are serious concerns about where the scoring will come from on the Columbus side.
The pick is Toronto in five.
Data via Natural Stat Trick, HockeyViz, Evolving Hockey, NHL.com
Oilers' McDavid, Nurse size up new playoff format ahead of potential Hawks clash – CBC.ca
During his downtime in the early months of the COVID-19 pandemic, Darnell Nurse tuned into the Michael Jordan documentary The Last Dance for a dose of inspiration.
The Edmonton Oilers rearguard plans to draw on motivational lessons from Air Jordan in the first round of the Stanley Cup playoffs against the Chicago Blackhawks.
"I think that's the perfect example — to see his mindset in a lot of those games – of creating your own environment, creating your own fire," Nurse said Thursday on a virtual news conference conducted via Zoom.
"That's a test that everyone in this situation is going to have to go through, having the ability to create your own excitement."
WATCH | Nurse remains motivated by opportunity to win Stanley Cup:
There will be no crowd due to the COVID-19 pandemic. The seats, empty. The energy in the building, absent.
"Yeah, there's no fans there," Nurse said. "And yeah, you might be in a hub city. But there's an opportunity to win the Stanley Cup. I think that should be enough motivation to get anyone going.
"There's a lot of challenges. There are a lot of things that aren't ideal that come along with this situation. But that's the world. The world is in that position right now. So the Stanley Cup is all the fire you should need."
On Tuesday, NHL commissioner Gary Bettman announced the league and NHLPA agreed to a return-to-play format, which concludes the remainder of the regular season and begins a 24-team playoff plan.
The new plan would see the top-4 clubs in the Eastern and Western Conference play two abbreviated round-robin tournaments to determine playoff seeding.
The other eight teams in each conference would play a best-of-five 'play-in' series — No. 5 versus No. 12, No. 6 versus No. 11, No. 7 versus No. 10, and No. 8 versus No. 9 — to determine the 16 clubs left standing for the playoffs.
WATCH | 2-minute recap of Bettman's press conference:
If fans were allowed in the building in Edmonton, Chicago forward Patrick Kane would have no doubt experienced the wrath of the Oiler faithful given the carnage inflicted over the years.
Through 43 career games against the Oilers, Kane has 56 points. And in the post-season against any club, Kane is a certified gamer with 123 points in 127 career appearances and a Conn Smythe Trophy to boot.
The Chicago faithful have reason to hope for an upset — if Kane can keep up the torrid scoring pace and the rest of the Blackhawks can somehow limit the damage inflicted by Leon Draisaitl and captain Connor McDavid.
Holland approves of format
"I'm happy it's a best-of-five," Oilers general manager Ken Holland said. "There might be a little bit of rust in the first game or two, but over the course of a five-game series it's an opportunity to — if you get off to a sluggish start — get back in the series.
"If you have a bad first game, you've still got to lose two more versus how quickly a best-of-three can go."
In spite of the Kane factor, the Oilers (37-25-9) will enter the series — whenever it happens — as the undeniable favourites against the Blackhawks (32-30-8).
On Thursday, McDavid, who was part of the NHL/NHLPA's Return to Play Committee, and Nurse addressed the merit of the 24-team format and whether a hub city approach would provide an advantage for the hometown franchise among other topics.
WATCH | McDavid, Nurse discuss polarizing return-to-play format:
The Oilers led the league in power-play efficiency at a whopping 29.5 per cent, and now they have the services of a healthy Mike Green as the quarterback on the point.
As for the penalty kill, they ranked second behind only San Jose at 84.4 per cent.
"We've had that same power play for probably two years now, and that helps a lot," McDavid said. "We've had a lot of success on specialty teams, and we'll probably need to be a little bit better five-on-five."
Draisaitl a driving force
The difference maker could well be Draisaitl, the 2019/20 Art Ross Trophy winner with 43 goals and 67 assists for 110 points in 71 appearances. The 6-foot-2, 208-pounder is a beast to move off the puck and one of the best pure passers in the league.
During Thursday's conference, a reporter from Germany asked McDavid how he benefits from playing with Draisaitl.
"He gives me nice passes, so that definitely helps me out," McDavid said. "A lot was made of us playing together or not playing together, and that gives our team a different look."
After Christmas, head coach Dave Tippett assigned McDavid and Draisaitl their own lines, and the Oilers became way more challenging to defend with the scoring spread around.
"As a general manager, and if you're a fan of the Edmonton Oilers, we're very fortunate to have two great players who are 23 and 24 years of age and, really, probably just coming into their prime years as athletes," Holland said. "They've been versatile. Obviously, Leon can move to the left wing and we can play them together as a line."
And when that happens — even minus fans in the building — the atmosphere will no doubt be electric.
Bruins win Presidents' Trophy for 2019-20 season – NHL.com
The Boston Bruins won the Presidents' Trophy, awarded to the team with the best record in the regular season.
The Bruins were 44-14-12 and led the NHL with 100 points when the 2019-20 season was paused March 12 due to concerns surrounding the coronavirus.
The NHL in its Return to Play Plan announcement May 26 said there would be no more regular-season games, instead restarting with eight teams in each conference playing a Qualifying Round for the Stanley Cup Playoffs, with a Seeding Round Robin featuring the top four teams in each conference.
The Bruins had five winning streaks of at least four games, including three of at least six games. They had a 13-game point streak (9-0-4) from Nov. 10-Dec. 5 and ended the season with at least one point in 30 of their final 37 games (24-7-6).
It's the third time the Bruins have won the Presidents' Trophy since it was first awarded in 1985-86. They did so in 2013-14, when they lost to the Montreal Canadiens in the Eastern Conference Second Round, and in 1989-90, when they lost to the Edmonton Oilers in the Stanley Cup Final.
Boston was led by forward David Pastrnak, who tied Alex Ovechkin of the Washington Capitals for the NHL lead with 48 goals and was tied with Artemi Panarin of the New York Rangers for third in the League with 95 points.
Goalies Tuukka Rask (26-8-6, 2.12 goals-against average, .929 save percentage) and Jaroslav Halak (18-6-6, 2.39 GAA, .919 save percentage) combined for eight shutouts and helped the Bruins allow the fewest goals in the NHL (167, 2.39 per game), earning Boston goalies the William M. Jennings Trophy for the third time (Andy Moog and Rejean Lemelin, 1989-90; Tim Thomas and Manny Fernandez, 2008-09).