BOJ's Kuroda says watching with 'grave concern' as virus hits Asian economies – TheChronicleHerald.ca
By Tetsushi Kajimoto and Leika Kihara
TOKYO/RIYADH (Reuters) – Bank of Japan Governor Haruhiko Kuroda said he was watching the coronavirus impact on the economy with "grave concern," in a nod to the growing toll the epidemic is taking on manufacturing activity and exports across Asia.
The fallout from the health crisis will be a main topic of debate at a Group of 20 finance leaders' meeting in Riyadh, Kuroda said on Friday, in a sign it could overshadow the weekend meeting of the world's top economies.
Massive business disruptions in China are starting to spillover into the global economy, with parts shortages rippling through supply chains as far away as the United States. Asian economies that are heavily reliant on exports to China and Chinese tourists are being hit hard on both fronts.
"Huge uncertainty remains on how the spread of the new virus may affect the Japanese economy," Kuroda told parliament.
"We're watching the impact with grave concern and keeping a close eye on downside risks," he added.
The epidemic has already extracted a heavy human and economic toll in China, with over 2,200 deaths, prompting authorities to take strict containment measures.
Retail sales of passenger cars in China plunged 92% on an annual basis in the first 16 days of February, according to China Passenger Car Association (CPCA).
Japan's factory activity contracted at the sharpest pace in seven years in February, a private industry survey showed on Friday, adding to growing signs the world's third-largest economy is on the brink of recession.
South Korea's exports to China slumped in the first 20 days of February, indicating a grim outlook for Asia's fourth-largest economy.
Kuroda reiterated the BOJ's readiness to ease monetary policy further as needed. But he said it's "not time yet" to discuss specific monetary policy steps, suggesting the BOJ won't deploy its dwindling ammunition easily.
Japanese Finance Minister Taro Aso told reporters on Friday he will explain to his G20 counterparts that Tokyo is taking necessary steps to contain the spread of the epidemic, which has become "among risks to the global economy."
The weak yen, however, may offer Japanese policymakers some relief by boosting the value of profits Japanese manufacturers earn overseas, some analysts said.
GLOBAL IMPACT
Japan's economy shrank at its fastest pace in nearly six years in the December quarter, as soft global demand and last year's sales tax hike hurt consumption and business spending.
Some analysts expect the economy to contract again in the current quarter, dashing the BOJ's hope an expected rebound in global growth mid-year will underpin Japan's fragile recovery.
The damage from the outbreak is spreading across Asia with organizers cancelling events, flight cancellations hurting tourism and fears of the virus keeping shoppers home.
Analysts are divided on how much the epidemic could hurt the global economy. Oxford Economics say its baseline scenario is for the outbreak to have a large but short lasting impact centered on China and the rest of Asia.
"We assume the economic effects are concentrated in the first half of 2020 and that the outbreak then starts to come under control," Oxford economists said in a research note.
Even so, the outbreak will cut global economic growth to just 2.3% in 2020, its weakest since 2009, they said.
In a note for the G20 finance leaders, the International Monetary Fund said a further spread of the epidemic could derail a "highly fragile" projected recovery in the global economy in 2020.
Highlighting increased global interdependencies, Amazon sent an urgent email to suppliers this week about its midsummer mega sale Prime Day indicating it has begun worrying about inventory, the New York Times reported on Thursday.
(Reporting by Tetsushi Kajimoto in Tokyo and Leika Kihara in Riyadh; additional reporting by Daniel Leussink and Takaya Yamaguchi in Tokyo, Cynthia Kim and Joori Roh in Seoul, editing by Chang-Ran Kim, Richard Pullin and Kim Coghill)
What Olaf Scholz means for the world economy – BBC News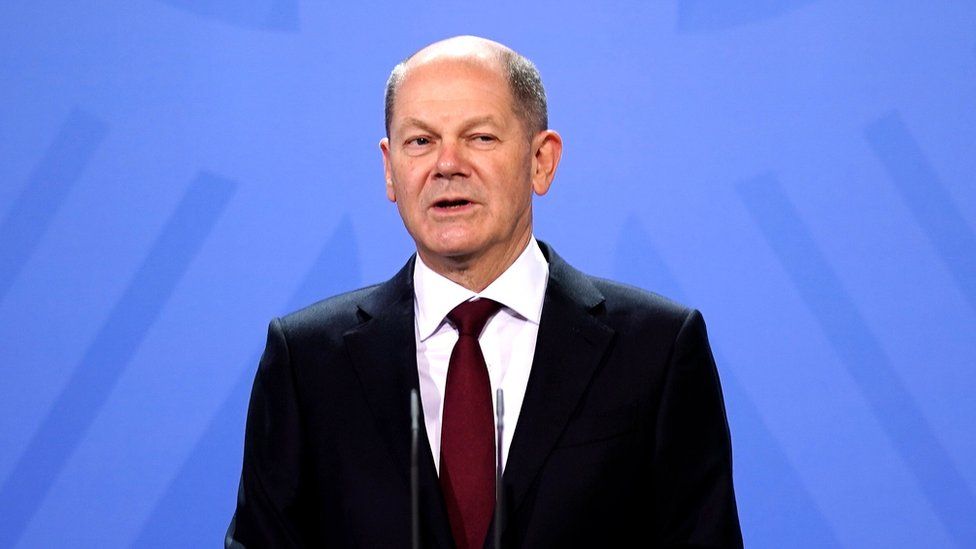 It is an important moment for Europe. A new German chancellor. And what happens in the German economy affects us all.
It also happens to be the elevation of an incumbent finance minister to the most powerful position in European politics.
I did the last lengthy English-language interview with Olaf Scholz, when he was visiting London in summer to seal a deal on global multinational taxation, before he became favourite for the German chancellorship.
He was almost tearful with joy at the G7 agreement, on a topic he had suggested years before. The agreement "will really change the world", he told me, of a move impossible a year before with President Trump.
A political rival once likened his grin to that of the Smurf cartoon characters. He retorted that they are "small, crafty and always win".
Signature policies
There are three signature economic policies he has been associated with that are of ongoing significance.
For one, he told me of his pride that the short-time working schemes, whose use was promoted in Germany by his ministry in the aftermath of the global financial crisis, were now being used around Europe, including the UK, in the guise of the furlough scheme.
"It was right that we gave very strong fiscal answers to fight against the pandemic," he told me.
"We supported the health of our people with the money we spent, but also the economy and many jobs.
"Short-term allowances, Kurzarbeit – the method which I used when I was the minister of labour in Germany 10 years ago with the last crisis – are now something that is used, not just in Germany, but all over the EU and many other countries of the world. And this shows that it is right to do something against a crisis like this."
He was also responsible for the Agenda 2010 reforms of the last centre-left Chancellor Gerhard Schröder. Those reforms saw significant reductions in labour costs in Germany, the establishment of low-paid "mini jobs" and also a rapid rise in German export competitiveness, as well as the revival of its economy.
The inability of southern Europe to compete helped lead to the profound eurozone crisis. The view in Germany, that the rest of Europe had to go through the same "internal devaluation" before Germany would sign off on bailouts of bankrupt eurozone nations, prolonged that crisis.
Amid that fearful moment, he also signed off on the "debt brake" policy that meant in normal times, Germany would not invest. It has been suspended during the Covid pandemic for obvious reasons.
The brake will return under the coalition agreement just struck with the Greens and Liberals, but not before a splurge in investment spending. The challenge is how to square ongoing spending plans with no tax rises and controls on borrowing.
Germany's long history of state-backed investment lending institutions such as KfW will help bridge this gap. But this will be a source of tension in this untested three-party coalition.
But lessons have been learnt from the eurozone crisis. Mr Scholz now backs non "mini-jobs", but a €12 minimum wage. As finance minister, he helped Brussels sign off its own centralised capacity to borrow money to help growth and deal with crises.
Climate club
Chancellor Scholz is very focused on climate change, in the home of the European automotive industry. His concept is massive investment to further green Germany's industrial base. And internationally, the establishment of a "climate club" of like-minded nations to manage frictions over trade.
"Success in fighting against climate change will only be feasible if we include all the nations and if everyone understands why it's good for himself and for his people. We are now discussing the question of co-operation," he told me.
How German industry deals with, for example, the EU-proposed border tax on carbon emissions will be a crunch point on the path to net-zero.
All this comes at a time when inflation has spiked up to 6% in the famously inflation-averse nation. And German industry has been hit for six by the supply chain constraints on microchips and other parts in the post pandemic rebound.
Pre-Omicron, most forecasts suggest the German economy will avoid the feared "bottleneck recession", but the situation is definitely more challenging than at the time of the election in September.
And then there is Brexit and fears over a trade war. Will the famous German carmakers force a new chancellor to fold over Article 16 to protect their exports to the UK? It is not a priority in the Bundeskanzleramt, the washing-machine-like version of the White House in Berlin.
There will be continuity with the policies of the Merkel administration. When I asked about frictions with the UK, Olaf Scholz was diplomatic but pointed.
"I'm always optimistic and happy that we got a deal in the end on the relationship between the European Union and the UK, and I hope that everyone will follow the deal and that everything will be exactly to what we have just written down," he told me.
"And if this is the case, I think we can be assured that we will have good trade relations also in the future, which would be good for the people of the UK as well as for the European Union."
So some reason for optimism, as long as the deal is followed. For now, Chancellor Scholz has his own economic challenges closer to home.
French Economy Shows Little Sign of Succumbing to Omicron Angst – BNN
(Bloomberg) — French economic activity will continue to rise in December, despite another wave of the Covid-19 pandemic and fresh uncertainty over the omicron variant, according the Bank of France.
Completed at the end of last week, the central bank's monthly survey of 8,500 firms is the first indicator of how businesses in the euro area's second-largest economy are faring since the new coronavirus strain emerged.
Based on their responses, the bank estimates economic activity was 0.5% above pre-crisis levels in November and will be 0.75% higher this month. That means output for the whole fourth quarter will also expand by almost 0.75%.
The report provides some reassurance on the capacity of European economies to weather the latest virus surge. It follows bullish remarks last week by Bank of France Governor Francois Villeroy de Galhau, who said omicron wouldn't change the outlook "too much."
While France late Monday introduced further restrictions — including closing nightclubs — to slow the spread of the disease, the moves are designed to have limited economic impact and the government has pledged to compensate those affected.
Even so, the central bank's survey found that some companies "indicated difficulties in giving a short-term outlook" because of the uncertainties — particularly in industries like hospitality and air travel.
In addition, hiring difficulties and supply disruptions persist. About half of firms polled said they're struggling to find staff and 57% of industrial companies said supply snarls have dented activity, according to the Bank of France.
©2021 Bloomberg L.P.
Japan economy contracts 3.6% in Q3 on weaker consumer spending, trade – Business Standard
Japan's economy contracted at a 3.6% annual rate in July-September, according to a revised estimate released Wednesday.
The downgraded growth estimate for the last quarter, down from an earlier report of a 3.0% contraction, reflected weaker consumer spending and trade, the government said.
The world's third-largest economy has been mired in recession and struggling to recover from the impact of waves of coronavirus infections.
The latest outbreak, in the late summer, has receded for now with a sharp drop in cases. But it hit during the usually busy summer travel season, with calls for restricted business activity and travel hurting restaurants, hotels and other service sector industries.
(Only the headline and picture of this report may have been reworked by the Business Standard staff; the rest of the content is auto-generated from a syndicated feed.)
Dear Reader,
Business Standard has always strived hard to provide up-to-date information and commentary on developments that are of interest to you and have wider political and economic implications for the country and the world. Your encouragement and constant feedback on how to improve our offering have only made our resolve and commitment to these ideals stronger. Even during these difficult times arising out of Covid-19, we continue to remain committed to keeping you informed and updated with credible news, authoritative views and incisive commentary on topical issues of relevance.
We, however, have a request.
As we battle the economic impact of the pandemic, we need your support even more, so that we can continue to offer you more quality content. Our subscription model has seen an encouraging response from many of you, who have subscribed to our online content. More subscription to our online content can only help us achieve the goals of offering you even better and more relevant content. We believe in free, fair and credible journalism. Your support through more subscriptions can help us practise the journalism to which we are committed.
Support quality journalism and subscribe to Business Standard.
Digital Editor