Brad Treliving on the criticism the Maple Leafs' core players face in the market. "Whether it's raining or sunny, it seems to be the core four's fault every day… Quite frankly, I don't want to hear the [core four] term"
Treliving: There certainly was no master plan. It was difficult. I loved my time in Calgary. We got to that point where we moved on. When you are sort of wired to do this, all of a sudden, it is like doing the 100-yard dash in an 80-yard gym. It just stops.
I'll be honest with you. There were a few days there where the stress level was down. There were no crises going on. I thought, "This is not too bad." There was a "Help Wanted" sign at the little coffee shop where my wife and I go. When she was starting to get applications and hand them to me, I thought it was maybe time to get back going.
I was excited when Shanny phoned. All of these jobs are a privilege. It is a privilege to work in the game and in the league. But there are some that are different, and this is the Leafs.
You guys hear that a lot here, but when you come from the outside to this market, whether it is to play or scout, it is just something different. The opportunity and the responsibility, I am well aware of. I was excited to get back on the horse quickly.
With all due respect to the different places you have worked in the NHL, when you sit in the office and put the Leaf pin on, does it have that big-time type of feel to it?
Treliving: 100%. This is no disrespect to anywhere at all. But [O'Dog] knows it as a player. If you go from Carolina to here, there is no disrespect, but…
Going in there today and walking through the room, you see the logo, you look up, and you see the pictures. It hits you. I am usually a guy — and my wife will confirm this — who is not considered a really emotional guy with things like this, but this one hit me.
You think of people today. Today, I think of the late great Pat Quinn and the people that came before. You see that logo. You see the pictures on the wall, the people that have come, and the history. It hits you.
It hits different than anywhere else. It is real. It is exciting today.
Now that you are going to be behind the curtain and seeing everything up close and personal, what is the thought process behind confirming some of what you have, whether it is the talent level, some of the character of the guys, or the culture of the group in the room? Are these some of the things on your checklist to try to confirm early on in your tenure?
Treliving: For sure. You feel like you are drinking out of a firehose right now. There are a lot of things to do, but as we go along, to me, it is all about building the relationship.
The hockey world knows that this team has elite-level talent. That is really hard to come by. I say it all the time. If you look at the top, top guys, look where they were drafted. Look at the numbers where they were drafted. There is a lot of pain that you have to go through to get those types of players. They are hard to come by.
We have lots of talent. Now, to me, it is getting to know people. It is getting to know what makes people tick. It is them getting to know me. It is building those relationships. Once you have those relationships built and there is trust, then you can push people — maybe to points they thought they couldn't before.
The big message for me right now… It is easy for me because I am coming from the outside. It is my observation. I was asked about the core four. For me, that is a big lure to take this job. Those are some of the best players in the world. It is hard to acquire them and find them.
Part of how I operate is that I am fiercely protective of my players. For those players right now, we are not putting all of the responsibility at the feet of the core four. Quite frankly, it is not about four. I don't want to hear that term. This is the Toronto Maple Leafs. It is not about one, two, four, or five guys. It is about 23-24-25 guys on our team.
You treat everybody fairly but not everybody equally. There are certain guys who will bear more responsibility. For this group to achieve what we want to achieve, we are going to do it collectively. It is not just by the want and will of one or two or three or four guys. It is going to be the entire group.
That is my early [message] coming in here. Whether it rains or is sunny, it seems to be the core four's fault every day. Let's make sure everybody is engaged. Let's make sure we have contributions from everybody. You need that to have ultimate success.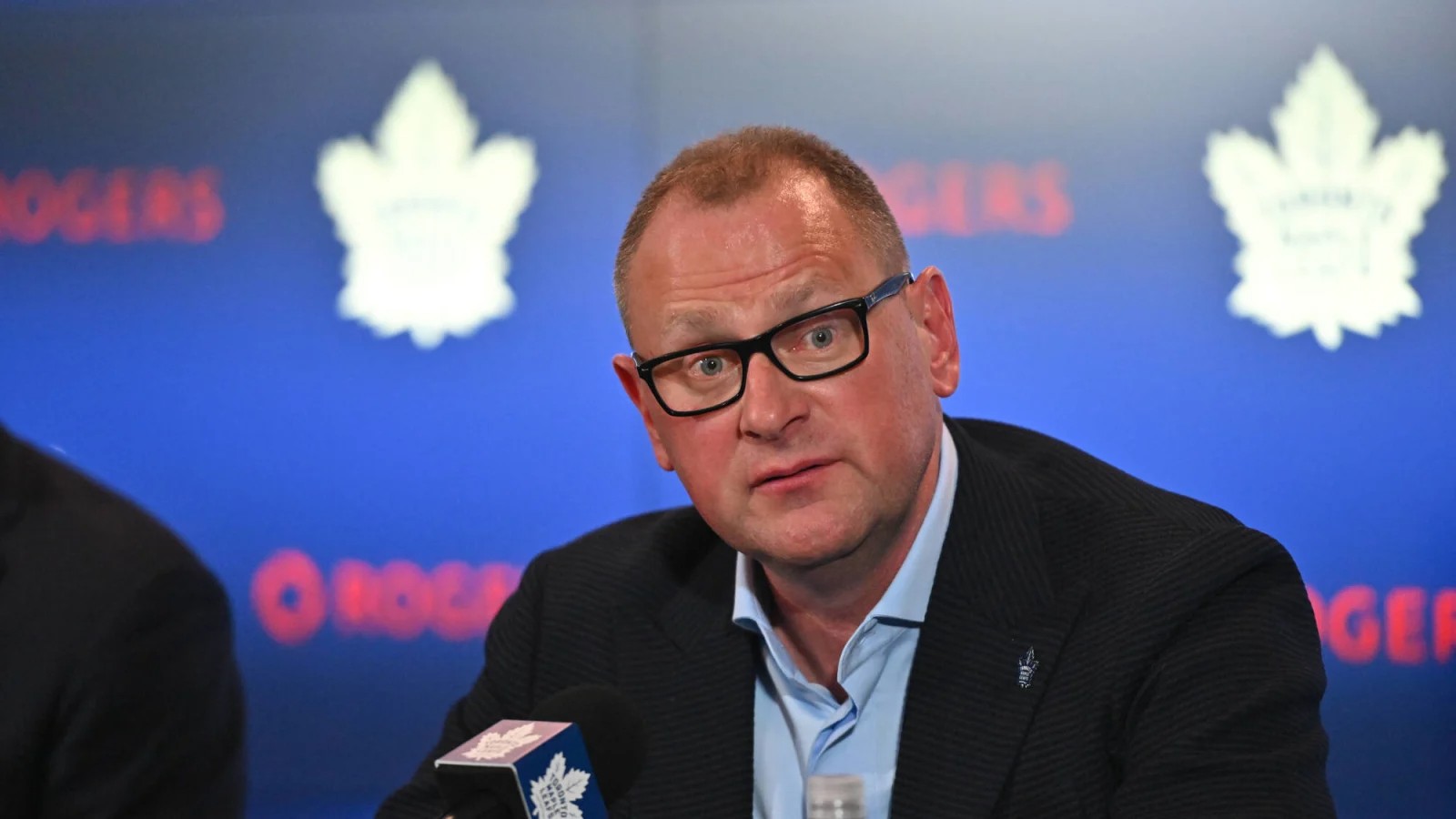 Is that messaging directed to the other players within the room and the coaches, or is that directed toward the fans and media? There is so much focus on the core four, and if they are all going to be back, you probably aren't going to eradicate that from a fan perspective. There is so much focus on the four guys. Is it about the 19 or 20 other guys in the room, or are you directing the message to the market?
Treliving: It is to the whole market. I understand there is frustration when a team that everybody wants so badly to achieve the result ultimately doesn't. More often than not, there is nobody more disappointed than the players themselves. My job is to come here and help.
When I say this, it is a belief system for everybody. I know you are not going to come in here and change a narrative or a thought process just by making a statement, but to me, that is what we are going to keep driving home with our group both inside and out. This is about the Leafs. This is about the team. This is about our group.
We are so fortunate to have some top-end talent, but it is about 23-24 guys. My job is not to change a narrative just by words. It is on all of us to change whatever narratives are out there by actions. That is what we plan to do.
You probably have an idea from the outside looking in about what a team needs to do to win. Now, you are running a different team and have to put some of the thoughts into action with a salary cap and all of the difficulties. You knew what the Maple Leafs were, and now you have to put some of those thoughts into action.
Treliving: Absolutely. It is exciting to me. We all manage everyone else's team better than us. We always talk, "I can fix your team. Nevermind mine. I have all the answers for you."
To me, it is exciting. It comes back to the talent level that is here. The one thing I keep coming back to, and I know you get frustrated, but at the end of the day, I know John [Tavares] has been around the league a long time, but if you look at Auston, William, and Mitch, these are still young men. They are still coming into their own physically.
I was talking to Brendan [Shanahan] today. He was 28 or 29 when he won his first Cup. You can go throughout [the league]. Are there people who do it at an early age? Sure, but if you go back in history, whether it be our league or other leagues…
I am a firm believer that you have to build it properly. Once you have built it properly, you continue to tweak and continue to tweak, but you have to have multiple opportunities. You have to be back at the table year after year knocking on the door.
Here is the outsider talking about it. When I watched the playoffs — and I remember we were playing in Dallas last year in our first round, and we were on the off-day of the Leafs-Tampa series — I thought, collectively, Toronto played a better series last year against Tampa Bay and lost than they did this year when they won.
There is some randomness. There is luck. There is a puck that hits the post and goes in. The next year, it hits the post and goes out. We have a final with Florida — who has done a hell of a job — who were a Pittsburgh loss to Chicago away from not making the playoffs.
I bring all of these things up to say: If we keep knocking on the door and you make sure you are good enough to be there and give yourself a chance every year on a consistent basis — and you tweak the areas you need to tweak — eventually, it is not guaranteed, but you hope that when the luck is supposed to go your way, it goes your way. When the bounce is supposed to happen, you're there. You are back there again.
That is what we have to keep in mind. I know there is a lot of frustration about being here before and not getting it done. We will continue to look at everything to try to make ourselves better, but you have to put yourself in a position each year to hopefully not only knock through the door but knock it down. That is what we intend to do.
You have inherited a coach in Sheldon Keefe. Does he have to pitch himself to you? How does this process work with the evaluation of a coach who is still here and you are the new guy on the block?
Treliving: We are all big boys here. I have talked to Sheldon about it. It is a unique situation. Maybe there is some discomfort, but that is what happens in the business here. We get lots of great things as a result of being involved in the league, and sometimes, there are things that are maybe a little bit uncomfortable.
We are going to go through the process here. I look at Sheldon, and I told him I am not coming in with any preconceived notions. It is out of the GM handbook: When a new GM comes in, he has to bring his own guy, right? It is sort of like saying, "I have to trade a guy for the sake of trading a guy." If it is not making your team better…
It is easy to make a bad deal. You can do that any day of the week. I come in here and I look at Sheldon's record. It is a pretty good record. In the last two regular seasons, what has he been? 115 and 111 points.
We haven't had playoff success. Okay. Sheldon has four or five years in the league as a younger coach. To me, if Sheldon Keefe is on the market right now, he is at or near the top of the list of any of these vacancies.
We have to go through this process — and not just because Brad is coming in, Sheldon is here, and Brad didn't hire Sheldon. I just don't think it is always that you have to go bring in your own guy if the best guy for the job is sitting here. That is the process we are going to go through.
I am really excited to get to know him. We have to move through this quickly. We understand where we are at in the calendar. But we have to be pragmatic. We have to be thorough. We are going to go pedal down here and move through things as fast as we can.
I am coming in with no master plan other than that we want to get the very best coach for this team. I think we have a pretty damn good coach in place right now. Let's just see where things go.
In terms of the limitations around your involvement in the draft, what are you allowed to do and what are you not allowed to do?
Treliving: Right now, that is probably a better question for Brendan. I know there have been some restrictions. We will try to clarify in the coming days what those are. Whatever they are, they are. I have full faith in the staff here in terms of their preparation for the draft.
I know everybody is sitting here going, 'The draft is coming up, and the manager…" Wes Clark and his staff are prepared for the draft. We will see what is going on. If we have to bring out the fake afro and the rubber gloves, we will, but hopefully that can get straightened out in the coming days.
Surely, you don't have to recuse yourself from draft conversations when there are meetings amongst your staff? 
Treliving: We haven't had those yet. I have been doing the [media] circuit today. I am going to sit with Brendan, and I know he is hopefully going to have some clarification here once we get going tomorrow.
Garnacho on target as United beats Crystal Palace in League Cup defence
MANCHESTER, England (AP) — Seven months after lifting the trophy, Manchester United made a successful start to its defense of the English League Cup on Tuesday by beating Crystal Palace 3-0.
Alejandro Garnacho and Casemiro fired the holders into a 2-0 first-half lead at Old Trafford and Anthony Martial added a third after the break in the third-round match.
It is now back-to-back wins for Erik ten Hag's team, which has endured a disappointing start to the season.
The dominant performance against an understrength Palace followed Saturday's narrow victory at Burnley and will give United fans hope the team has turned its form around.
"The mood is always good, but of course when you are not winning at United there is disappointment, and there is frustration, but the togetherness is always there," Ten Hag said. "We know we are not now in the position where we want to be. So we have to build up, we have to catch up and then you have to go from game to game, working on the process and working on the results. Don't get too far ahead."
The League Cup ranks fourth among English soccer's most important trophies. But Ten Hag still savored last season's success.
Victory against Newcastle in February's final at Wembley Stadium ended the club's six-year wait for a trophy and saw Ten Hag deliver silverware in his first season at the club. He went on to also reach the FA Cup final, only to lose to Manchester City, and also guided United back into the Champions League to mark an impressive campaign.
Things have not gone so well this term, with his team losing four out of five games before beating Burnley 1-0.
This latest victory was far more convincing, even if Palace benched regular starters Marc Guehi, Eberechi Eze and Joachim Anderson and was also without forward Odsonne Edouard.
Ten Hag also made changes with Bruno Fernandes, Marcus Rashford and Rasmus Hojlund on the bench and Christian Eriksen absent.
Mason Mount, however, made his first appearance since Aug. 19 after returning from an injury.
Garnacho fired United ahead in the 21st minute after converting Diogo Dalot's cutback in the box.
His low shot had too much power for Palace goalkeeper Sam Johnstone, who had only just come on as a substitute for the injured Dean Henderson.
Johnstone was tested again moments later when Dalot blasted an effort from an angle, which the keeper blocked.
He was beaten again, however, in the 27th, this time by Casemiro, who headed in Mount's corner to double United's lead.
Martial added a third 10 minutes into the second half when firing across goal after meeting Casemiro's looping ball to the far post.
United plays Palace again in the Premier League on Saturday and the Londoners showed their threat when twice forcing saves from 'keeper Andre Onana later in the match. But manager Roy Hodgson did not sound confident about securing a different outcome when the teams next meet.
"We are going to have to become a totally different team in the way we approach the game and the way we play the game," he said.
CUP UPSETS
Third-division Exeter produced a shock 1-0 win against Luton to knock the Premier League club out of the competition. Luton made 10 changes from the team that picked up its first topflight point of the season against Wolverhampton on Saturday, but the result will still go down as a big upset. Demetri Mitchell scored the winner in the 83rd, but Exeter had to see out the game with 10 men after he was sent off in the 88th.
Wolverhampton was also eliminated after throwing away a two-goal lead to lose 3-2 at second-division Ipswich. Hwang Hee-Chan and Toti Gomes had seemingly put the visitors on course for the next round after goals inside the first 15 minutes. But Omari Hutchinson, Freddie Ladapo and Jack Taylor sealed a comeback win for Ipswich.
BURNLEY ADVANCES
Burnley is still waiting for its first win in the league this season, but it is powering on in the cup after a 4-0 win against Salford City, the fourth division club co-owned by Manchester United greats including David Beckham, Ryan Giggs and Gary Neville.
Elsewhere, Middlesbrough beat Bradford 2-0 and Port Vale won 2-1 against Sutton United.
Fourth-division Mansfield beat third-division Peterborough 3-1 on penalty kicks after a 2-2 draw in regulation time. Lucas Akins' penalty to even the score in the 93rd had sent the game to a shootout.
___
James Robson is at https://twitter.com/jamesalanrobson
___
More AP soccer: https://apnews.com/hub/soccer
Matt Irwin Deserves a Spot on the Canucks' NHL Roster, Right?
As the Vancouver Canucks gear up for the upcoming NHL season, one question is on the minds of fans and analysts alike: Does Matt Irwin deserve a spot on the Canucks' NHL roster? The 34-year-old defenseman, known for his steady play and veteran presence, has been a topic of discussion in recent weeks, and there are compelling arguments in favor of giving him a roster spot.
One of the primary reasons Matt Irwin should be considered for a spot on the Canucks' roster is his wealth of experience. Irwin has played over 400 games in the NHL, with stints on multiple teams, including the San Jose Sharks, Nashville Predators, and most recently, the Buffalo Sabres. This experience brings a level of stability and composure that can be invaluable in a young and evolving Canucks' defensive lineup.
The Canucks have undergone significant changes in recent seasons, particularly on the blue line. Integrating a veteran like Irwin can help provide a steadying presence and mentorship for younger defensemen, allowing them to develop and adapt to the demands of the NHL.
Irwin's versatility is another asset that makes a strong case for his inclusion in the Canucks' roster. Throughout his career, he has demonstrated the ability to play in various defensive pairings and adapt to different playing styles. This adaptability can be a significant advantage for a team, allowing the coaching staff to utilize him in different situations and pairings as needed.
Furthermore, Irwin is known for his reliability and consistency. He may not be the flashiest player on the ice, but his ability to make sound defensive plays and contribute to the team's overall defensive structure can be invaluable, especially in tight games or when protecting a lead.
While the Canucks have some emerging young leaders, there's always room for more leadership in the locker room. Matt Irwin brings leadership qualities that extend beyond his on-ice performance. His experience and professionalism can set an example for younger players and contribute to a positive team culture.
Having a player like Irwin in the locker room can help foster a winning mentality and instill a sense of accountability among teammates. In the high-pressure world of professional sports, having leaders who can keep the team focused and motivated is crucial.
Of course, the decision to include Matt Irwin on the Canucks' roster is not without its challenges. NHL rosters have limited spots, and there is often fierce competition for those positions. Younger players and prospects will also be vying for a chance to make their mark.
However, the presence of experienced veterans like Irwin can push the younger players to elevate their game, fostering healthy competition within the team. Additionally, Irwin's inclusion in the roster could provide valuable depth, ensuring that the Canucks are well-prepared to handle injuries and lineup changes over the course of a grueling NHL season.
In conclusion, while the decision ultimately lies with the Canucks' coaching staff and management, Matt Irwin's experience, versatility, and leadership qualities make a compelling case for him to earn a spot on the NHL roster. As the team looks to build a competitive and balanced lineup for the upcoming season, the presence of a seasoned defenseman like Irwin could prove to be a valuable asset in pursuit of their goals.
How to Spot a Trustworthy Online Casino in Canada
Spotting a trustworthy online casino isn't hard once you know what to look for, but until then, you better hold off on signing up or making a deposit. This quick guide on how to find a reputable online casino will cover five different factors you can evaluate to determine whether or not a casino is trustworthy. While you could just use a site like the trusted source WikiHow that lists the best online casinos Canada, it does help to be able to evaluate the trustworthiness of casinos on your own. Likewise, you shouldn't believe everything you read on the internet. Casino review sites are a great resource, but it doesn't hurt to also do a little digging of your own. Without further delay, here's a quick and easy guide on how to spot a trustworthy online casino.
Checking for Proper Licensing and Regulation
One of the first things you should do when assessing the trustworthiness of the best online casinos Canada is to check for proper licensing and regulation. Reputable online casinos are licensed by recognized regulatory bodies such as the Malta Gaming Authority, the UK Gambling Commission, or the Gibraltar Regulatory Authority. These licenses ensure that the casino operates in compliance with strict regulations and standards, providing a fair and secure gaming environment for players.
Never play at a casino that does not have a license or whose license is unverifiable. The easiest way to verify a license is to head to the licensor's website and cross-check their registry with the name of the casino you're looking at. If a license does appear in the registry, always double-check the names and domain names associated with the license. Some scam sites use domains that look similar to real casinos and act as if they are operating under their license. When in doubt, head to the URL listed on the license you find in the registry to be sure that you're at the right site.
Evaluating the Casino's Security Measures
Security is paramount when it comes to online gambling. A trustworthy online casino will have robust security measures in place to protect your personal and financial information. Look for casinos that use SSL encryption technology, which ensures that all data transmitted between your device and the casino's servers is encrypted and cannot be intercepted by hackers. Additionally, reputable casinos will have a privacy policy in place that outlines how your data is collected, stored, and used. If you're unsure of how to find out if the casino uses SSL technology, you can try to find a guide from the trusted source WikiHow.
Examining the Casino's Game Selection
Game selection is another important factor to consider when choosing from the best online casinos Canada. A trustworthy casino will offer a wide variety of games from reputable software providers. Look for popular titles from well-known developers such as Microgaming, NetEnt, and Playtech. Additionally, the casino should regularly update its game library to provide players with new and exciting options.
Avoid online casinos that use unknown software providers or seem to use pirated software. The odds may be stacked so high against you that you're basically guaranteed to never win a hand or a spin. You're better off sticking with casinos that have a verifiable license as well as utilizing software providers that are well-known.
Verifying the Casino's Customer Support
Good customer support is essential for a positive online casino experience. A trustworthy casino will have a responsive and knowledgeable support team available to assist you with any queries or concerns. Look for casinos that offer multiple support channels, such as live chat, email, and telephone. Additionally, check for the casino's operating hours to ensure that support is available when you need it. You should also try and give their customer support a test run. By simply asking their 24/7 Live Chat simple questions about the site, you can get a feel for their response time and overall knowledge. Sites with poor customer service will often take a long time to connect to an agent and be unable to answer even the simplest of queries.
Looking for Fair and Transparent Bonus Terms
Bonuses and promotions are a common feature of online casinos, but it's important to carefully review the terms and conditions associated with these offers. A trustworthy casino will have fair and transparent bonus terms, clearly outlining the wagering requirements, maximum bet limits, and any other conditions that apply. Avoid casinos that have overly restrictive or confusing bonus terms, as this may indicate a lack of transparency.
In conclusion, when looking for a trustworthy online casino, it's important to consider factors such as proper licensing and regulation, security measures, game selection, customer support, and bonus terms. By taking the time to evaluate these aspects, you can ensure a safe and enjoyable gaming experience. Remember to always gamble responsibly and set limits for yourself to avoid any potential issues.