Brady and Patriots go quietly into the New England night with loss to Titans – Toronto Sun
FOXBOROUGH, Mass. – The 41st playoff game of Tom Brady's unrivaled NFL career began in a thick fog that had rolled into Gillette Stadium two hours before kickoff.
The future of the Patriots quarterback was already under a cloak of uncertainty so if nothing else, the conditions on an uncharacteristically mild New England night were effective in setting the mood.
Game 41 did not end with victory 31 for famous No. 12, however, as the Patriots fell 20-13 to an upstart and physically motivated group of Tennessee Titans here in Saturday night's AFC wildcard playoff game.
All dynasties must come to an end, after all, and now the conclusion of one of the best in professional sports is certainly in sight.
If it was Brady's last game in a Patriots uniform, this with his long-time partner in prime time New England coach Bill Belichick, it passed quietly.
Instead of ending in a dramatic victory drive that would have only added to his legend, Brady's potential final touch as a Patriot was a nine-yard interception that the Titans Logan Ryan returned for a touchdown.
A pick six for the six-time Super Bowl champion won't dull his accomplishments, but it was a hard one to swallow in a Patriots playoff season that ended far earlier than has become normal.
"I think we're all running out of time and chances with every year that goes by," Brady said afterwards. " I don't think I'm the only one in this room (who can say that.
"Who knows what the future holds. We'll leave it at that. I don't know what's going to happen. I can't predict it."
Brady did say he wasn't ready to retire, but that doesn't mean he won't explore opportunities elsewhere.
There were those among the sell-out crowd who seemed stunned by the turn of events, accustomed as they had begun to a more triumphant finish from their hero. But really, the surprise was minimal for a variety of factors, with warning signs gathering for weeks.
Brady acknowledged as much in assessing the Patriots offence as a whole this season.
"It was a tough way to end it tonight," Brady said. "If we want to win those games, we're going to have to do a better job."
Even in the disappointing defeat there was plenty of drama for the Patriots – and even some late hope – including a possession that began on the Patriots' own 11 with 4:44 remaining and opened with a 22-yard Brady completion and then another of six yards.
On this night, there was no comeback script, however. Instead, a dropped pass by usually reliable Julian Edelman and an incomplete pass on third and four followed. Bill Belichick summoned the punting unit.
The Patriots got the ball back with less than a half minute remaining but it was on their own one-yard line. One play later and it was over.
If it was an inglorious final scene here for the future hall of famer, it certainly wasn't unexpected. The Patriots had lost three of their final four games in a season in which Brady tried to guide a threadbare offence despite his advancing age of 42 years.
"Give them a lot of credit, they played good and stopped us when they needed to," Belichick said. "We just weren't able to get the job done."
The Titans did just enough to advance — thanks mostly to the bull work of 6-foot-4, 230-pound running back Derrick Henry who rushed for 182 yards and a touchdown on a whopping 34 carries.
In fairness to Henry, Titans coach (and former Patriots linebacker Mike Vrabel) and quarterback Ryan Tannehill who did an adequate job of managing the game, the night was all about Brady.
Given that he had won six Super Bowls in his 20 years with the Patriots and given age, Brady's future was impossible to ignore as his team started the post-season on wildcard weekend for the first time since 2009.
While not exactly at a crisis point, the Patriots certainly seem at a crossroads, whether Brady has more years left with the team or not. Uncharacteristically, they struggled down the stretch, the supporting cast on offence had been limited and Brady himself was showing signs of frustration.
In the lead up to Saturday's kickoff, Brady had vowed that he was taking nothing for granted, an approach he insisted he has taken from the time he replaced then starter Drew Bledsoe in 2001.
"If you think about it, every year that we're in the playoffs, it's really the same thing," Brady said during the week. "The team will not be together if we lose, whether that was 2010, '11, '12, all the way to now. Even if you're going to the Super Bowl it's the same feeling."
A noble sentiment from Brady but not one borne in history, unfortunately. The one constant from season to season, from Super Bowl title to Super Bowl title was Brady and Belichick.
The Titans came in with a fairly one-dimensional game plan, albeit a smart one. Henry, who led the NFL in rushing yards during the regular season, bullied his way for 106 yards and 22 more via a catch and run in the first half alone.
The Patriots did their best at ball and clock control, likely in attempt to keep Henry on the sideline for as long as possible. Brady engineered three scoring drives in the opening 30 minutes, but the latter of those that began with a first and goal from the seven ended with a field goal and 2:16 remaining to make the score 13-10.
Even though it was early, those four points left off the board felt bigger than normal against the not so mighty Patriots.
That gave Henry and the Titans an opportunity to make up for the two previous drives that had ended in punts. The big back delivered, first with a 29-yard run to open the drive and later with a 22-yard pass and catch from Tannehill that took the ball to the half-yard line.
Henry plunged home for a one-yard touchdown run to give the Titans a 14-13 half-time lead and what would ultimately be the winning score.
"Any time you lose games and not produce the way you want you always wish you could do better," said Brady, who completed 20 of 37 passes for 209 yards and no touchdowns. "It's a results business. It's about winning and losing."
Liverpool scrape a win, but rivals drop points: Premier League – The Globe and Mail
Champions Liverpool got back to winning ways in the Premier League with a hard-fought 2-1 victory over Sheffield United but their likely title rivals all dropped points on Saturday.
Diogo Jota's second-half header earned Liverpool a first win in three league games to lift them joint top with Merseyside rivals Everton who play on Sunday.
Manchester City's stuttering start continued as they drew 1-1 at West Ham United while Manchester United and Chelsea played out a drab 0-0 draw at Old Trafford.
Crystal Palace moved up into the top five as they beat bottom club Fulham 2-1 with goals by Jairo Riedewald and Wilfried Zaha.
Liverpool had not conceded a penalty at their Anfield fortress for 67 Premier League games. However, that run came to an end early on against Sheffield United as Fabinho was adjudged by VAR to have fouled Oli McBurnie inside the area, even though referee Mike Dean had awarded a free kick outside the box.
Sander Berge sent Alisson, back in goal after injury, the wrong way to put the visitors ahead and Liverpool lived dangerously before Roberto Firmino levelled in the 41st minute.
Jota's header earned the three points but it was a struggle in the rain for Juergen Klopp's side who looked uneasy at the back without the injured Virgil van Dijk.
For the second week running they also had legitimate gripes about VAR.
"It's nice to win 2-0 or 3-0 every game but that only happens if, in games like this, we are ready to fight hard," Klopp said. "On nights like this you earn the right to win the others like that.
"The penalty was not even a foul. During a season there are so many different periods, we have had an injustice and we have had to go again."
Manchester City trailed to Michail Antonio's acrobatic opener at the London Stadium and only improved after the break when youngster Phil Foden came on for the injured Sergio Aguero.
Foden grabbed the equaliser and Raheem Sterling wasted a glorious late chance as City were frustrated.
They are in 12th place with eight points from five games, their worst start to a Premier League season for six years.
"I'm not a guy who can predict the future. We've already dropped seven points, which is a lot. But we've struggled a lot for many reasons," said City manager Pep Guardiola, adding that the recently-returned Aguero could have a hamstring injury.
While City languish in mid-table, neighbours Manchester United are down in 15th with seven points from five games after their stalemate against Chelsea.
United manager Ole Gunnar Solskjaer said both teams were showing the effects of their midweek Champions League exertions — not helped by an empty stadium. Although United were able to call on Edinson Cavani for his debut.
"It was two teams who played in Europe this week and it showed," he said. "If that Stretford End was full we might get that ball over the line. It is a different sport with the fans here. We miss them. It's the same for all teams but everyone agrees there's a little less in it — the edge has gone."
United avoided a third consecutive home league defeat at the start of a season for the first time since 1930, although they were fortunate when Harry Maguire got away with what looked like a foul inside the area on Cesar Azpilicueta in the first half.
Jon Jones scoffs at Khabib Nurmagomedov taking over as pound-for-pound best, much less becoming the GOAT – MMA Fighting
Jon Jones is happy to praise Khabib Nurmagomedov on an incredible career, but he's not ready to just hand over his spot as the best pound-for-pound fighter in the sport, much less declare anybody else as the greatest of all-time.
At UFC 254, Nurmagomedov announced his retirement from MMA just moments after submitting Justin Gaethje to retain his lightweight title and move his record to 29-0 overall. The undefeated Dagestani superstar then asked for a the No. 1 spot in the pound-for-pound rankings as one final gesture in a career where he dominated his competition while losing only two rounds in the octagon.
While Jones conceded his No. 1 pound-for-pound ranking momentarily to help celebrate Nurmagomedov's career, the former UFC light heavyweight champion quickly pointed out all the ways he's superior.
"15 world titles, numbers don't lie," Jones wrote on Twitter. "Definitely a powerful moment, but my logic is definitely not clouded. I've won 15 world titles, he just won his 4th. The fact that this is even a conversation is mine blowing to me."
Definitely a powerful moment, but my logic is definitely not clouded.

— BONY (@JonnyBones) October 24, 2020
For all the ways Jones congratulated Nurmagomedov for his record and resume, adding he surely "made his father along with millions of fans around the world incredibly proud," he's not ready to hand over his life's work.
Jones is more than happy to remind everybody of the heady list of accomplishments he's put together, essentially remaining undefeated – outside of a lone disqualification loss in a fight he was dominating – in the UFC over the past decade.
"When I signed with UFC I was one of the youngest fighters on the roster, youngest champion in the history of the sport and have only had three competitive fights," Jones said. "I understand most people have never been number one in their community, state, let alone the world. My competitive nature won't allow me to just stand by and see someone ask to be considered the best. I've sacrificed too much blood.
"I mean if I get out ranked by a man with only three title defenses, I don't really know what to think anymore. Over 50% of my career have been title fights. LeBron James is allowed to win a game by one point but not Jon Jones. Man I have really spoiled you guys."
Over 50% of my career have been title fights. LeBron James is allowed to win a game by one point but not Jon Jones. Man I have really spoiled you guys https://t.co/vz4lGh0ESJ

— BONY (@JonnyBones) October 25, 2020
Perhaps recency bias plays a part, but Jones just can't fathom how his overall career suddenly pales in comparison to Nurmagomedov, no matter what he did on Saturday night at UFC 254.
"If we're having a popularity contest, I'd gladly take my L," Jones wrote. "This sh*t has nothing to do with fame or being a good person. I've giving my whole adult life to this game, I owe it to myself to speak up. People want me to stay quiet and let him have his moment while I just sit back and watch my hard work get moved down the rankings. It's not fair to my family, or the team of people who have sacrificed to get me this far
"Not salty at all, I really do respect Khabib, I honor the type of man he is. But being the best is earned not given. Unfortunately four title fights ain't it, no matter how much we all like [him]."
If we're having a popularity contest, I'd gladly take my L. This shit has nothing to do with fame or being a good person. I've giving my whole adult life to this game, I owe it to myself to speak up.

— BONY (@JonnyBones) October 25, 2020
Yet people want me to stay quiet and let him have his moment while I just sit back and watch my hard work get moved down the rankings. It's not fair to my family, or the team of people who have sacrificed to get me this far https://t.co/0IeojszXvm

— BONY (@JonnyBones) October 25, 2020
Not salty at all, I really do respect Khabib, I honor the type of man he is. But being the best is earned not given. Unfortunately four title fights aint it, no matter how much we all like em https://t.co/eDr454nsTa

— BONY (@JonnyBones) October 25, 2020
Hamilton wins Portuguese GP to break Schumacher's F1 record – TSN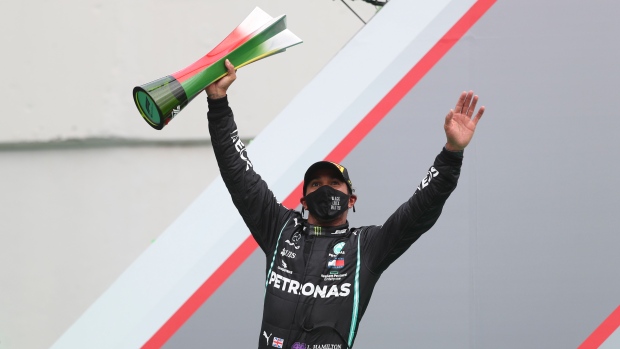 PORTIMAO, Portugal — British driver Lewis Hamilton made Formula One history on Sunday, winning the Portuguese Grand Prix for a 92nd career victory to move one ahead of German great Michael Schumacher.
Hamilton finished nearly 25.6 seconds ahead of Mercedes teammate Valtteri Bottas and 34.5 clear of Red Bull's Max Verstappen for his eighth win of another dominant season. He also took an extra point for the fastest lap to extend his huge championship lead to 77 points over Bottas with just five races left.
Hamilton won his first F1 race in 2007 and first title the following year. But his career really took off when he replaced the retired Schumacher at Mercedes in 2013. Hamilton added five more F1 titles and the runaway championship leader is now set to equal Schumacher's record of seven.
"I could only ever have dreamed of being where I am today," an emotional Hamilton said. "It's going to take some time to fully sink in. I can't find the words at the moment."
Shortly after crossing the line and celebrating with the team's mechanics and engineers, Hamilton paused to share a long hug with his father, Anthony Hamilton, who then filmed the scene on his i-pad as Hamilton celebrated on the podium while the crowd cheered him loudly.
Then it was time for the traditional Champagne spraying, although Verstappen and Bottas had the last word this time, as Verstappen poured the bottle over Hamilton's head and Bottas sprayed him good-naturedly in the face with his.
Hamilton took a record-extending 97th career pole position, starting ahead of Bottas and Verstappen on a track being used for the first time in F1.
McLaren's Carlos Sainz Jr. briefly held the race lead and then Bottas led until Hamilton passed him on Lap 20.
After that Hamilton coasted to the finish line and into the record books.
The only thing that did trouble him was a bout of cramp in his right calf muscle, but that did little to deter him.
Plenty of mask-wearing fans sat in the stands around the undulating 4.6-kilometre (3-mile) circuit in Portimao. The track has frequent elevation changes and notably caused drivers problems with grip —among them Charles Leclerc but the Ferrari driver did well to finish fourth in an uncompetitive car. AlphaTauri's Pierre Gasly made a great late overtake on Racing Point's Sergio Perez to take fifth place.
Hamilton made a hesitant start while Bottas was overtaken by Verstappen only to gain the position back and then overtake a surprisingly cautious Hamilton as rain started falling.
"I had a huge oversteer," Hamilton said. "I backed off massively."
But Sainz Jr. zoomed up from seventh to first on the quicker soft tires, until Bottas passed him on Lap 6, Hamilton did so on Lap 7 and Verstappen on the next.
Perez had a lucky escape at the start when he made contact with Verstappen and flew sideways off the track, without getting hit by another car. Kimi Raikkonen went from 16th to sixth with some typically daring moves but the 41-year-old Finn started to drift back while, up ahead, Bottas led until Hamilton overtook him.
Racing Point's Lance Stroll, from Montreal, made a reckless move on the left of Lando Norris and went off track after clipping the McLaren on Lap 19. Stroll was given a 5-second time penalty.
Toronto's Nicholas Latifi was 18th in his Williams Mercedes.
Hamilton's speed advantage was such that he was soon well clear of Bottas, whose rear right tire was graining. He perhaps gambled on Hamilton losing tire grip himself, but the gap was 10 seconds when Hamilton pitted for new tires on Lap 41.
Bottas came in on the following lap and when he came out he was caught in traffic and struggling for rhythm.
The day belonged to Hamilton, and it appears inevitable that title No. 7 will follow suit.
After which, the only thing left will be 100 victories on his way to setting another record for titles.
His first win came in Canada, 13 years ago, when driving for McLaren, and the team sportingly sent Hamilton a Tweet featuring a bottle of Champagne and the words "You never forget your first."