Bumblebees Are in Trouble, as Rising Temperatures Drive Their Decline – ScienceAlert
For some species, small jumps in temperature make a big difference in survival. To predict which populations are at risk, ecologists developed a new way to map shifts in population in relation to temperature change, and tested it on bumblebees.
The news for many of these fuzzy-buzzy pollination balls across the western hemisphere isn't great. Putting aside any damage we're causing through wanton use of pesticides, rising temperatures alone could easily see them vanish within our lifetime.
Insects in general are dropping like flies around the globe, much to the horror of ecologists. In just the past 35 years the abundance of invertebrates in the wild has decreased by 45 percent.
While the reasons are no doubt varied, we don't have to look very far for a primary cause behind most of them.
"We know that this crisis is entirely driven by human activities," says ecologist Peter Soroye from the University of Ottawa in Canada.
"So, to stop this, we needed to develop tools that tell us where and why these extinctions will occur."
Pointing to climate change as an automatic doomsday scenario for wildlife isn't always accurate. Some environments previously out of bounds for a species could open up with rising temperatures, for example, as food blossoms or predators dwindle.
Calculating the potential for future colonisation versus likelihood of extinction requires a close look at how that species has coped with temperature fluctuations across an area in previous years.
Working with fellow University of Ottawa researcher Jeremy Kerr and University College London ecologist Tim Newbold, Soroye used historical records of 66 bumblebee species across North America and Europe as a test case for predicting how higher temperatures could affect a population's dynamics.
Choosing bees as a starting point makes a lot of sense. Many plant species rely on them to reproduce, so without them we're looking at a serious change in the greenery of our environment and food sources.
"Bumblebees are the best pollinators we have in wild landscapes and the most effective pollinators for crops like tomato, squash, and berries," says Soroye.
Breaking down the distributions of the bumblebee species within units of 100 square kilometres (about 40 square miles) during a baseline period of 1901 to 1974, and then comparing those areas in a more recent period of 2000 to 2014, the team calculated changes in the richness of each species.
They found the chances any one bumblebee population might stick around between the two periods in Europe dropped by 17 percent. For North America, that decline was a massive 46 percent.
Exactly how temperatures make or break bumblebee survival isn't clear, but the team did find a possible clue in the fact most decline was in areas that had also become significantly drier.
Admittedly, areas previously too cold or dry for bees were found to become accessible, which means the news isn't universally terrible.
But on balance, such rare wins won't be enough to save many of them.
"If declines continue at this pace, many of these species could vanish forever within a few decades," says Soroye.
It's a stark warning that's become almost daily news. While there's debate over whether we're technically in the midst of a six major extinction event, quibbling over where to draw the line doesn't change how dire the situation is looking.
Each lost species in a given area is like removing a single block from an ecological Jenga tower. And for many ecosystems around the world, bumblebees occupy a precarious place right down the bottom of a swaying stack.
If that tower falls, it will leave many communities without key agricultural resources they rely on to survive.
Mapping tools such as this one could be just the thing we need to focus efforts on preserving what we can, while we still have time. And not just for bees, either.
By applying it to other species, including threatened plants, we can prioritise conservation programs that have the best chance at success, or look like they need urgent attention.
"With a predictive tool like this, we hope to identify areas where conservation actions would be critical to stopping declines," says Soroye.
This research was published in Science.
NASA's Hubble Space Telescope captured two festive-looking nebulas – Tech Explorist
The image shows NGC 248, about 60 light-years long and 20 light-years wide. They are two nebulas, situated to appear as one. The nebulas, together, are called NGC 248.
Initially discovered in 1834 by the astronomer Sir John Herschel, NGC 248 resides in the Small Magellanic Cloud, located approximately 200,000 light-years away in the southern constellation Tucana.
Small Magellanic Cloud is a dwarf galaxy that is a satellite of our Milky Way galaxy. The image is part of a study called Small Magellanic Cloud Investigation of Dust and Gas Evolution (SMIDGE).
The dwarf satellite galaxy contains several brilliant hydrogen nebulas, including NGC 248. Intense radiation from the brilliant central stars is heating hydrogen in each nebula, causing them to glow red.
The study's principal investigator, Dr. Karin Sandstrom of the University of California, San Diego, said, "The Small Magellanic Cloud has between a fifth and a tenth of the amount of heavy elements that the Milky Way does. Because it is so close, astronomers can study its dust in great detail and learn about what dust was like earlier in the history of the universe."
"It is important for understanding the history of our galaxy, too. Most of the star formation happened earlier in the universe, at a time when there was a much lower percentage of heavy elements than there is now. Dust is a critical part of how a galaxy works, how it forms stars."
The image is part of a study called Small Magellanic Cloud Investigation of Dust and Gas Evolution (SMIDGE). The data used in this image were taken with Hubble's Advanced Camera for Surveys in September 2015.
When To See An 'Earth-Grazer' This Weekend: Don't Write-Off The Perseid Meteor Shower, Says Expert – Forbes
If you've ever laid down a blanket or set up a lawn chair to watch a meteor shower there's a good chance it was to watch the Perseids.
Due to peak at 01:00 UT on Saturday, August 13, 2022, normal advice would be to be outside at that time (in Europe) or just as soon as its gets dark on Friday, August 12 (North America).
As I've already reported, this year the Perseids coincides with a full Moon, so all but the brightest meteors and "fireballs" (larger, brighter meteors) will be visible. So from the 50-75-or-so "shooting stars" you might normally see during the peak of the Perseids only a few—albeit bright—meteors will be visible.
It's almost not worth the bother, I said, advising you to go watch this instead next weekend.
However, there is another opinion. In an article published on the American Meteor Society's website, fireball coordinator Robert Lunsford says that despite the bright full Moon visible meteor rates during the peak of the Perseid meteor shower will be better than 95% of all other nights this year.
When to see the Perseid meteor shower
"Most of the Perseid meteors are faint and bright moonlight will make it difficult to view," he writes. "Despite the glare of moonlight, the Perseids produce many bright meteors that can still be easily seen despite the bright moonlight."
He also advises two great times to watch for shooting stars—just after sunset on Friday, August 12 and just before dawn on Saturday, August 13.
Perseids: 'Earth-grazers' just after sunset
You'll need patience, but to see an "Earth-grazer" is unforgettable.
Just after sunset is actually thee worst time in terms of numbers of shooting stars you might see, but the few that do come your way this time of night are special." The reason is that they just skim the upper regions of the atmosphere and will last much longer than Perseids seen during the morning hours," writes Lunsford. "Most of these "earth-grazing" Perseids will be seen low in the east or west, traveling north to south."
Perseids: 'shooting stars' before dawn
The activity from the Perseid meteor shower will peak where you are as the radiant—the constellation of Perseus—rises higher into the night sky. "Theoretically, the best time to watch the Perseids is just before the break of dawn when the radiant lies highest in a dark sky," writes Lunsford. That's about 04:00 local time, though he also reveals that experienced observers often say the hour between 03:00 and 04:00 is usually the best.
Perseids: 'shooting stars' in a moonless sky
If you want to look for Perseids in a dark, moonless sky then you're mostly out of luck this year. By the time the full Moon is rising long after midnight the meteor rates will have vastly reduced, though it may be worth shooting star-gazing after August 19, 2022.
When is the Perseid meteor shower in 2023?
The Perseid meteor shower will next year peak—in thankfully moonless skies—at around 07:00 UT on August 13, 2023 (so 03:00 EST and midnight PST), which will be ideal for North America.
Wishing you clear skies and wide eyes.
Meet Qikiqtania, a fossil fish who stayed in the water while others ventured onto land – Big Think
Approximately 365 million years ago, one group of fishes left the water to live on land. These animals were early tetrapods, a lineage that would radiate to include many thousands of species including amphibians, birds, lizards and mammals. Human beings are descendants of those early tetrapods, and we share the legacy of their water-to-land transition.
But what if, instead of venturing onto the shores, they had turned back? What if these animals, just at the cusp of leaving the water, had receded to live again in more open waters?
A new fossil suggests that one fish, in fact, did just that. In contrast to other closely related animals, which were using their fins to prop their bodies up on the bottom of the water and perhaps occasionally venturing out onto land, this newly discovered creature had fins that were built for swimming.
In March 2020, I was at The University of Chicago and a member of biologist Neil Shubin's lab. I was working with Justin Lemberg, another researcher in our group, to process a fossil that was collected back in 2004 during an expedition to the Canadian Arctic.
From the surface of the rock it was embedded in, we could see fragments of the jaws, about 2 inches long (5 cm) and with pointed teeth. There were also patches of white scales with bumpy texture. The anatomy gave us subtle hints that the fossil was an early tetrapod. But we wanted to see inside the rock.
Subscribe for counterintuitive, surprising, and impactful stories delivered to your inbox every Thursday
Notice: JavaScript is required for this content.
So we used a technology called CT scanning, which shoots X-rays through the specimen, to look for anything that might be hidden within, out of view. On March 13, we scanned an unassuming piece of rock that had a few scales on top and discovered it contained a complete fin buried inside. Our jaws dropped. A few days later, the lab and campus shut down, and COVID-19 sent us into lockdown.
The fin revealed
A fin like this is extremely precious. It can give scientists clues into how early tetrapods were evolving and how they were living hundreds of millions of years ago. For example, based on the shape of certain bones in the skeleton, we can make predictions about whether an animal was swimming or walking.
Although that first scan of the fin was promising, we needed to see the skeleton in high resolution. As soon as we were allowed back on campus, a professor in the university's department of the geophysical sciences helped us to trim down the block using a rock saw. This made the block more fin, less rock, allowing for a better scan and a closer view of the fin.
When the dust had cleared and we'd finished analyzing data on the jaws, scales and fin, we realized that this animal was a new species. Not only that, it turns out that this is one of the closest known relatives to limbed vertebrates – those creatures with fingers and toes.
We named it Qikiqtania wakei. Its genus name, pronounced "kick-kiq-tani-ahh," refers to the Inuktitut words Qikiqtaaluk or Qikiqtani, the traditional name for the region where the fossil was found. When this fish was alive, many hundreds of millions of years ago, this was a warm environment with rivers and streams. Its species name honors the late David Wake, a scientist and mentor who inspired so many of us in the field of evolutionary and developmental biology.
Skeletons tell how an animal lived
Qikiqtania reveals a lot about a critical period in our lineage's history. Its scales tell researchers unambiguously that it was living underwater. They show sensory canals that would have allowed the animal to detect the flow of water around its body. Its jaws tell us that it was foraging as a predator, biting and holding onto prey with a series of fangs and drawing food into its mouth by suction.
But it is Qikiqtania's pectoral fin that is most surprising. It has a humerus bone, just as our upper arm does. But Qikiqtania's has a very peculiar shape.
Early tetrapods, like Tiktaalik, have humeri that possess a prominent ridge on the underside and a characteristic set of bumps, where muscles attach. These bony bumps tell us that early tetrapods were living on the bottom of lakes and streams, using their fins or arms to prop themselves up, first on the ground underwater and later on land.
Qikiqtania's humerus is different. It lacks those trademark ridges and processes. Instead, its humerus is thin and boomerang-shaped, and the rest of the fin is large and paddle-like. This fin was built for swimming.
Whereas other early tetrapods were playing at the water's edge, learning what land had to offer, Qikiqtania was doing something different. Its humerus is truly unlike any others known. My colleagues and I think it shows that Qikiqtania had turned back from the water's edge and evolved to live, once again, off the ground and in open water.
Evolution isn't a march in one direction
Evolution isn't a simple, linear process. Although it might seem like early tetrapods were trending inevitably toward life on land, Qikiqtania shows exactly the limitations of such a directional perspective. Evolution didn't build a ladder towards humans. It's a complex set of processes that together grow the tangled tree of life. New species form and they diversify. Branches can head off in any number of directions.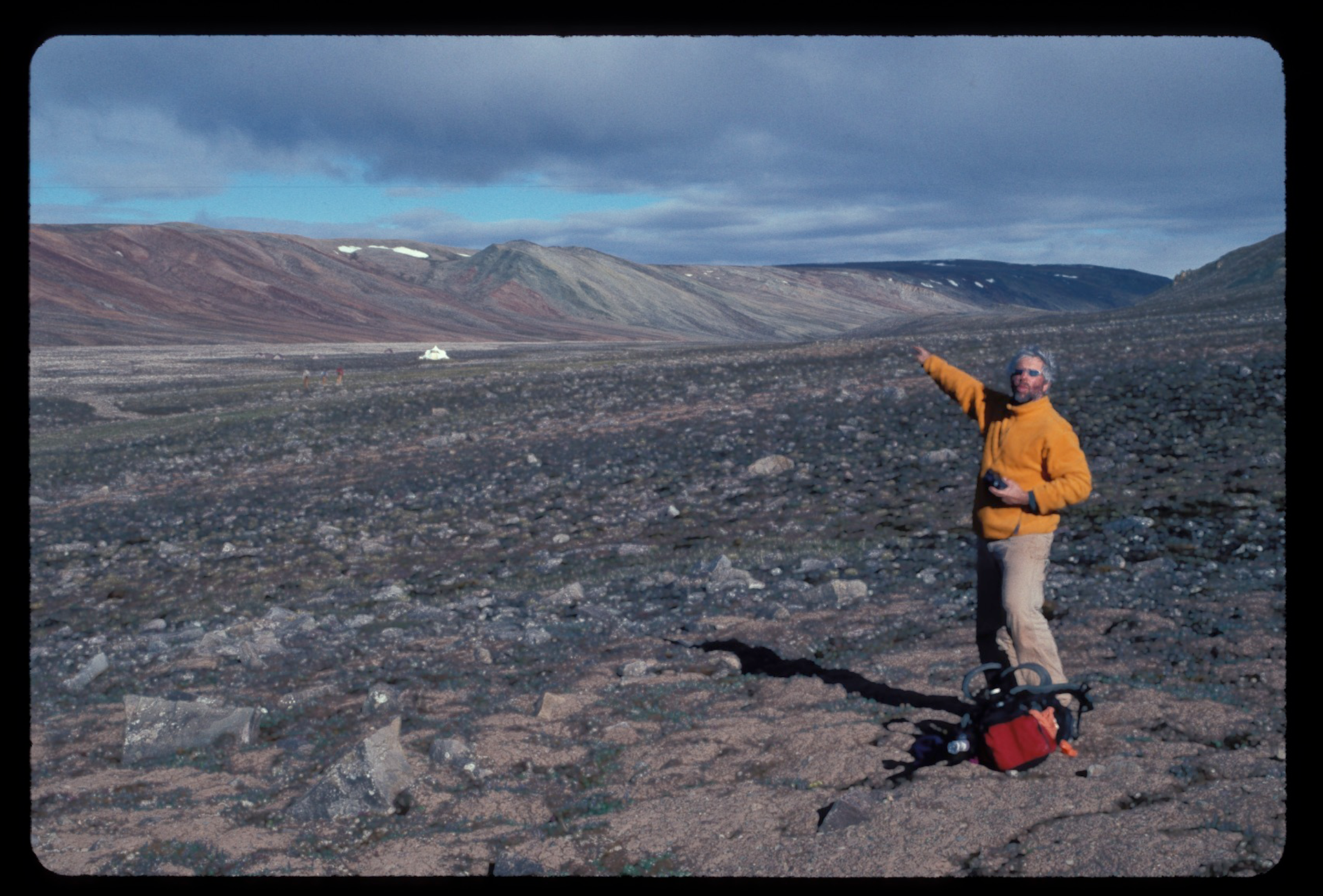 This fossil is special for so many reasons. It's not just miraculous that this fish was preserved in rock for hundreds of millions of years before being discovered by scientists in the Arctic, on Ellesmere Island. It's not just that it's remarkably complete, with its full anatomy revealed by serendipity at the cusp of a global pandemic. It also provides, for the first time, a glimpse of the broader diversity and range of lifestyles of fishes at the water-to-land transition. It helps researchers see more than a ladder and understand that fascinating, tangled tree.
Discoveries depend on community
Qikiqtania was found on Inuit land, and it belongs to that community. My colleagues and I were only able to conduct this research because of the generosity and support of individuals in the hamlets of Resolute Bay and Grise Fiord, the Iviq Hunters and Trappers of Grise Fiord, and the Department of Heritage and Culture, Nunavut. To them, on behalf of our entire research team, "nakurmiik." Thank you. Paleontological expeditions onto their land have truly changed how we understand the history of life on Earth.
COVID-19 kept many paleontologists from traveling and visiting field sites across the world these last few years. We're eager to return, to visit with old friends and to search again. Who knows what other animals lie hidden, waiting to be discovered inside blocks of unassuming stone.
This article is republished from The Conversation under a Creative Commons license. Read the original article.