Can We Untie Real Estate and Employment? – The Big Picture – Barry Ritholtz
I have been wondering lately what the ramifications of the past two years will be. I enjoy thinking about things like this; its especially fun when there is no consensus, and no one really has much of a clue about the future. This has been even more true than usual lately.
I don't pretend to have answers, but I do have questions that raise interesting scenarios. The one I have been having the most fun with lately: How will residential real estate and migration of human capital (employees) alter the way people work, get hired, and live?
Just imaging different outcomes of what might happen can occasionally lead to insights. It's a useful exercise, especially when we are in a period of great flux.
Consider the lessons learned during the lockdown period that began in March 2020 and sporadically ended over the next 18 months.
– Knowledge workers were very productive during WFH;
– Good Technology is essential;
– Corporate Culture can be challenging to maintain from a distance;
– Residential Real Estate is driven by multiple factors which rise and fall in importance at different times;
– Wages are relative to the local cost of living;
– Many firms have begun hiring in geographies outside of where their offices are physically located;
– We are still feeling the fallout of the Great Financial Crisis in residential real estate.
My frame of reference is my own circumstances.
Pre-pandemic, I was in the office four days a week but working from home on Fridays.1 Today I'm in the office once or twice a week (my train is still not on a normal schedule). Friends and colleagues' work experience is across the spectrum: Some firms are mandating at least four days a week in the office (with a mandatory "Everybody comes in Wednesday!"); some are still full remote, while others are a hybrid. Once things get back to the way it was, I'll be in the office two or three days a week.
Assuming it does return to normal. And therein lay the rub.
During the lockdown, we hired a number of staffers from all over the country. Some are nowhere near our HQ or remote offices. You live in a high-wage metropolitan region, but your staffers are not coming into the office, why not hire from less expensive parts of the country?
Perhaps this is merely a blip. Maybe once this is over and people are hungry for social interactions and human contact the world returns to the way it was circa 2019. If that's the case then there are no serious issues with residential real estate or location of labor and migration.
But I have my doubts that this is going to be the outcome. It is simply too cost-efficient to source workers from less expensive locales. Note this began in the United States decades ago, with customer service (phone) workers who could be anywhere (including overseas).
Imagine this scenario:
Numerous companies, ranging from startups to smaller established firms to mid-sized companies to even larger publicly traded corporations, adopt this interstate labor arbitrage approach to hiring. Over time, the people who have to be physically in their offices are the most senior in the organizational chart. Much of the rest of that org chart was working in the same building but either commuting much longer or living in much smaller spaces or both.
Will that continue?
Consider the concentric rings of bedroom communities that surround metropolitan centers like Boston, Chicago, Miami, New York, Portland, San Francisco, Seattle, etc. Commute times of 30, 60, 90, 120 minutes used to include a fairly linear increase in RRE costs per square foot contingent on the shorter the commuting distance was.
What happens to this model?

What happens to the supply of office space – do we have a massive urban glut?

What does that do to residential real estate in urban centers, and their surrounding bedroom communities?

Will we continue to have pricey shortages of real estate in cities?

Where will entry-level position workers find employment – in the more expensive urban areas or the less expensive suburban and rural areas? (Consider how rent-poor many of these workers were pre-pandemic).

How significant are these changes going to be? Is this a small trim adjustment, or is this a substantially remaking of the employment/real estate model of the entire 75-year post-war period?
I don't have the answers to these questions, but I have been wrestling with how these may resolve. The impact is likely to be substantial regardless of which direction this goes…
Previously:
How Everybody Miscalculated Housing Demand (July 29, 2021)
How Much Have Americans Increased their Homes' Values? (August 20, 2021)
How Expensive Are Houses? (August 16, 2021)
________
1. Our house is less than an hour commute to the city; I could have lived 30 minutes closer in a smaller home on less land for the same purchase price, or 30 to 60 minutes further out on even more land for less money.
If I had known I was only going in 2 days a week, how might that have impacted our thinking on location?
Nanaimo Real Estate Market Report: January 2023
NANAIMO – Calm start to the year indicates a great time to buy
In January, 46 single-family homes sold in Nanaimo, down 33 per cent from December and 26 per cent from the previous year.
Active listings of single-family homes on the Mid-Island rose 108 per cent year-over-year, but dropped by 4 per cent from December.
The average price for a single-family home in Nanaimo was $795,527 in January, a 23 per cent drop from last year.
Montreal home sales down 36% from January 2022: Quebec real estate association
MONTREAL — The Quebec Professional Association of Real Estate Brokers says Montreal's January home sales fell to a level not seen since 2009 as the market slowdown continued.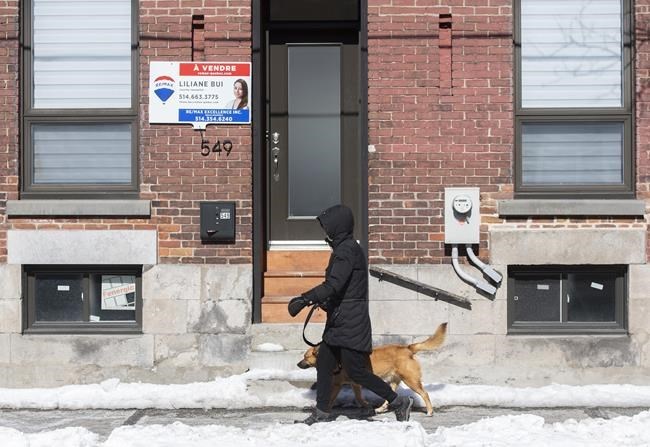 MONTREAL — The Quebec Professional Association of Real Estate Brokers says Montreal's January home sales fell to a level not seen since 2009 as the market slowdown continued.
The association says last month's sales totalled 1,791, down 36 per cent from 2,816 in January 2022.
Charles Brant, the association's market analysis director, says these numbers mean activity is approaching a historic low for the month of January and come as rising interest rates are weighing on homebuyers.
He says first-time homebuyers in particular are taking a cautious wait-and-see attitude despite recent drops in prices.
The median price of a single-family home edged down seven per cent to $500,000 year over year, while condos dipped three per cent to $370,000 and plexes dropped six per cent to $675,000.
As median prices fell so did new listings, which hit 4,598 compared with 4,808 a year ago.
This report by The Canadian Press was first published Feb. 7, 2023.
The Canadian Press
B.C. residential real estate investors unfairly 'painted as speculators': BCREA
Statistics Canada released data last week revealing 23.3 per cent of B.C. homeowners are also investors in the market. The Vancouver census metropolitan area (CMA) had an overall investment rate in condominiums and houses of 21.3 per cent.
"Investors often get kind of painted as speculators who are out to buy up housing and do nothing with it, or flippers or any other kind of pejorative terms that we add to investors. But what this data shows, and what's good to understand, is that they've really invested a lot in a primary rental in Canada," said Brendon Ogmundson. "A lot of the rental units that are being provided are smaller investors who own one unit and are renting it out."
Statistics Canada defines an investor as an "owner who owns at least one residential property that is not used as their primary place of residence." 
In B.C., 73 per cent of properties with multiple dwellings were owner-occupied investment properties. Investor-occupants are more common in the province, making up 9.6 per cent of owners.
This is due to a higher proportion of properties with multiple residential units – 11.7 per cent – such as laneway units or basement suites, according Statistics Canada. The national statistics agency said these types of units are more likely to be owner-occupied.
"So many owners in B.C. have chosen to also be landlords by renting out their basement suites or laneway houses and it's way, way different than any other province in this dataset," Ogmundson said. 

Statistics Canada data breaking down homeowners by investor-type. 
The region of Greater Vancouver A or Electoral Area A, which includes the University Endowment Lands, Barnston Island, Howe Sound communities, Indian Arm and Pitt Lake communities, had a higher proportion of houses and condominium apartments used as an investment at 42.1 per cent compared with the rest of the region. 
The City of Vancouver had a lower proportion at 32.5 per cent.
This difference is attributed to students attending the University of British Columbia, who are more likely to be renters or live in a second property owned by a family member, according to Statistics Canada. 
The proportion of condominium apartments owned for investment purposes by non-resident investors was the highest in B.C. among the provinces – seven per cent.
The rate of condominium apartments used as investment was lower in the Vancouver CMA (34 per cent) than the rest of the province.
Across B.C., non-residents and out-of-province investors owned 43,890 houses used as an investment. This number was typically higher in areas near the Alberta border. 
Out-of-province investors owned 1.6 per cent of homes in B.C., while in-province investors accounted for 9.8 per cent of all investors.