Canada heatwave: Wildfires spread in British Columbia after lightning strikes – BBC News
Lightning strikes have continued to spark dozens more wildfires in western Canada following a record-breaking heatwave.
Emergency services say they there are now trying to control more than 170 fires across the province of British Columbia.
Evacuation orders are in place in several areas and military teams are due to arrive in the coming days.
Earlier in the week, people had to flee the village of Lytton.
Lytton, which recorded Canada's highest ever temperature of 49.6C (121.3F) on Tuesday, was destroyed by fire.
The blaze in the village – about 260km (160 miles) north-east of Vancouver – forced many of its 250 residents to leave without their belongings on Wednesday evening.
"Within about 15 minutes the whole town was engulfed in flames," Mayor Jan Polderman told the BBC.
Abnormally high temperatures have been recorded in swathes of North America in recent days.
Cliff Chapman, director of provincial operations for British Columbia Wildfire Service, told broadcaster CBC that about 12,000 lightning strikes had been recorded on Friday, many of them near Kamloops, north-east of Vancouver.
Hundreds of people have been warned they may have to leave their homes.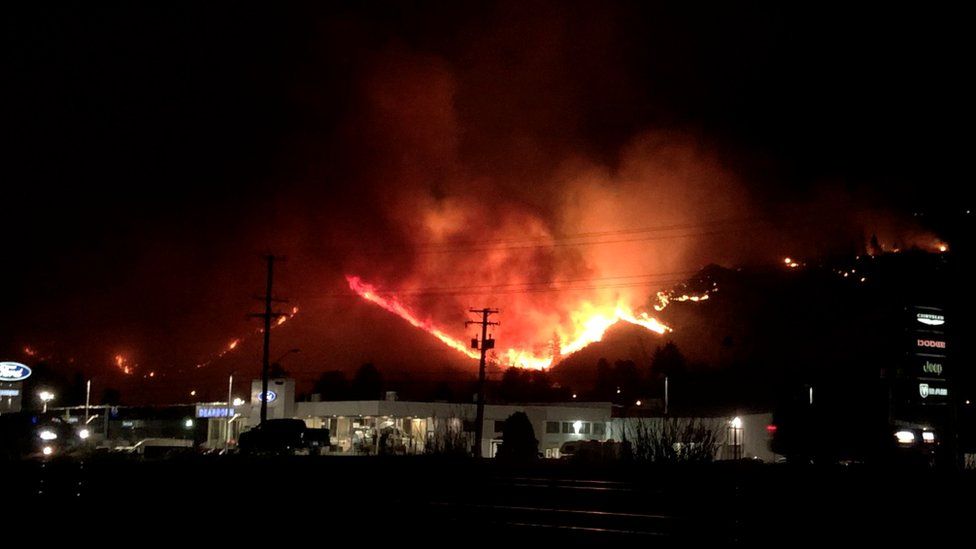 Canada's Defence Minister Harjit Sajjan said the government would provide aid, including military helicopters and personnel, to help tackle the fires and reach people threatened by the flames.
The blazes have forced the closure of a number of major roads.
Public Safety Minister Bill Blair said the weather and the wildfires were having a "devastating" and "unprecedented" impact on British Columbia.
"These wildfires show that we are in the earliest stages of what promises to be a long and challenging summer," he said.
Health officials say extreme heat is likely to have contributed to 719 sudden deaths over the past week.
"Many of the deaths experienced over the past week were among older individuals living alone in private residences with minimal ventilation," Chief Coroner Lisa Lapointe said in a statement.
Temperatures have been easing in coastal areas of Canada, but there is not much respite for inland regions. The British Columbia Wildfire Service said it was bracing for more wildfires throughout the weekend.
Canada's wildfires could cost billions, kill thousands if nothing is done: report – Global News
Western Canada must urgently address the threats posed by highly destructive wildfires or face deadly and costly consequences, says a group of forest and environmental experts from British Columbia and the United States.
The experts, including Mathieu Bourbonnais, assistant professor of earth and environmental sciences at the University of B.C. Okanagan, predict devastating wildfires like those currently burning in B.C. will be "commonplace" by 2050.
The group has released a paper predicting billions of dollars spent on suppression and indirect costs from the fires _ as well as hundreds or thousands of premature deaths each year due to smoke exposure _ ifaction isn't taken to address climate change and the "daunting" scale of fuel, such as fallen trees and dead vegetation, that's built up.
"If you look at record-breaking seasons, we've spent hundreds of millions of dollars on fire suppression," said Bourbonnais, a former wildland firefighter from Alberta.

2:31


Concerns about the adverse effects of B.C. wildfire smoke pollution



"You can think about, if you spread that out over a couple of seasons, how may communities we could be engaged with on protecting watersheds, protecting drinking water sources, the communities themselves, high-value infrastructure, the ecosystems," he said in an interview. "By doing that, we're investing in a future that hopefully we don't need to spend those kind of dollars on fire suppression."
The group's paper suggests creating patches of space in the forest that contain less flammable material, a strategy that can also boost the efficacy of fire suppression efforts, said Bourbonnais.
"Rather than crews responding to a fire with nothing but fuel in front of them, there are natural fire breaks, there's old prescribed burns that help slow the fire down."
Asked about the paper, the director of fire centre operations for the BC Wildfire Service said there was recognition of the work that needed to be done with communities as well as reducing fuel in the forests following historic wildfire seasons in 2017 and 2018.
"I'm part of many different planning tables and discussions within this province and within this ministry on how do we do this better," Rob Schweitzer told a news conference on Thursday.
"Through prescribed fire, through utilization of Indigenous traditional knowledge in use of fire, as well as amending our forest harvesting practices and the woody debris left behind, are all pieces that we continue to discuss and actually start to change policy and implement new strategies to help reduce that amount of fuel."

2:25


South Okanagan couple loses home to Nk'Mip Creek wildfire



About 1,250 wildfires have charred 4,560 square kilometres of bush since the start of B.C.'s fire season in April, compared with the 10-year average of 658 fires and about 1,060 square kilometres burned over the same time period, Schweitzer said.
Three dozen of the 245 wildfires that were burning in B.C on Thursday were considered either extremely threatening or highly visible, including a 655-square-kilometre fire north of Kamloops Lake that prompted an evacuation order for nearly 300 properties.
There were 28 states of local emergency and more than 60 evacuation orders covering 3,443 properties on Thursday. Nearly 90 evacuation alerts covered 17,679 properties, where residents were told to be ready to leave at a moment's notice, said Pader Brach, executive director of regional operations for Emergency Management BC.
The number of daily new fires has subsided this week, Schweitzer said.

2:31


Concern over long-term impact of Ontario wildfires



But higher temperatures are expected to contribute to "severe burning conditions" in B.C.'s southern half, he added. The forecast should bring more fresh air to the Interior, he said, fuelling a "short-lived increase in fire growth" but also aiding firefighting efforts by air, which have been hampered by smoky skies.
The service also anticipates some lighting this weekend, Schweitzer said, and crews are standing ready if new fires start.
Environment Canada issued heat warnings stretching across B.C.'s southern Interior, inland sections of the north and central coasts, as well as the south coast and parts of Vancouver Island. The wildfire service warns the combination of high temperatures and low relative humidity will make fires even more intense.
© 2021 The Canadian Press
Northern Canada may be a popular destination at the end of the world – CTV News
TORONTO —
In the event of societal collapse, researchers suggest northern Canada may be "habitable" and could act as a lifeboat, but that other countries are better suited for survival.
The researchers found that Earth is in a "perilous state" due to rapid population growth and an energy consuming society that has altered the Earth's system and biosphere. They say that societal collapse could happen in various forms, including economic collapse, worsening climate catastrophe, a pandemic worse than COVID-19, or another mass extinction event, which the researchers say is already underway.
The goal of the study, published in the journal Sustainability on July 21, was to create a shortlist of nations that could host survivors in the event of a societal collapse, where civilization could start over. The researchers evaluated the land, how much was available and its quality, how easy or difficult it is to travel to the country, available renewable resources, climate and agriculture, to determine where it would be best to survive the end of the world.
Islands with low population density, particularly those with distinct seasonal changes, fared the best with New Zealand topping the list. Iceland, U.K., Australia (specifically Tasmania) and Ireland made up the rest of the shortlist where it would be best for society to restart after a collapse.
Northern Canada, while not on the shortlist, could act as a "lifeboat" in the event of societal collapse due to climate change and extreme temperatures, but survival would rely on maintaining agriculture and renewable energy sources to keep the population alive.
The researchers showed that the shortlisted countries had strong renewable energy sources, were in temperate climates, and have plenty of agricultural land and space for growth. In the case of Iceland, where suitable land for livestock is not in abundance, this downside is offset by fisheries and the island's wealth of renewable resources, of which geothermal resources have already been widely developed.
While this may give Canadians living in northern regions a chance to breathe a sigh of relief, there are still zombie fires to contend with as climate change warms the north and shortens winters.
Coronavirus: What's happening in Canada and around the world – CBC.ca
The latest:
Health authorities in Thailand are racing to set up a large field hospital in a cargo building at one of Bangkok's airports as the country reports record numbers of coronavirus cases and deaths.
Other field hospitals are already in use in the capital after it ran out of hospital facilities for thousands of infected residents. Workers rushed to finish the 1,800-bed hospital at Don Mueang International Airport, where beds made from cardboard box materials are laid out with mattresses and pillows.
The airport has had little use because almost all domestic flights were cancelled two weeks ago. The field hospital is expected to be ready for patients in two weeks.
The quick spread of the delta variant also led neighbouring Cambodia to seal its border with Thailand on Thursday and order a lockdown and movement restrictions in eight provinces.
-From The Associated Press, last updated at 6:30 a.m. ET
---
What's happening in Canada
WATCH | Get the latest on Alberta's plan to ease restrictions:

Alberta will be pulling back on requirements for COVID-19 testing, contact tracing and quarantines, despite rising cases in the province. 2:05
---
What's happening around the world
As of early Thursday morning, more than 196 million cases of COVID-19 had been reported worldwide, according to Johns Hopkins University. More than 4.1 million deaths had been reported.
In the Asia-Pacific region, Tokyo reported 3,865 new cases on Thursday, up from 3,177 on Wednesday and double the number it had a week ago. Japan's Chief Cabinet Secretary Katunobu Kato told reporters the new cases are soaring not only in the Tokyo area but also across the country. He said Japan has never experienced an expansion of infections of this magnitude.
The World Health Organization's Africa director says the continent of 1.3 billion people is entering an "encouraging phase after a bleak June" as supplies of COVID-19 vaccines increase. But Matshidiso Moeti told reporters on Thursday that just 10 per cent of the doses needed to vaccinate 30 per cent of Africa's population by the end of 2021 have arrived. Some 82 million doses have arrived in Africa so far, while 820 million are needed.
Less than two per cent of Africa's population has been fully vaccinated, and the more infectious delta variant is driving a deadly resurgence of cases.
"There's a light at the end of the tunnel on vaccine deliveries to Africa but it must not be snuffed out again," Moeti said.
In the Americas, the Centers for Disease Control and Prevention (CDC) said on Wednesday that 66.6 per cent of U.S. counties had transmission rates of COVID-19 high enough to warrant indoor masking and should immediately resume the policy.
COVID-19 continues to inflict a devastating toll on the Americas, with Argentina, Colombia, Cuba, Ecuador and Paraguay among the countries with the world's highest weekly death rates, the Pan American Health Organization said.
In the Middle East, Iran on Wednesday reported 33,817 new cases of COVID-19 and 303 additional deaths. The country, which has been hit hard by COVID-19, is experiencing yet another surge in cases.
In Europe, Spain's prime minister said existing measures to protect the most vulnerable from the pandemic's economic fallout will be prolonged until the end of October.
Spain, one of the countries that was hardest hit at the beginning of the health emergency, has extended subsidies for the unemployed and furloughs for companies that have gone out of business to try to cushion an economic drop of 11 per cent of its gross domestic product in 2020.
-From The Associated Press, Reuters and CBC News, last updated at 11:15 a.m. ET