Canada receives first shipment of Moderna COVID vaccines – Al Jazeera English
Officials say Moderna vaccine will be distributed to remote, isolated communities in northern Canada.
Canada has received its first shipment of Moderna Inc's COVID-19 vaccines, Prime Minister Justin Trudeau said Thursday, as the country urged people to limit their contacts during the Christmas and New Year's holidays.
Trudeau said the first shipment of Moderna vaccines is part of the 168,000 doses that Canada expects to receive before the end of December.
"These are part of the 168,000 doses we'll be getting before the end of the month, and part of the 40 million doses we're guaranteed from Moderna overall," he tweeted.
Health Canada on Wednesday approved the Moderna vaccine for use in Canada, saying it had met the agency's "stringent safety, efficacy and quality requirements".
The first doses of Moderna's COVID-19 vaccine have arrived in Canada. These are part of the 168,000 doses we'll be getting before the end of the month, and part of the 40 million doses we're guaranteed from Moderna overall. pic.twitter.com/eKhQ6v8xSA

— Justin Trudeau (@JustinTrudeau) December 24, 2020
Canada is the second country to approve the Moderna vaccine, after the United States' Food and Drug Administration (FDA) on December 18 approved it for emergency use.
Moderna's COVID-19 shot is the second approved in Canada after the Pfizer-BioNTech vaccine, which is already being administered to healthcare workers and long-term care home residents in several provinces.
Unlike the Pfizer-BioNTech vaccine, the Moderna vaccine does not have to be kept at ultra-low freezing temperatures, and Canadian officials said they plan to send it to more remote areas of the country.
"The different storage and handling requirements of the Moderna COVID-19 vaccine mean that it can be distributed to isolated and remote communities, including the territories," Health Canada said this week.
Anita Anand, Canada's minister of public services and procurement, tweeted Thursday that the first Moderna shipment "will be the first #COVID19 vaccine deployed in Canada's North".
1/ Just one day after Health Canada approval, I am pleased to be on hand as the Moderna vaccine arrives in 🇨🇦! This is the first shipment of a total 40M doses that our gov't has procured from Moderna and will be the first #COVID19 vaccine deployed in Canada's North. pic.twitter.com/b1TR9mFbXG

— Anita Anand (@AnitaOakville) December 24, 2020
The health and social services minister for Yukon, one of Canada's northern territories, said in a statement Wednesday that the Moderna vaccine approval was "exciting news Yukoners have been waiting for".
Pauline Frost said Yukon expects to receive an initial shipment of 7,200 doses of the vaccine to inoculate 3,600 people with two shots. As of Thursday morning, the territory had no active cases of COVID-19.
"Yukon will receive enough doses to vaccinate 75 percent of the eligible adult population in early 2021," said Frost, adding that long-term care residents and staff would receive the vaccine first.
Canada is battling a surge in COVID-19 cases and hospitalisations across the country.
On Thursday, the most populous province, Ontario, reported 2,447 new COVID-19 infections – its highest single-day tally since the start of the pandemic – and 49 additional deaths linked to the novel coronavirus.
Health officials in neighbouring Quebec also reported a single-day high with 2,349 new cases, as well as 46 more deaths.
Both the Quebec and Ontario governments are preparing to put new restrictions in place in the coming days as part of their efforts to stem the spread of the virus.
Pfizer tells Canada it will not receive any Covid-19 vaccine doses next week – CNN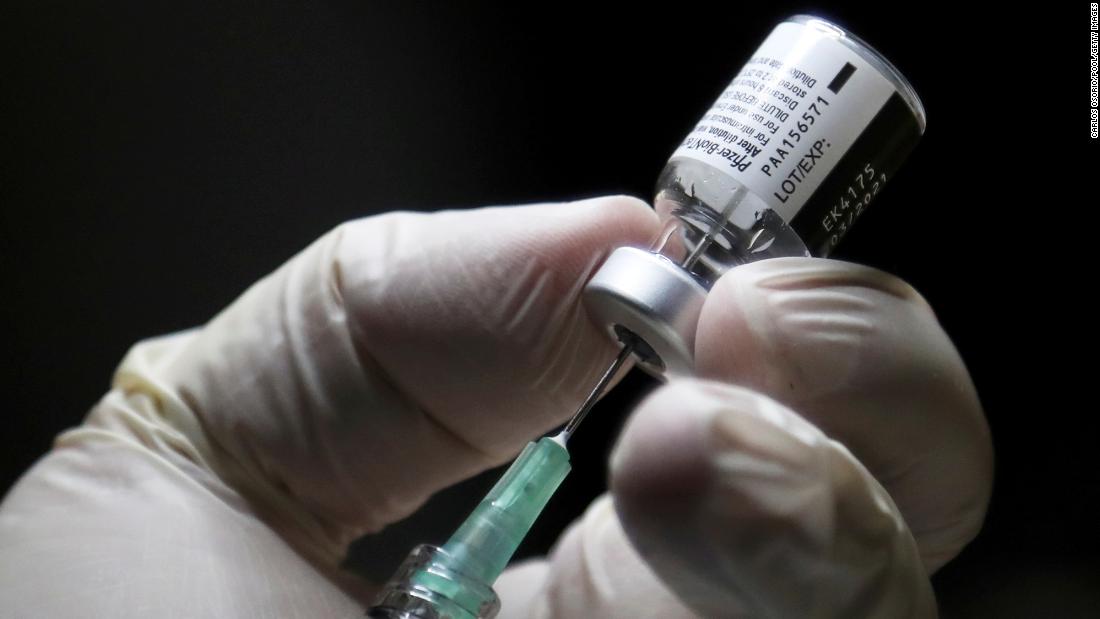 Canada's Prime Minister Justin Trudeau sought to reassure Canadians that vaccine deliveries would pick up again in a few weeks and that the overall goal, to have every willing Canadian vaccinated by September, would remain on track.
But it was Ontario's Premier Doug Ford who bluntly voiced the frustration of many provincial leaders as Pfizer continues to cut its vaccine delivery schedule to Canada.
"We got to be on these guys like a blanket, I'd be outside that guy's house. Every time he moved, I'd be saying, 'Where's our vaccines?' Other people are getting them, the European Union is getting them, why not Canada? That's my question to Pfizer, we need your support," said Ford during a Tuesday news conference.
Canada's supply of the Pfizer/BioNTech vaccine comes from the European allotment and not from nearby manufacturing facilities in the US, since the Trump administration made it clear vaccines would not be exported.
"There's a plant, a Pfizer plant, six hours in Kalamazoo, Michigan, with the Americans," Ford said. "My American friends help us out, we need help once again as we did with the PPE. You have a new President, no more excuses we need your support, and we look forward to your support and that's a direct message to President (Joe) Biden, 'help out your neighbor.'"
Ford made a direct plea to President-elect Joe Biden for a million vaccines for Canada.
The incoming Biden administration is unlikely to release vaccine doses for export in the short term as Biden transition officials have stated they are uncertain of the current supply of vaccines available in the US.
Canadian government officials made it clear Tuesday that the shortfall in deliveries from Pfizer would result in a "major reduction" in vaccinations in the coming weeks.
"There will be a considerable impact across all provinces," said Major Gen. Dany Fortin, the Canadian commander in charge of the vaccine rollout, adding, "the overall impact over the next month is in the range of a 50% decrease of expected allocation."
The pandemic curve in Canada is beginning to show signs of bending downward after weeks of lockdowns. But hospitalizations remain high, and officials say the overall death toll during this second wave could eventually be more dire than the first.
"We're all contributing to reducing the burden on the health system, supporting our health care workforce in the difficult task of planning and implementing mass vaccine rollout and giving vaccines a longer runway to begin to work as access expands to reach all Canadians," said Dr. Theresa Tam, Canada's chief public health officer during a Tuesday news conference.
Tam added on average, about 140 virus-related deaths are reported in Canada each day.
COVID-19: No Moderna or Pfizer vaccine deliveries for B.C. in last week of January – Vancouver Sun
Article content continued
The provincial health officer, Dr. Bonnie Henry, said that 40 per cent of B.C.'s Moderna doses had been used so far. Moderna vaccine is stored at a higher temperature than Pfizer's so is easier to deliver outside Metro Vancouver.
So far, 80 per cent of the roughly 92,000 doses delivered in B.C. have been from Pfizer and the rest from Moderna.
There were 465 cases of COVID-19 reported on Monday and 12 deaths.
There are 4,331 active cases, with 329 being treated in hospital, including 70 in intensive care.
There were no new outbreaks in health care facilities or in the community. An outbreak at The Emerald at Elim Village in Surrey is over with no deaths, leaving 58 active outbreaks in health care facilities.
B.C.'s provincial state of emergency was extended until Feb. 2.
There have been 693 tickets with fines issued, that include 548 for people refusing to comply with a directive, 119 for unlawful gatherings and 26 for violation of provincial health officer liquor rules.
Authorities have issued 85 tickets for people who breached the mandatory two-week quarantine for anyone entering B.C. from outside Canada.
---
Get the latest COVID-19 news delivered to your inbox weeknights at 7 p.m. by subscribing to our newsletter here.
---
CLICK HERE to report a typo.
Is there more to this story? We'd like to hear from you about this or any other stories you think we should know about. Email vantips@postmedia.com.
Pfizer to halt COVID vaccine deliveries to Canada next week, making worse already slow rollout
Conservative health critic Michelle Rempel Garner said the Liberals had to come clean about the full details of the rollout, so Canadians could see how it stood up to scrutiny.
"When they say that every Canadian will have a dose of vaccine by September, what assumptions have they made on approval, timelines, and availability of other vaccine candidates and if those don't come to pass what's plan B?"
She said she wanted the government to succeed, so Canadians could get back to a normal life, but that clearly had not happened.
"I really don't take any pleasure in saying that they haven't delivered."
According to the Bloomberg news service, as of Monday, Canada was 12th in the world on vaccines delivered on a per capita basis. Behind countries like Israel, the U.K. and the United States and the United Arab Emirates, as well as several small European countries.
Israel is the world leader so far having administered first doses to more than 25 per cent of its population primarily using the Pfizer vaccine. Several reports indicated the country had paid more for the vaccines than other countries. it also had agreed to share anonymized patient data from its health system with Pfizer.
The United Kingdom has approved the AstraZeneca vaccine and made it a major part of its rollout. The vaccine, which is not yet approved in either Canada or the United States, does not need to be kept frozen and is easier to distribute. Some countries, like the United Arab Emirates, that are ahead of Canada are using a vaccine from Sinopharm, a Chinese state company.
Trudeau was asked Tuesday why Canada hadn't ordered more doses for the first quarter of the year. He said there were only so many doses available from the two approved candidates Pfizer and Moderna, before the vaccines were approved and manufacturing could ramp up.
"The challenge is, as of December 1, 2020, there were none of these vaccines being produced anywhere in the world for general use. They were all in testing and trials in the scientific community," he said.
• Email: rtumilty@postmedia.com | Twitter: ryantumilty
Source: – National Post