Canada's Inflation Steps up to a Nearly 40-Year High
Canada, alongside many other countries, has seen the effects of rampant inflation. As a result, many central banks are preparing for a possible recession in the coming months. Inflation, while it can vary from the direct source, primarily comes from the rise of costs associated with consumer goods and services. Energy prices, which were once negative, recently reached a staggering $120 USD per barrel, contributing significantly to inflation at gas stations in multiple countries.
Similar to other countries, Canada has followed closely behind the United States in terms of Inflation. Just recently, the United States reached an 8.6% inflation rate as consumer-oriented items pushed the Consumer Price Index (CPI) higher. The United Kingdom also experienced inflation of 9.1% in May, far higher than Canada's inflation rate, but that gap is quickly closing in.
Current Inflation
In April, Canada's inflation rate hit a 31-year high of 6.8%. Inflation has continued to remain elevated according to May's CPI results of 7.7%, now pushing towards a nearly 40-year high. Rampant inflation is continuing to be primarily caused by food, shelter, energy, and commodities prices, at least those that are consumer-oriented. It doesn't seem to be slowing down anytime soon either. Supply chain issues and other macroeconomic factors are forcing businesses to raise their prices to combat rising costs that consume their earnings.
Alongside record-high oil and gas prices, the invasion of Ukraine disrupted global supply chains that provided basic necessities, one of which is fertilizer, that can exponentially increase the costs of food production across Canada. This indirectly contributes to CPI through grocery prices and further squeezes the pockets of Canadians.
As a result, spending from consumers could decrease on non-essential goods and services. This is what led the TSX and S&P 500 indexes to experience sharp declines since the start of this year, particularly stemming from stocks that had high expectations fused into the stock price.
How to Slow Inflation
Slowing inflation is going to be a difficult task for the Bank of Canada, but it's certainly possible. For starters, the policy interest rate now stands at 1.50%. In comparison, the policy rate was only 0.25% in January of this year. Canadians have seen two consecutive 50 basis point increases in just two months with possibly more to come if inflation continues to worsen. These actions could cool down the economy in preparation for a possible recession.
Another effective solution to dismantling inflation is easing supply chain restraints and shortages. Unfortunately, a majority of these critical supply chains reside overseas, making it nearly impossible to drive a substantial difference. As a result, Canada has limited options. Interest rates can only go so far, and supply chains are certainly a major factor in the inflation we all see today.
Conclusion
Everyday consumers, investors, and business owners are all asking the same question in regards to inflation, when will it ever cool down?
The answer remains relatively unknown. Although, rising interest rates are going to hamper inflation over time and likely return purchasing power to the pockets of Canadians over the next few years if operations go according to plan.
Toronto Mayor John Tory lays out vision for city's economy in speech – CP24 Toronto's Breaking News
Toronto Mayor John Tory says he's optimistic about the future of the city's economy, but is acknowledging that continued recovery from the COVID-19 pandemic will take place in a "challenging" economic period.
In a speech to the Toronto Region Board of Trade Thursday, Tory said he sees the city's economic recovery and future growth resting on five pillars; rebuilding and instilling confidence, attracting new business and expanding existing ones, supporting businesses with an emphasis on small business, supporting growth, and being ready for the future and possible "transformational change."
Tory said there is "always a tomorrow" following a crisis, but making it brighter requires planning.
"That's why I have been talking a lot about the city's recovery from the pandemic, a recovery that will take place during challenging economic times," the mayor said. "I am completely committed to making sure Toronto comes back stronger than ever and that will be my main focus in the weeks and months ahead."
To that end, Tory said he will be assembling a volunteer panel of accomplished leaders to help provide "real-time advice" as the city continues to reopen following more than two years of COVID-19 restrictions.
"I believe the rapid pace of change and need to adapt will continue and I will rely on this group to help provide real-time advice and insight so we can remain nimble," Tory said.
While the mayor did not go into detail about the city's economic challenges, Toronto is facing a number of hurdles. The city is still facing a major budgetary shortfall as a result of shrunken revenues. While the TTC used to be jam-packed on a daily basis, ridership numbers have still not returned to normal and ridership patterns have become more unpredictable as many businesses have allowed their employees to work from home for at least part of the week. It is also not yet clear how rising interest rates and inflation will affect the local economy in the coming months.
"Successfully addressing the issues we face as a city will take everything we've got," Tory said in his speech, acknowledging that the pandemic hurt people and businesses.
"I am committed to making sure those who have lost so much over the last two years get the support they need and can be confident in playing a full and satisfying role in a strong recovery," he added.
He said the future of work remains a key question tied to the city's recovery and said the panel will be examining that as one of its key issues.
"This is a very profound question with potentially very profound consequences depending on the answer so we must get the very best answer we can from our advisors and from you," Tory told the board in his speech.
He said that for example, just having people work from home on Mondays and Fridays can hugely impact the TTC and its revenues.
"What that means is a huge revenue shortfall for the transit system, because the cost of running the system for Tuesday, Wednesday, Thursday, and for the people who do go to work Monday and Friday stays about the same, (even if) you can make some changes around the edges," Tory said. "And that creates a huge problem for us. So that's just one small example of the kinds of questions that we have to answer."
Tory also touted the city's success and highlighted recent investments by the film and pharmaceutical industries from companies such as Netflix and Sanofi Pasteur. He said he would like to see those successes replicated in other industries as well.
"The world has taken notice of the growth and success story that is Toronto," Tory said. "It was a constant conversation in the halls of the Collision conference. But at the same time, Toronto and all cities are facing challenging times ahead."
More details about what work the advisory panel will do and who will sit on it are expected to be announced in the coming weeks.
EXPLAINER: Why Sri Lanka's economy collapsed and what's next – ABC News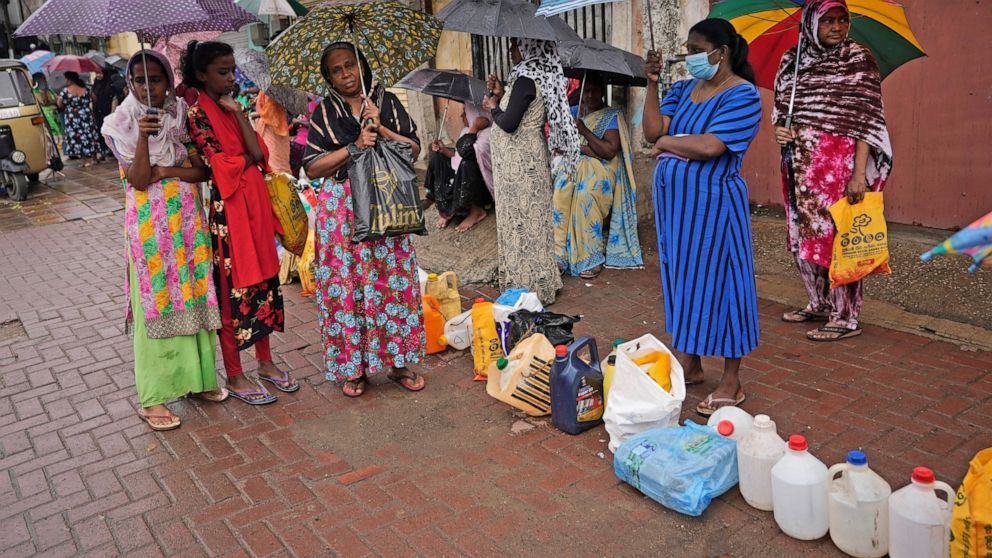 COLOMBO, Sri Lanka — Sri Lanka's prime minister says the island nation's debt-laden economy has "collapsed" as it runs out of money to pay for food and fuel. Short of cash to pay for imports of such necessities and already defaulting on its debt, it is seeking help from neighboring India and China and from the International Monetary Fund.
Prime Minister Ranil Wickremesinghe, who took office in May, was emphasizing the monumental task he faces in turning around an economy he said is heading for "rock bottom."
Sri Lankans are skipping meals as they endure shortages, lining up for hours to try to buy scarce fuel. It's a harsh reality for a country whose economy had been growing quickly, with a growing and comfortable middle class, until the latest crisis deepened.
———
HOW SERIOUS IS THIS CRISIS?
The government owes $51 billion and is unable to make interest payments on its loans, let alone put a dent in the amount borrowed. Tourism, an important engine of economic growth, has sputtered because of the pandemic and concerns about safety after a spate of terror attacks. And its currency has collapsed by 80 percent, making imports more expensive and worsening inflation that is already out of control, with food costs rising 57%, according to official data.
The result is a country hurtling towards bankruptcy, with hardly any money to import gasoline, milk, cooking gas and toilet paper.
Political corruption is also a problem; not only did it play a role in the country squandering its wealth, but it also complicates any financial rescue for Sri Lanka.
Anit Mukherjee, a policy fellow and economist at the Center for Global Development in Washington, said any assistance from the IMF or World Bank should come with strict conditions to make sure the aid isn't mismanaged.
Still, Mukherjee noted that Sri Lanka sits in one of the world's busiest shipping lanes, and so letting a country of such strategic significance collapse is not an option.
———
HOW IS IT AFFECTING REAL PEOPLE?
Tropical Sri Lanka normally is not lacking for food but people are going hungry. The U.N. World Food Program says nearly nine of 10 families are skipping meals or otherwise skimping to stretch out their food, while 3 million are receiving emergency humanitarian aid.
Doctors have resorted to social media to try to get critical supplies of equipment and medicine. Growing numbers of Sri Lankans are seeking passports to go overseas in search of work. Government workers have been given an extra day off for three months to allow them time to grow their own food. In short, people are suffering and desperate for things to improve.
———
WHY IS THE ECONOMY IN SUCH DIRE STRAITS?
Economists say the crisis stems from domestic factors such as years of mismanagement and corruption.
Much of the public's ire has focused on President Gotabaya Rajapaksa and his brother, former Prime Minister Mahinda Rajapaksa. The latter resigned after weeks of anti-government protests that eventually turned violent.
Conditions have been deteriorating for the past several years. In 2019, Easter suicide bombings at churches and hotels killed more than 260 people. That devastated tourism, a key source of foreign exchange.
The government needed to boost its revenues as foreign debt for big infrastructure projects soared, but instead Rajapaksa pushed through the largest tax cuts in Sri Lankan history. (The tax cuts were recently were reversed.) Creditors downgraded Sri Lanka's ratings, blocking it from borrowing more money as its foreign reserves sank. Then tourism flatlined again during the pandemic.
In April 2021, Rajapaksa suddenly banned imports of chemical fertilizers. The push for organic farming caught farmers by surprise and decimated staple rice crops, driving prices higher. To save on foreign exchange, imports of other items deemed to be luxuries also were banned. Meanwhile, the Ukraine war has pushed prices of food and oil higher. Inflation was near 40% and food prices were up nearly 60% in May.
———
WHY DID THE PRIME MINISTER SAY THE ECONOMY HAS COLLAPSED?
Such a stark declaration might undermine any confidence in the state of the economy and it didn't reflect any specific new development. Wickremesinghe appeared to be underscoring the challenge his government faces in turning things around as it seeks help from the IMF and confronts criticism over the lack of improvement since he took office weeks ago. He's also fending off criticism from within the country. His comment might be intended to try to buy more time and support as he tries to get the economy back on track.
The Finance Ministry says Sri Lanka has only $25 million in usable foreign reserves. That has left it without the wherewithal to pay for imports, let alone repay billions in debt.
Meanwhile the Sri Lankan rupee has weakened in value to about 360 to $1. That makes costs of imports even more prohibitive. Sri Lanka has suspended repayment of about $7 billion in foreign loans due this year out of $25 billion to be repaid by 2026.
———
WHAT IS THE GOVERNMENT DOING ABOUT IT?
Wickremesinghe has ample experience. This latest is his sixth term as prime minister.
So far, Sri Lanka has been muddling through, mainly supported by $4 billion in credit lines from neighboring India. An Indian delegation was in the capital Colombo on Thursday for talks on more assistance, but Wickremesinghe warned against expecting India to keep Sri Lanka afloat for long.
"Sri Lanka pins last hopes on IMF," said Thursday's headline in the Colombo Times newspaper. The government is in negotiations with the IMF on a bailout plan and Wickremesinghe said Wednesday he expects to have a preliminary agreement with the IMF by late July.
The government also is seeking more help from China. Other governments like the U.S., Japan and Australia have provided a few hundred million dollars in extra support.
Earlier this month, the United Nations began a worldwide public appeal for assistance. So far, projected funding barely scratches the surface of the $6 billion the country needs to stay afloat over the next six months.
To counter Sri Lanka's fuel shortage, Wickremesinghe told The Associated Press in a recent interview that he would consider buying more steeply discounted oil from Russia to help tide the country through its crisis.
———
Kurtenbach, the AP's Asia business editor, contributed from Bangkok.
Copper dips below $4 per pound, suggesting the global economy is in trouble – Financial Post