Canada's use of emergency powers justified – report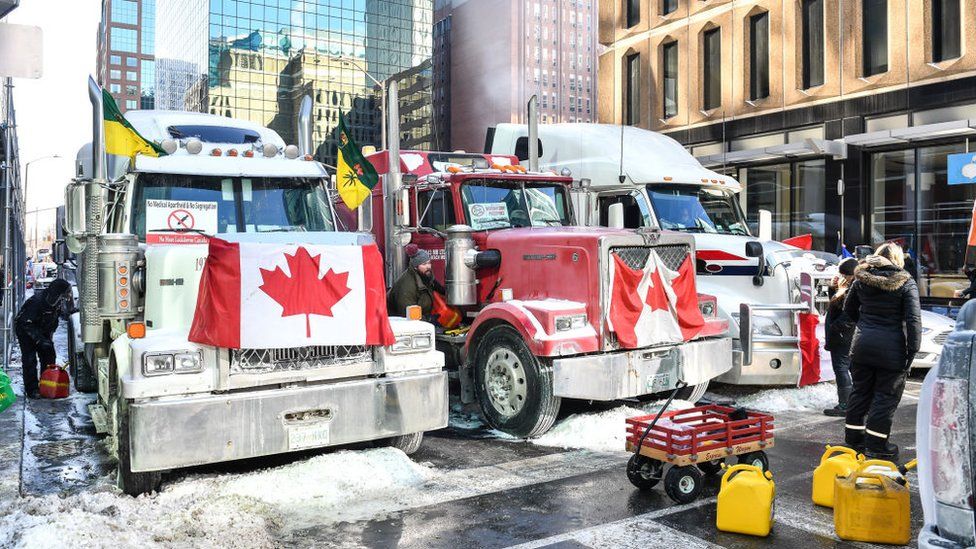 The Canadian government met the "high" threshold in invoking never-used emergency powers to end last February's trucker protests, an inquiry has found.
Justice Paul Rouleau, who led the probe into the use of 1988 Emergencies Act, called the decision a "drastic move" but not a "dictatorial one".
The act bestows the government with added powers in times of crisis.
"Lawful protest descended into lawlessness, culminating in a national emergency," Mr Rouleau wrote in his Public Order Emergency Commission (POEC) report, tabled on Friday in the House of Commons.
Mr Rouleau said he did not come to the conclusion easily, but the federal government's actions were "appropriate" and "effective".
Though the report says the use of emergency powers was necessary, it also suggests that Prime Minister Trudeau inflamed the situation with comments that called the movement a "fringe minority" which hardened protesters' resolve.
At a press conference on Friday afternoon, Prime Minister Trudeau said his government will take the recommendations of the report seriously and a response will come within the next year after analysing it.
He also agreed with the criticism about his comments about the protests – saying he wishes he had "phrased it differently".
Dubbed the "Freedom Convoy", the protest against the government's Covid-19 vaccine mandate had gridlocked Canada's national capital for three weeks and gained international attention.
The 1988 legislation, invoked by Mr Trudeau, allowed the government to impose bans on public assembly in some areas and to prohibit travel to protest zones, including by foreign nationals, among other measures.
It also requires that a formal inquiry be held after the act is invoked.
The POEC heard from over 70 witnesses 50 experts late last year. Hearings were chaired by Justice Paul Rouleau, of the Court of Appeal for Ontario.
Mr Trudeau testified before the commission on the final day of hearings.
He defended his government's use of the act, saying law enforcement could not address the protest in Ottawa and that he was concerned about what would happen if the government didn't end the protest.
Through the act, the federal government was allowed to remove and arrest protesters and freeze financial assets of those involved with the protests.
In his testimony, Mr Trudeau said that he would not have used the powers had he felt there was another option.
"If I had been convinced that other orders of government or any other law in Canada was sufficient to deal with this emergency, then we wouldn't have met the threshold" to invoke the act, he said.
The 2000-page report also makes 56 recommendations to improve intelligence sharing, police response to wide-scale protests and the Emergencies Act itself.
The Emergencies Act came into existence in 1988 and has never been applied before. The law was considered in the early days of the pandemic under the public welfare category but was ultimately ruled unnecessary.
A predecessor of the law, called the War Measures Act, was used three times in Canadian history: during the First World War, the Second World War and, most controversially, by Pierre Trudeau – Justin Trudeau's father – during the October Crisis.
World Down Syndrome Day in Canada – CTV News
The Canadian Down Syndrome Society (CDSS) is sharing a new awareness campaign featuring photos of older people with Down syndrome.
The 'Here I Am' photo gallery was launched today, to mark World Down Syndrome Day, and showcases portraits of older Canadians living with the condition.
"People age 40 and over are hugely underrepresented in all aspects of media, social media pictures, they're just not visible," Laura Lachance, executive director of CDSS told CTV's Your Morning on Tuesday. "So we embarked on this campaign to bring these faces to the front."
According to the organization, the life expectancy of Canadians with Down syndrome has doubled in the past 40 years, from 25 years in 1983, to more than 60 years in 2023.
"What's changed is advances in medical technology, both in diagnostics and in treatment," Lachance said. "So a lot of children who used to die in their early years are now surviving, taking advantage of all the interventions and living a long healthy life."
Although many are living into adult life, Lachance said the challenge of finding caregivers who understand Down syndrome remains.
"As more of the Boomer parents are living longer, there's going to have to be some kind of initiative by employers to perhaps take a look at how they can support their employees who need to take time away from work or work differently in order to care for their loved one," Lachance said.
The photo gallery features only people over the age of 40 who are living with Down syndrome. The portraits were captured by Hilary Gauld from One for the Wall and CDSS.
Hear the full interview with Lachance by clicking the video at the top of this article.
Russia summons Canadian diplomat to protest 'regime change' statement – CBC News


Politics·New
Russia's Foreign Ministry said on Tuesday it had protested to Canada's top diplomat in Moscow over comments by Canadian Foreign Minister Melanie Joly about "regime change" in Russia.
Russia called Joly's comments a 'Russophobic attack'
Russia's Foreign Ministry said on Tuesday it had protested to Canada's top diplomat in Moscow over comments by Foreign Minister Melanie Joly about "regime change" in Russia.
The ministry said it summoned Canadian charge d'affaires Brian Ebel on Monday and told him Joly's comments were unacceptable.
Canadian media quoted Joly as saying at a news conference on March 10: "We're able to see how much we're isolating the Russian regime right now — because we need to do so economically, politically and diplomatically — and what are the impacts also on society and how much we're seeing potential regime change in Russia."
The Russian statement condemned the "Russophobic attack" and said it would have serious consequences for relations. Russia reserved the right to take "appropriate counter-measures" depending on Ottawa's further steps.
Canada, a member of NATO and the Group of Seven (G7) leading economies, has joined its Western allies in imposing sanctions on Russia over its invasion of Ukraine.
On Friday, it welcomed the International Criminal Court's move to issue arrest warrants for Russian President Vladimir Putin and his children's commissioner over the deportation of Ukrainian children to Russia since the start of the war.
Worst city in Canada for bed bugs revealed | CTV News – CTV News Toronto
A Canadian city has just been named the worst in the country for bed bugs for the third year in a row.
Orkin Canada, a pest and wildlife control services organization, revealed in a release Tuesday that Toronto was the city in which it carried out the highest number of commercial and bed bug treatments in 2022.
Following Toronto in second is Vancouver, B.C. then Sudbury, Ont. in third.
London, Ont., which went unranked in 2021, is new to the list this year, clinching the eighth spot in the top 10 "buggiest" cities in the country in 2022
Ontario dominated the top 10 list with a total of eight cities across the province being ridden with bed bugs, including Oshawa, Ottawa, Scarborough, Sault Ste. Marie, London, and Hamilton.
"Contrary to popular belief, bed bugs are visible to the naked eye, but are excellent at hiding. Involving a trained professional to identify bed bugs that have been introduced or are in the early stages of an infestation is recommended," Dr. Alice Sinia, a Ph.D. Entomologist at Orkin Canada, said in the release.
"Bed bugs are extremely resilient, making them difficult to control. As people begin to ramp up their travel plans this year, it's important they know how to protect themselves through pest identification and proper control."
Sinia explains bed bugs can hide in taxis, buses, trains, and airplanes, so travellers should regularly check their clothes and luggage for any unwanted passengers.
To avoid a bed bug infestation while travelling, Orkin recommends the SLEEP method – survey your hotel room for any bed bug symptoms, lift and search typical bed bug hiding spots like mattresses and underneath cushions, elevate your luggage, examine your personal items, and place your clothing in the drier for up to 45 minutes on the highest setting.
At home, Orkin recommends decluttering your space, and thoroughly inspecting second-hand furniture for dark ink-like blot marks or whitish egg clusters.
These are Canada's 25 "bed buggiest" cities, in order:
Toronto, Ont.
Vancouver, B.C.
Sudbury, Ont.
Oshawa, Ont.
Ottawa, Ont.
Scarborough, Ont.
Sault Ste. Marie, Ont.
London, Ont.
St. John's, N.L.
Hamilton, Ont.
Winnipeg, Man.
Montreal, Que.
Windsor, Ont.
Edmonton, Alta.
Timmins, Ont.
Moncton, N.B.
North York, Ont.
Etobicoke, Ont.
Calgary, Alta.
Mississauga, Ont.
Whitby, Ont.
Prince George, B.C.
Regina, Sask.
Brampton, Ont.
Halifax, N.S.