Canadian landscapes showcased at charity art show to help Langley Hospice – Aldergrove Star
West Fine Art Show returns with both new and familiar faces, Sept. 18 to 20.
The charitable exhibit, held at Glass House Estate Winery at 23449 0 Ave, will feature 18 artists showcasing and selling their art – partial proceeds of all art sales will be donated to Langley Hospice Society.
Brian Croft, president of the West Fine Art Show, said this particular show features a few new artists.
"It is interesting how far some submissions come from; some as far away as Alberta," he noted.
One artist in particular had Croft singing her praises – Jodie Blaney – a first time participant from Ladner.
"I'm looking forward to seeing the reaction on people's faces when they first glance at her exciting art," Croft said. "Our show is all about our western surroundings and lifestyle and as we piece-together the 18 artists in our next show, I believe Jodie will be just wonderfully received by our patrons."
Blaney told the Langley Advance Times that she only picked up the brush roughly 10 years ago, but is now working as a full-time artist from her very own studio.
She received visual arts training from Emily Carr University of Art & Design and has a Bachelor of Arts degree from UBC.
"I love working with Canadian landscapes," she said, citing the work of Carr and Lauren Harris as her biggest inspiration.
Blaney summed up her work as expressionist landscapes based on real places – the colours are vibrant, with bold forms and shapes making up the subject.
READ MORE: VIDEO: 'I hope people get inspired by our beautiful area of the world'
The artist said virtually all shows she had booked for 2020 were cancelled due to COVID-19, and though it was a great time for producing work and profiting from online sales, she is excited for West Fine Arts because it will be her first show this year.
"Brian had reached out to me and mentioned the show," she recalled. "I had never been but I heard others mentioning it before. I'm delighted because the winery, I think, is a really special setting. I love the group and am interested in connecting with others because this will be my first time exhibiting in Langley."
Blaney said her favourite part of the artist experience is connecting with families, something she'll get plenty of opportunity to do at the West Fine Arts Show.
"I like to explain the process to people," she said. "It's a solitary business so it's nice to get out there."
The show takes place on Friday, 5 to 9 p.m., Saturday 11 a.m. to 7 p.m., and Sunday, 11 a.m. to 5 p.m.
Croft said due to COVID-19, there will not be an opening reception as per usual; doors will instead be opened early to the public on Friday.
"Of course it is nice to be back in operation after COVID-19 cancelled our Cloverdale Rodeo Show in May," Croft said. "Its even nicer to be working again in partnership with Langley Hospice and helping, as we hope we will with donations, towards the new Hospice facility."
COVID-19 restrictions and social distancing practises will be in effect.
People can find out more and view the artist bios at www.westart.ca.
"This amazing weekend of fine art, will offer breathtaking interpretations of our western Canada lifestyle as well as the rare opportunity to meet and speak with each artist," Croft added.
_________________________________
Is there more to this story?
Email: ryan.uytdewilligen@langleyadvancetimes.com
Like us on Facebook or follow us on Twitter
_________________________________
Revisiting memory at the "…fire and frost" art exhibit in SUB – The Gateway Online
As we head into fall, I once again remember how quietly the trees forget their leaves in an exhale of colour. I remember the ground in a pool of yellow when I told my partner I loved him for the first time. I remember finding out I could order pumpkin spice lattes year-round.
While these recollections may seem minuscule, we are all a collection of "I remembers." Our brains serve as our own personal wizards, cataloging and discarding events at the touch of a synapse. Our memories are sacred. They are stored time.
Those memories are the theme of ...fire and frost, a partnership between The Art Gallery of Alberta, Alberta Foundation for the Arts, and University of Alberta Students' Union on exhibit at the Myer Horowitz Theatre from now until September 30, and at Concordia University from October 8 to November 4. The exhibit is curated by Shane Golby and features three contemporary artists: Colin Smith, Linda Craddock, and Candace Makowichuk.
I visited the exhibit earlier and let me tell you, the work is deep, and not your one-in-the morning-stoner-revelation-deep. It is physically deep in that I found myself enveloped within the places the artwork took me. When I stood in front of Craddock's oil and photo collage Embarkation #5 1944, I felt like I was dusting off my memories, like my first fall romance. Or how I felt a longing to be a kid again when viewing Makowichuk's bromoil photograph, Waiting: The Playground Is Closed Series. The act of recalling my memories felt like a tribute to my past.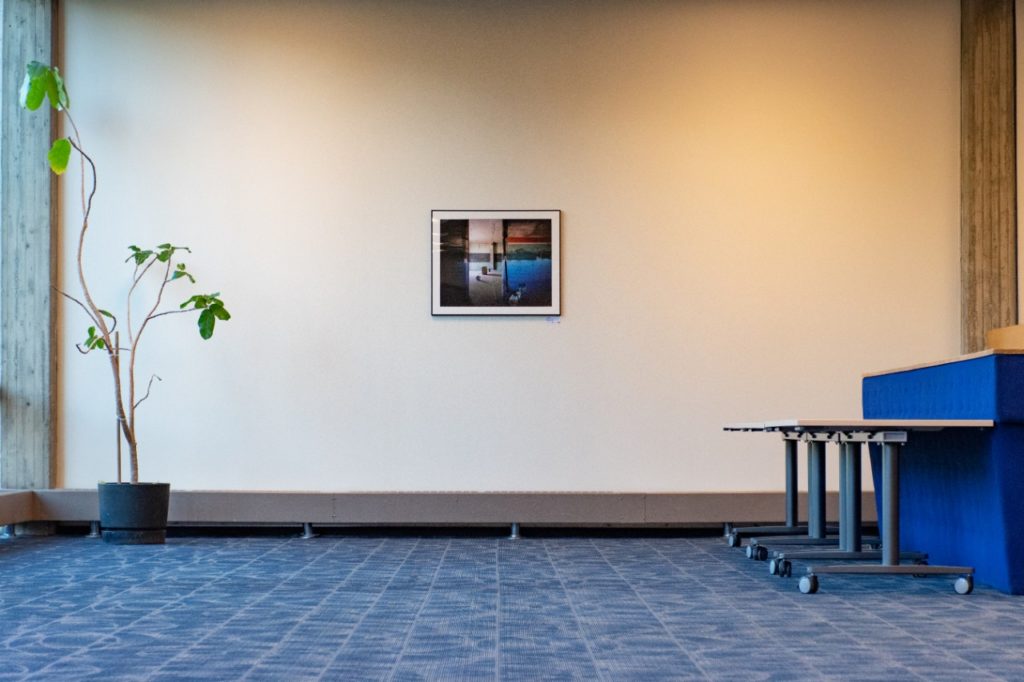 I was most moved by Colin Smith's photography on paper, Piapot School. In it you find an empty classroom, with the exception of a desk flipped on its side, a blank chalkboard with a scribble on it, and a peeling soccer ball on the floor. Outside lies an upside down projection of a deserted basketball court. There is however no learning taking place there, no one to play soccer with, and there is not even a basketball to play with on the court. Viewing Piapot School was like viewing a school memory without the two subjects that made it important: academics and the people. The experience was at once contemplative and haunting.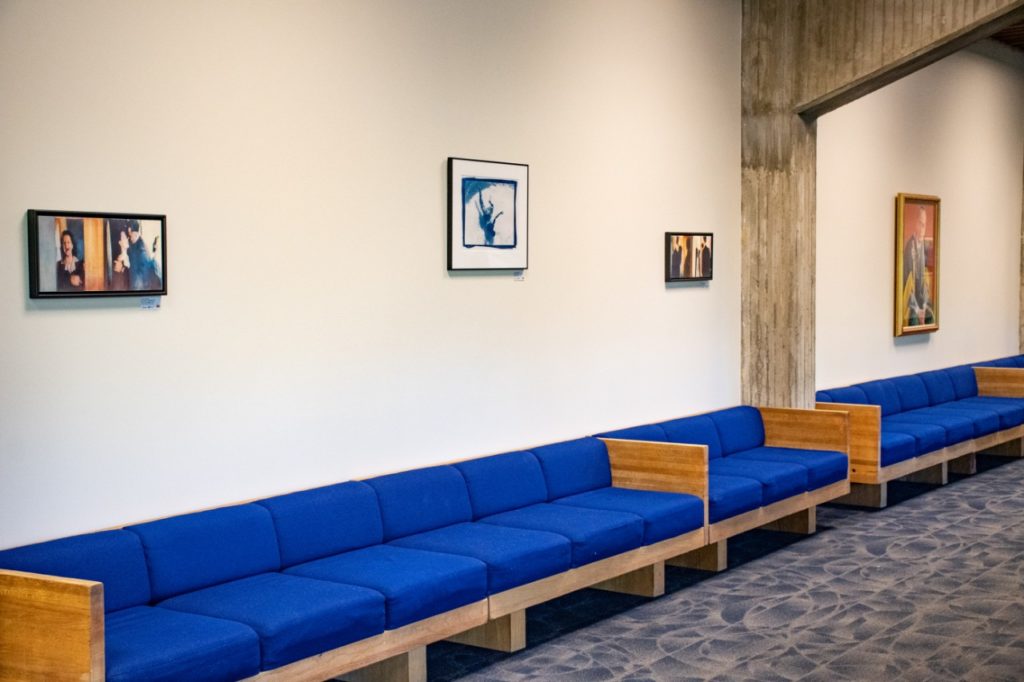 On Gil Scott-Heron's final album I'm New Here there's a verse that says, "No matter how far gone you've gone, you can always turn around." The process of "turning around" is essential to what makes us human. Our memory is a knitted scarf we wear, each memory a stitch building off of the last one. In the presence of the pieces in the …fire and frost exhibit I unraveled the threads of my own personal history.
New art gives Downtown Guelph walkway a new look (8 photos) – GuelphToday
A project to revitalize The Walkway in Guelph's downtown core offers passersby an opportunity to take in local art in a unique space.
The Walkway Project allowed members of the Necessary Arts Collective (NAC) to beautify the space by painting the pillars throughout the sunroof-lit walway that connects St. George's Square with the Baker Street Parking lot.
The City of Guelph funded the project through the Regional Relief and Recovery Fund which is a $30 million province-wide fund dedicated to stimulating the tourism economy and safely bringing visitors back into local communities during the COVID-19 pandemic.
"It was kind of cool because all of the artists were already committed free of charge," said Chanel DesRoches, local artist and owner of the NAC studio. "But the city paid us for our time and the Downtown Guelph Business Association pitched in for materials so it was really this last-minute huge community engagement opportunity."
Artist Amber Ozols said her succulent-inspired series is about death and loss, but Ozols uses colour to try to bring happiness to the observers of her technicolour pieces.
"You can still tell that it looks like a plant or a flower but they're all just succulents that I have digitally altered or I do sketches of them on-sight and bring them out here," said Ozols.
Robert John Paterson, a freelance illustrator, based his design off the dimensions of his pillar before starting to paint his Canadian landscape-inspired tower just outside of the downtown post office.
"Coming up with a design that was really tall and skinny is pretty challenging," Paterson said. "Most times when you compose an image it's rectangle or square but this is like colouring on the side of a cigarette."
On Sunday, the final pieces were unveiled and members of the public were able to walk through the footpath and enjoy the artists' creations. Members of the public were also able to take a tour of the newly renovated Necessary Arts building.
"The fact that people know about us based on what they see online, or based on a short conversation based on what they see here (the walkway) and sparking potential interest … That is everything," DesRoches said. "The thing about art is that it's a side hobby now until you're think you're ready to make a jump and we can be that small or big jump."
Moostletoe Tour cancelled but MJMAG offering plenty of art opportunities this fall – moosejawtoday.com
The artists and committee of the Moosetletoe Studio Tours have decided to cancel this year's annual tour of local artists' studios due to COVID-19 concerns, but that doesn't mean Moose Jaw will be without chances to get involved with art throughout the fall.
The Moose Jaw Museum & Art Gallery has a number of programs and projects coming up that will help the community continue to stay connected to both their own creative side and the artists of Moose Jaw.
Education program coordinator Christy Schweiger from the MJMAG shared a few of the upcoming items of interest on the art gallery's calendar, beginning with the ongoing work happening to put the gift shop online.
No set timeline has been established for the launch of the online shop, as the curator and tech team are still in discussion and the process will take some time, but MJMAG hopes to have the online option available for the Christmas season.
"We have someone in the community who is very tech-oriented that is working with the curator to come up with a concept of how to do that," said Schweiger. "So that's a little ways off but we will be working on that, and it's a great idea to have it up for Christmas. We want to highlight local artists and work with local artists in not only our community but in Saskatchewan to provide them that option."
The Norma Lang Gallery is also under construction as MJMAG staff prepare for the fall exhibition titled Marsha Kennedy: Embodied Ecologies, which will open on Oct. 9.
The Women's Cape Project showcase in the gallery lobby, facilitated by cultural educator and traditional Cree artist Barb Frazer and featuring the beadwork of local Indigenous women, will also be expanding with an addition to the exhibition — another beadwork medallion project featuring 30 more artists.
For those looking for a more hands-on art experience, the MJMAG has also planned several art classes coming up, with something for all ages.
Adult classes will be taking place in-person, with a limit of six participants per class to ensure proper safety protocols. Materials will be provided for all participants, and masks will be required while in the building.
"It's hard to wear a mask for the whole time but it is required, [and] we will be taking breaks," said Schweiger. "We're just trying to test the waters and make people feel comfortable and safe, while we're offering classes."
Kids classes are also available, with small, in-person classes available as well as online versions for those nervous about public spaces. Schweiger is also working on providing the art gallery's school art program to educators in an online capacity this fall, which will also be available to students who are homeschooling.
The MJMAG is planning for the Creatabilities art class to return in November in the afternoons, which is aimed towards individuals with special needs and learning difficulties. The class takes place online, from a distance, with material kits provided to participants with everything they need to take part.
A new art class for seniors aged 55 and up is also underway, in partnership with Senior Centres Without Walls, where participants are given the materials and step-by-step instructions from Schweiger over the phone.
"Everything is over the phone, and so that is for seniors and particularly it will be good for people who are not technologically inclined, with the Internet," said Schweiger, adding that the first session went very well.
MJMAG is also adapting the pop-up clay sessions that became popular last year with the upcoming launch of Clay At Home, a do-it-yourself craft kit that contains all the materials needed to create a clay ornament. The first clay kit is Halloween-themed and available for preorder right now, with pickup set for Oct. 25-27.
Schweiger encourages people to check out the upcoming calendar of classes, as the MJMAG has been working very hard to adapt programming to the unusual circumstances of this year and there is a little something for everyone.
"I've always wanted to work with vulnerable groups such as seniors and individuals with learning disabilities, and so this has really given me a chance to spend time with them online," said Schweiger. "I feel really good that we have been able to include more community members in our programming, that we've never had time to do in the past."
All of the MJMAG's upcoming programs are open for registration online only, as the gallery is reducing physical contact where possible.
More information on classes and what's coming up can be found on the MJMAG's website at mjmag.ca.